A lot of the time, what you create when you're young has a habit of coming back full circle to check in on you when you're older. In the case of Darth Vader's betrayal of the Jedi, it came back to bite him in the ass. The story about the Ness clan and the digger chopper is a lot happier, however.
According to legend, Arlen Ness brought the elements of the digger chopper style together after inspiration hit him at the drag races in the 1970s. Arlen was as deeply involved with the Frisco bikes as you can get, and there's definitely a drag-racer look to your typical digger machine (long and low profile, mid- or rear-mount foot controls, extensive motor mods—you get the idea). Like their Frisco chopper cousins, diggers were narrow. That's a key difference setting them apart from the wide tires you'd see on a drag racer.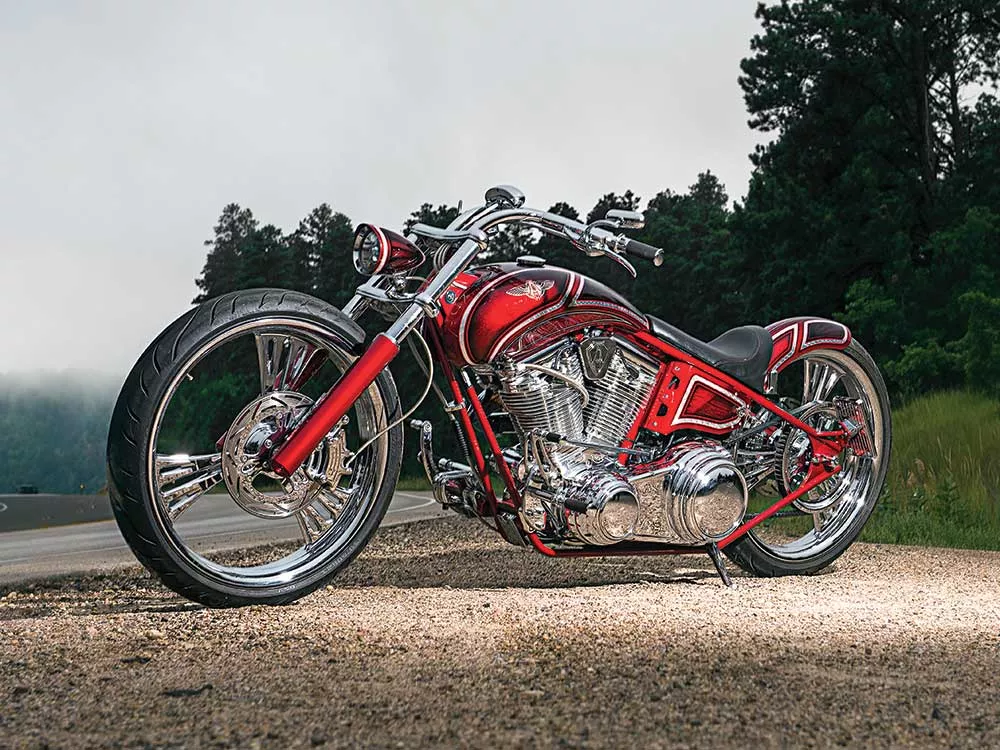 "The circle is now complete. When I left you, I was but the learner. Now I am the master."
By 1976, magazines such as Street Chopper had more and more fully realized digger bikes on their covers. Very long and low digger chops were svelte, with coffin or prism gas tanks teamed with girder front ends, wild paint, and, in many cases, lots of engraving on the cases and rocker covers. Combined with superchargers, turbo kits, racing carburetors, and motors foreign and domestic, these were the collective symptoms of digger fever.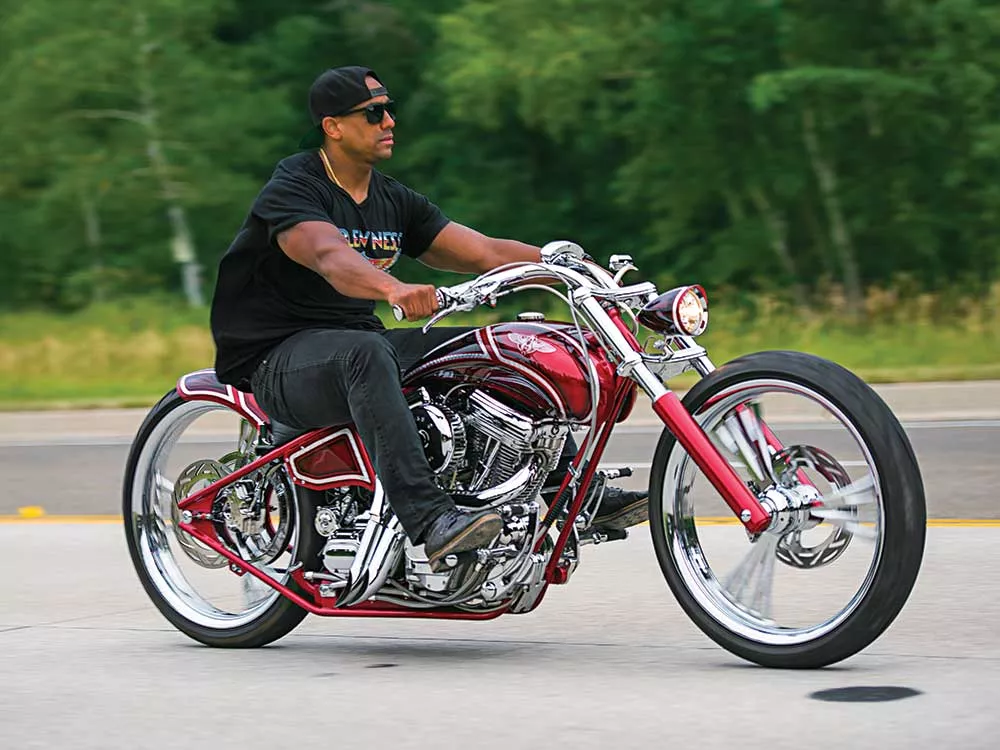 To get the long and low look for the diggers, they were usually built with low gooseneck frames and would have a big rake to the front fork. The frames also had chopped backbones so that they could be lengthened for the long look. Lastly, there's that curious name: digger. Back then, the dragsters that inspired these bikes were also called diggers.
Arlen Ness was so involved with the digger style that when Cory Ness started building his own iron in the early 1980s, his first Street Chopper cover bike, 1982's "Turned Loose," was a fully evolved digger chop. He's built a lot of different stuff since then, obviously, and although diggers faded from popularity in the 1980s, they've been around here and there.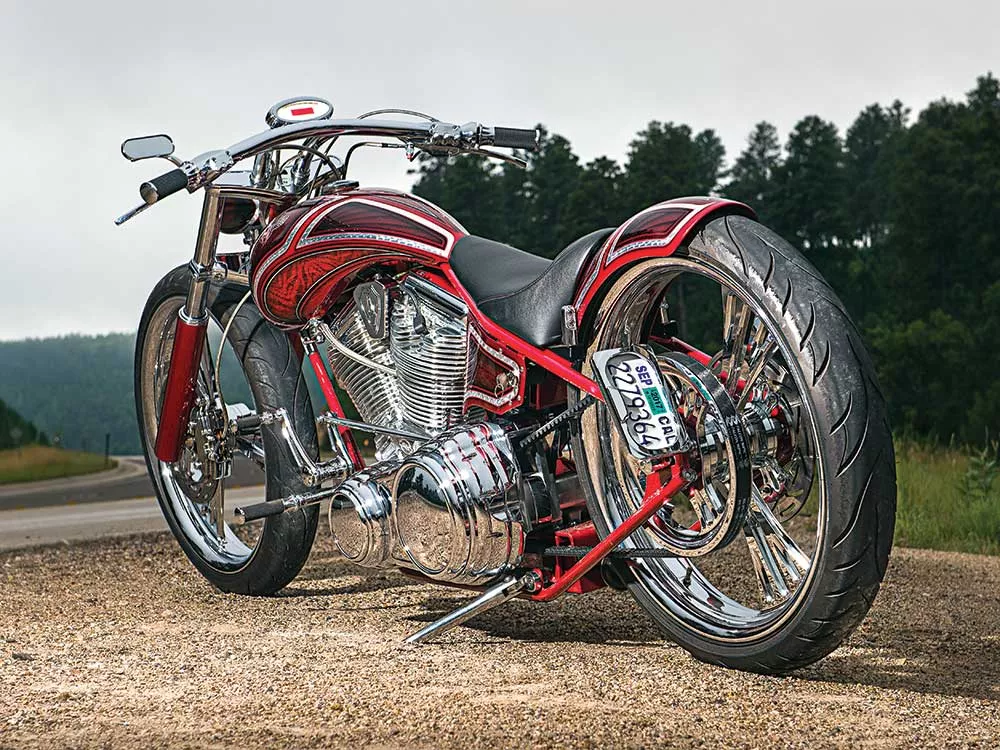 Which brings us to now. It's been 36 years since Cory made Turned Loose. He's not only learned the custom-bike business front to back, up and down, but his son Zach has joined both Cory and Arlen in the family business. When Marcus Cox, a close personal friend to Zach and the Ness family, came to them for a bike, the decision came down to create a modern interpretation of the digger style the Ness family defined back in the day.
---
---
Powered by a 124-inch S&S Evo V-twin, Marcus' machine packs a ton of power like you'd expect in something rooted in dragbikes. Its profile is long and skinny, thanks to the tone set by the Ness rigid frame and its 3-1/2-inch Ness wheels.
Both of those elements capture the digger essence, but the other aspects of the bike are a departure from the old style. Its curved gas tank is much closer to a pro street (the digger's younger sibling), and those handlebars are wider than what you'd find on a 1970s digger chopper.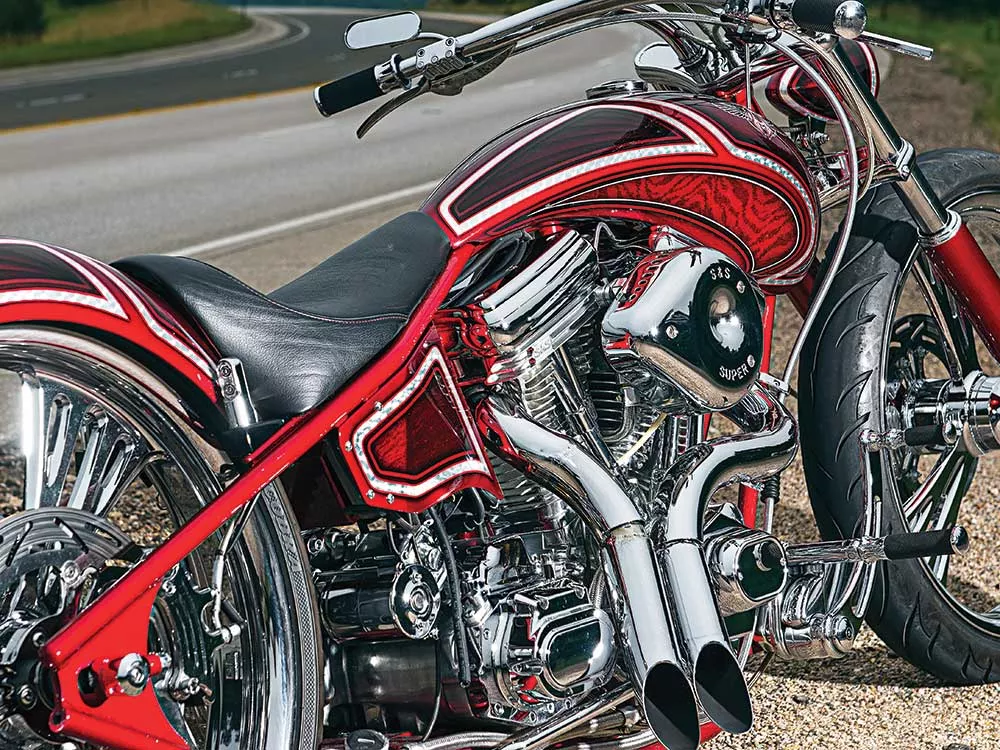 You're also not going to find a bunch of engraving and gold leaf on this version. Part of revisiting your past isn't just to see where you've been but to see how it's influenced who you are now. Mazz Custom Paint did a tremendous job with the paint and striping on this nouveau digger, bringing a different style to it in the process. In a way, all of these changes challenge the classic notions of the digger and redefine it with modern styling. This bike is as much a look forward as it is back, and the prognosis for the future looks pretty good.
Specifications
| | |
| --- | --- |
| General | |
| Owner | Marcus Cox |
| Shop | Arlen Ness |
| Shop Phone | 925-479-6300 |
| Website | arlenness.com |
| Year/Make/Model | 2016/Arlen Ness/Digger |
| Fabrication | Arlen Ness |
| Build Time | Four months |
| Engine | |
| Year/Type/Size | S&S/124 Evo |
| Builder | S&S |
| Cases | S&S |
| Cylinders | S&S |
| Heads | S&S |
| Rocker Boxes | S&S |
| Cams | S&S |
| Throttle Body | S&S |
| Exhaust | One-off Arlen Ness |
| Air Cleaner | S&S |
| Transmission | |
| Year/Type | 2016/Baker Drivetrain |
| Gears | Six-speed |
| Clutch | Barnett |
| Primary Drive | Arlen Ness |
| Frame | |
| Year/Type | 2016/Arlen Ness |
| Rake/Stretch | Classified |
| Suspension | |
| Front End | Arlen |
| Wheels, Tires, and Brakes | |
| Front | |
| Builder/Size | Arlen Ness/23 x 3.5 in. |
| Tire/Size | Avon |
| Calipers | Arlen Ness |
| Rotors | Arlen Ness |
| Rear | |
| Builder/Size | Arlen Ness 23 x 3.5 in. |
| Tire/Size | Avon |
| Caliper | Arlen Ness |
| Rotor | Arlen Ness |
| Pulley | Arlen Ness |
| Finish/Paint | |
| Colors | Red and black |
| Paint/Graphics | Mazz Custom Paint |
| Plating/Polishing | High Luster |
| Powdercoating | Daytec |
| Accessories | |
| Rear Fender | Arlen Ness |
| Gas Tank | Arlen Ness |
| Gauges | Arlen Ness |
| Handlebars | Arlen Ness |
| Grips | Arlen Ness |
| Mirrors | Arlen Ness |
| Hand Controls | Arlen Ness |
| Foot Controls | Arlen Ness |
| Headlight | Arlen Ness custom painted |
| Taillight | Arlen Ness |
| Turn Signals | Arlen Ness |
| License Mount | Arlen Ness |
| Seat | Danny Gray |