What motivates any of us to do anything? After spending most of my adult life trying to find this answer, my best guess would be that what motivates us to wake up in the morning and why we live and breathe is for love—love our family, love for our friends, and love for these two-wheel gas-drinking and fire-breathing objects we call custom motorcycles.
It's that feeling you get in your heart when you know a connection is made that makes life a worthwhile toil. It is an addiction. A labor of love.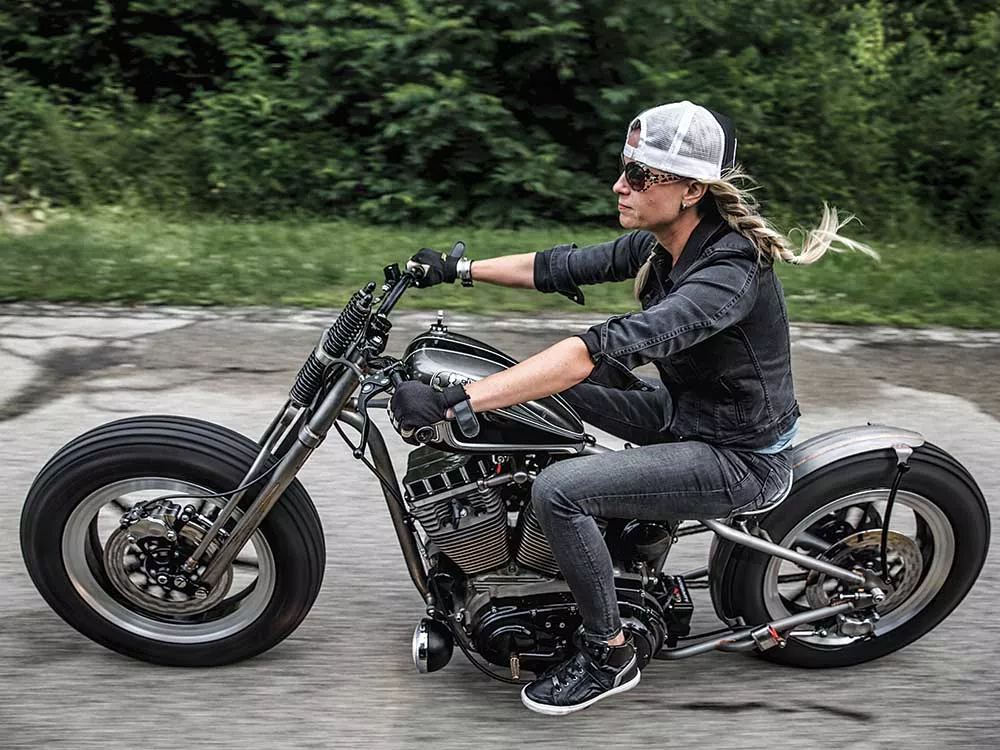 Take for instance this bike you see before you. This handmade frame and springer fork wrapped around a 1996 Harley-Davidson Sportster motor was made by Led Sled Customs' owner Pat Patterson for his wife Jen. I have known the Patterson family for years and recognize the love they have for each other and for any and all things motorcycle. This bare-metal machine is not just another bike rolling out of Led Sled Customs in Dayton, Ohio. It is a testament to what can be done when two people love and trust each other enough to quit their day jobs to put long hours in doing something they both truly adore.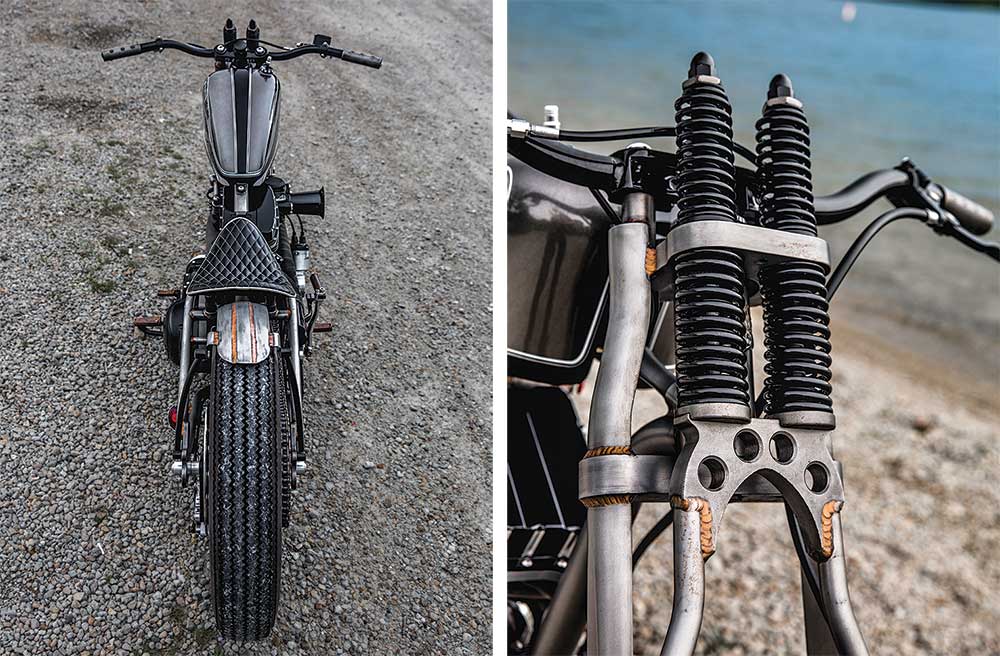 Jen is the backbone of Led Sled, and Pat is the hype man and lead fabricator. Without Pat and Jen's yin and yang relationship, Led Sled would have been just another shop closing its doors a decade ago. But instead, Led Sled has been banging out some of the most inventively styled bikes and parts one could ever imagine.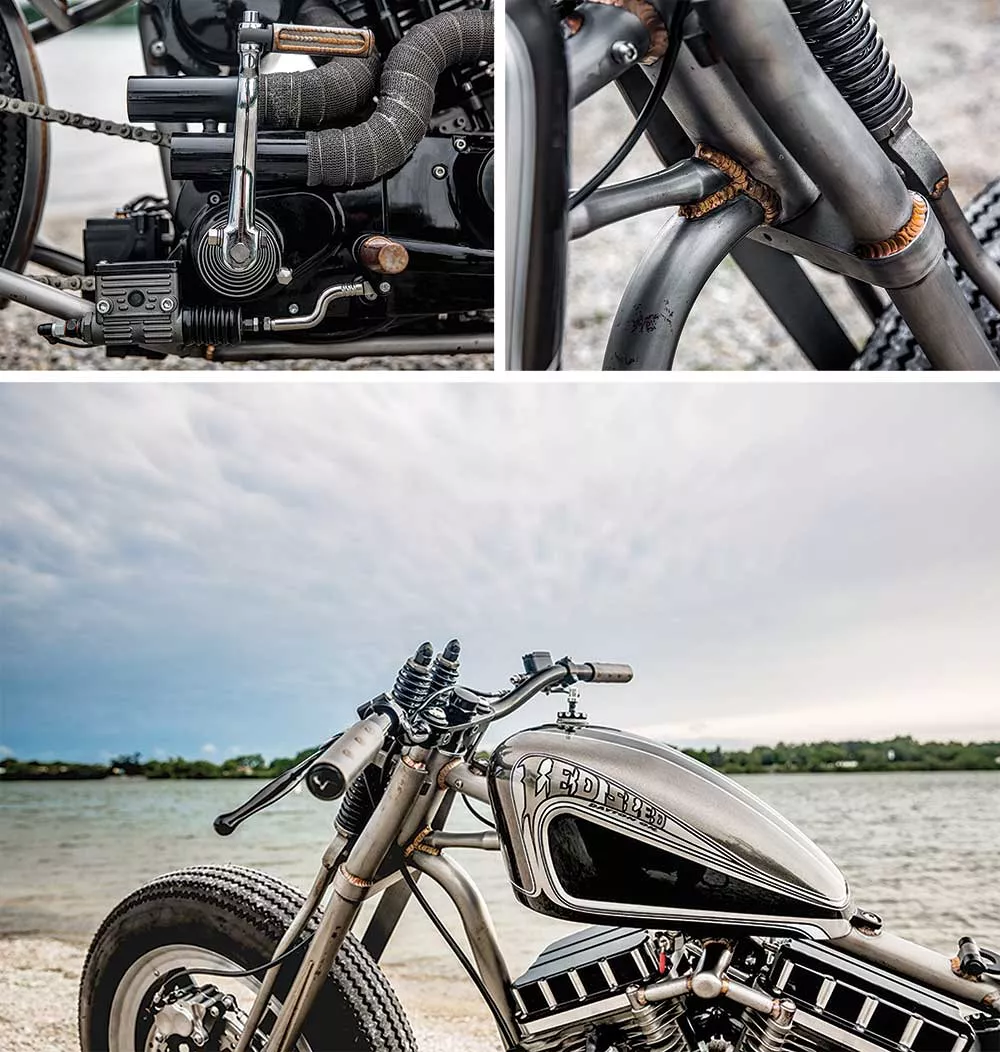 We all know that personal and professional relationships are both hard to balance, but can you imagine compounding both of those factors by combining both of them and working with a loved one in close confinement? Somehow Jen and Pat have made it work and have been successful both with business and family life. And let's not forget about the love part of it.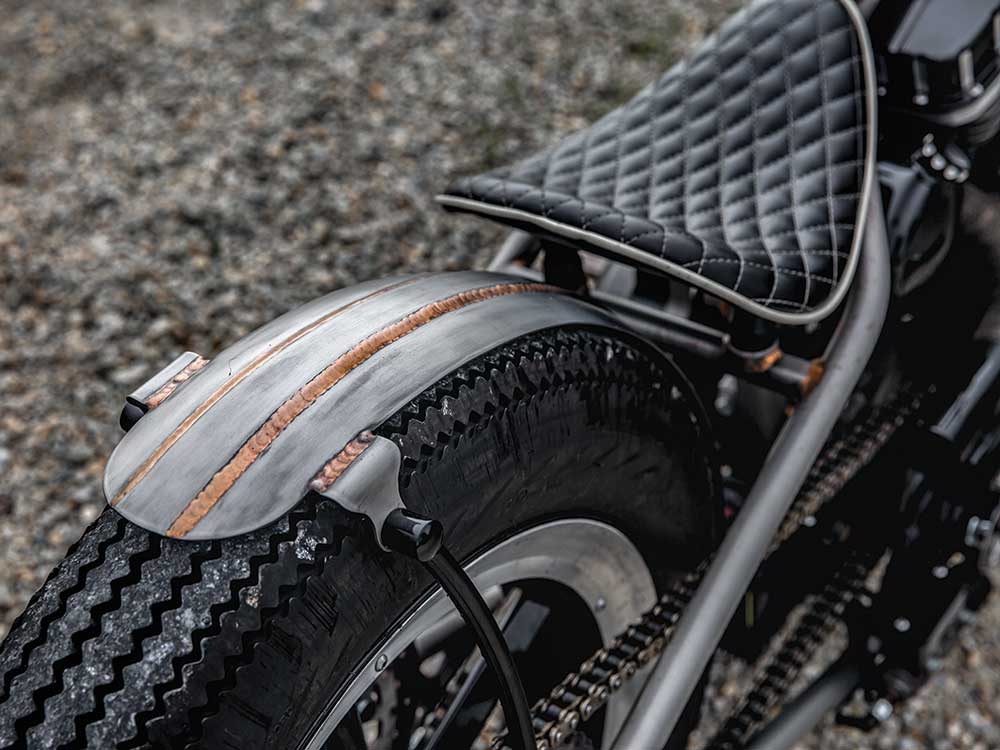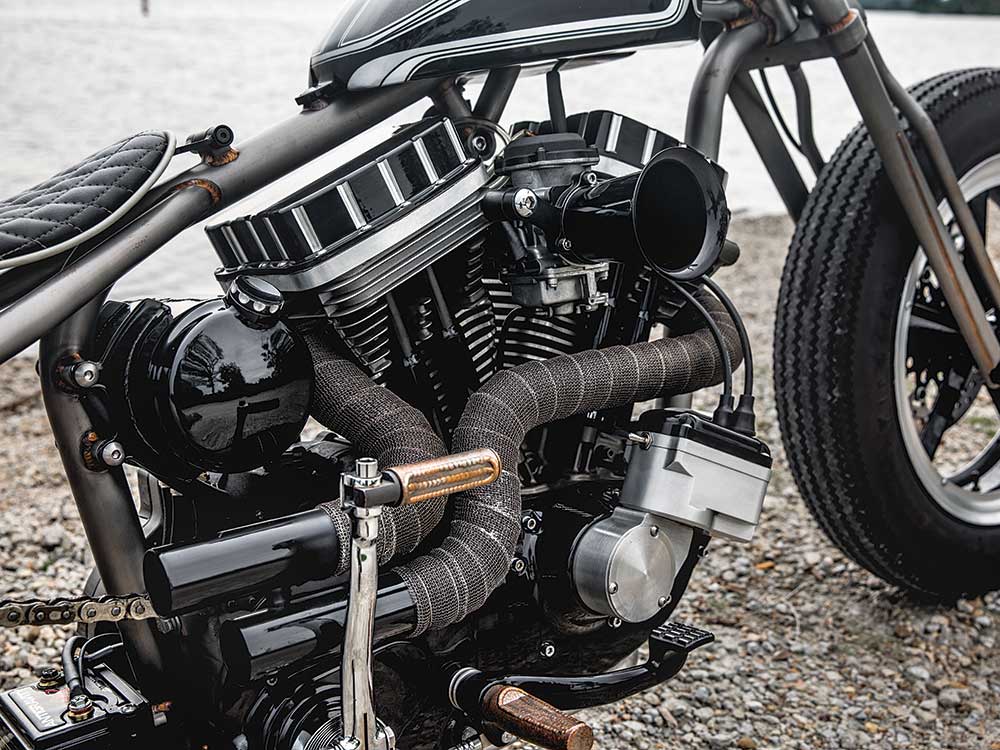 Specifications
| | |
| --- | --- |
| General | |
| Owner | Jen Patterson |
| Shop | Led Sled Customs |
| Website | ledsledcustoms.com |
| Year/Make/Model | 1996/Led Sled Customs/Sportster |
| Fabrication | Led Sled Customs |
| Build Time | 2 months |
| Engine | |
| Year/Type/Size | 1996/Harley-Davidson/883ci |
| Builder | Led Sled Customs |
| Cases | H-D |
| Cylinders | H-D |
| Heads | H-D |
| Rocker Boxes | Led Sled Customs |
| Cams | Andrews |
| Carburetor | CV |
| Air Cleaner | Led Sled Customs |
| Exhaust | Led Sled Customs |
| Transmission | |
| Year/Type | Baker/6-speed |
| Gears | Baker |
| Clutch | H-D |
| Primary Drive | Chain |
| Frame | |
| Year/Type | 2017/Led Sled Customs |
| Rake/Stretch | 35º/2 up, 2 out |
| Suspension | |
| Front End | Led Sled Customs |
| Length | 4 under |
| Wheels, Tires, and Brakes | |
| Front | |
| Builder/Size | Led Sled Customs/18 x 3.50 |
| Tire/Size | Firestone/18 x 5.00 |
| Calipers | Mid-USA |
| Rotors | Mid-USA |
| Rear | |
| Builder/Size | Led Sled Customs/18 x 3.50 |
| Tire/Size | Firestone/18 x 5.00 |
| Caliper | Mid-USA |
| Rotor | Mid-USA |
| Sprocket | Led Sled Customs |
| Finish/Paint | |
| Manufacturer | None |
| Colors | Bare metal |
| Paint | None |
| Graphics | Liquid Illusions |
| Plating | Led Sled Customs |
| Polishing | Led Sled Customs |
| Powdercoating | Led Sled Customs |
| Accessories | |
| Rear Fender | Led Sled Customs |
| Gas Tank | Led Sled Customs |
| Handlebars | Led Sled Customs |
| Grips | Led Sled Customs |
| Foot Controls | Led Sled Customs |
| Pegs | Led Sled Customs |
| Headlight | Led Sled Customs |
| Taillight | Led Sled Customs |
| License Mount | Led Sled Customs |
| Seat | Led Sled Customs |