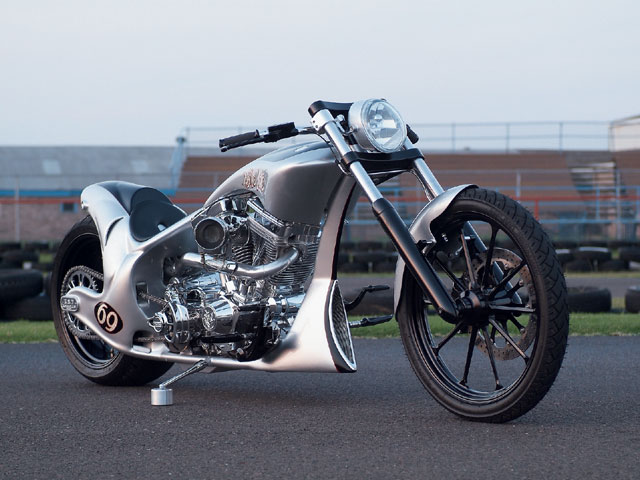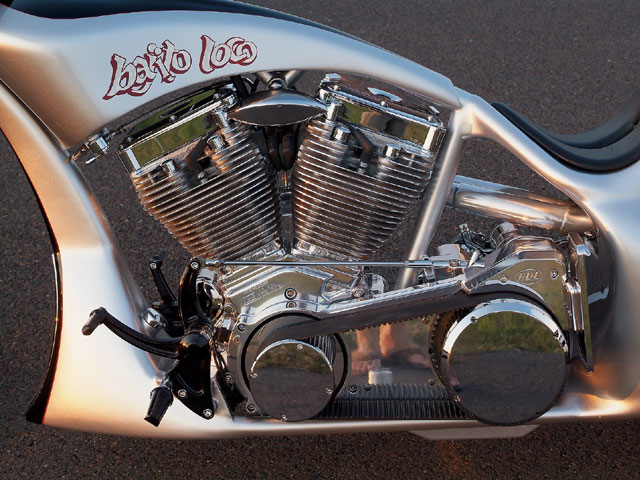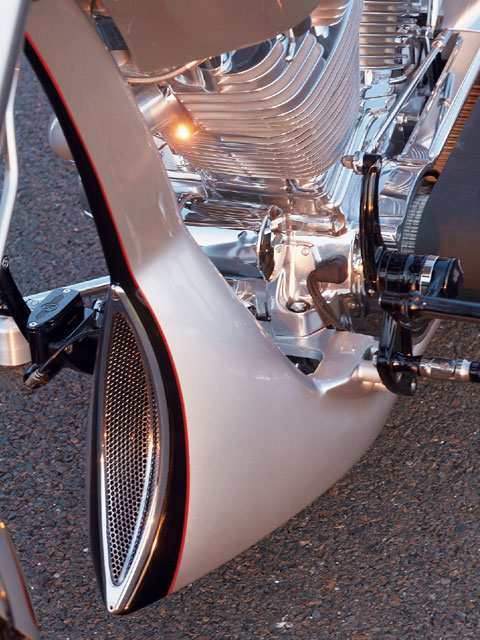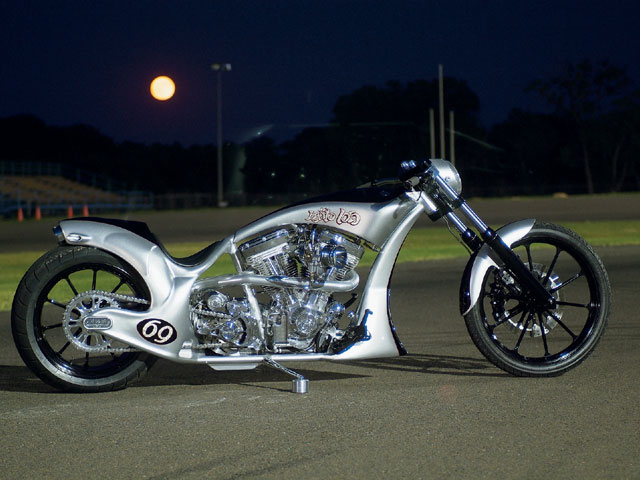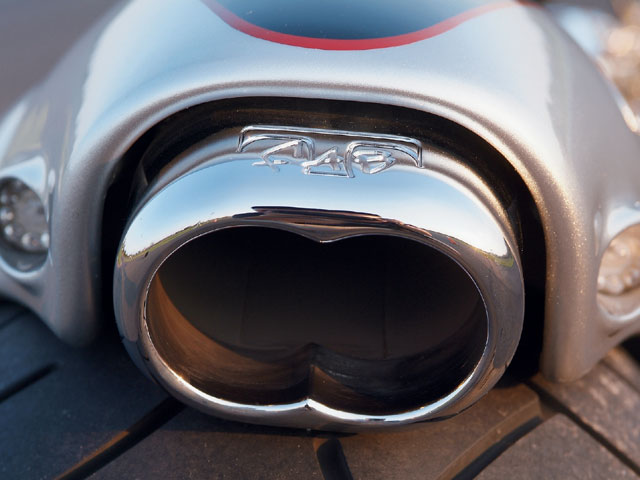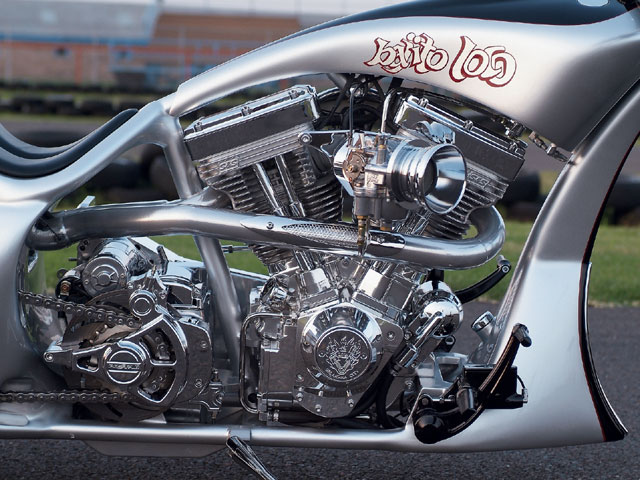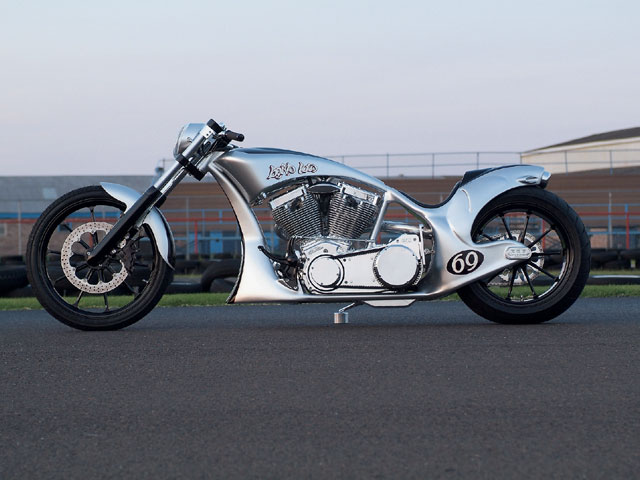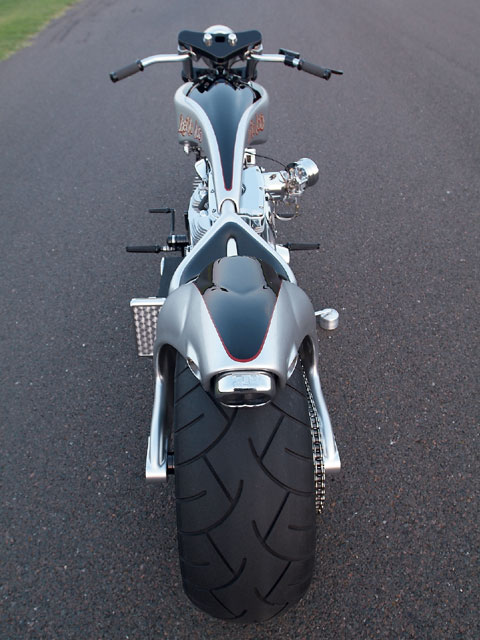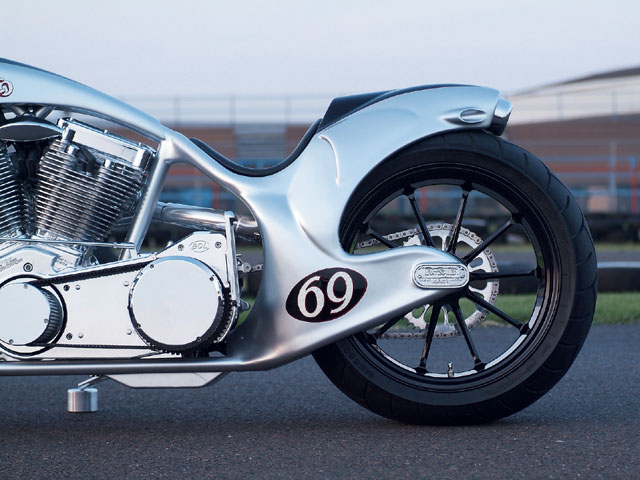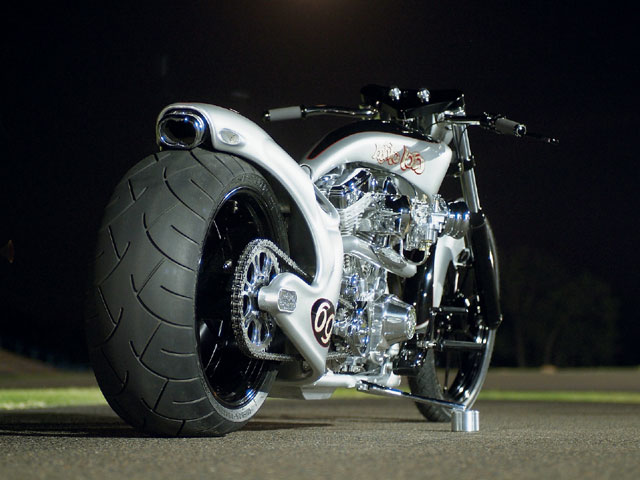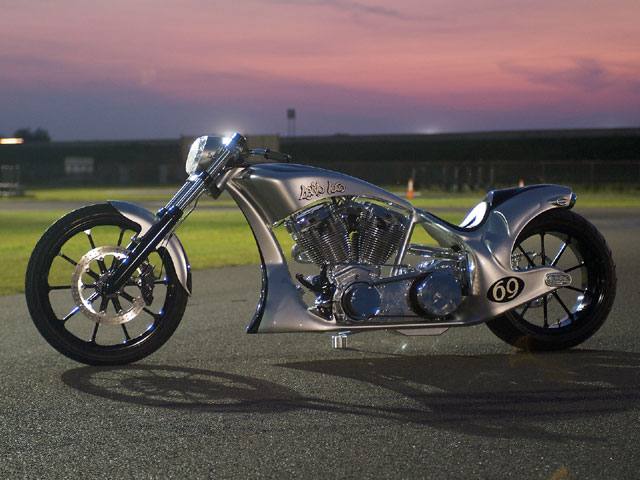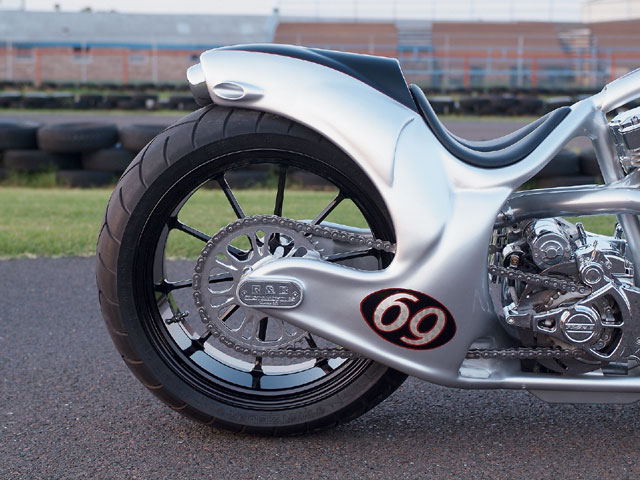 It seems these days everyone calls themselves a fabricator, and most can do a fairly good job with the right tools and a lot of body filler. Only a few custom bike builders out there have either had lots of schooling and mastered it or have been born into the trade. Tony Baustert is of the latter. His family had a HVAC company when he was growing up, and he was always going on service calls with his dad, learning the intricacies of working with sheetmetal. Granted, it was in a much different environment, dealing with duct work instead of high-end custom motorcycles, but it was Tony's start.
From the family business he quickly outgrew the idea of fabricating flat work and went on to be a fabricator for an aircraft repair facility. He built one-off parts for airplanes and on the weekends would do side projects for his friends and anyone that asked. Word got around and Tony seemed to be working around the clock, and in 2000 decided he needed to open his own fabrication shop and focus on custom motorcycle fabrication. The choice for the name was obvious: T-Fab Customs. He shared shop space with R&B; Customs in Oklahoma City, and it seemed to work out well. Tony could pump out one-off custom fabricated parts, and Greg and Steve at R&B; could help him with the final assembly and wiring.
Several years passed, and Tony kept building one-off customs and parts. With the help from his friends at R&B; he would crank out about six full customs and make tons of gas tanks, fenders, and other parts. Tony had perfected his fabrication skills and was now hindered only by his imagination. He had a vision for a bike in his head that just would not go away. He kept looking for the right customer to build it for, but couldn't find one. He was the typical tortured artist, thinking about the bike constantly, and as time went on he would come up with more ideas, which slowly became a sort of laundry list for this dream bike. The opportunity came up to compete in a local build-off, and he knew it was time to start the MotoGP-inspired Nicky Hayden tribute bike. It wasn't going to be blatantly obvious that this was a tribute bike or MotoGP inspired, though-one would have to be on the inside of the motorsports world to get the subtle intricacies.
The frame is a pro-street Carolina Customs drop-seat frame that had the rear end chopped. The rigid frame was sportbike-inspired and was going to have to be able to get a serious exhaust coming up out of the fender, Ducati-style. Tony had seen a few ideas like his not work, so he started researching compounds that could be used, along with ventilation that would aid in the cooling of the exhaust and keep the paint from peeling. He started his search on the Internet and ended up looking at the NASA website, which led him to to a company that provided heat shielding technology for the space shuttle. The pipes got a ceramic coat inside and out, treated with the heat deflector material he picked up online, and then wrapped with header tape. "Only if I am sitting in traffic for a long time does the fender actually get warm to the touch, but it still isn't hot enough to mess up the paint. I think the air vents on the side aid in the cooling as well," Tony said.
The fabrication on this bike was done meticulously, with very little Bondo or body filler being needed before paint. The oil tank was incorporated into the front of the frame and adorned with a grill so that it fit the lines of the bike-no stock horseshoe tank here. The gas tank was hand-made to exacting specs, so that it perfectly fit the contours of the frame and still accentuated the drop seat feature of the bike. There were going to be parts that would need to be bought, but Tony was going to try and keep those to a minimum and display his fabrication skills while still making a statement about MotoGP and his tribute to Nicky Hayden. The wheels were going to be minimalist, yet have a spoked look. He opted for black powdercoated Performance Machine Vader wheels. There was going to be a minimal amount of electrical and it was all going to be run internally. Tony decided to mold the bullet taillights into the rear fender and hand-machine the tips of the dual exhaust, engraving them with the T-Fab logo
The bike looked about what he was hoping for, and he wanted to make sure the paint didn't detract from the bike-it needed to be subtle and classy. Tony turned to his good friend Steve Cook of Steve Cook Creations to help decide on the paint scheme. Steve was known for custom car paint, and Tony felt he could trust his judgement. They had the layout and went to Two Brothers paint to lay down the base coat. Mike Robins did all the graphics, and then it was back to Two Brothers for the clear coat. The tin was painted and Tony was psyched to get the bike fired. With help from R&B; Customs he got it wired up, and then he hit the street. Overall, it took Tony over 385 hours in fabrication and 11 weeks total to build the entire bike. He was back to working around the clock, but this time the results were obviously more satisfying.
| | |
| --- | --- |
| GENERAL | |
| OWNER | Tony Baustert & Greg Baker |
| SHOP | T-Fab Custom Metal Fabrication/ |
| | R&B; Cycles |
| PHONE | ({{{405}}}) 632-9976/(405) 631-1218 |
| WEBSITE | www.tfabmetal.com/ |
| | www.r&bcustomcycles.com; |
| YEAR/MAKE/MODEL | 06/T-Fab R&B; Customs/ |
| | Pro-Street |
| FABRICATION | T-Fab Customs |
| ASSEMBLY | T-Fab/R&B; |
| BUILD TIME | Three Months |
| | |
| --- | --- |
| ENGINE | |
| YEAR/ TYPE/SIZE | '06/S&S;/124ci |
| BUILDER | S&S; |
| CASES | S&S; |
| FLYWHEELS | S&S; |
| RODS | S&S; |
| PISTONS | S&S; |
| CYLINDERS | S&S; |
| HEADS | S&S; |
| VALVES | S&S; |
| ROCKERS | S&S; |
| ROCKER BOXES | S&S; |
| PUSHRODS | S&S; |
| PUSHROD TUBES | S&S; |
| CAM(S) | S&S; |
| LIFTERS | S&S; |
| CARBURETOR | S&S; Super G |
| AIR CLEANER | Billet 4-U |
| IGNITION | Crane |
| EXHAUST | T-Fab |
| | |
| --- | --- |
| TRANSMISSION | |
| YEAR/TYPE | Accessories Unltd (AU)/RSD |
| RSD | 6-speed |
| CASE | AU |
| GEARS | AU |
| CLUTCH | Grandeur Auto Clutch |
| PRIMARY DRIVE | Chain |
| | |
| --- | --- |
| FRAME | |
| YEAR/TYPE | Carolina Customs |
| RAKE | 38-degrees |
| STRETCH | 6 out, up |
| | |
| --- | --- |
| SUSPENSION | |
| FRONT | MeanStreet |
| TRIPLE TREES | Bombers |
| | |
| --- | --- |
| WHEELS, TIRES, AND BRAKES | |
| _FRONT _ | |
| BUILDER/SIZE | PM/21×21.15 |
| TIRE/SIZE | Metzeler/{{{80}}}/{{{90}}}-21 |
| CALIPER | PM |
| ROTOR | PM |
| REAR | |
| BUILDER/SIZE | PM/18×8.5 |
| TIRE/SIZE | Metzeler/18-260 |
| CALIPER | Jay Brake |
| ROTOR | Jay Brake |
| | |
| --- | --- |
| FINISH/PAINT | |
| COLORS | Orion Silver/Black/Maroon |
| PAINTER | Two Brothers Paint |
| GRAPHICS | Mike Robins |
| MOLDING | Two Brothers Paint |
| PLATING/POLISHING | Peerless Plating |
| CERAMIC COATING | Performance Coatings |
| | |
| --- | --- |
| ACCESSORIES | |
| FRONT FENDER | Fat Katz |
| REAR FENDER | T-Fab |
| GAS TANK & CAP | T-Fab |
| OIL TANK | T-Fab |
| HANDLEBARS | T-Fab |
| RISERS | Stampede |
| HAND CONTROLS | PM |
| FOOT CONTROLS | PM |
| FOOTPEGS | PM |
| HEADLIGHT | H-D V-Rod |
| TAILLIGHT | T-Fab |
| LICENSE MOUNT | T-Fab |
| SEAT | T-Fab |
| ELECTRICAL | T-Fab |