Running in conjunction with this years GEICO Motorcycle Hot Bike Tour is the Sailor Jerry Presents Hot Bike Invitational Bike Build-off featuring the world's best bike builders. The Invited builders will have to put their metal where their mouth is and build a badass bike that they can and will actually ride over 5 days and 1,000 + miles.
One of those featured builders is Dar Holdsworth of Brass Balls Cycles.
Dar is a guy who's life did not expose him to bike building early on. Dar spent his adolescent years in an orphanage. He was adopted during his teen years and joined the Air Force after high school. Shortly after returning from Desert Storm, Dar's time in the military had expired and he was moving on to a career in printing and manufacturing displays for the retail industry.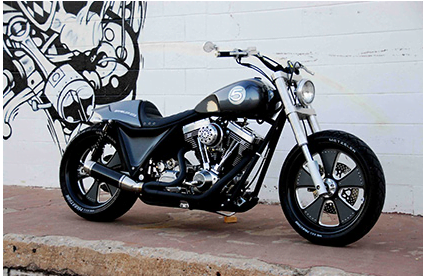 Prior to Darwin Motorcycles,Dar started and operated a successfulVisual/ Design business, providing signage, displays and fixtures to the retail industry. Dar has always been creative and driven.
Dar was a customer of Racing Innovations, collaborating on and helping build a few bikes with Sam Wills. While building a bike for Dar's dad (who adopted him at age 16), Dar approached Sam with a business proposal to design and build bikes together, "To offer the above average bike to the average Joe".
Through the support of his loving wife Latrisha, the good fortune to know Sam as a friend and bike building mentor, combined with pure drive & talent to do what he truly loves (design & build bikes), Dar created Darwin Motorcycles in 2006. In 2008 Darwin Motorcycles moved to it's current facility.
Dar is happily married to Latrisha Holdsworth and have 3 amazing children; Will, Jack, and Olivia.
Dar is a vet, a family man and a creative mastermind. He is driven and the driving force behind Brass Balls Cycles…
You can check out more of Dar's work and Build-off Bike progress at instagram.com/dar_brassballscycles and Brass Balls Cycles
Also follow the progress of the other Invited Builders with the hashtag #hotbikebuildoff on instagram.com
Other invitees of The Hot Bike Invitational Bike Build-off:
-Zach Ness of Arlen Ness Motorcycles
-Jesse Rooke of Rooke Customs
-Kirk Taylor of Custom Design Studio
-Mike Rabideau of Majik Mike's Kustoms
-Pat Patterson of Led Sled Customs
-Chris Richardson of LA Speed Shop
-Bryan Schmike of TPJ Customs
-Jason Grimes of Northeast Chop Shop
-Dave Polgreen of The Wretched Hive
-Justin Coleman of Torch Industries
-Danny Schneider of HardNine Choppers
For more info on the GEICO Motorcycle Hot Bike Tour , go to www.hotbikeweb.com/tour