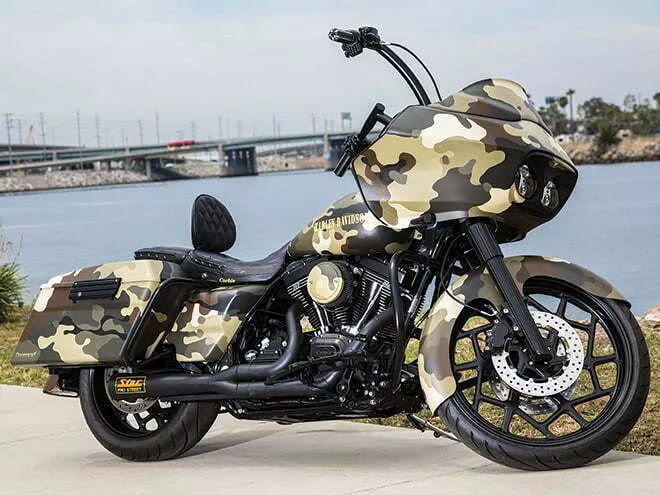 A good friend Lonnie and I go back approximately 15 years. Lonnie isn't new to being a bike owner and previously owned a 2004 Road King. As many of us bike owners know, we always want bigger and better when it comes to our toys. While I was building another customer's bike, Lonnie stopped by on several occasions. As a friend and a customer, I knew his plans for his next build were going to be big. Many times over the year, he would stop by and ask me if I was ready to build him a bike. On one particular afternoon, Lonnie stopped by and asked me if I was ready, like he had many times before, and said, "I'm finally ready. I hope you are!" He caught me off guard, but I knew what he was talking about—he was ready for his new toy.
While both of us were figuring out all the details, Arlen Ness had recently come out with a new line of products called 10 Gauge. Lonnie loved the style so much that he immediately had me order everything before having a bike to put all these parts on. The parts were for a 2010–later bike. He knew he wanted his bike to be different. Without a frame, not knowing exactly the colors he was going to use, or even the seat he was going to have on his bike, he was sure about three things: This bike would have to be 2010 or newer, have a big motor, and be different.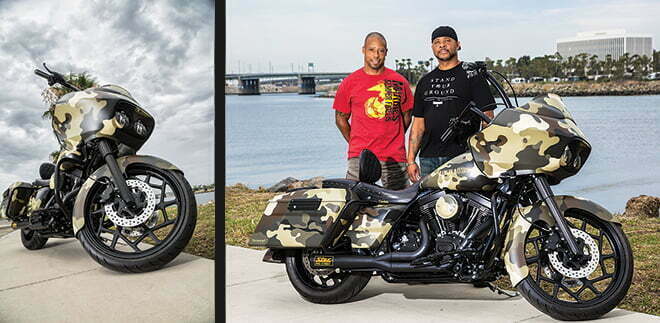 We both proceeded to brainstorm about everything that would represent bigger and better in Lonnie's eyes. He knew what he wanted and already had a vision in mind. Lonnie has a specific hat he wears and decided to match his bike to the hat. That is when "Desert Storm" was born. I then contacted George Bryce at Star Racing regarding the 128-inch motor that Desert Storm was going to have. Then the assembly, accessories, wheels and tires, paint, and details started to fall into place.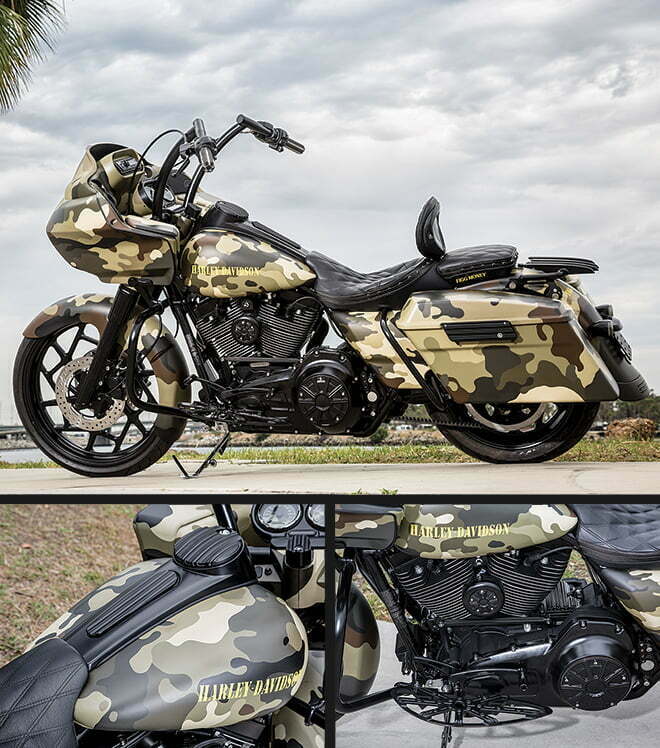 When Desert Storm was completed and turned on for the very first time, Lonnie and I could do nothing else but celebrate such an accomplishment. We had both worked hard together. For many months, we spoke about a motorcycle, which was now sitting in front of us. Once again, I felt joy to watch not only another customer, but a friend, with so much satisfaction.
As my passion to build motorcycles for customers grows, I am determined to give them 100 percent of my ability. I'm here to make their dreams become reality by building the bike they had visualized.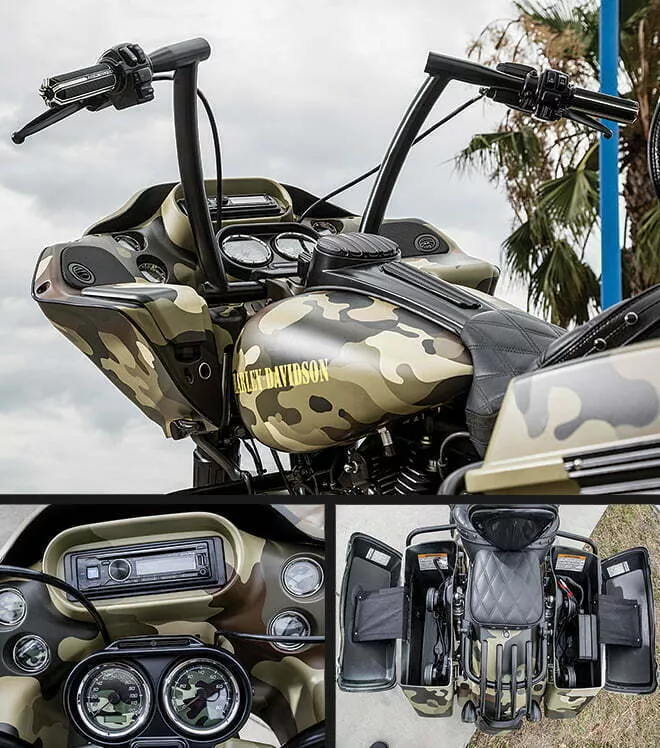 | Specifications | |
| --- | --- |
| General | |
| Owner | Lonnie |
| Shop | Strictly Hawgs |
| Website | strictlyhawgs.com |
| Year/Make/Model | 2010/Harley-Davidson/Road Glide |
| Fabrication | Strictly Hawgs |
| Build Time | 9 months |
| Engine | |
| Year/Type/Size | 2010/S&S/128ci |
| Builder | Star Racing/Strictly Hawgs |
| Cases | S&S |
| Cylinders | S&S |
| Heads | S&S B2 |
| Rocker Boxes | S&S |
| Cams | S&S |
| Throttle Body | Force Power Inc. |
| Air Cleaner | S&S |
| EFI Controller | TTS Tuner |
| Exhaust | Star Racing |
| Transmission | |
| Year/Type | 2010/H-D |
| Gears | Screamin' Eagle |
| Clutch | AIM/Barnett |
| Primary Drive | Barnett |
| Frame | |
| Year/Type | 2010/H-D |
| Rake/Stretch | Stock |
| Suspension | |
| Front End | Race Tech |
| Length | Stock |
| Triple Trees | H-D |
| Swingarm | H-D |
| Rear Shocks | Race Tech |
| Wheels, Tires, and Brakes | |
| Front | |
| Builder/Size | Arlen Ness/23 x 3-1/2 in. |
| Tire/Size | 120/70/23 |
| Calipers | Arlen Ness |
| Rotors | Arlen Ness |
| Rear | |
| Builder/Size | Arlen Ness/18 x 5-1/2 in. |
| Tire/Size | 180/60/18 |
| Caliper | Arlen Ness |
| Rotor | Arlen Ness |
| Pulley | Sprocket |
| Finish/Paint | |
| Manufacturer | House of Kolor |
| Colors | Green, Brown, Beige, Black |
| Paint/Graphics | John |
| Powdercoating | Specialized Coating |
| Accessories | |
| Front Fender | Primo |
| Rear Fender | H-D |
| Gas Tank | H-D |
| Dash | H-D |
| Gauges | Eyezone/Strictly Hawgs |
| Handlebars | JCL |
| Grips | 10 Gauge Arlen Ness |
| Mirrors | Arlen Ness |
| Hand Controls | H-D |
| Foot Controls | 10 Gauge Arlen Ness |
| Floorboards | 10 Gauge Arlen Ness |
| Headlight | Daymaker |
| Taillight | H-D |
| Turn Signals | Alloy Art |
| License Mount | H-D |
| Seat | Byrd Coop Customs |
| Stereo | Alpine |
| Amplifier | Alpine |
| Speakers | Alpine |