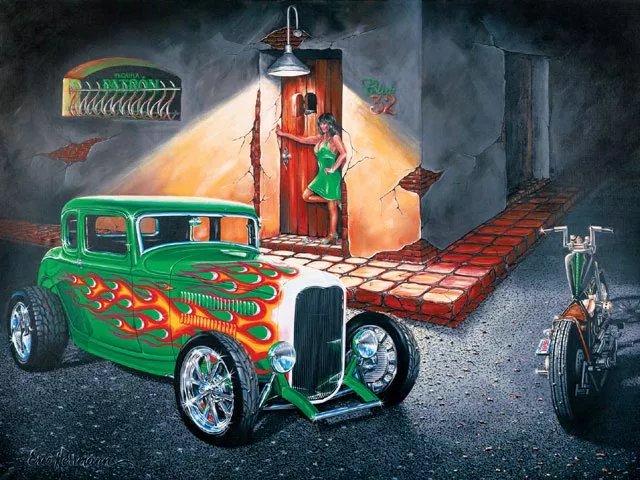 Motorcycle Media is your chance to send in media-books, DVDs, books on tape, eight-tracks, whatever-related to the motorcycle industry. Your material(s) will be checked in and reviewed by our staff, then safeguarded on our shelves. This could be your space below. Drop your media in the slot addressed to: Motorcycle Media, Hot Bike, 2570 E. Cerritos Ave., Anaheim, CA 92806.
Eric Herrmann's Artwork
World-renowned motorsport artist Eric Herrmann is one of the most recognized artists in both the motorcycle and hot rod industries. He has created paintings for the Indianapolis Motor Speedway, the Barrett-Jackson Auto Auction, Discount Tire Company, Score International, the Baja 1000, Billet Specialties, Richard Childress Racing, and is a Jack Daniel's licensed motorsport artist. As a lifelong motorcyclist and racer, Eric not only immerses himself in the passion of racing and all things two and four wheels, he often spends more than a year of research prior to completing a painting.
Eric's art is frequently used for limited-edition prints, book covers, clothing lines, and collectables to name a few, while his original paintings reside in museums and corporate collections. His latest painting shown here titled "Club 32" has already been sold and is in the collection of Billet Specialties. Measuring at a massive 5×6-foot original, "Club 32" takes a '32 Ford Deuce and places it in questionable surroundings (not your typical old gas station), complete with a '59 Panhead and many other subtle details in a somewhat seedy street scene. We'll let Eric's painting tell the rest of the story. For more information, contact Eric Herrmann Studios at (888) 200-6554, or visit
www.ericherrmannstudios.com.
The Quest To Be the Best At Bonneville
A finalist for the 2007 Dean Bachelor Awards-so we know it has to be a good read-Rocky Robinson's book Flat Out: The Race For The Motorcycle World Land Speed Record from Motorbooks tells the story of his epic decade-long quest to be the fastest rider on earth. Rocky takes the readers on a 256-page journey of the triumphs and tribulations of trying to achieve Bonneville Salt Flats bragging rights and captures the hard work, sacrifice, and determination that go into being the world's best.
As a motorcycle daredevil, racing was a longtime passion of Rocky's and his determination to be the best finally happened on Labor Day weekend 2006 when he rode his Suzuki-powered streamliner 344 mph-that's roughly 6 miles per minute. In one of Rocky's most triumphant moments, he was faced with his greatest challenge of a rival team possibly beating his record nearly days later. Would Rocky hold the record he had worked so long to achieve, or would his goal be shattered? You'll have to contact Motorbooks at (651) 287-5000, visit www.motorbooks.com, or go to your nearest bookstore to find out.