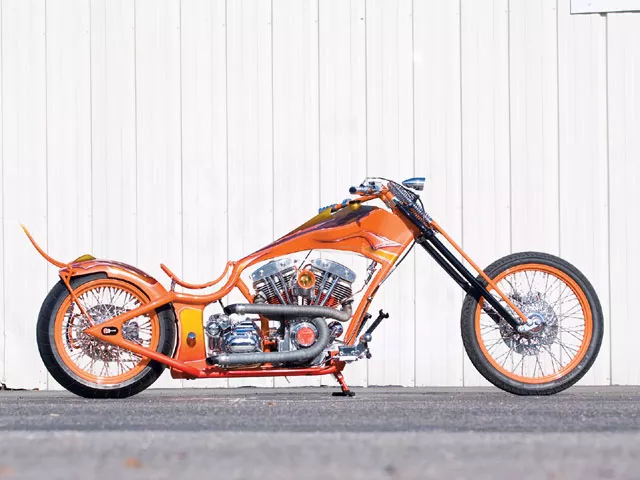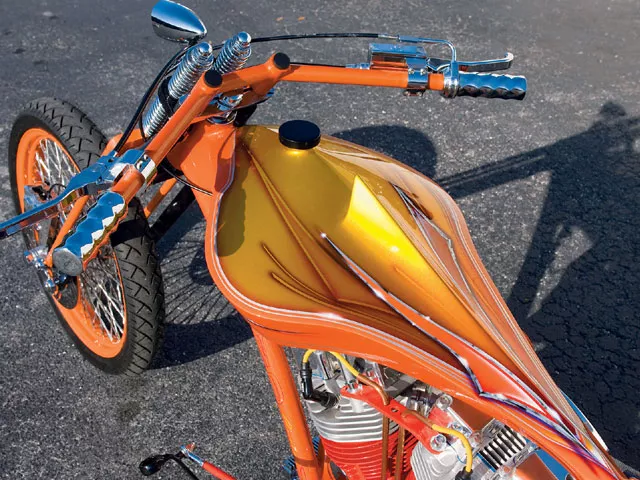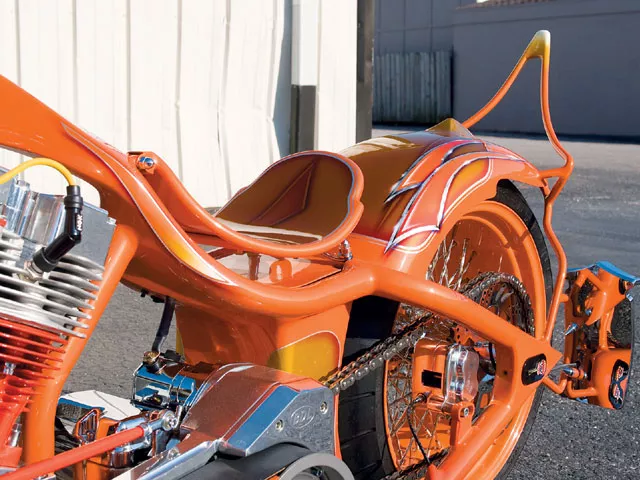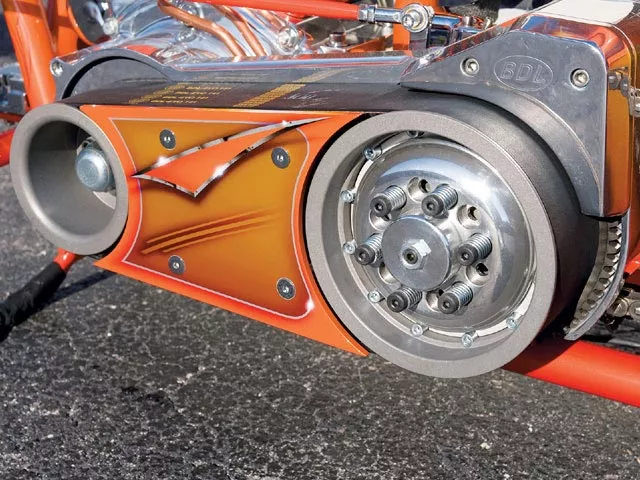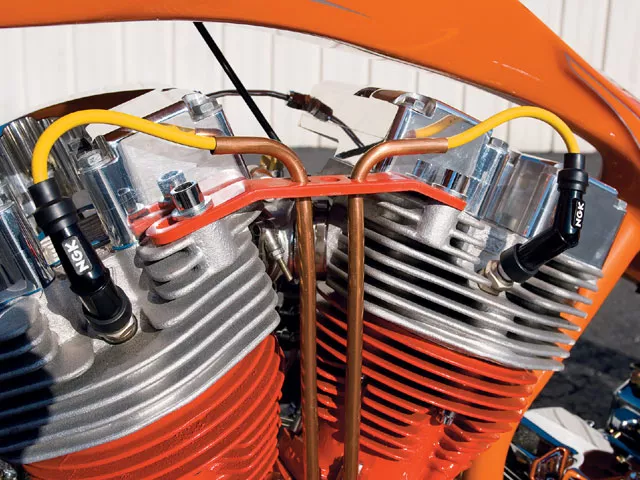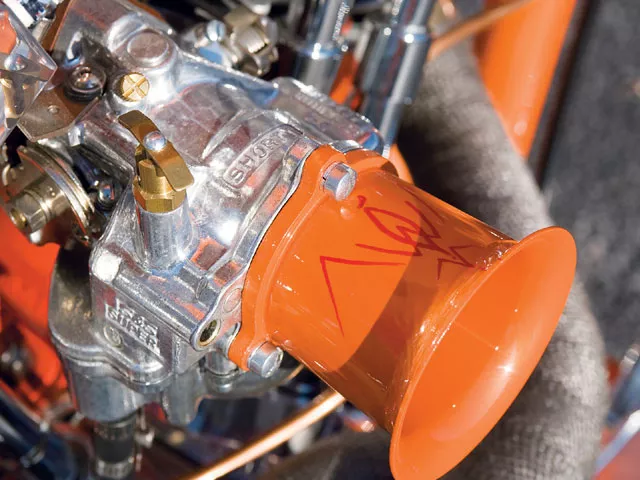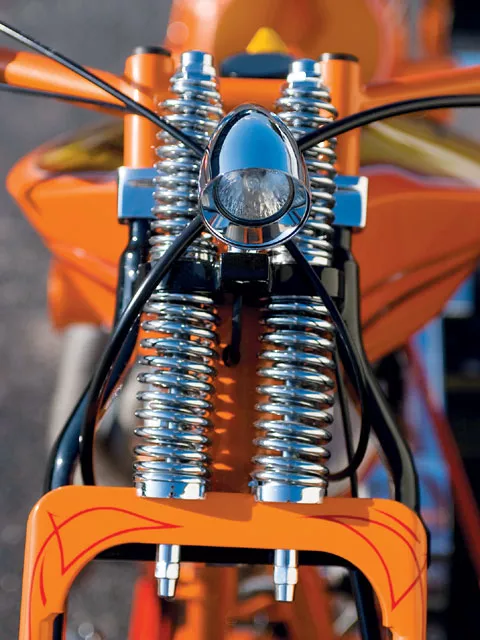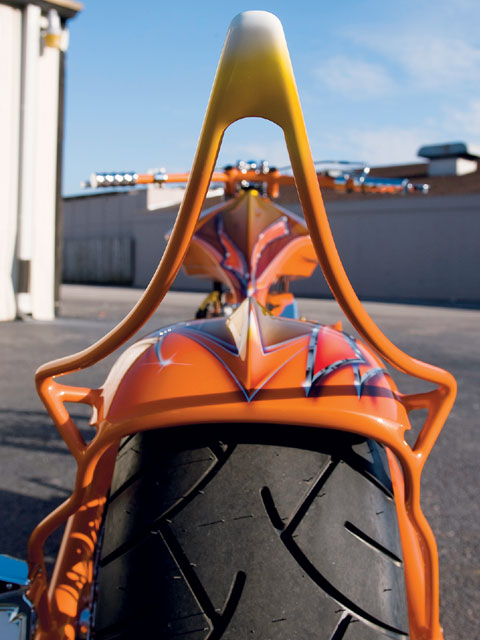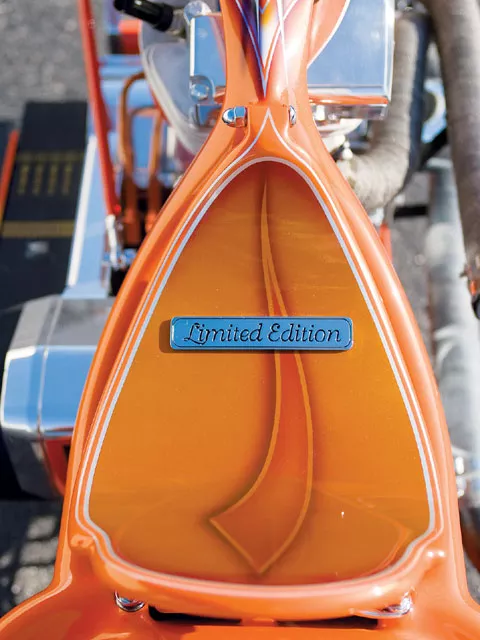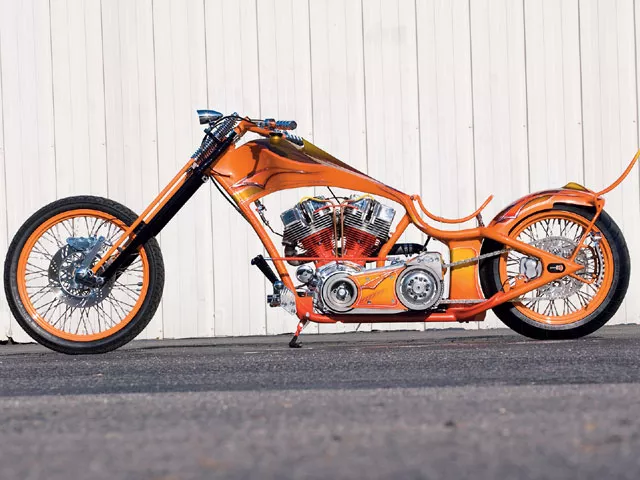 Eric Warren is no stranger to the custom bike world. He's been in the business over 15 years, and has been building ground-up customs for the last seven. His journey began at 18 when he met Billy and Warren Lane. At that point he was doing custom paint on cars and bikes, so Billy and Warren had him paint a few of their bikes. A few years later Eric got his first Harley, a Sportster, and began trading paint for Billy's mechanical expertise. He'd had bikes since he was 15, but the Sportster was his first V-Twin and the bike that sealed the deal, catapulting Eric in the world of American motorcycling.
Eric continued to do custom paint for a number of years, and then moved from Miami to Tampa nine years ago and opened Eric Warren Designs (EWD) with his brother Kurt. At first they focused on paint, but began doing some customizing here and there, slowly shifting their focus from just paint to a full-service motorcycle shop.
In 2006 Eric and Kurt noticed that the Seminole Hard Rock Hotel and Casino was holding a bike building competition for Florida builders called Florida's Next Top Bike Builder. The winner would go on the Seminole Hard Rock tour. Since Eric was in the middle of building a pro-street, he decided to enter it in the competition. The judges liked what they saw and Eric's bike made it into the finals. Then Eric found out there was a catch. The judges told the finalists they would have to all build another bike, just to prove they were really builders. It turned out they were looking for the real deal, not just some guy bolting a bunch of parts together in his garage, but an actual builder. This unexpected turn of events threw some of the competitors off. Most guys thought they could get away without having to build something else, and even Eric was surprised, but didn't bat an eye. He knew he was up for the challenge.
Randy Medard had a few Harleys that Eric and Kurt did tons of work to. You could say he was something of a regular at EWD. Eric had been trying to talk him into doing a custom for two to three years, instead of throwing so much at his Harleys, but Randy was a little hesitant. At the time of the competition Eric had him just about convinced, but knew a little more prodding would get him to cave. Eric told him that he was going to build a bike for the competition, and it was going to be his bike. Randy was sold.
Eric has had a ton of influences over the years, and his builds are as eclectic as they can be. "My kind of style is not sticking to a style. I don't want to fall into a category. I try to do everything differently." And that's what he did with this pro-street/bobber called the Pro-Bob. He'd never seen anyone mix the two before, and knew he was the guy to do it.
Eric and Kurt started with one of EWD's signature drop-seat frames with a built-in oil bag and 42 degrees of rake to give the bike some pro-street attitude, and threw on a 4-inch over Roadmax Springer to mix it up a bit. Of course, the bike had to be a rigid. Eric wanted to make sure it was as bare bones as possible, so there's nothing on it that isn't essential to make it run.
The powerplant was going to be a Shovel, so Eric decided on an S&S; 113-inch Shovelhead with a Super G carb. He fabricated a bobber-style exhaust in-house. To get power to the rear wheel he went with a Roadmax six-speed transmission and open primary.
For the tank, he wanted something that would really flow with the frame and look of the bike, so he fabricated a twisted teardrop tank that looks like it is part of the frame. Kustom Werks did the rear fender, and for wheels he went with a DNA 21-inch in the front and an 18-inch in the back, wide enough for a 240.
Paint was a no-brainer. Of course, he'd do it all himself. Kurt did the molding on the bike, and the jugs and cases were sent to American Powder Coating for a slick red coating. Eric decided on Pearl Orange with some graphics to complement the bike's shape.
The whole build took about four months, and the judges were impressed. His bike took First place in the competition, and he was really happy with the overall experience. Randy is more than happy with his first full custom bike. He got way more than he expected.
| | |
| --- | --- |
| SPEC SHEET | |
| BIKE OWNER | Randy Medard |
| SHOP NAME | EWD Cycles |
| SHOP PHONE | (813) 333-1681 |
| SHOP WEBSITE | www.ewdcycles.com |
| YEAR/MAKE/MODEL | '06/EWD Cycles/Pro-Bob |
| FABRICATION | Eric Warren |
| ASSEMBLY | Eric and Kurt Warren |
| BUILD TIME | 4 months |
| | |
| --- | --- |
| ENGINE | |
| MANUFACTURER | S&S; |
| TYPE/SIZE | Shovelhead/113 ci |
| BUILDER | S&S; |
| CASES | S&S; |
| CYLINDERS | S&S; |
| HEADS | S&S; |
| ROCKER BOXES | S&S; |
| CARBURETOR | S&S; Super G |
| AIR CLEANER | Velocity stack |
| EXHAUST | EWD Cycles |
| | |
| --- | --- |
| TRANSMISSION | |
| YEAR/MANUFACTURER/TYPE | '06/Roadmax/ 6-Speed Left Side Drive |
| CASE | Roadmax |
| CLUTCH | Roadmax |
| PRIMARY DRIVE | Roadmax |
| | |
| --- | --- |
| FRAME | |
| YEAR/MANUFACTURER | '06/EWD drop seat |
| RAKE | 42 degrees |
| STRETCH | 2 up / 2 out |
| | |
| --- | --- |
| SUSPENSION | |
| FRONT | Roadmax Springer |
| LENGTH | 4-inches over |
| REAR | I don't think so |
| SWINGARM | For what? |
| SHOCKS | What are those? |
| | |
| --- | --- |
| WHEELS, TIRES, AND BRAKES | |
| MANUFACTURER FRONT/TYPE | DNA/60-Spoke Twisted |
| SIZE | 21×2.15 |
| TIRE | Metzeler |
| CALIPER | HHI |
| ROTOR | Billet Concepts Inc. |
| MANUFACTURER REAR/TYPE | DNA/60-Spoke Twisted |
| SIZE | 18×8.5 |
| TIRE | Metzeler {{{240}}} |
| CALIPER | HHI Sprotor Kit |
| ROTOR | Billet Concepts, Inc. |
| | |
| --- | --- |
| FINISH/PAINT | |
| COLOR | Pearl Orange |
| PAINTER | Eric Warren |
| GRAPHICS | Eric Warren |
| PLATING/POLISHING | Jugs and Cases |
| POWDER COATING | American Powdercoating |
| | |
| --- | --- |
| ACCESSORIES | |
| FRONT FENDER | Where? |
| REAR FENDER | Kustomwerks |
| FENDER STRUTS | None |
| GAS TANK∩ | EWD Cycles |
| OIL TANK | EWD–Built into the frame |
| GAUGES | Just pass everyone! |
| HANDLEBARS | EWD Cycles |
| RISERS | Built in |
| MIRRORS | You doing your hair? |
| HAND CONTROLS | Jaybrake |
| FOOT CONTROLS | EWD Cycles |
| FOOTPEGS | EWD Cycles |
| HEADLIGHT | Headwinds |
| TAILLIGHT | Kustomwerks |
| TURN SIGNALS | Randy's arms |
| LICENSE MOUNT | EWD Cycles |
| SEAT | EWD Cycles |
| ELECTRICAL | Kurt Warren |