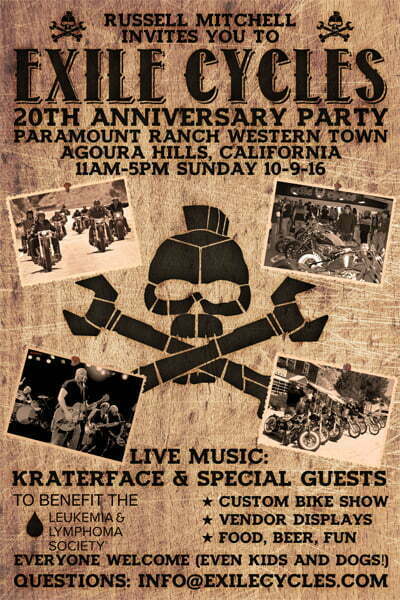 Exile Cycles turns 20 this year and is celebrating with a big bash out here in Southern California. The birthday party will be held on Sunday October 9th 2016 from 11am-5pm.
Stop by the old Western Town inside Paramount Ranch in Agoura Hills, California for the celebration. This is an awesome venue in the beautiful Santa Monica mountains just a mile or so from the world-famous Rock Store and minutes from the Malibu coast-line. There will be live music, bike show, vendors, craft beers, food-trucks and good-times. Perhaps you joined them for Exile Cycles' almost legendary 10th Anniversary Bash? The Event is free, but, as usual, they will be accepting donations to aid the Leukemia & Lymphoma Society.
There is plenty of free vendor space so bring a table, bring a booth, bring a rig – whatever you like. Bring a bike, or just bring yourself! Either which way, they would love for you to join them. If you can't be there, but can find it in your heart to donate something for our raffle or auction, then even just a couple of T-shirts will show you care. The LLS is such a great cause and any and every donation will be very gratefully received! See the Exile website for more info.
Watch our Events department for more upcoming races, shows, and much more.