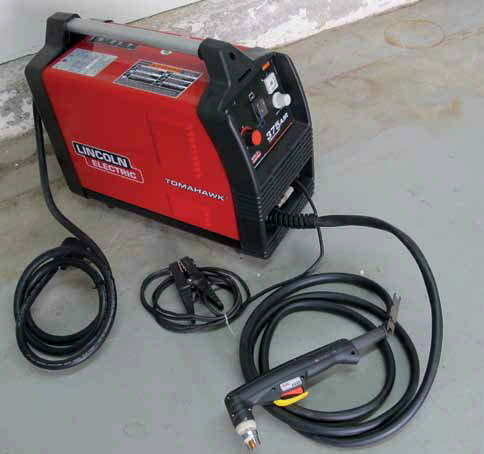 Who doesn't like cutting things up and making sparks fly while doing it? If this sort of action can actually be easy and beneficial to building something, then it's a total win-win situation. Lincoln plasma cutters, specifically the Tomahawk 375 plasma cutter, is one great machine. Its 15×8-1/2×19-inch size makes it a mighty mite, yet the Tomahawk will cut mild steel, stainless steel, aluminum, brass, and copper up to 3/8 inch at 14 inches per minute.
Yes, this Lincoln Electric plasma cutter can cut ferrous and non-ferrous metal like all these types of machines have for years, but this is not your dad's plasma cutter. The Tomahawk 375 has some straight-up futuristic fun going on with it such as Continuous Output Control that detects and configures the arc for different material thickness. The Tomahawk also has a similarly advanced Touch Start System that makes sure the machine has reliable plasma arc initiation every time, no matter what you are cutting or where you are doing it.
Another standout on this machine is Lincoln's Rapid Arc Restrike, which makes cutting through gaps easy. The Front Panel Purge Control, makes it easy to set the air flow rate without initiating the plasma arc.
Sure all this is well and good and makes for a nice machine, but what sets this Lincoln plasma cutter apart from the large percentage of alternatives out there is this red box of fun has an internal air compressor, which makes it insanely portable and enables you to use it on the side of the road and in other environments where compressed air is not available. That fact alone, coupled with all its other features, makes the Tomahawk 375 Air rise to the top of our list of plasma cutters.