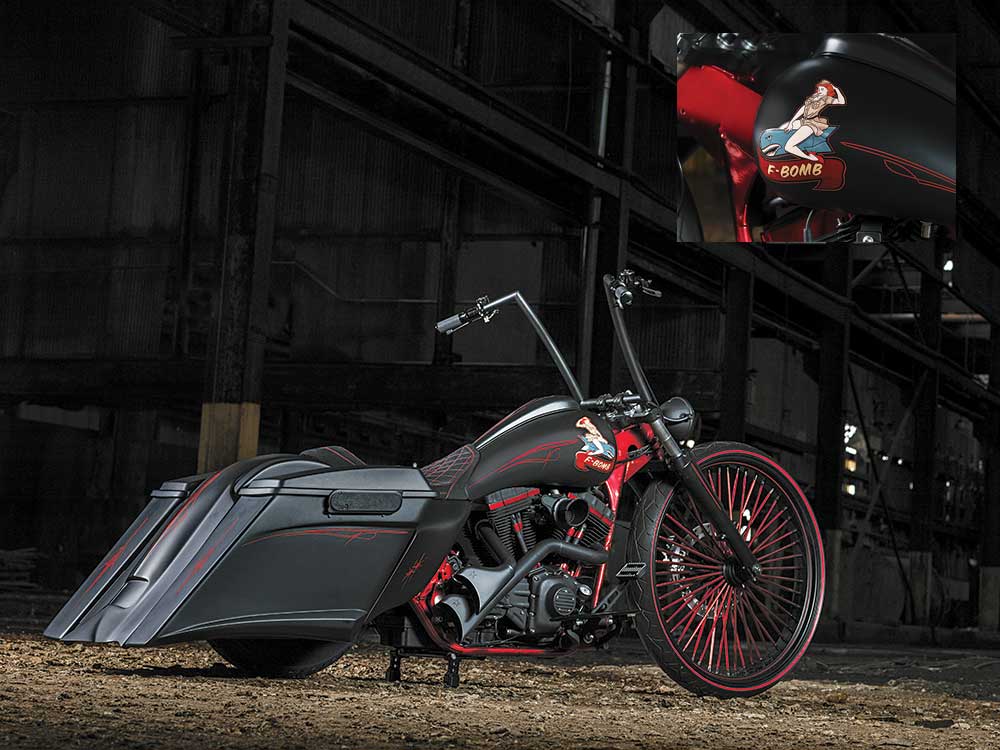 Hot Bike: What's the story behind this bike?
F Bomb Baggers: I'm a big fan of the old nostalgic looks from the '50s and '60s and figured I'd try my best to get a newer bike to look old. I guess it's a matter of trying to make it look both like an old-school chopper and a bagger. It starts with the old-school look towards the front, and you get a taste of new school when it gets to the back with the Black Label bag setup.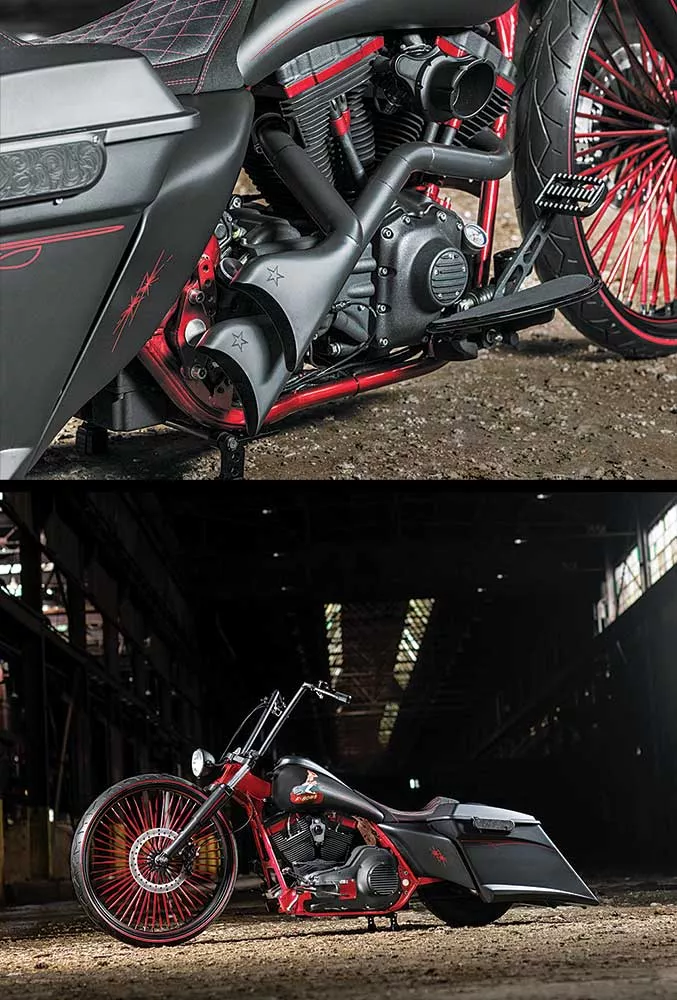 HB: What's your favorite part?
FBB: I got to say the coolest parts of this bike are the exhaust, killer artwork by Famous Dave, and that big honkey spoke wheel. I always believe less is more when it comes to the big-wheel baggers. We are already getting shit and haters left and right, so I always try to make them clean and simple. I think the biggest compliment is when an older rider comes up to me and says I'm not a fan of this big-wheel shit but I dig this bike. Another touch was just adding a simple red stripe on the front wheel that really peeks it out. When it was finally buttoned up I hit up Brian at Sinister and told him to do it old school, and it couldn't have come out better—just the clean, simple, '50s look. A seat should never stick out on a bike; it should just perfectly blend in with the whole bike, and this one did it.
HB: What's the most challenging part of the build?
FBB: Really, with it being a non-fairing bike, it keeps it on the easy side. If anything, just hoping the scheme was going to work was the biggest question. Once people started stopping by the shop and dropping the "F bomb" when seeing it we knew it was good to go.

| Specifications: | |
| --- | --- |
| General | |
| Owner: | Jonni Biscayne |
| Shop Name: | F Bomb Baggers |
| Shop Phone: | (779) 435-0849 |
| Shop website: | facebook.com/chicagobaggers |
| | Instagram @fbombbaggers |
| Year/Make/Model: | 2003/Harley-Davidson/Road King |
| Fabrication: | F Bomb Baggers |
| Build Time: | 1 year |
| Engine | |
| Year/Type/Size: | 2003/H-D/95 in. |
| Builder: | Minos Racing |
| Cases: | H-D |
| Cylinders: | Fuel Moto |
| Heads: | Minos Racing |
| Rocker Boxes: | Roland Sands Design |
| Cams: | H-D |
| Throttle Body: | H-D |
| Air Cleaner: | Roland Sands Design |
| EFI Controller: | H-D |
| Exhaust: | F Bomb Shorty Fish Tails |
| Transmission | |
| Year/Type: | 2003/H-D |
| Gears: | 6-speed |
| Clutch: | H-D |
| Primary Drive: | H-D |
| Frame | |
| Year/Type: | 2003/Touring |
| Rake/Stretch: | HHI Neck Kit |
| Suspension | |
| Front End: | Dirty Air |
| Length: | Stock |
| Triple Trees: | HHI |
| Swingarm: | H-D |
| Rear Shocks: | Dirty Air |
| Wheels, Tires, and Brakes | |
| Front | |
| Builder/Size: | Ride Wright/Sinister/30 in. |
| Tire/Size: | Vee Rubber/30 in. |
| Calipers: | Performance Machine |
| Rotors: | Ride Wright |
| Rear | |
| Builder/Size: | H-D/16 in. |
| Tire/Size: | 16 in. |
| Caliper: | H-D |
| Rotor: | H-D |
| Finish/Paint | |
| Colors: | Hot Rod Flat Black |
| Paint/Graphics: | Fast Eddie Hot Rod Shop/Famous Dave pinstriping |
| Powdercoating: | Brett at Advanced Powdercoating |
| Accessoriess | |
| Rear Fender: | Black Label Baggers |
| Fender Struts: | Arlen Ness |
| Gas Tank and Cap: | Arlen Ness |
| Handlebars: | AR Baggers |
| Hand Controls: | Roland Sands Design |
| Foot Controls: | Joker |
| Headlight: | Old School |
| Taillight: | F Bomb LEDs |
| Seat: | Brian Sinister Seats |
| Saddlebags: | Black Label Baggers |
| Saddlebag Latches: | Arlen Ness |
| Amplifier: | 2 amps by Rockford Fosgate |
| Speakers: | Audio F bomb four 8-in. woofer |