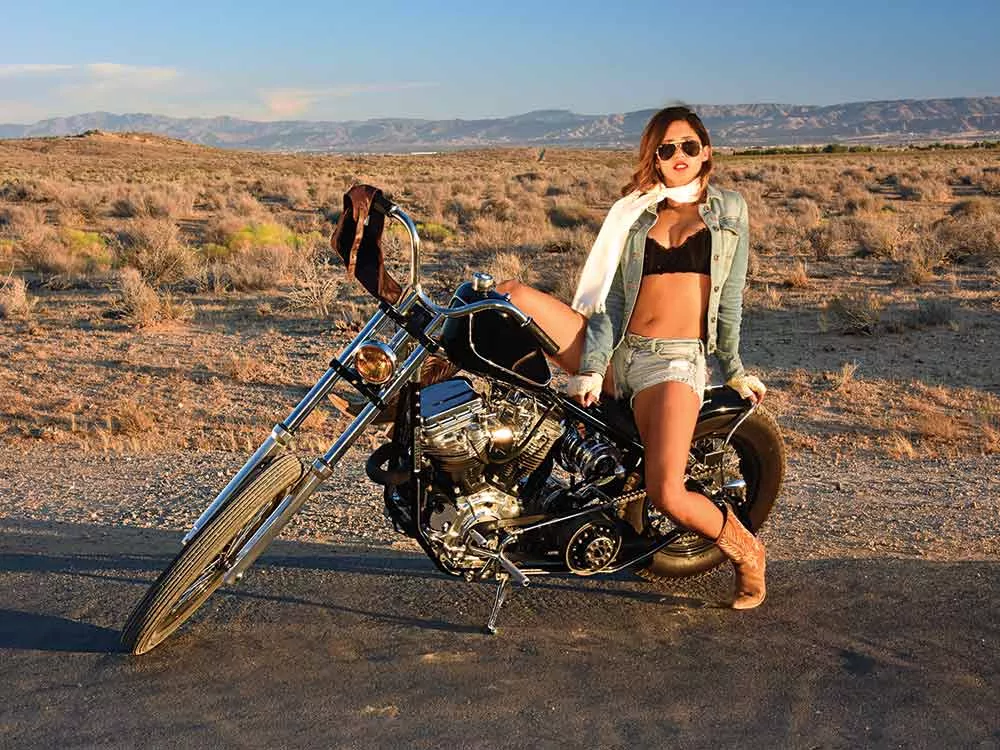 Bike builders are a special breed. Whether it's the backwoods of a remote town buried deep in middle America or all the way from a foreign country like Japan, each builder has its own unique style and way of building custom bikes. Originally from Fukuoka, Japan, Aki has had a passion specifically for Harley-Davidson motorcycles since he was a young man. His desire to work on motorcycles brought him to the US in 1995. Hog Killers was opened in January of 2009 after years of apprenticeship and working under the direction of Jesse James.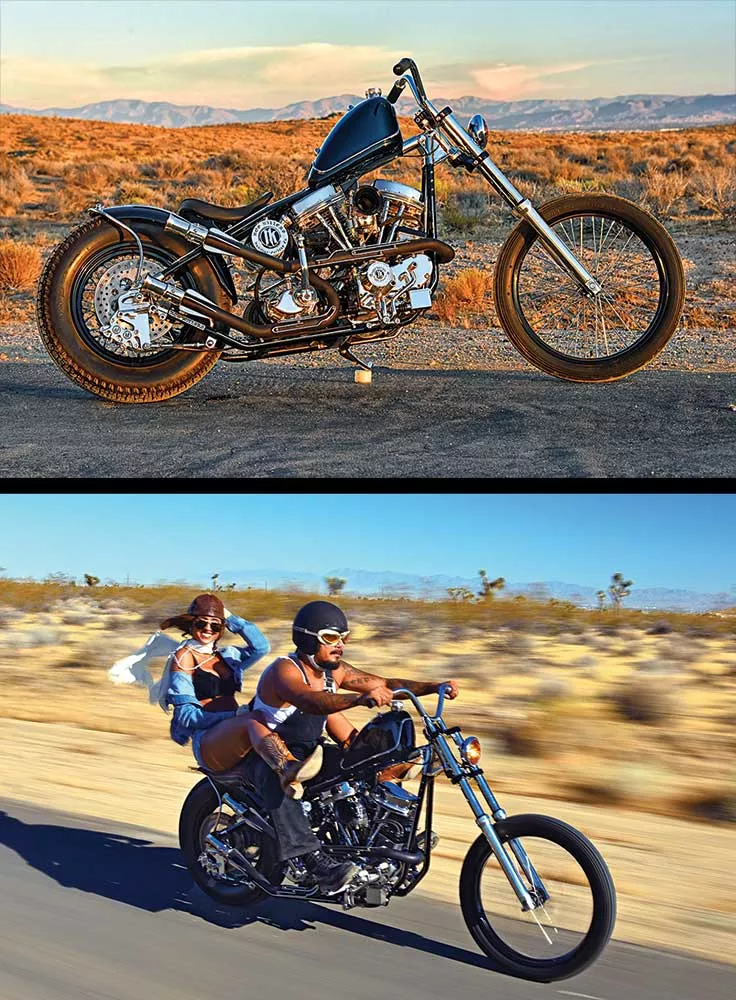 This 1961 Harley-Davidson FLH is the perfect example of one of his clean and correct custom builds. When asked why he built this bike like he did, Aki responded, "I was shooting for a simple and clean chopper. This is my favorite setup: jockey shift and suicide clutch with no front brake."
The motor is a 1961 74ci Panhead that was massaged by Aki with Andrews cams, Vida air cleaner, and an S&S Super E feeding the fuel. He then fabbed up a tank, fenders, and bars in the classic chopper style. A custom exhaust features great use of stainless and black, including custom piping for heat shields, winged ends, and custom tips.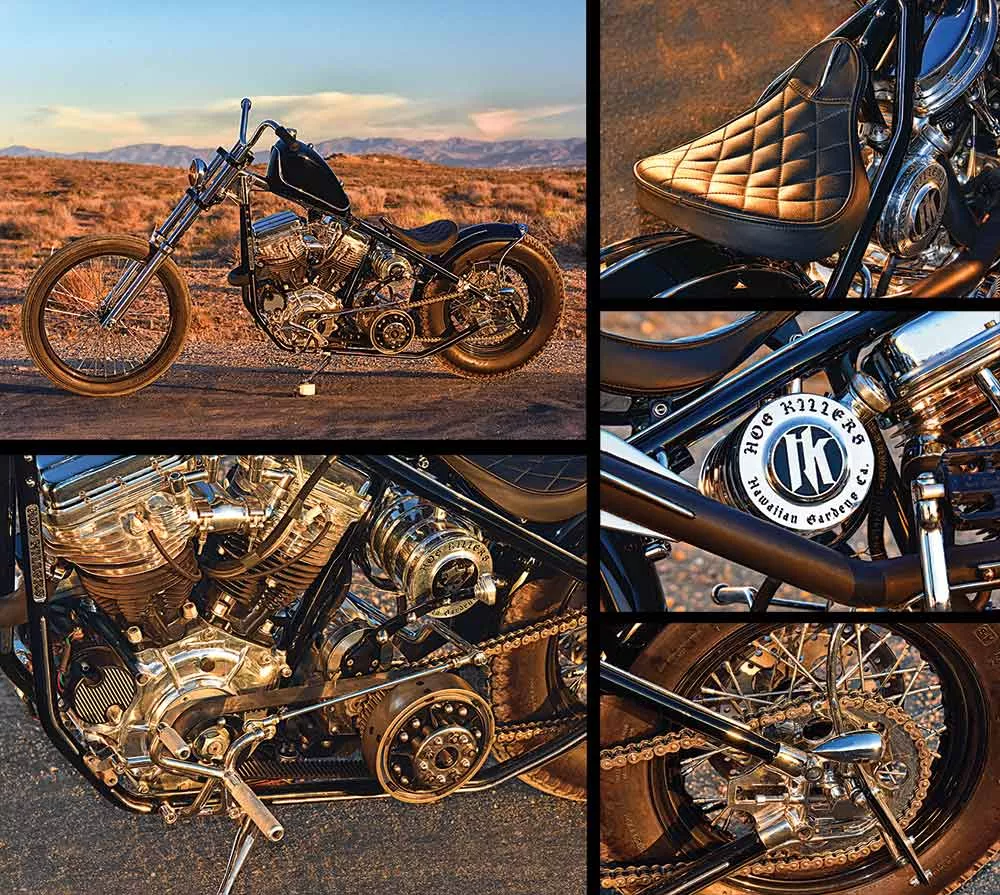 There is a right way to make a bike that will stand the test of time and a wrong way that is quickly forgotten. What separates this from others is its lack of unnecessary clutter and extreme attention to detail.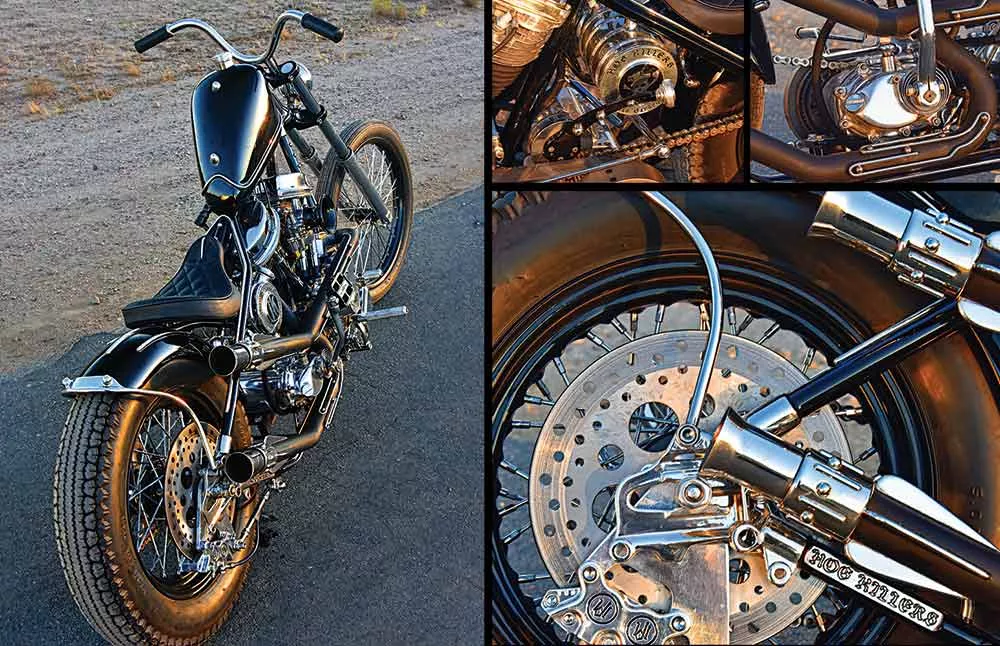 | Specifications: | |
| --- | --- |
| General | |
| Owner: | Aki Sakamoto |
| Shop: | Hog Killers |
| Shop Phone: | (562) 276-3427 |
| Website: | hogkillers.com |
| Year/Make/Model: | 1961/Harley-Davidson/FLH |
| Fabrication: | Hog Killers |
| Engine | |
| Year/Type/Size: | 1961/Panhead/74ci |
| Builder: | Hog Killers |
| Cases: | H-D |
| Cylinders: | H-D |
| Heads: | H-D |
| Rocker Boxes: | H-D |
| Cams: | Andrews |
| Carburetor: | S&S Super E |
| Air Cleaner: | Vida |
| Exhaust: | Hog Killers |
| Transmission | |
| Year/Type: | 1961/H-D |
| Gears: | H-D |
| Clutch: | H-D |
| Primary Drive: | Open |
| Frame | |
| Year/Type: | 1961/Rigid |
| Rake/Stretch: | Stock/Stock |
| Suspension | |
| Front End: | Hog Killers |
| Length: | 6 over |
| Triple Trees: | Hog Killers |
| Swingarm: | Rigid |
| Rear Shocks: | Rigid |
| Wheels, Tires, and Brakes | |
| Front | |
| Builder/Size: | H-D/21 in. |
| Tire/Size: | Avon/21 in. |
| Calipers: | N/A |
| Rotors: | N/A |
| Rear | |
| Builder/Size: | H-D/18 in. |
| Tire/Size: | Avon/18 in. |
| Caliper: | Performance Machine |
| Rotor: | Performance Machine |
| Finish/Paint | |
| Colors: | Black |
| Paint/Graphics: | Hog Killers |
| Accessories | |
| Rear Fender: | |
| Gas Tank: | Hog Killers |
| Gas Cap: | Hog Killers |
| Handlebars: | Hog Killers |
| Master Cylinder: | Performance Machine |
| Grips: | Andy |
| Hand Controls: | Hog Killers Handshift |
| Foot Controls: | Hog Killers |
| Pegs: | Hog Killers |
| Headlight: | Small |
| Taillight: | Heartland |
| Seat: | Hog Killers |