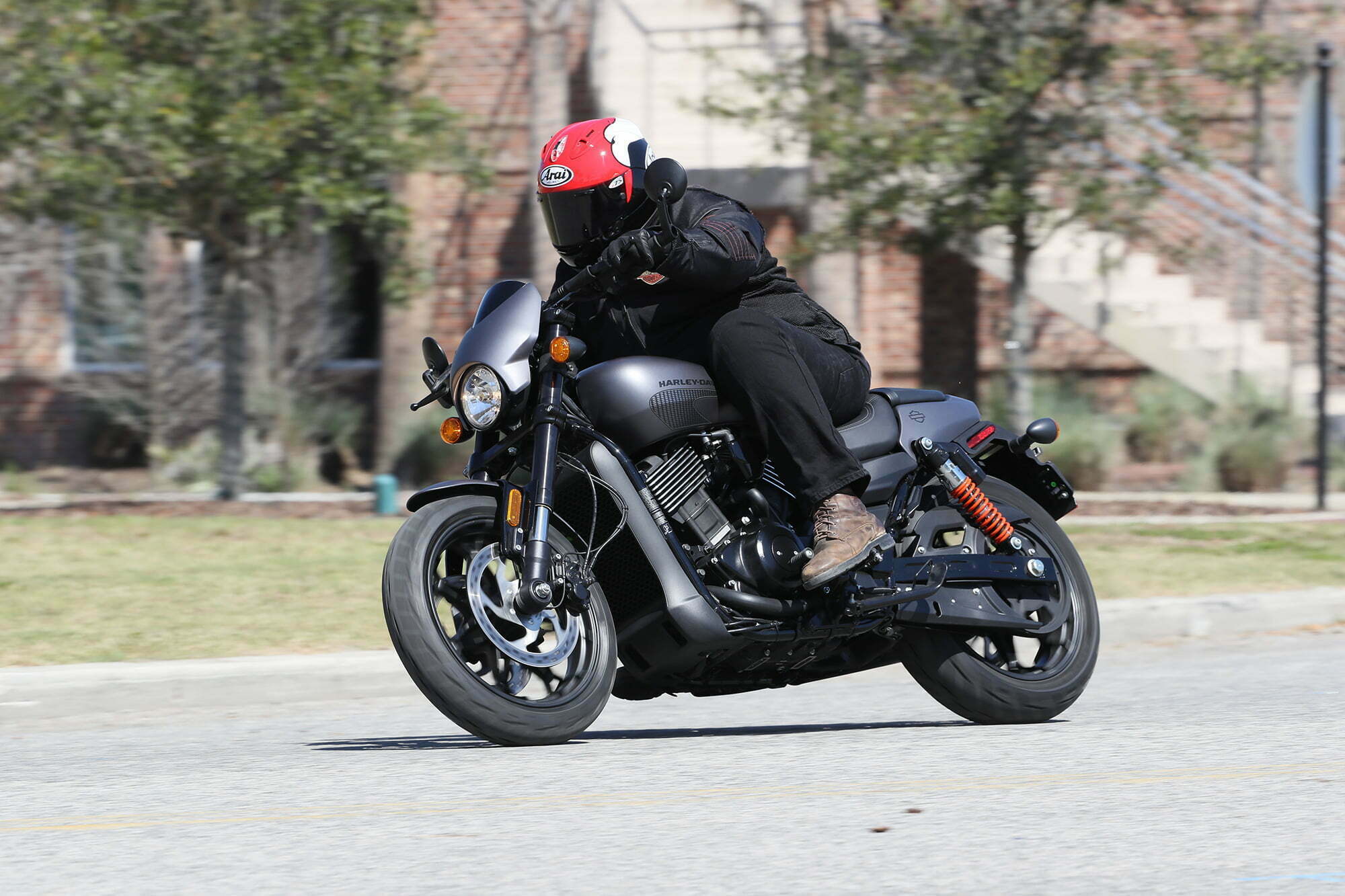 Truth be told, I wasn't too impressed with the first iteration of the Harley-Davidson Street back in 2014. While it was a fun bike with a zippy little engine, a few things kept it from being a winner for me and possibly its intended audience.
Those few things included the fit and finish as well as the handling of the bike, specifically the steering rake angle. The fit and finish were not up to the usual Harley-Davidson standards that everyone associates with the brand. Exposed wires with strange routing and suspect paint were more "late-night garage builder" quality than that from one of the world's premier motorcycle manufacturers. The steering rake was kicked out too much, which didn't make any sense to me as the bike was touted as an ideal machine for urban assaults. That 33-degree rake created a bit of a lazy steering feel and a hint of floppiness at lower speeds—less than ideal for ripping through the city.
Thankfully the design team in Milwaukee more than addressed these problems and came out with a bike that I feel is a big winner for the consumer. It's also a winner for Harley-Davidson as it appeals to a different segment of the market that it previously had not provided offerings for. A younger, more urban consumer whose wants and needs are a bit different than those of the usual H-D customer.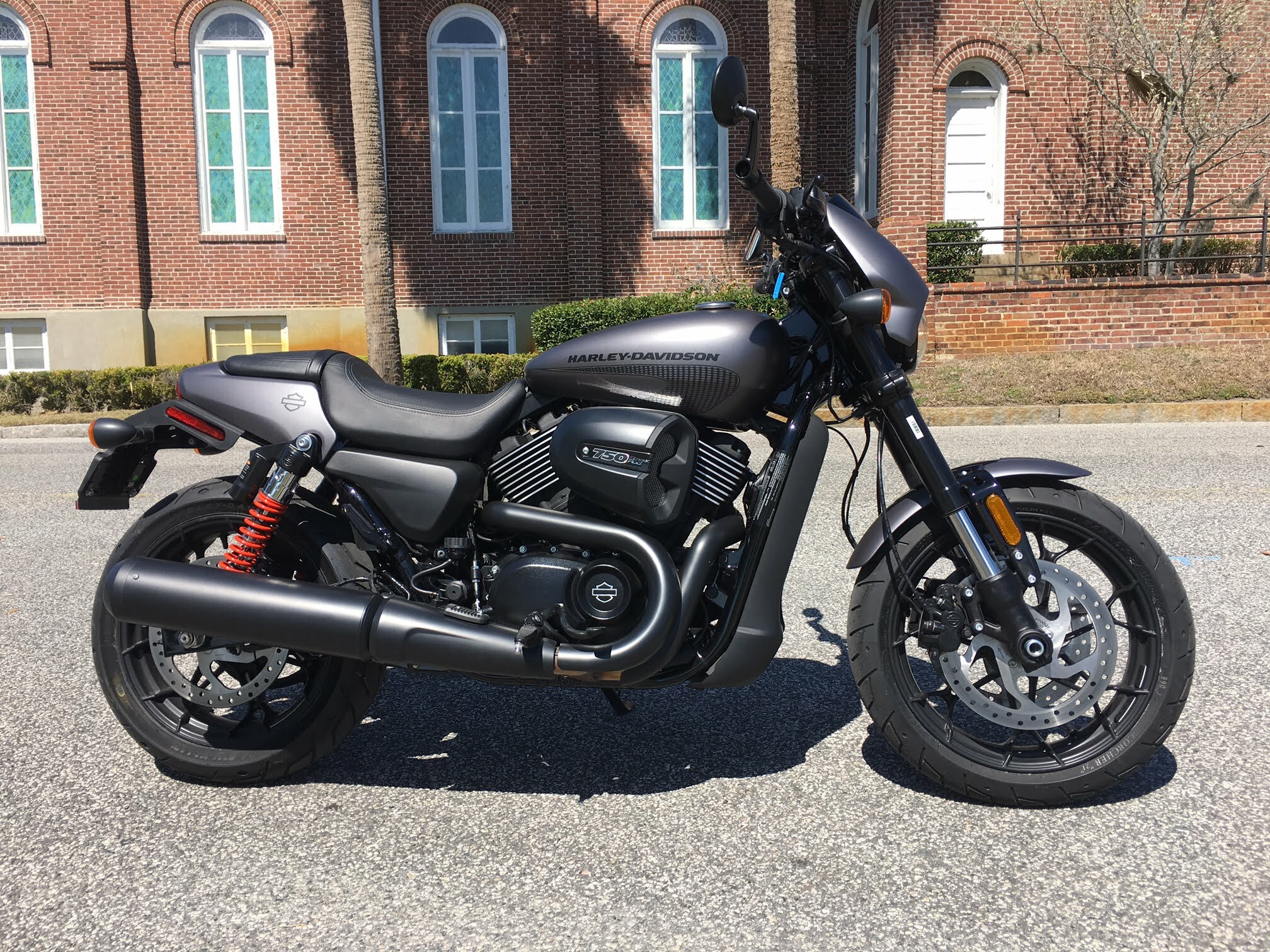 The list of upgrades to the Street Rod over the Street are impressive and plentiful: 43mm inverted fork, 17-inch wheels front and rear shod with performance-oriented Michelin Scorcher tires, dual 300mm brake rotors with dual-piston calipers squeezing them, longer-travel piggyback shocks, a much sleeker designed tailsection, shorter subframe, relocated fuel tank, increased cornering clearance, vastly improved paint quality and overall finish details, and—my two favorites—more powerful engine and steeper steering rake.
So do those "upgrades" really do anything, or do they just look nice on the spec chart? The upgrades give the bike a whole new personality. Sort of along the lines of the classic "ugly duckling to swan" story. This is the bike the Street always could be but was just hiding underneath a few pesky, unattractive feathers.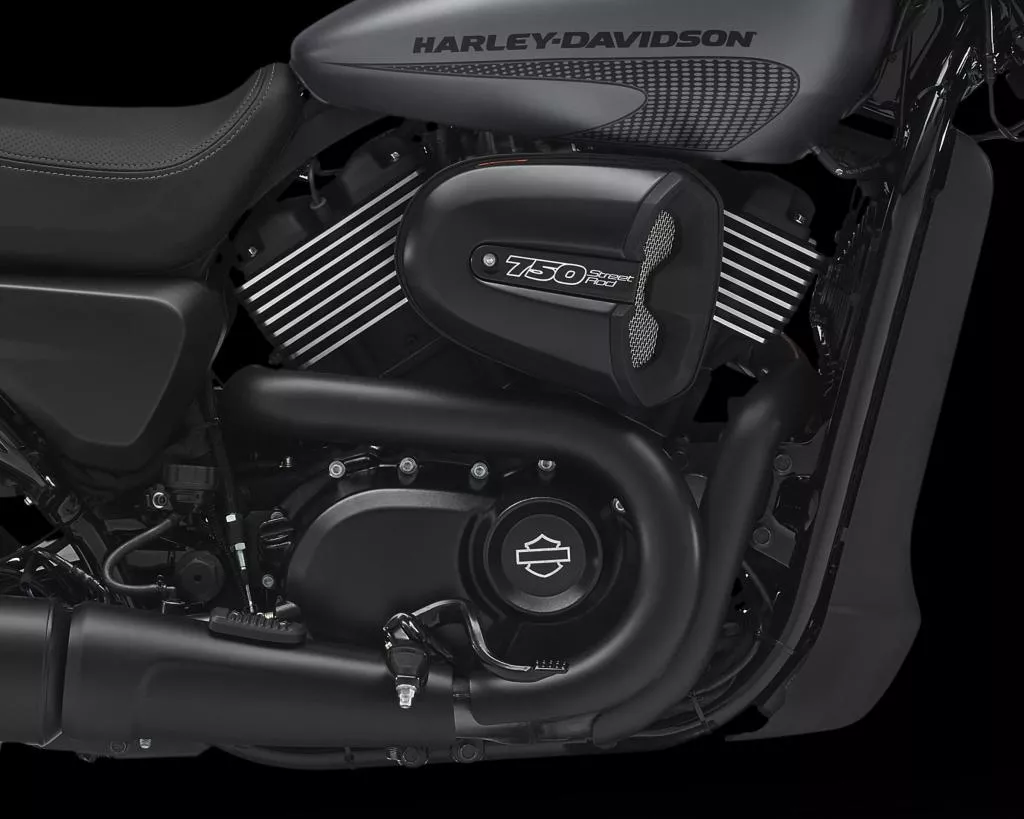 Let's start with the engine. The original 750cc, liquid-cooled, 60-degree V-twin was already pretty favorable. A smooth and linear power delivery with a nice little punch that revved out pretty decently. A great pairing for the machine and the intended user. With the upgraded overall sportiness of the Street Rod , it received an 18 pcercent increase in peak power and an enhancement of 8 percent more torque. This was achieved through revisions to the headwork, cams, airbox, throttle bodies, exhaust, and a raised rev limit. All these changes gave the Revolution X engine a new personality and a new name. The High Output Revolution X Engine is like that one uncle who has a bit of mischievous fun at family gatherings after a few adult beverages. Boisterous, exciting, and a good time are fitting to both.
This engine does its best work higher up in the rpm range, which is a bit of a departure from the usual H-D engine characteristics. The Street Rod powerplant excelled equally at around-town jaunts and open highways. Its tamer manners at lower rpm was befitting to the unpredictable ebb and flow of urban riding. Once out onto some open highways and back roads, its high-revving nature brought a huge smile to my face. This thing revs to the moon and really has some get-up-and-go once the throttle is held open to the upper half of its rpm range. Great stuff.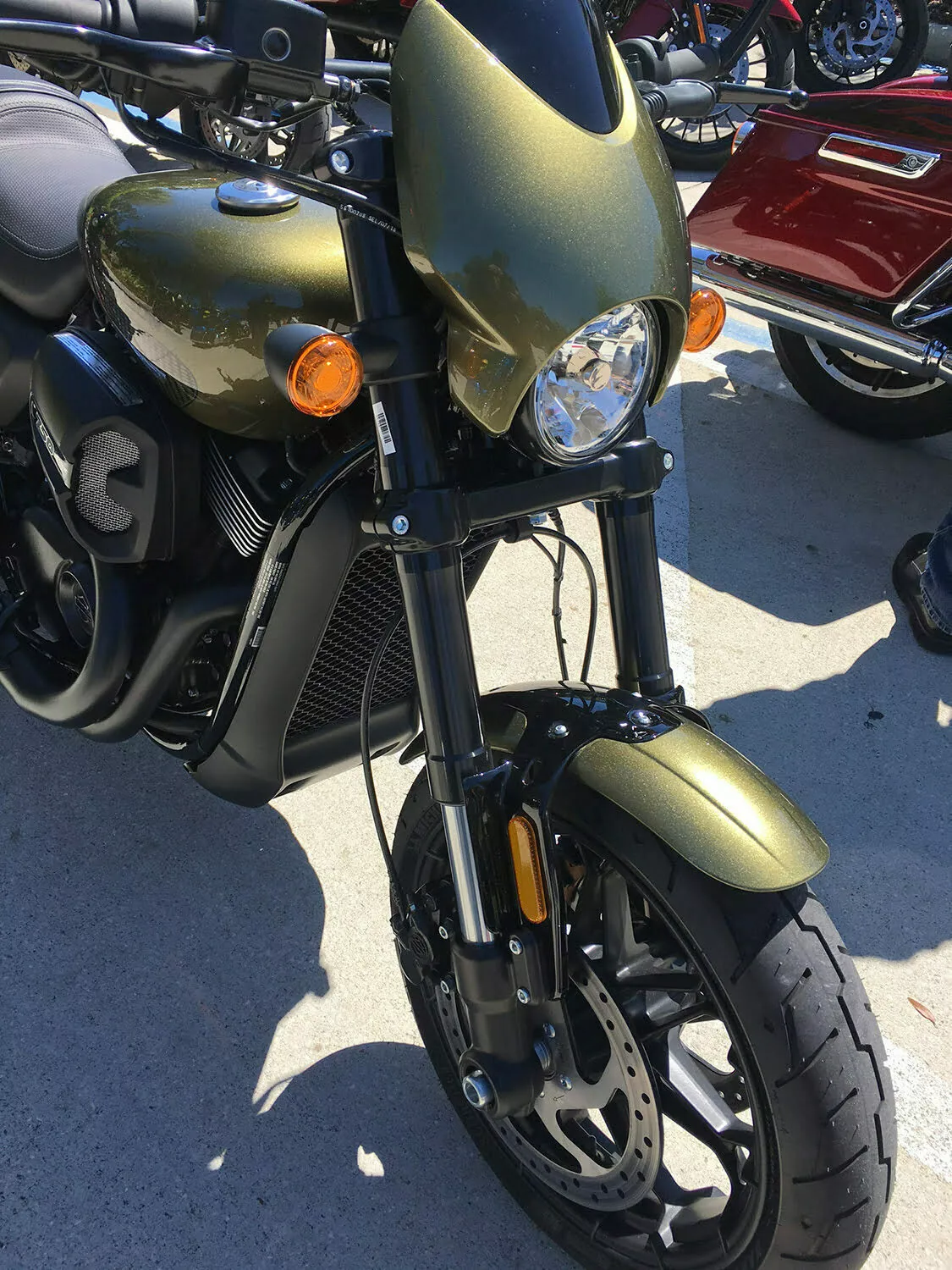 Now onto my favorite update: handling. The previous steering rake was a lazy 32 degrees, and the Street Rod was steepened to 27 degrees. That makes a world of difference and is a huge improvement. No more floppy and vague steering feel. Precise and immediate steering are now what you get at the handlebars. This inspires much more confidence and peace of mind for experienced and newer riders alike. This also makes for a funner, safer ride experience, in my opinion.
With the Street Rod's updated and taller suspension, increased lean angles are something to play with. Unfortunately this wasn't happening with my few days on the Street Rod. The media was assembled in Daytona Beach, Florida, during Bike Week to test out the new Street Rod. We rode more than 200 miles in those two days with only a handful of slight bends in the roads we blazed. Usually I can get almost any bike's pegs to scrape in some spirited parking-lot antics. I tried this with the Street Rod and come nowhere close of even grazing the pegs. We will have to get our hands on a long-term Street Rod to test its canyon-carving capabilities, which I suspect will be quite adequate and a hoot.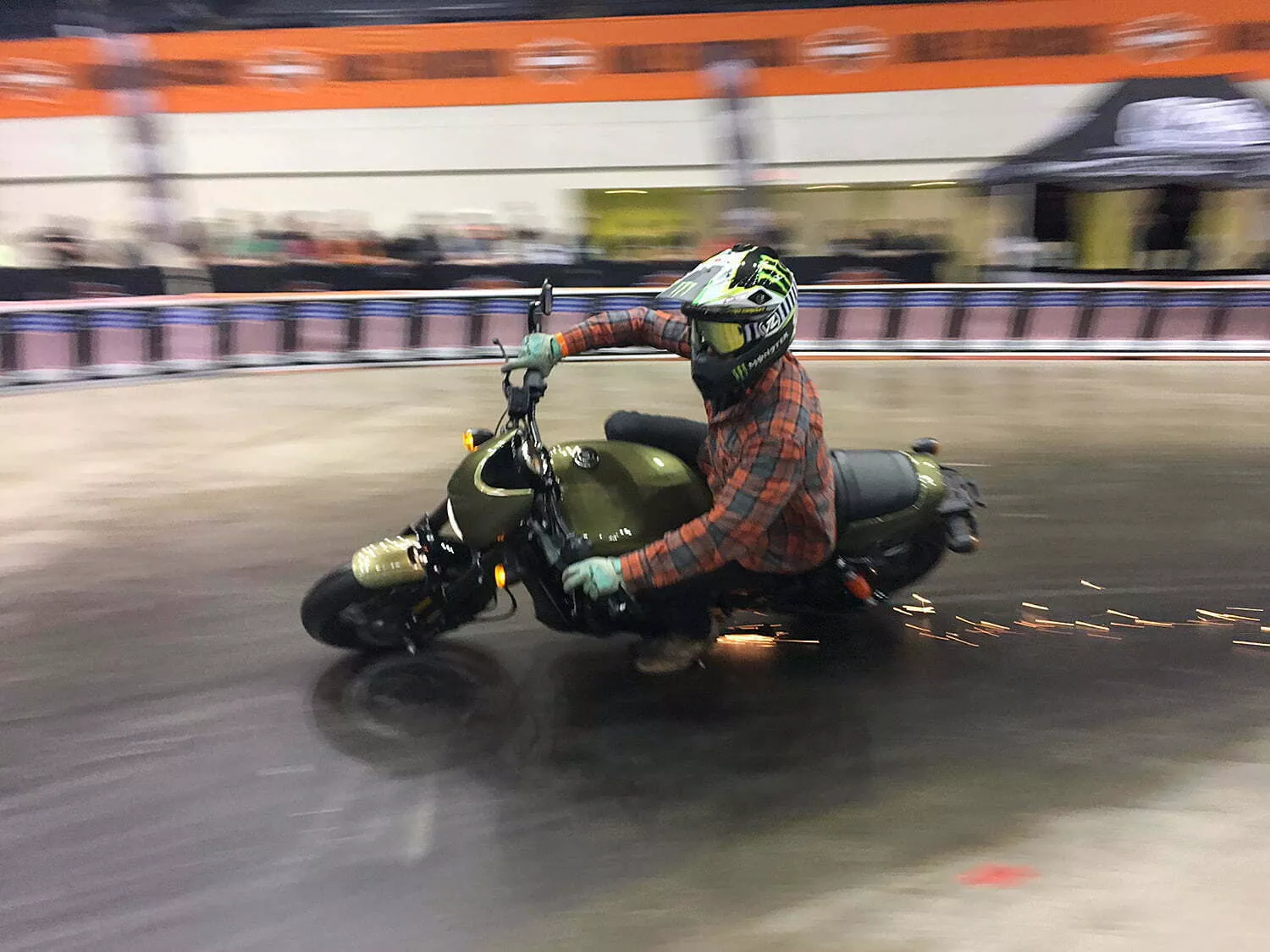 SIDE NOTE
After my testing of the Street Rod was complete, I attended the IV League Flat Track's Clash on the Concrete indoor race during Daytona Bike Week. It was here I was witness to the extreme handling capabilities of the Street Rod. Racing four bone-stock Street Rods with only a handful of miles on the odometer were the Ives brothers (of Wall of Death fame) pitted against the Guardado brothers (of Hooligan racing fame) in a "Brothers vs. Brothers" grudge match. Everyone ripped around the Dr Pepper-coated concrete track at some amazing speeds and lean angles; I saw no pegs grinding at all, just the mufflers.
These bikes could really get down in some tight turns. The Guardado brothers pushed the limits as they always do and did end up actually grinding the pegs. As a result of too much speed and a very slippery track surface, they ended up sliding the machines on their sides halfway down the track to a gasping crowd. I was mightily impressed with the Street Rod's handling prowess and now with its durability as both bikes barely had a few scratches after such mayhem.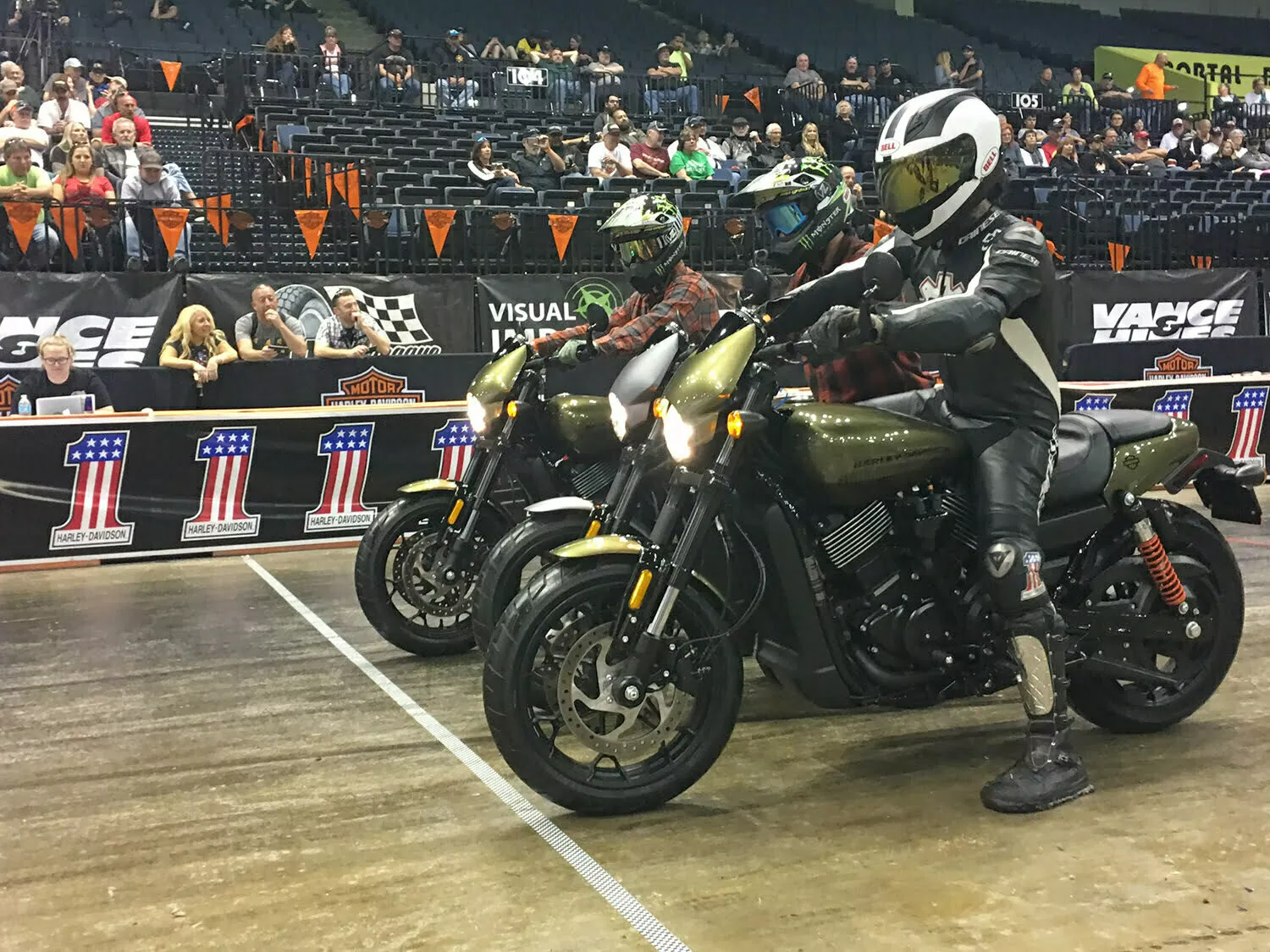 I can tell you the Street Rod ate up urban riding like nothing and spit it out with a huge belly laugh. This bike rules for ripping around the city. It is a bit heavier than some of the competing models from other manufacturers, but that is a figure that's more of an argument on paper. Once in motion, the Street Rod has an agile feel; it definitely didn't feel it's 497 pounds (more than 500 pounds ready to ride). The design team did a commendable job of making the Street Rod carry its weight low, thus creating a highly maneuverable feeling.
Suspension was firm but compliant and provided a good sense of feedback to the rider. A nice change from the original Street that had passable suspension but a with a bit of a pogo-ish feel. The inverted fork is nonadjustable but I felt it really didn't need adjusting. The factory settings worked plenty good for all-around riding and were a good match for the engine and handling of the bike. The piggyback shocks had some adjustable preload, which I cranked up a couple of settings to stiffen them since I am more on the girthy and heavier (okay, fatter, haha) side of the intended user. This worked like a treat and I had zero complaints. Nothing but smooth, compliant damping action on both ends. Braking power and feel were vastly improved over the base Street model. Twin rotors and a braided-steel brake line had the Street Rod stopping very rapidly and under control.
Finish and details were much improved on the Street Rod, and it's definitely now worthy of sitting in a Harley-Davidson showroom loud and proud. Those pesky exposed wires and suspect routing are now nonexistent and everything looks and feels like a premium motorcycle.
Ergonomics is where it gets a bit funky and really subjective for the Street Rod. Along with the taller suspension, lean angle was increased by raising the pegs a bit. I was plenty comfortable on the basic Street model, but now on the Street Rod I was a bit uncomfortable as my knees came up higher into my chest. I have short legs for being 6-foot-1 but still I was cramped. At first I was thinking, there is no way I can ride this bike for more than a few minutes. But after a while, I kind of got used to being a bit uncomfortable, if that makes any sense. Maybe it was because the bike is such a blast to ride that I forgot about my knees being sky high in the breeze or maybe they just went numb from lack of blood flow. Either way, I learned to live with it. I have a feeling the higher peg placement is a blessing when going for it on some twisty roads. I was indifferent to the drag-style handlebars, which in turn was actually a good thing. No funky bends or rise that put me in a weird position or hurt my wrist. I was slightly more forward than I'm used to but it goes along perfectly for the layout and style of this bike.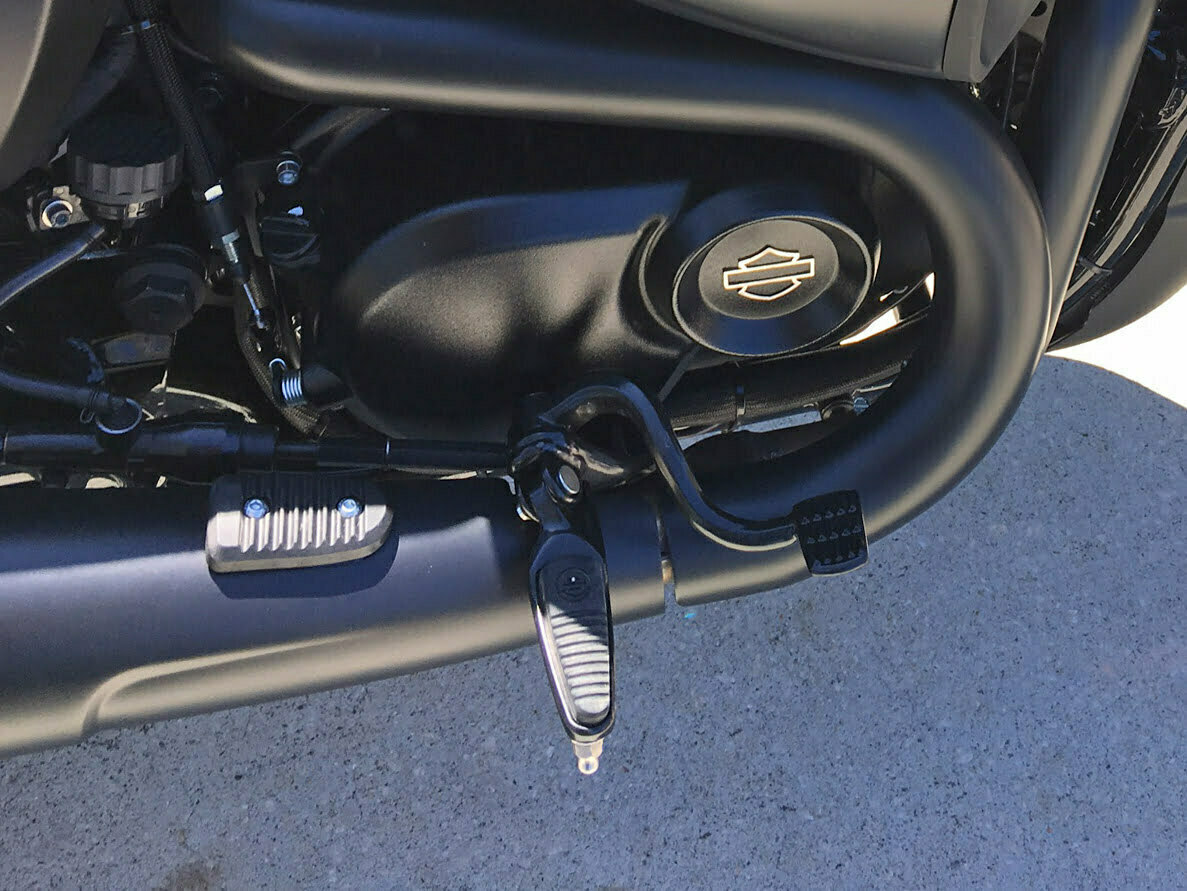 The rear brake pedal seemed like it had shrunken to Mini-Me proportions. Whereas the original Street brake pedal had a nice, long throw to it, the Street Rod pedal literally had half the reach. The tip of the pedal was mid-sole on my size 12 boots. I briefly sat on another Street Rod that had a much lower-positioned pedal, but that didn't really help much. Luckily, there was a foot pad atop the muffler right behind the right peg. Whether it was an afterthought or a stroke of design genius remains to be seen. Regardless, I was just beyond happy that something was there to rest the heel of my foot on so I could use the rear brake properly.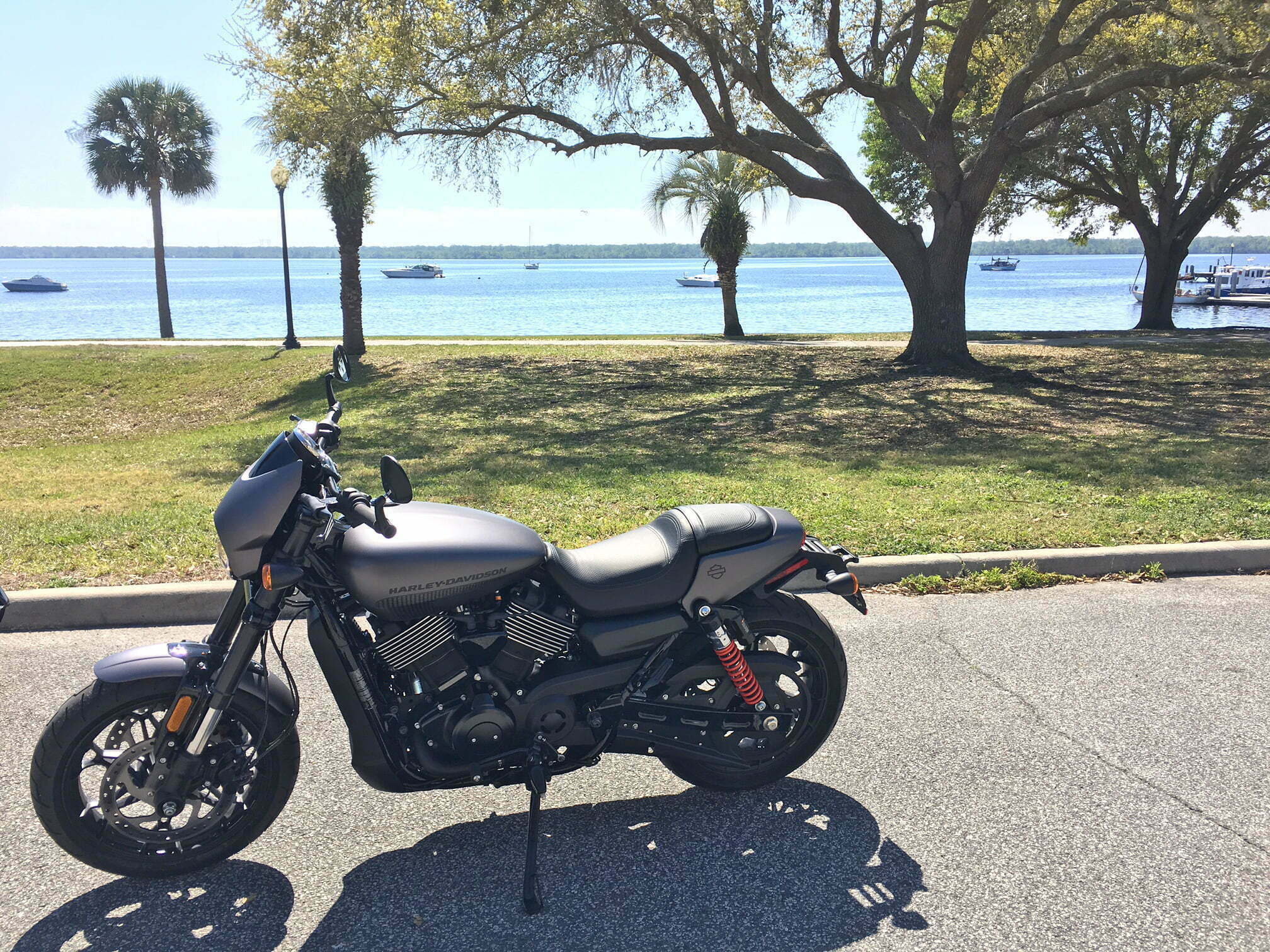 "This is just the bike Harley-Davidson needs to attract younger riders who may not even have considered owning anything with the Bar and Shield logo before."
These minor personal maladies aside, the Street Rod is an exceptional machine. Great performance and overall just a blast to ride.
This is just the bike Harley-Davidson needs to attract younger riders who may not even have considered owning anything with the Bar and Shield logo before. On the flip side, I think the Street Rod is accepted by The Motor Company's core audience since it is so cool and carries the H-D logo on the tank and is up to par on the quality end.
These observations are from firsthand experience while riding around Daytona Beach during Bike Week. College-aged students on spring break stopped to check it out and commented on how cool its styling was or how much "on point" it was and were a bit taken aback when they noticed it was a Harley-Davidson. They were into it regardless of the name on the tank. They were really interested when the base MSRP of $8,699 was mentioned.
While it was parked on Main Street in Daytona, grizzled H-D enthusiasts sought it out after seeing it from across the street. "I heard about this bike and wanted to check it out" was overheard a few times. After some thorough visual inspection more than few of these veteran riders smiled their consent and spoke the words, "Well, that is a pretty neat little bike" and "I have to admit, I like it." There it was, a stamp of approval from the H-D faithful. When they asked about the price and I told them, their eyebrows raised in a boyish manner. I could see some wheels spinning in their head that perhaps a second or third bike in their stable would be a good idea.
I haven't seen such interest from a wide range of riders and prospective riders before with any other Harley-Davidson model as with the Street Rod. Well played, Milwaukee. Definitely a home run in my book.
| Specifications | |
| --- | --- |
| Price | Vivid Black $8,699, Color $8,994 |
| ABS Option | $750 |
| Engine | 750cc (46ci), liquid-cooled, 60-degree V-twin |
| Transmission | 6-speed/belt |
| Horsepower | 68.4 |
| Torque | 47.2 lb.-ft. |
| Lean Angle, Right | 37.3° |
| Lean Angle, Left | 40.2° |
| Wheelbase | 59.4 in. |
| Weight | 497 lb. as shipped |
More info at: H-D.com