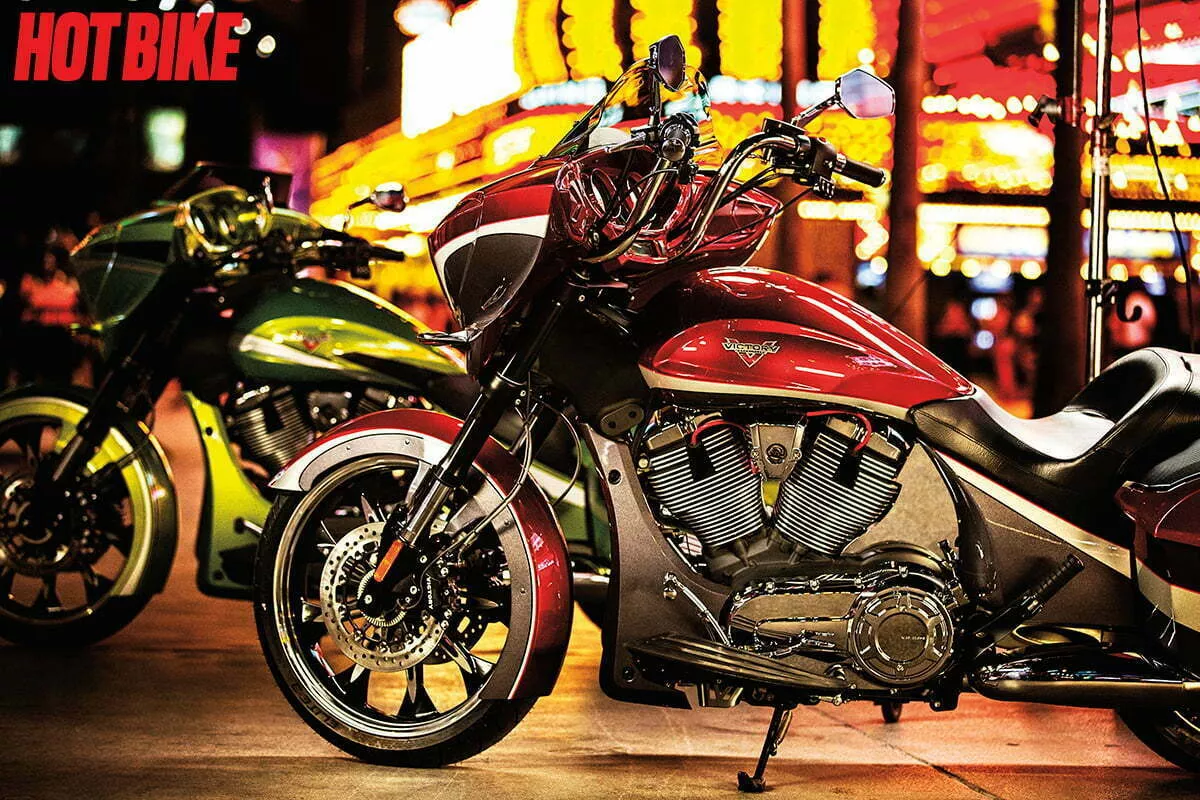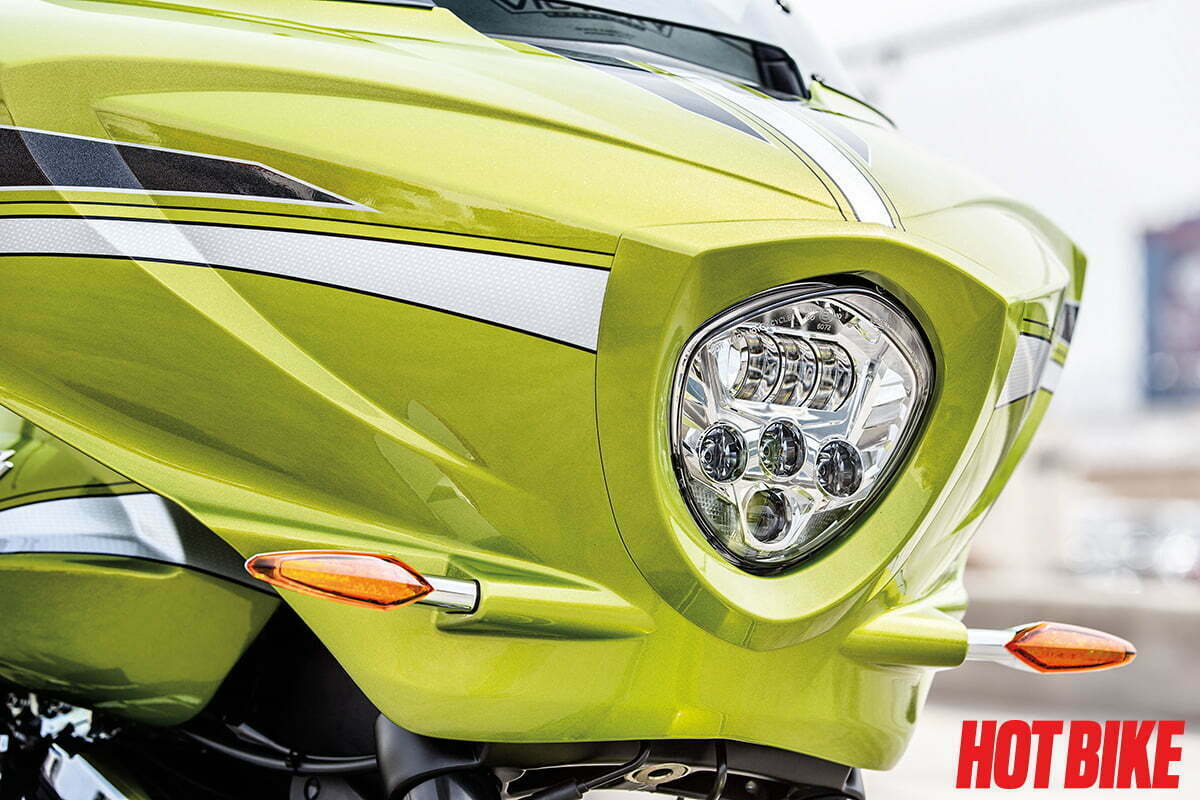 My have the times changed. Back before the term "Bagger" came to be, we at Hot Bike were slapping 21-inch wheels on any and all touring bikes with much fervor. Mind you the purists and manufactures of bikes, wheels, and tires were all bitching and moaning about DOT regulations, proper rake and trail angles, and how weird these "big" wheels looked on these sorts of bikes. It's funny because with the inclusion of the added wheel circumference the overall weight of these 700 and 800 hundred pound bikes was shifted further back on these already nose-heavy bikes. By doing so the center of gravity shifted off of the front wheel to a more aft weight distribution and we actually found that these types of touring bikes rode better with 21-inch wheels. And they of course looked better too.
Now in Current times it seems to be the norm for anyone seeking to trick out their tourer to put at least a 21-inch wheel on their brand new bagger as one of its first aftermarket upgrades. And now with the launch of the Victory Magnum it proves to the world what we have been saying all along that bigger is better with a from-the-factory 21-inch wheel shod with a 120 tire.
We were flown into Las Vegas, Nevada, to blast around Sin City on a few variants of the Victory Magnum for a couple days and found the selection of bikes that we rode to be a well kitted-out bagger with all the accouterments. On the flipside it was also good-handling motorcycle that could be ridden daily. It had plenty of power on tap for both taxi dodging and canyon carving and it's head-turning looks scored well with the tourists on both the Las Vegas strip and Fremont Street in downtown.
<div class="st-block quote text-
Notice: Undefined index: st_text_align in C:laragonwwwhotbike-importblocksquote.php on line 1
">
The Magnum does come outfitted with some very cool options as standard and it does ride staggeringly well for a big-wheeled bagger
With an MSRP of $21,999.00 the Magnum is not just a pretty new face in the league of baggers. It has Victory's now famed 106ci "Freedom" motor and butter-smooth six-speed transmission, so the Magnum has gobs of power. And believe me when I tell you that the powertrain sounds really good coming through the Magnum's stock exhaust or better yet Victory's optional aftermarket Tri-Oval slip-on pipes.
The Magnum's suspension is of the superior sort with a tuned upside own fork up front and what Victory calls a "Slammed" back-end. Though far from being a tail dragger the Magnum does have a lowered stance. This is not just accomplished by lower shocks, but a bunch of ride-quality, lowered seat sculpture, and sheet metal engineering has gone into getting it low, but keeping the Magnum cruising over the various tarmac conditions we all encounter daily. Even with the lower looks, we found both the ride and handling of this bike on the highway and stop-and-go traffic to be a very good. Kudos to the Victory engineers.
The Magnum also stops as good as it rides with ABS standard 300mm floating dual discs and four-piston calipers up front and a beefy single 300mm disc and a two-piston caliper in the rear with fully braided brake lines. The modulation of the brakes was impressive as was the overall stopping power the Magnum possessed. And we all know beefy brakes are a good thing to have when riding a big bike such as this.
Baggers of late have the urge to be loud and the Magnum does that in two ways; sonically and visually. This bike comes standard with a six-speaker 100-watt sound system that thumps better than any OE system we have ever experienced. Its not going to blow out car windows or anything, but it can be heard well as speed, which most stock bagger's systems fall short of. The paint schemes may be a bit wild for some. But we probably think that if you are in the market for an over-the-counter big-wheeled bagger that at least one of the four stock three-toned schemes the Magnum comes in (Sunset Red over Supersteel Grey, Plasma Lime, Metasheen Black over Supersteel Grey and Ness Midnight Cherry) will be up many a rider's predicted alley.
Yes, the term "Factory Custom" is as big as an oxy moron as "Jumbo Shrimp" and we as a rule never use this term when discussing any sort of OE bike now or ever no matter how tricked out a motorcycle coming from any sort of production facility may be. With that said, the Magnum does come outfitted with some very cool options as standard and it does ride staggeringly well for a big-wheeled bagger.
In short, if you are looking for a tricked-out bagger right off the showroom floor and don't want the same old thing as everybody else has at your local bike night, you may want to truck on down to your local Victory dealer and give the Magnum a spin.
For more info head over to www.victorymotorcycles.com