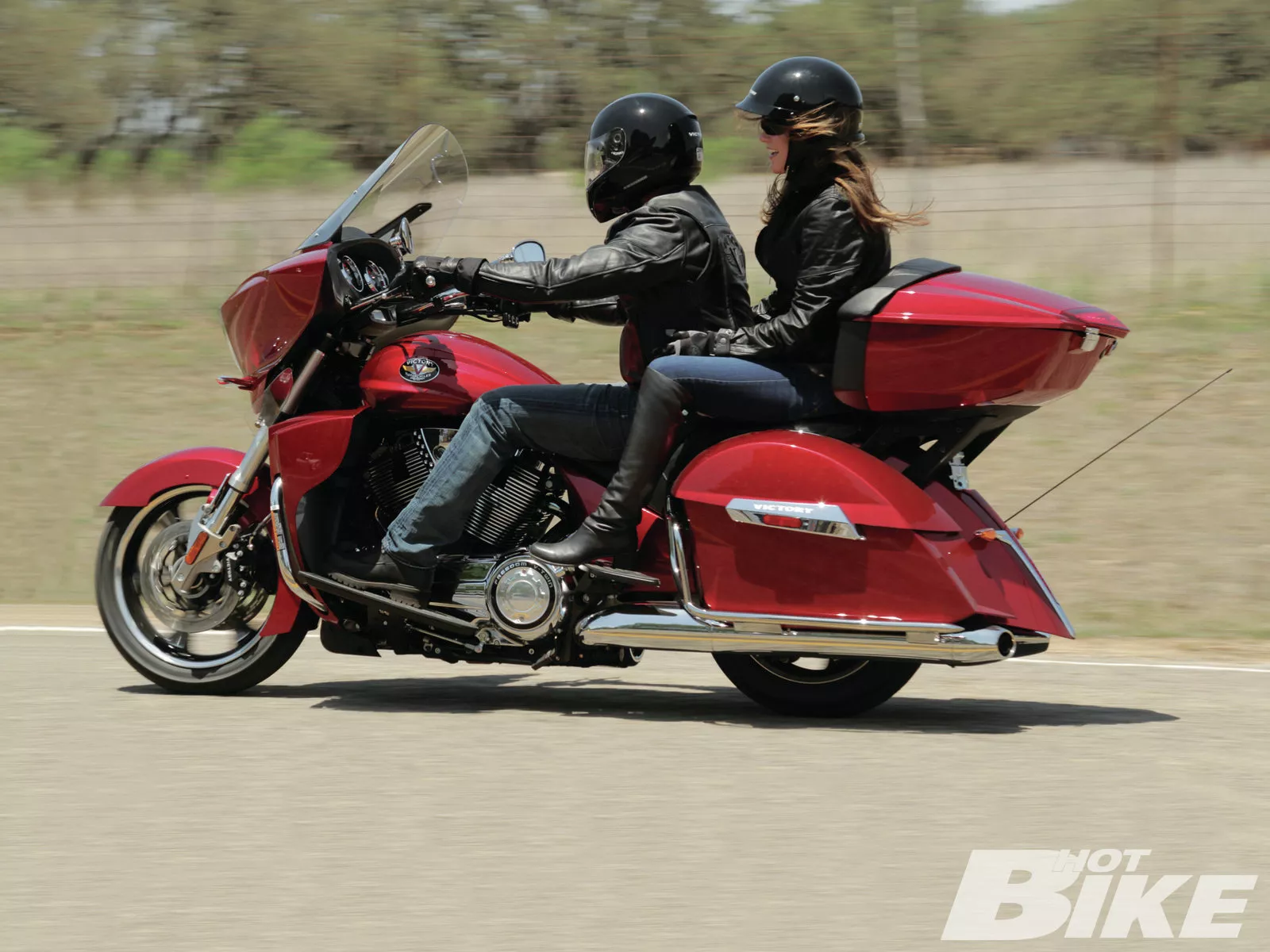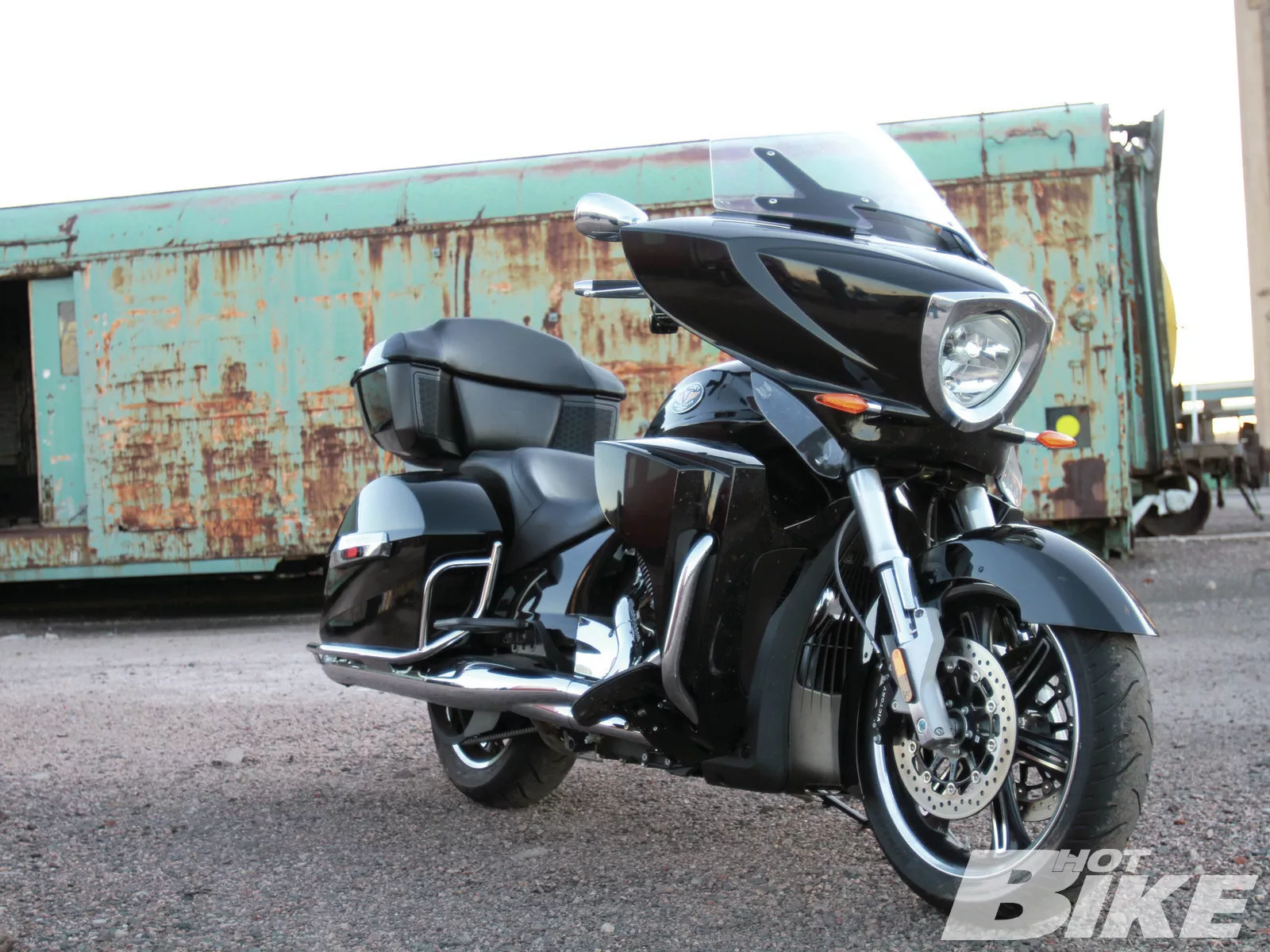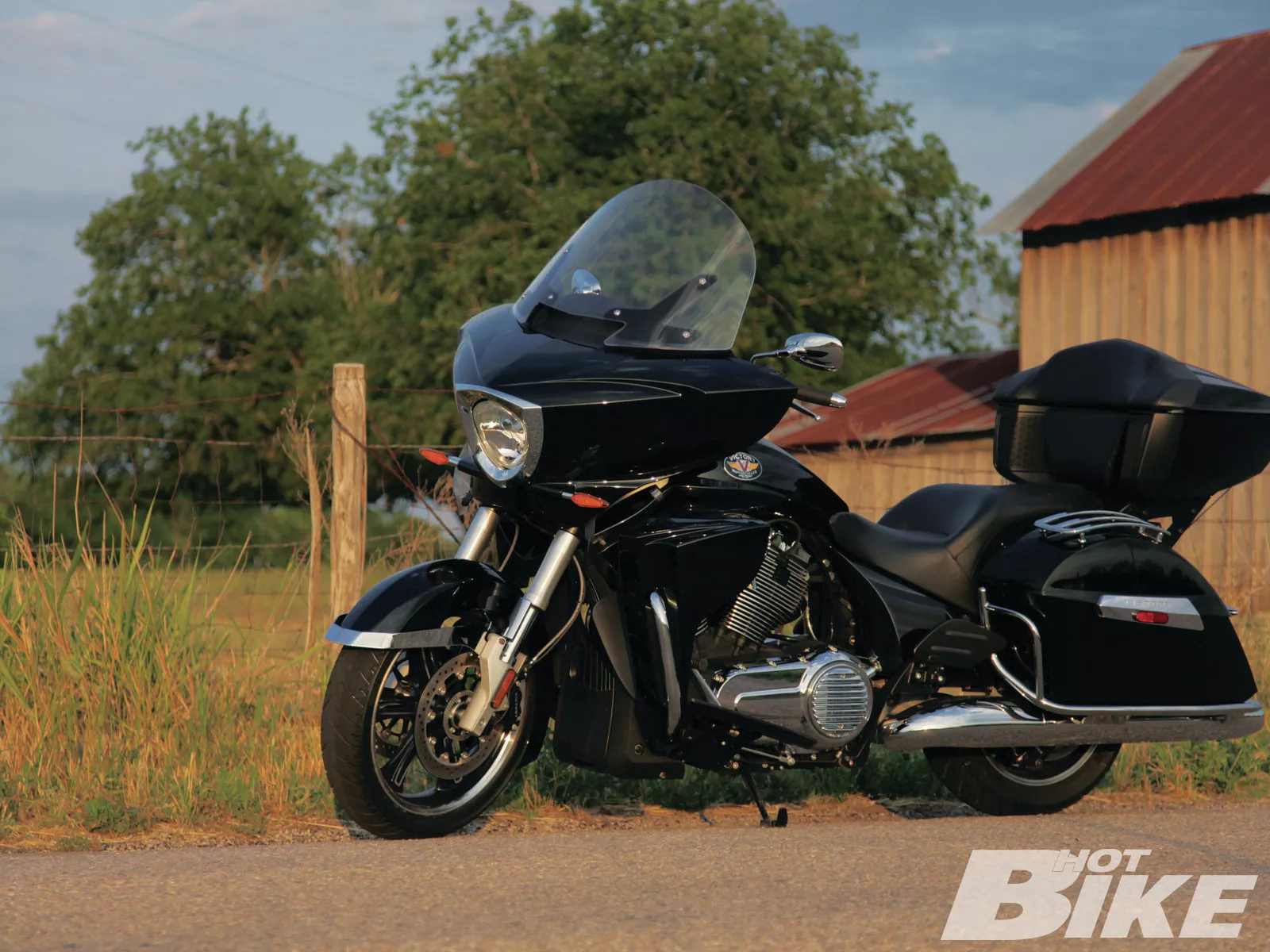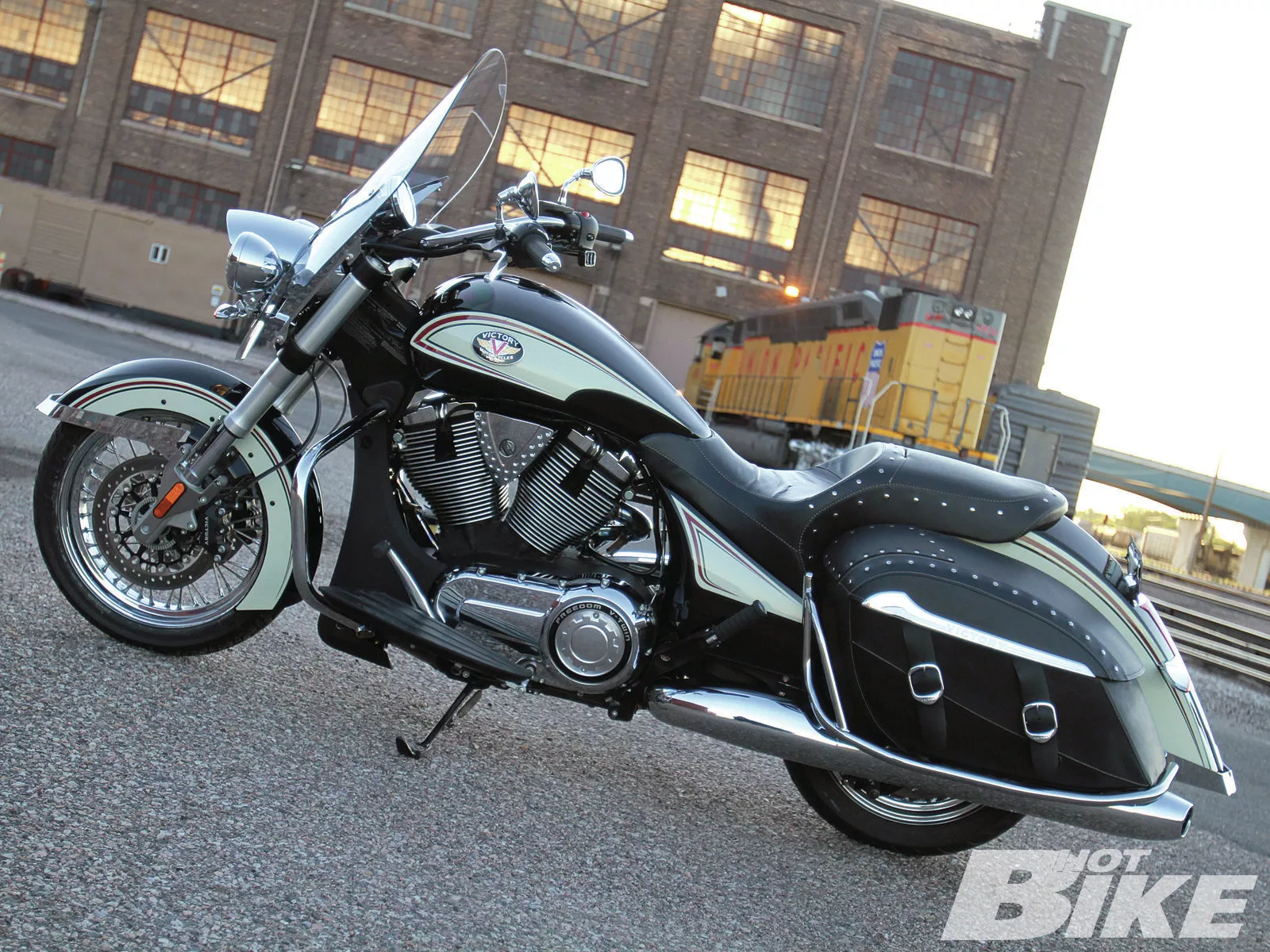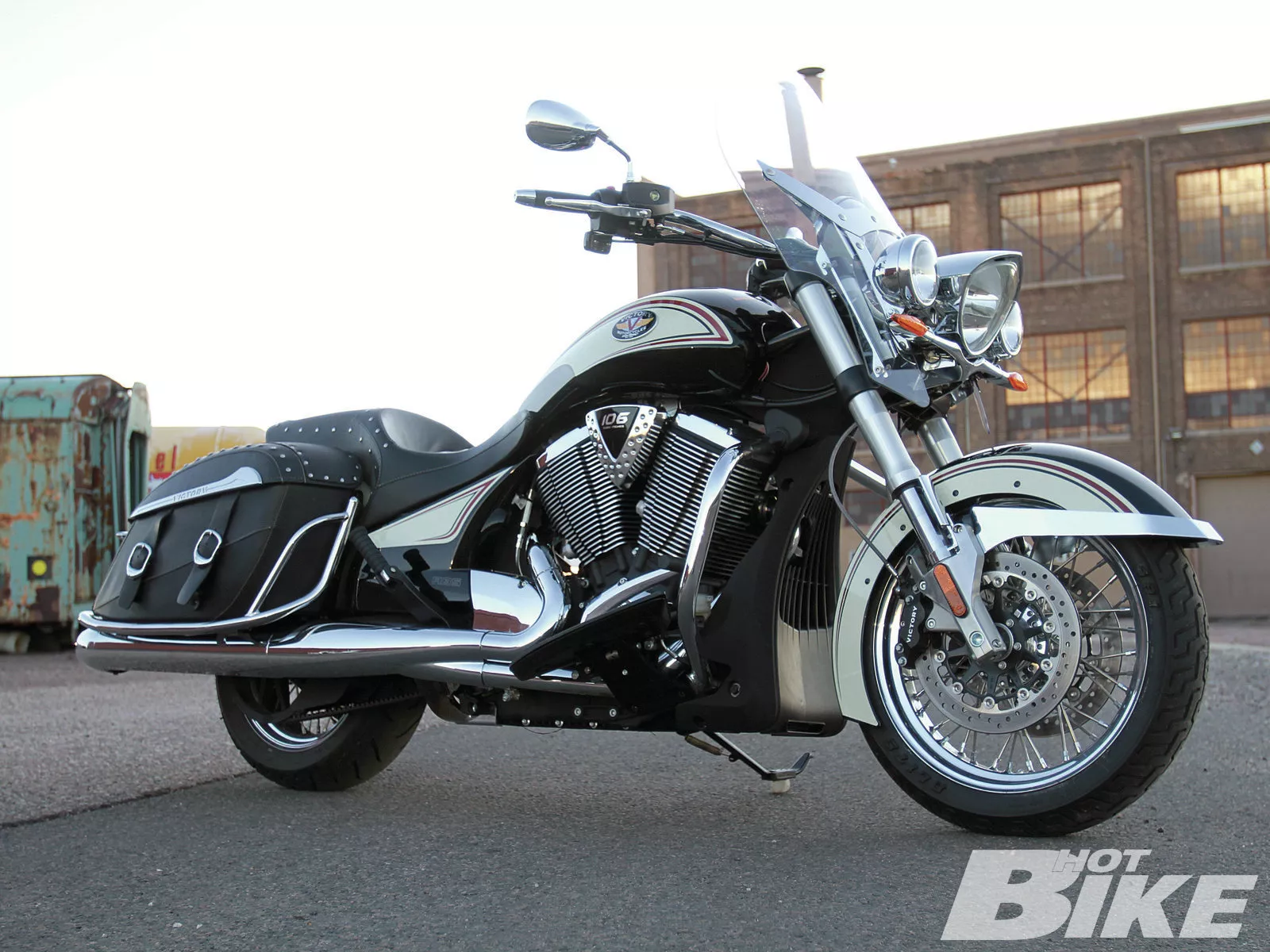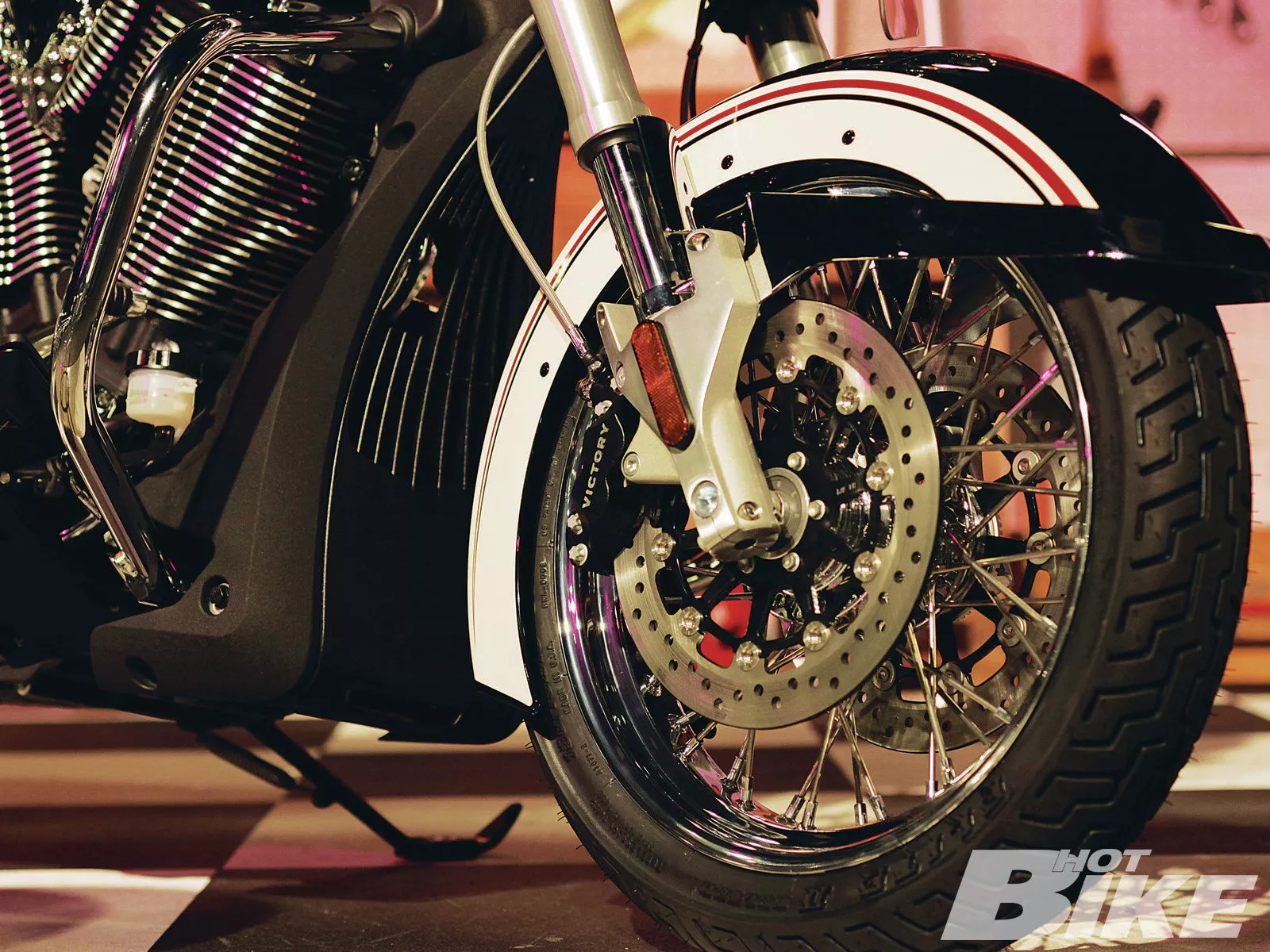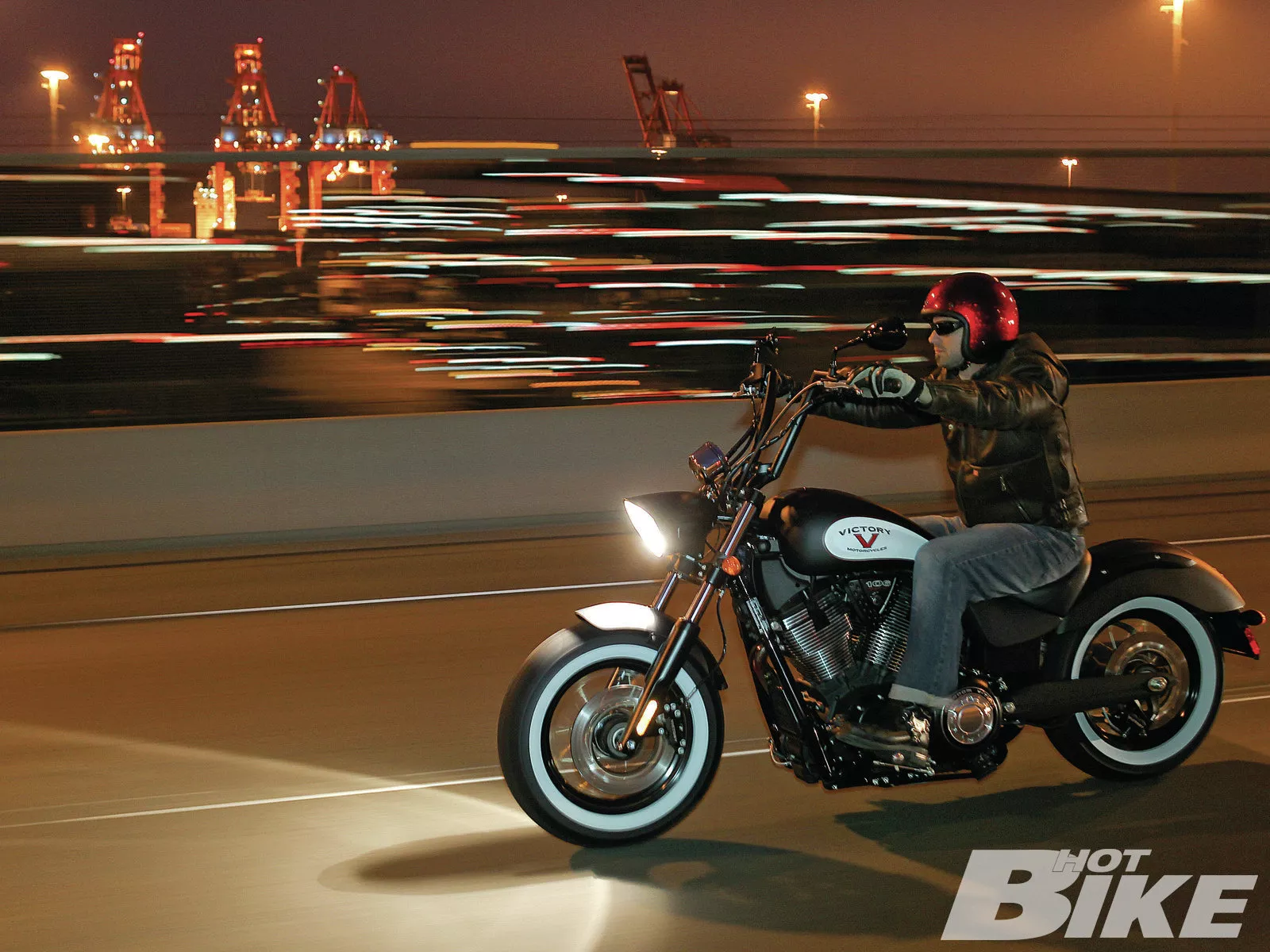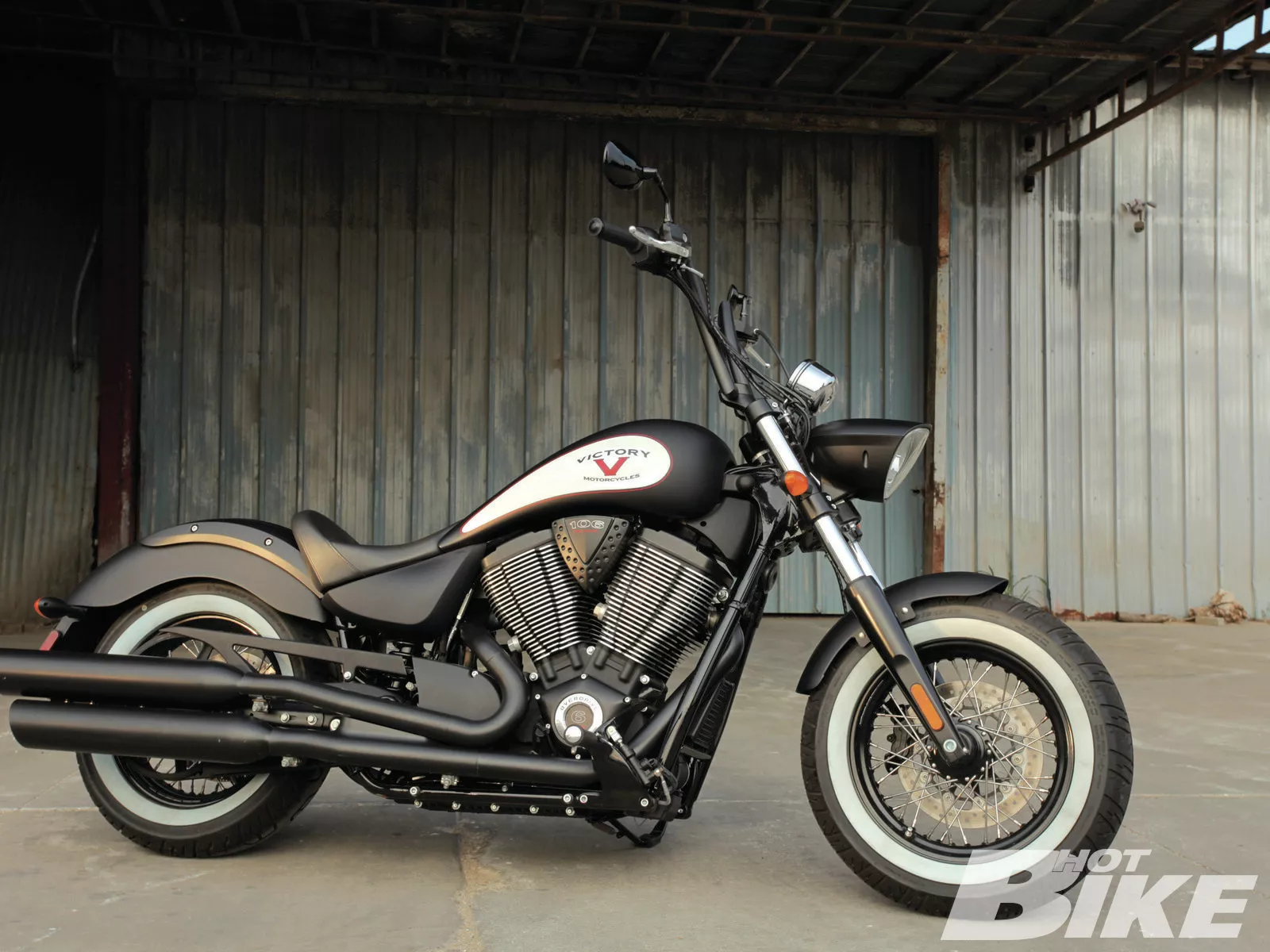 Victory Motorcycles likes to go against the grain. It's never dull when model-launch season rolls around. This past August, the motorcycling press was flown to Park City, Utah, for more or less a "rolling" release of Victory's 2012 motorcycles en route to Sturgis, South Dakota, for the 71st Annual Sturgis Motorcycle Rally. What better way to get up close and personal with something than to spend four consecutive days traversing the twisties of Utah and Colorado, and then ending up carving through the Black Hills of South Dakota?
For 2012, there are some exciting highlights worth mentioning for Polaris's American motorcycle manufacturer. For instance, the entire Victory fleet (cruiser and touring models) comes with a 106ci Freedom V-twin and six-speed transmission with overdrive. Cruisers outfitted with the 106/6 combination deliver a claimed 113 lb-ft of torque. The touring line's power output is pretty substantial as well, with a claimed 92hp and 109 lb-ft of torque. The yin to acceleration's yang—brakes—include anti-lock brakes (ABS) on all of its touring models, as well as premium 300mm floating discs aboard the cruiser models.
There are 15 Victory models available for 2012 (eight cruisers and seven touring models). The 2011 models that didn't make the cut this year are: Kingpin 8-Ball, Hammer, and the Vision 8-Ball. They've been replaced with the Vegas High-Ball (released as a mid-year model in January 2011), Cross Roads Classic LE (a limited-edition Cross Roads featuring a custom flair), and the Cross Country Luxury Tour (the mack-daddy of Victory's touring line).
The Cross Country Tour, an even bigger Cross Country with more creature comforts than you can shake a stick at, features an abundance of cargo space for packing enough gear to tour around the world. The 2012 Cross Roads Classic LE is a limited-edition Cross Roads with custom paint, spoke front and rear wheels, and custom touches specific only to that model. In the cruiser department is the company's Vegas High-Ball, a slimmed-down bobber carrying an attractive price tag for those entering the cruiser market. Outfitted with the 106ci engine, adjustable handlebars, and spoked wheels wrapped with whitewall tires, the High-Ball is definitely tailored for an edgier demographic.
Victory plans on releasing other new models throughout the course of the year every six months. "Our strategy, from a production side, is to sort of spread the interest across the calendar year and make it so we can really deliver what customers are looking for. Victory's in a growth phrase right now, and we play to three segments—the value cruiser segment, standard cruiser series, and the touring stuff—so if we were to come out with three or four of the same bikes at the same time, then one or another is going to end up getting more attention and people aren't going to notice the other bikes," says Robert Pandya, external relations manager for Victory Motorcycles. It will be interesting to see what's to come from Victory throughout the next couple of years, but here's a look at the newest models offered for 2012.
Cross Country Luxury Tour Starting at $21,999
Since the release of the Cross Country and Cross Roads in 2010, Victory has been trying to keep up with supply in order to meet enthusiast demand. For 2012, the Cross Country Luxury Tour moves to the forefront of the company's touring line. Powered by a 106ci Freedom V-twin engine boasting 92hp and 109 lb-ft of torque and coupled with a six-speed transmission, the 106's power delivery is smooth when in gear, but getting there…the gearbox is a tad clunky. Stomping on the lever to downshift into first is definitely an area that needs attention.
As for comfort, the Tour is loaded to the gills with features and accessories. If it's cargo space you're looking for, look no further. With more than 41 gallons of storage space in the trunk, saddlebags, and fairing lowers' compartments, cramming things to fit is never an issue. The lock-and-ride trunk with padded passenger backrest and two audio speakers (one on each side) features 17.7 gallons of secure, weatherproof storage space. The trunk is handy for getting to items quickly when stopped, and easily fits two full-face helmets. Inside is a power port for charging electronics.
For the colder months, riders needn't worry; heated seats and grips come standard on the Tour. Cleverly positioned on the left side of the seat are the adjustable toggles for warming your buns. For your mittens, the heated grips' adjustment is located on the handlebar for easy access. Both work very well. However, being that we rode it in August, they weren't needed. Because it was hot, it was nice to take advantage of the Comfort Control System located in the Tour's new fairing lowers, which are attached to a highway bar that provides tip-over protection. With two vents per fairing, the upper vent directs airflow to the torso, the lower flows a nice breeze to the legs. Between the vents are storage compartments. The left-side cubby houses an iPod cord that connects your MP3 to the Tour's integrated audio system. The audio system features AM/FM radio, with satellite radio available as an option. Audio levels can be adjusted at the left-side switch housing, as well as navigating through an iPod playlist. The speaker watt output packs a nice punch at high speeds, even with earplugs. The trigger located on the inside of the left side of the handlebar switch toggles through the digital readouts on the fairing gauge (speedo, fuel gauge, odomoter, trip meter, etc.). And on the right, riders can enjoy cruise control that comes as standard equipment on the Tour.
Victory got it right in 2012 with its new Tall Windshield. The shield on the '11 Cross Country was pointless; it was minuscule. Head buffeting was a huge issue, and splitting headaches seemed commonplace after a couple hours of riding. Not the case this year; it's just the right height, there's no buffeting to speak of, and it protects from debris, bugs, elements—whatever's thrown at it.
The Tour's ergonomics are brilliant. A two-up saddle positions the rider comfortably. The design cups the rider in the cockpit with rear-end support where the passenger seat meets the rider's. Stretching your legs out on the monster-sized floorboards that would dwarf Shaquille O'Neal's paws is also a nice feature. Passenger footboards are also adjustable to a range of 2 inches and 10 degrees.
In the handling department, the Cross models have always performed well. The hollow aluminum frame permits cornering with ease, and the air-adjustable rear monoshock features 4.7 inches of travel. Travel can be adjusted via Schrader valve in a matter of minutes to compensate for the added weight of cargo or passenger. Also, the inverted 43mm telescopic frontend features 5.1 inches of travel and sucks up road imperfections effortlessly. The 26.25-inch seat height aids in avoiding touching down, that and the 5.8 inches of ground clearance. Simply put, while it will never corner like a Gixxer, the Tour does very well for an 850-pound motorcycle.
| | |
| --- | --- |
| **Model | Cross Country Tour** |
| Engine/Displacement | Freedom V-twin/106ci |
| Induction | EFI/dual 45mm throttle body |
| Clutch | Wet, multi-plate |
| Transmission | Six-speed overdrive |
| Final Drive | Belt |
| Front Brake | ABS, dual 300mm rotors, four-piston caliper |
| Rear Brake | ABS, 300mm rotor, two-piston caliper |
| Front Wheel/Size | Spoke/18×3.5 in. |
| Rear Wheel/Size | Spoke/16×5 in. |
| Front Tire/Size | Dunlop 130/70-18 |
| Rear Tires/Size | Dunlop 180/60-16 |
| Fuel Tank | Capacity 5.8 gal. |
| Seat Height | 26.25 in. |
| Colors | Solid Black, Solid Sunset Red, Solid Pearl White |
Cross Roads Classic LE $17,999
The Cross Country's sibling, the Cross Roads is still around for 2012, but a spruced-up Limited Edition Cross Roads has been added for those in the market for a touch of customized flair. "The Cross Roads LE is basically our answer to that guy looking for the most basic accessorized touring bike they can get. By adding the leather seats and the details on the saddlebags and multi-tone paint, these are things that a customizer could essentially add to look like a customized bike, but it's coming straight from the factory, which is a nice factory package. It's sort of retro in its silhouette, but in terms of performance and capabilities and reliability embodies Victory's philosophy," Pandya says. Those interested in the LE need to act fast since less than 300 motorcycles are being produced. Each LE is stamped with its own number plate and features classic styling white and black paint scheme with black and red pinstriping. The leather saddle features an intricate stitch pattern, which is also found on the leather saddlebags. On the outsides of the soft bags are chrome rails for tip-over protection. Speaking of chrome trim, the front and rear fenders were treated to chrome bumpers, which adds a traditional feel to the old-school aesthetic of the black and white paint scheme. The soft bags are nothing to scoff at since they are still pretty large, and can handle up to 17.4 gallons of cargo space; however, they're not lockable.
Also powered by a 106ci 50-degree Freedom V-twin which features single overhead camshafts and four valves per cylinder with a 9.4:1 compression ratio, the Cross Roads LE throttles off the line with ease, and inspires the confidence to pass cumbersome big rigs. The true dual exhaust with crossover has a nice low, rumbled tone; nothing obnoxious, just enough to know that you're riding a motorcycle.
The LE features the same chassis as the Cross Country: cast-aluminum frame and swingarm, inverted telescopic 43mm fork, and air-adjustable monoshock rear suspension. The wire wheels, however, are a nice contrast for the LE when compared to the OE Cross Roads' cast wheels. Spoke wheels provide a simplistic beauty that's a nice departure for touring bikes. The saddle's shape is comfortable because it features a narrower front section, which reduces crowding of the nether regions. Even though the LE's chassis is the same as the Cross Country the LE is more nimble since it's not burdened by the added cargo weight (fairing lowers, trunk, and hard saddlebags). ABS also comes standard on the LE, and includes dual front four-piston calipers with 300mm dual floating rotors. The LE halts in an instant, and the ABS performs, as it should. When shifting through the gears there's no cramped space on the footboards thanks to the single shift lever. Heel-toe shifters are annoying and bulky; it's nice that they're not standard equipment on the Cross models. Again like the Cross Country, the LE features a 5.8-gallon fuel tank, which is more than enough to get over 175 miles without filling up. However, once the fuel reaches Reserve, the needle shoots to Empty, leaving riders feeling panicked that they won't make the next fuel stop. Plus, the "low fuel" light replaces the miles-to-empty ticker instantaneously, so there's no way of knowing how far the bike will actually go before sputtering out.
There are also plenty of features on the LE. Cruise control comes standard, and works extremely well on the long hauls. Front tip-over protection is also provided with a tubular highway bar. Other options include fairing mount, audio system for fairing mount, lockable trunk, and much more.
| | |
| --- | --- |
| **Model | Cross Roads LE** |
| Engine/Displacement | Freedom V-twin/106ci |
| Induction | EFI/dual 45mm throttle body |
| Clutch | Wet, multi-plate |
| Transmission | Six-speed overdrive |
| Final | Drive Belt |
| Front Brake | ABS, dual 300mm rotors, four-piston caliper |
| Rear Brake | ABS, 300mm rotor, two-piston caliper |
| Front Wheel/Size | Spoke/18×3.5 in. |
| Rear Wheel/Size | Spoke/16×5 in. |
| Front Tire/Size | Dunlop 130/70-18 |
| Rear Tires/Size | Dunlop 180/60-16 |
| Fuel Tank | Capacity 5.8 gal. |
| Seat Height | 26.25 in. |
| Color | Black with Classic graphics |
Vegas High-Ball $13,499
The High-Ball was released in January 2011, and the aggressive cruiser was definitely well received by V-twin enthusiasts. "The High-Ball is our most popular cruiser, we sell more High-Balls than any other Victory cruiser, and it's number two only to the Cross Country in the entire Victory lineup. It's also been the fastest sale-through model that we've ever had, spending the least amount of time on the dealer floor. When the bike comes in people are excited about it, and customers are buying it. Once they sit on it, or demo ride one, they're buying it right away," Pandya says.
Geared more for a younger demographic, Victory's bobber sits on dual 16×3.5-inch spoke wheels wrapped in beefy Dunlop whitewall tread. It's powered by a black and white two-tone paint scheme that represents a hot-rod aesthetic. The stylish motorcycle is also outfitted with a powerful 106ci Freedom V-twin engine with 97hp and 113 lb-ft of torque and six-speed trans for a starting retail price of only $13,499, which is probably the best value out there for big twin cruisers on the market. The handlebars are adjustable to either sit high in the upright ape-hanger position or can be tilted back to better fit riders' varying ergonomics needs. Adjusting the bars is easy; basic tools do the trick in a matter of minutes. The seat height is also the lowest among the Victory fleet at 25 inches, which allows riders to comfortably plant their feet flat on the ground when stopped. The cockpit ergonomics are comfortable but still provide an aggressive feel. Taking the minimalist approach in regard to styling cues, Victory went with a shorter front fender and single-gauge instrumentation including speedo, tach, tripmeter, and warning lights. Less is more, right? Also, basically everything on the High-Ball is black: mirrors, dual exhausts, handlebars, headlight bucket, triple trees, frame, fender struts, and cylinder head covers. This seems to be the current market trend and Victory nailed it with the High-Ball. For cruiser guys looking to enter the big twin market, the High-Ball might be the right place to start. HB
| | |
| --- | --- |
| **Model | Vegas High-Ball** |
| Engine/Displacement | Freedom V-twin/106ci |
| Inductio | EFI/dual 45mm throttle body |
| Clutch | Wet, multi-plate |
| Transmission | Six-speed overdrive |
| Final Drive | Belt |
| Front Brake | 300mm rotor, four-piston caliper |
| Rear Brake | 300mm rotor, two-piston caliper |
| Front Wheel/Size | Spoke/16×3.5 |
| Rear Wheel/Size | Spoke/16×3.5 |
| Front Tire/Size | Dunlop 130/90-16 |
| Rear Tires/Size | Dunlop 150/80-16 |
| Fuel Tank | Capacity 4.5 gal. |
| Seat Height | 25 in. |
| Color | Black with White Panels |
Source:
Victory Motorcycles
Contact your local dealer | polarisindustries.com