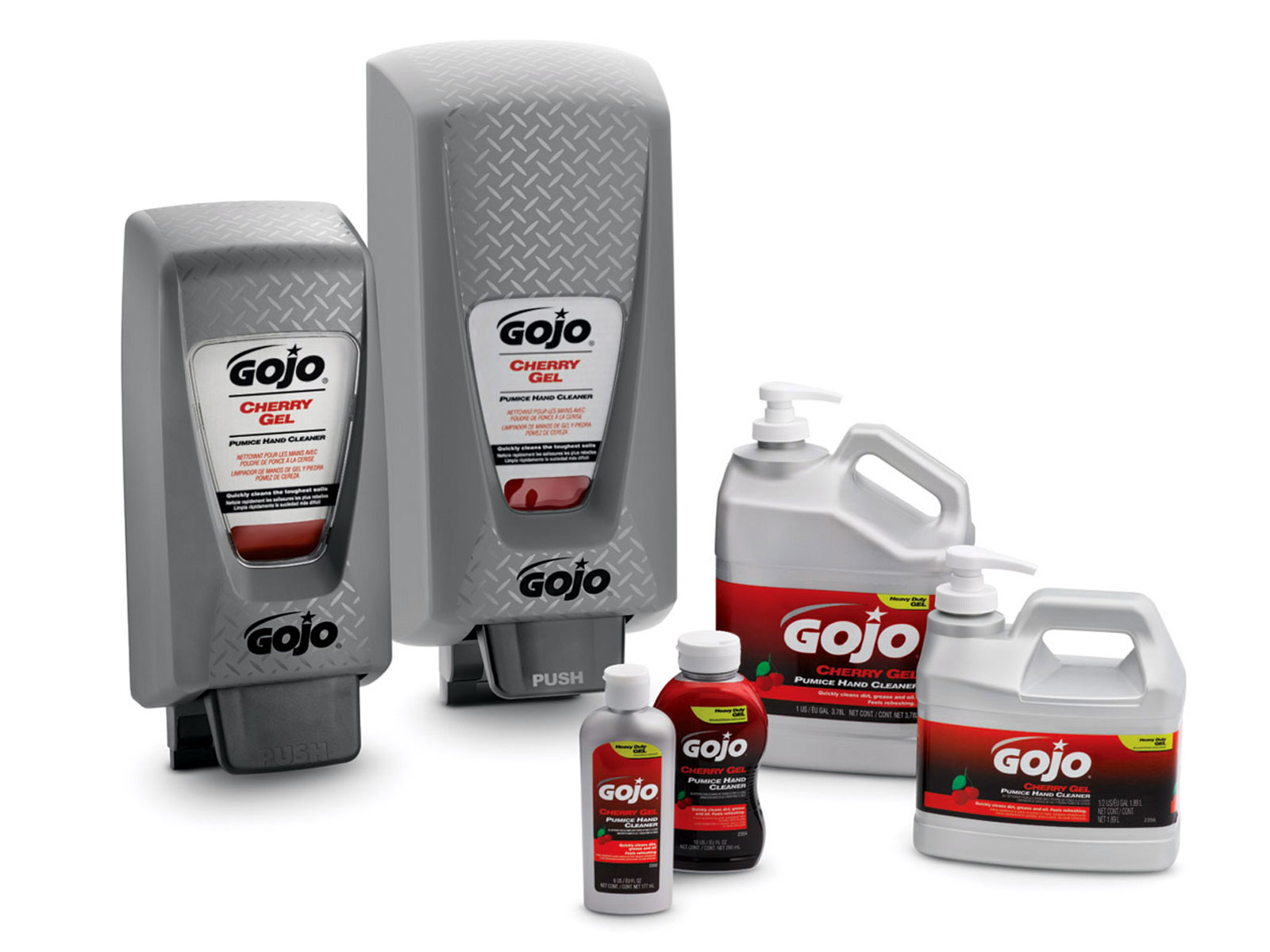 AKRON, Ohio - GOJO® Cherry Gel Pumice Hand Cleaner, a heavy duty hand cleaner with pumice scrubbers, quickly cleans the heaviest dirt while leaving skin feeling refreshed.
With a unique combination of skin conditioners, GOJO Cherry Gel Pumice Hand Cleaner is pH balanced for skin comfort. The cleaner's innovative gel formula spreads evenly and clings to hands and arms to deliver maximum cleaning power on heavy dirt, grease and oil. It also provides a quick, easy and complete rinse.
GOJO Cherry Gel Pumice Hand Cleaner is available in portable 6 fl. oz. and 10 fl. oz. squeeze bottles, 1/2 gallon and 1 gallon pump-top bottles and the GOJO PRO(tm) TDX(tm) Dispensing System in 2000 mL and 5000 mL sizes. The GOJO PRO TDX has a great new rugged design and uses GOJO SANITARY SEALED(tm) refills to help ensure that the soap is safe from contamination.
"The gel formula with pumice scrubbers makes washing hands with GOJO Cherry Gel quick and easy, while its pleasant cherry fragrance eliminates soil odors and leaves hands smelling clean," said Diana Costanzo, marketing director for automotive/manufacturing at GOJO. "We strive to deliver effective products that leave skin feeling refreshed and looking great, giving hands-on workers in tough soils environments confidence in the condition of their hands both on and off the job."
For more information on GOJO Cherry Gel Pumice Hand Cleaner, contact your GOJO distributor or call 800.321.9647.
About GOJO
GOJO Industries, Inc. inventors of PURELL® Instant Hand Sanitizer, distributes PURELL in consumer and away-from-home markets throughout the world. In addition, GOJO manufactures and distributes a full line of products under GOJO® and PROVON® brand names. GOJO has a 64-year history of leadership in improving well-being through hand hygiene and healthy skin. GOJO has products and programs to kill germs on hands and solve skin care-related problems in a variety of markets, including healthcare, foodservice, food processing, manufacturing, automotive, education, government and military. GOJO is a privately held corporation headquartered in Akron, Ohio, with offices in the United Kingdom, France, Australia, Japan and Brazil.