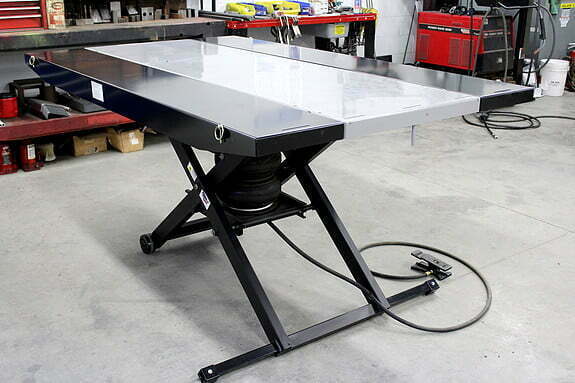 Handy, Division of Janco Industries, Inc., has redesigned two of its lift tables in an effort to simplify. The redesigned lifts are the Standard 1200 Air Lift and the S.A.M. 1200 Air Lift. Both lifts have been revolutionized with a maintenance-free air bellows that replaces the air cylinder. In addition, the redesigned lifts also have improved safety features. The new lift design will not only simplify the way service departments perform maintenance; it will also simplify the way Handy produces these quality lifts for its customers.
The redesigned Standard and S.A.M. lifts have an automatic ratcheting safety mechanism with dual springs that create a positive lock as the lift is raised. The safety mechanism is easily flipped back to lower the lift, and automatically resets once the lift reaches the bottom. With the automatic reset, there is no more worrying about the operator having to remember to set the safety bar.
The capacity on both the Standard and S.A.M. has been boosted from 1000 lbs. to 1200 lbs. and the maximum lifting height has been raised on both lifts. The Standard 1200 Air Lift features a tabletop work surface of 80"x24", a maximum height of 39" and a minimum height of 8". The S.A.M. 1200 Air Lift features an 84"x24" work surface with a maximum height of 39" and minimum height of 8." The S.A.M. also features the same rear drop-out panel Handy customers love on the original S.A.M. lift.
Both lifts are built tough with domestic steel and feature a durable powder coat finish – the superior quality customers have come to expect from Handy. The Standard 1000 and S.A.M. 1000 Air Lifts will continue to be manufactured for a limited time.
Handy's core purpose is simplify: mastering efficient solutions from paper to paint, and the team at Handy is confident that these redesigned lifts will live out that purpose. For more information, contact Handy at 855-752-5446 or visit www.handyindustries.com.
Subscribe to Hot Bike today for tons of tech, hot customs, and lots more.