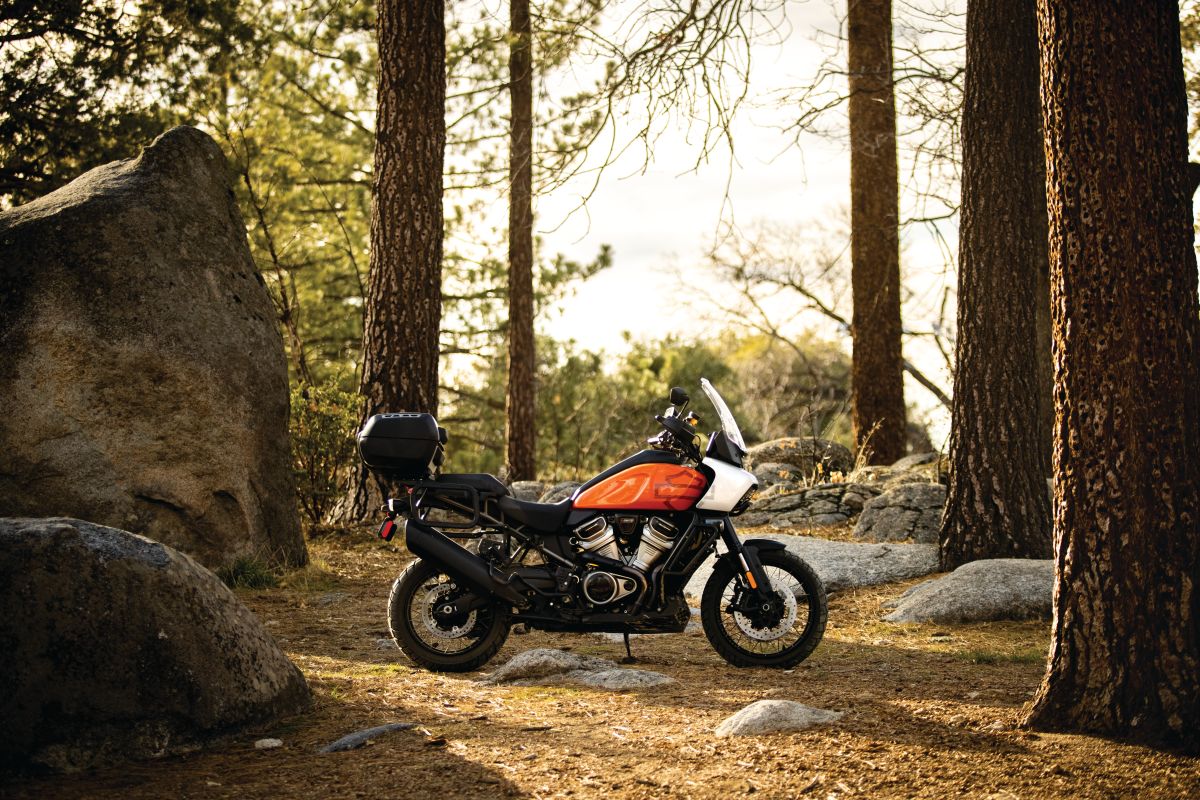 Editor's Note: The boys at Biltwell spend a lot of time in the dirt. From racing Baja aboard tricked out ADV-style Sportsters to local scrambles around the California desert, it's no surprise they'd throw a leg over the new Harley-Davidson Pan America at some point. Well they did. And they had quite a lot to say about the Motor Company's first-ever Adventure bike.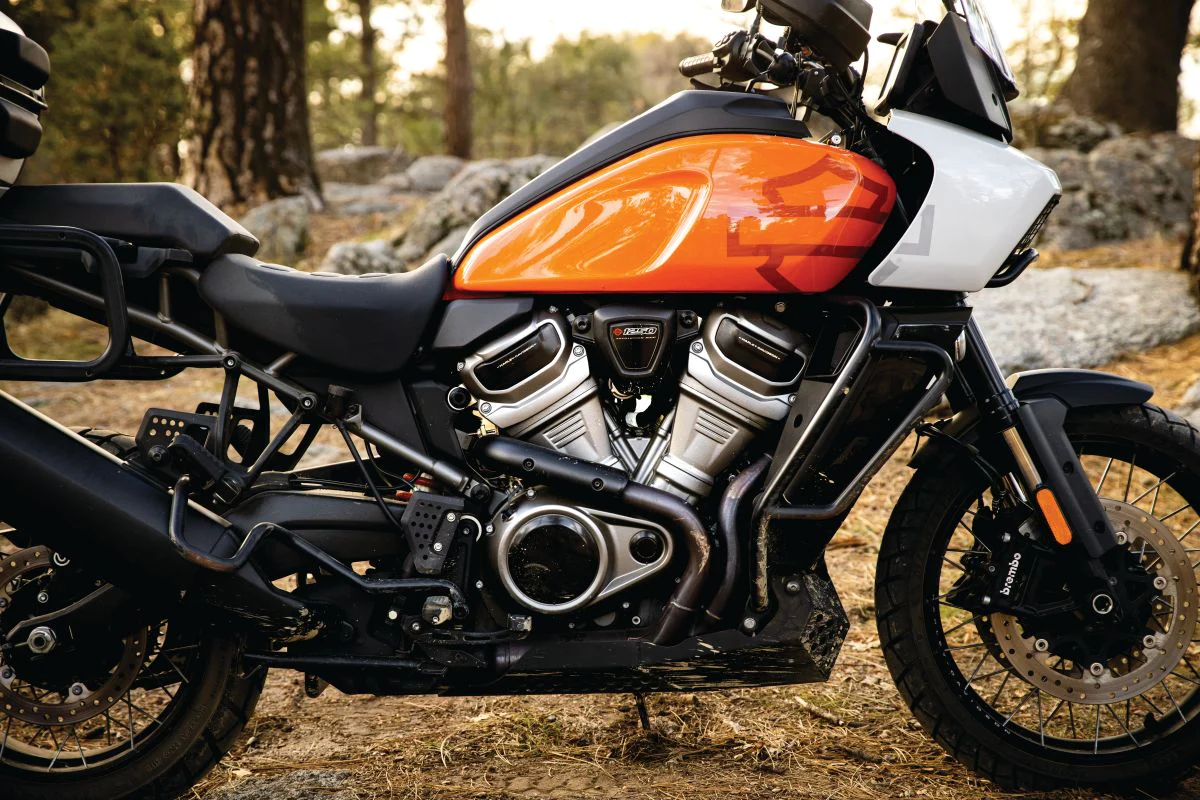 It's easy to understand why The Motor Company chose to pursue the Adventure Bike category—it's been the fastest-growing segment in two-wheeled powersports for years. With their customers' demographic aging out, and an ambivalent younger generation coming up, Harley had to do something, and moving the needle would require much more than merely "Bold New Graphics." The Pan America is that bike. It represents what Harley-Davidson's design and engineering teams are capable of, and is a clear indicator of Harley's performance-oriented future.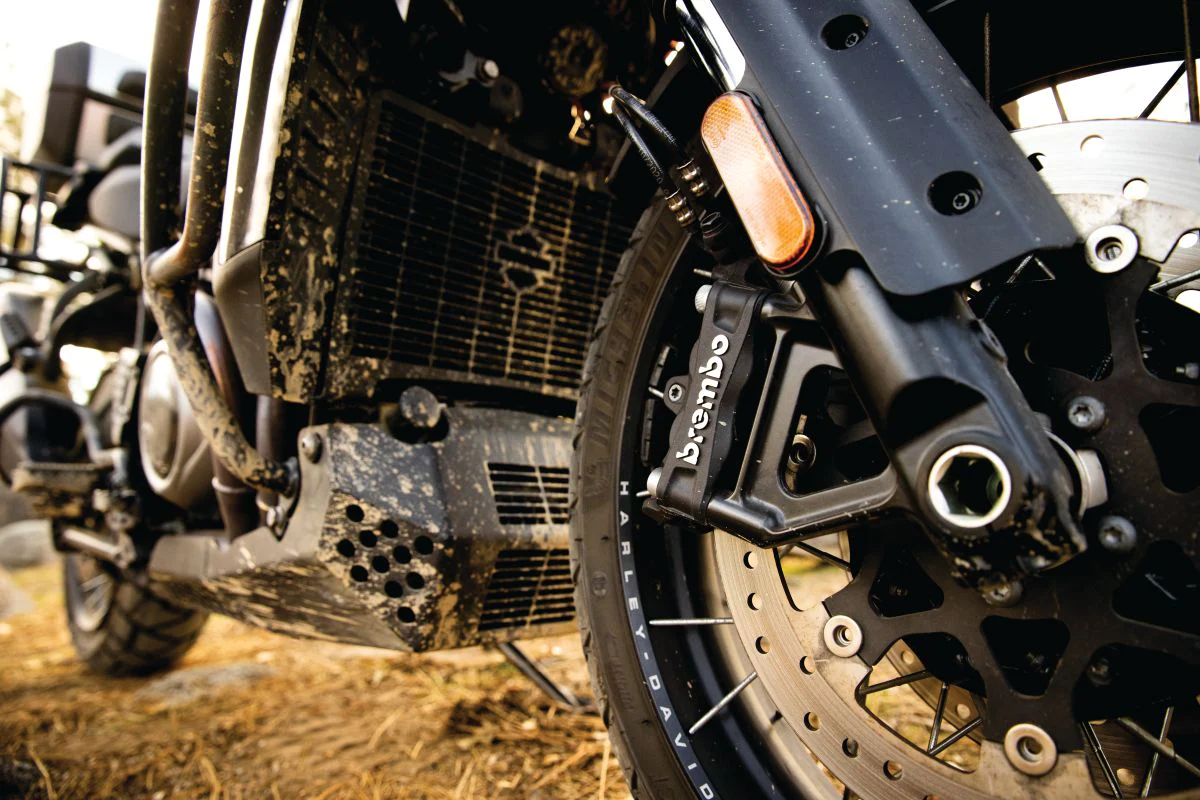 I've never bought a brand-new Harley. My current stable includes a stock'ish 1957 panhead; a 1975 shovel chop; my forever bike, Harley's venerable 1992 FXR; and a Husky FE501. Since Pan Am's introduction, there have been countless stories, YouTube videos, and bar stool arguments over the specs and how it stacks up against existing bikes in its category. My take on this machine is shaped by my personal experiences aboard older, traditional Harleys. I've never truly wrapped my head around the whole ADV thing. Don't get me wrong—the idea of a long, lonely trek through a barren landscape for days on end has undeniable appeal. However, conventional ADV bikes have always struck me as sort of a mermaid: neither a good fish nor a good woman. I've seen ADV machines parked at hotels in towns where I camped from a rigid chopper; this contradiction never clarified my opinion. In the dirt, I can't fathom ever needing 1250 cc's of power, ABS, or a thousand-dollar rain suit. For better or worse, I've historically viewed the whole ADV motorcycle scene from a "more beer, less gear" perspective.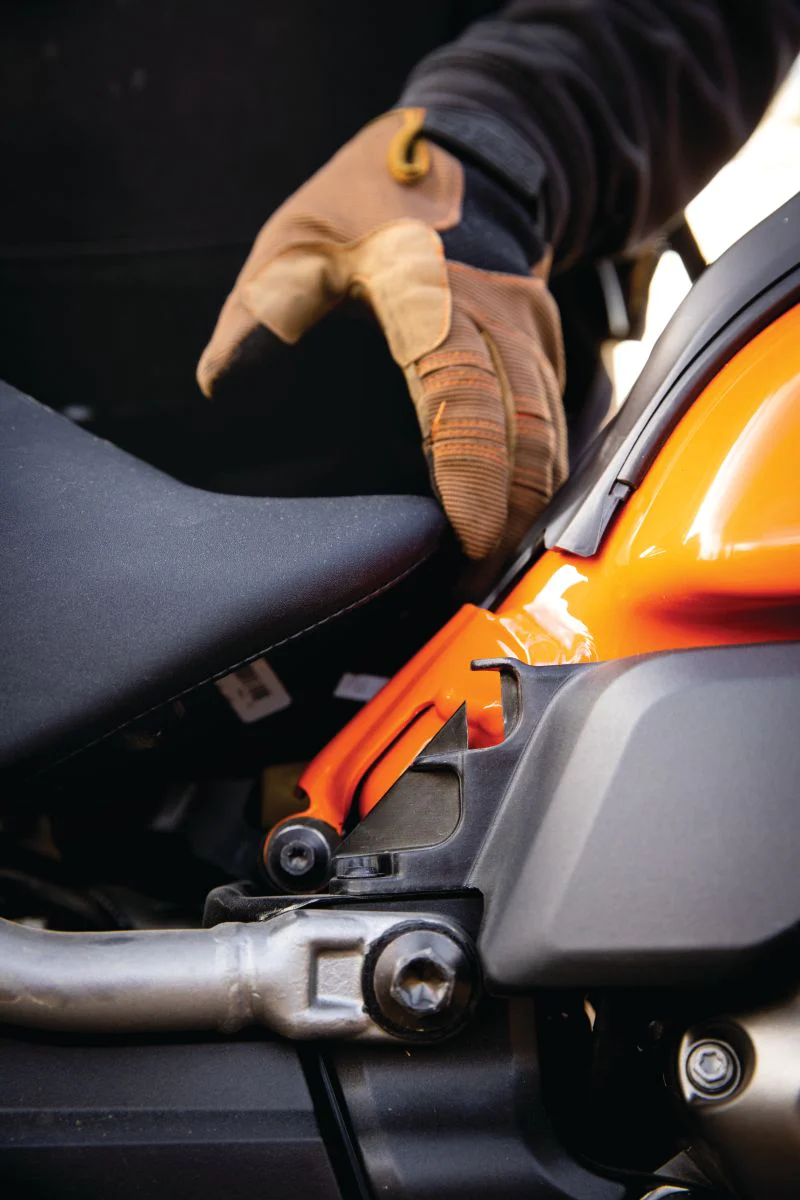 TECHNICALLY SPEAKING
Harley's earliest motorcycles were adventure bikes. When motorcycles required grit and mechanical ability as much as riding skill, Milwaukee provided propulsion for a hardy audience who lived the adventure life long before it became a lifestyle. Since then, Harley has inspired multiple generations to hit the open road and soak up some of that pure American Freedom that's gotten harder to find every day. Somewhere along the line, some clever Germans built a motorcycle that was better suited for the all-terrain experience. Many regard the BMW's R80 G/S from 1980 as the pioneer in the ADV segment. With its stoic reliability, quirky engineering, and all-conditions capability, BMW's brainstorm was the tip of the spear for a whole new touring category. Today, that machine's offspring continue to set the standard for two-wheeled adventure.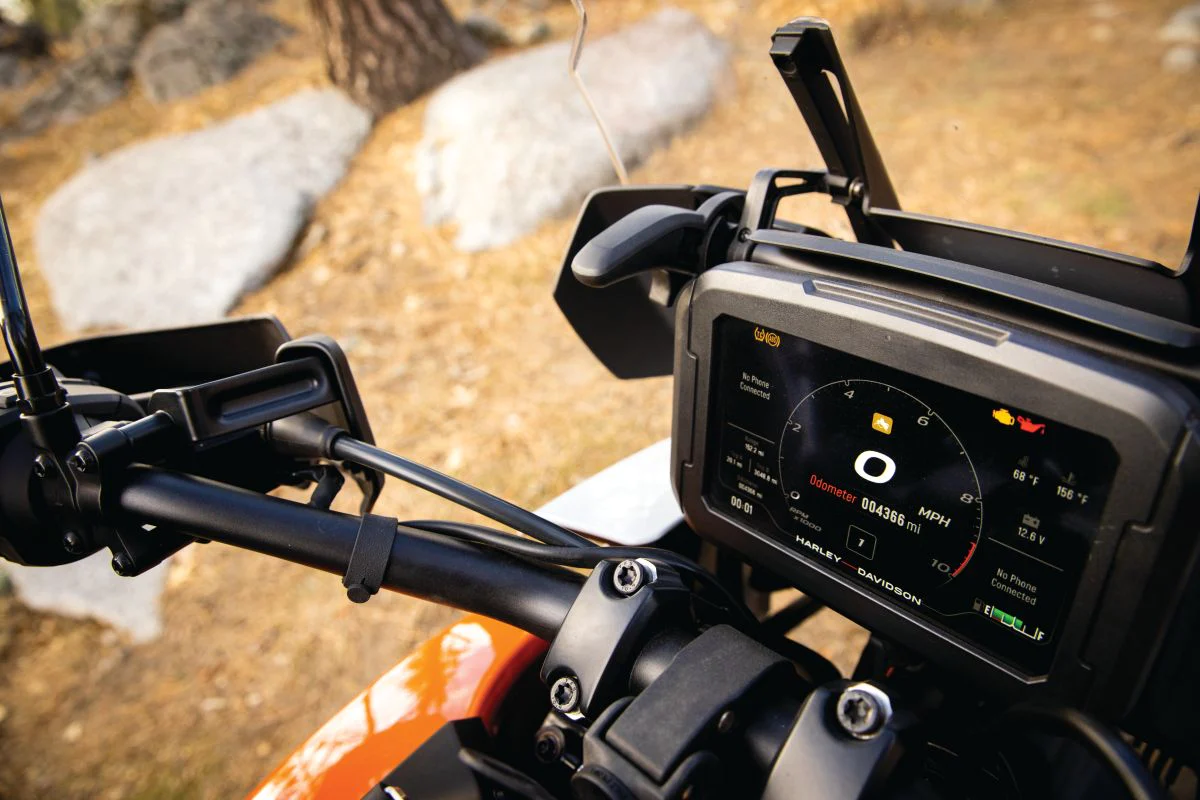 THE BIG QUESTION
With that bit of history and context out of the way, let's talk about Harley's latest interpretation of the ADV ideal. First and foremost, is it any good? In a word, no—it's great. We rented the bike for this article from a private party and it had a little over 4000 hard miles on it. I say that because the scuffs on every corner were proof that someone had been getting their adventure on, which was fortunate because it meant any damage I did would probably go unnoticed. My ride started with a 50-mile road route littered with stop-and-go traffic and a few high-speed sections where I could let 'er eat. And boy, did she have an appetite! Our model was the high-end "Special" whose handful of electronically controlled ride modes were easy to understand. The Pan America has a ton of other high-tech features, but we never messed with most of them.
After reaching the trailhead, we rode about 25 miles off-road, gaining 4000 feet of elevation in the process. It was mostly rutted doubletrack that any 4×4 could navigate with ease, but a Harley Road Glide wouldn't have made the first mile before leaving a yard sale of broken fiberglass, low-hanging exhaust, and floorboards in its dusty wake. The Pan Am by comparison was unfazed by the route, and in expert hands could probably tackle even more challenging terrain with ease. I conquered the dirt route safely with few surprises, but it took more effort and finesse than I would have expended on nothing more capable than an old dirt bike. Our photographer Geoff followed me on his XR400 and Biltwell marketing guru Otto tailed us on a bone-stock XT500; neither man expended more energy on their machine than I did aboard the Harley. Proper off-road tires would have enhanced the Pan Am's performance dramatically. When I switched the Pan America from "S" mode on the tarmac to "Off-Road" on dirt, it made a big difference. On what was a slow, second-gear climb the Pan Am's digitally fine-tuned suspension soaked up the small stuff, but felt slightly more taxed when I rode faster than I should have in some conditions. What made the biggest difference was the mellow throttle control in "Off-Road" mode; no one needs 150 horsepower on tap on a slippery switchback!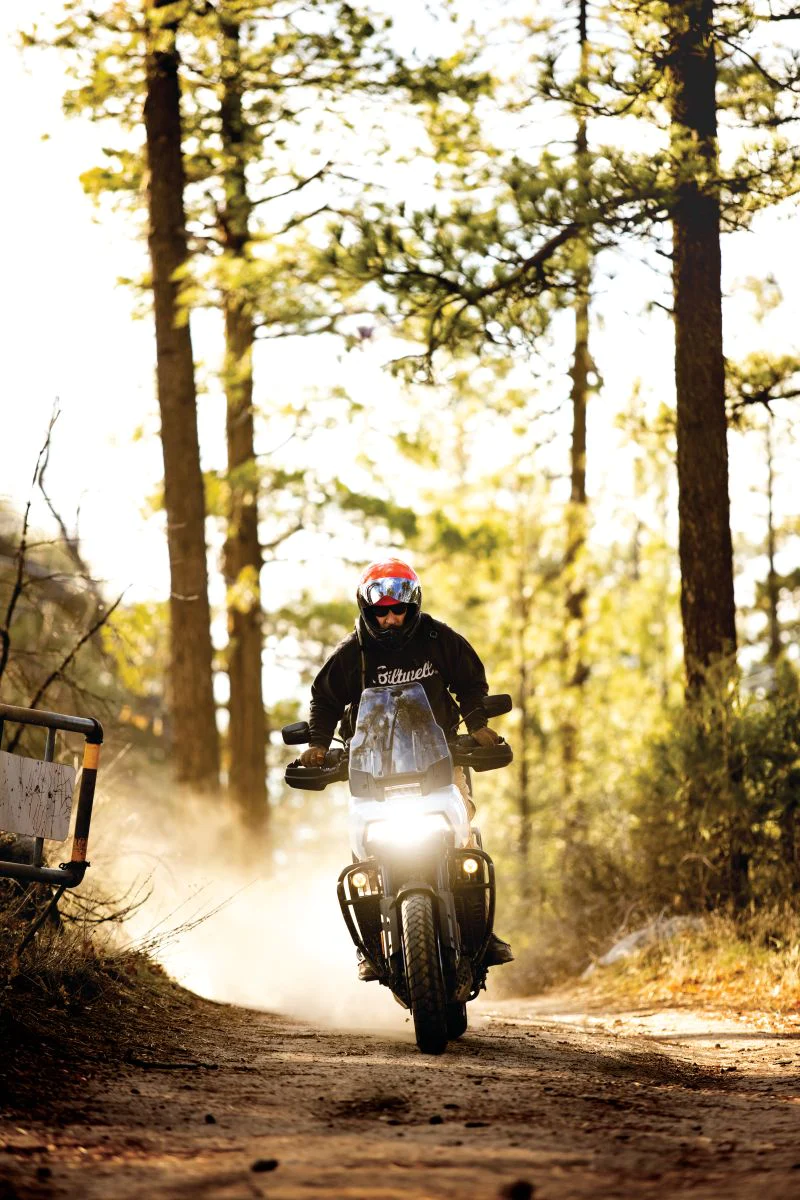 WEIGHT, THERE'S MORE
There's no way to sugarcoat it: the Pan Am is a heavy bike. Fortunately, it carries most of its heft down low and felt significantly lighter than the 596 pounds ours tipped the scale at soaking wet. The Pan Am appears visually bulky standing next to it. It's beefy in a muscular way, and that beef makes it somewhat intimidating to inseam-challenged riders like yours truly. But here's where we get to a key attribute of this do-anything motorcycle: it's just so easy to ride. Even off-road where extra weight is a disadvantage the low seat height instills confidence, and the balance was way more predictable than I expected. Since our bike was outfitted with radiator cages and luggage mounts, it was well protected in case of a mild get-off.
Another feature on the Special is Harley's Adaptive Ride Height technology, which lowers seat height up to two inches at stops. I can ride a dirt bike just fine at speed, but I have to admit that I've got to stretch to reach the ground on most of 'em at a stop. Not the case with the Pan America. This is groundbreaking technology, and something HD should be justifiably proud of bringing to market. The stock seat can also be manually adjusted to drop another inch, and Harley offers an accessory seat that's 25mm thinner than stock if that's what you need to feel comfortable.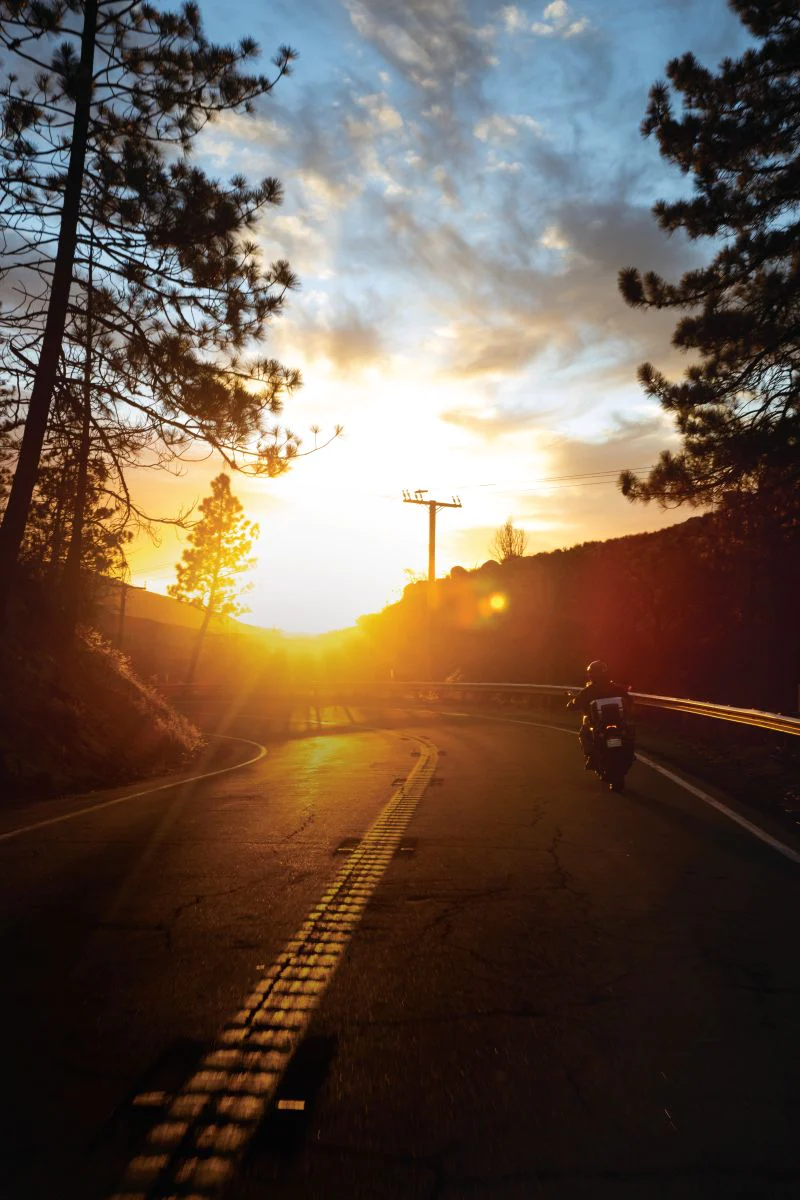 "You don't have to ride solo through Siberia to appreciate this Hog's charms."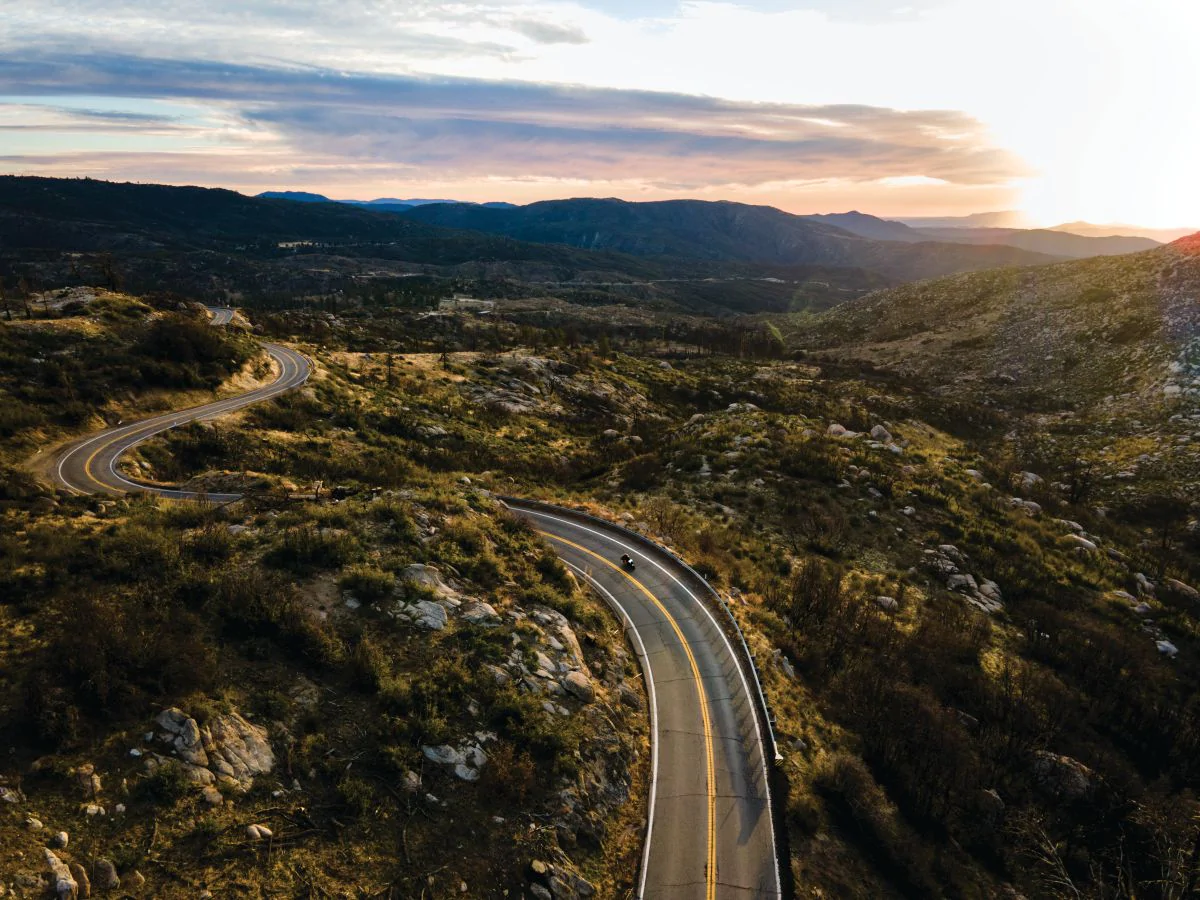 THE TRUTH WILL SET YOU FREE
On the ride down the mountain through a gorgeous sunset and empty twisties the true beauty of Harley's newest adventure machine became obvious: the Pan America is a sports bike. Except it's also a comfortable all-day cruiser. Or is it just a giant dirt bike? Hitting "S" mode on the road changed suspension damping for more performance-oriented handling, and throttle response got quicker. It's in this mode where the machine's range of personalities widens considerably. An hour earlier I was crawling up a silty, rutted forest trail. On the way home I enjoyed a sublime slice of powerband between 4500 and 8000 rpm. In every situation, my ride benefited from comfortable ergonomics and every modern convenience a bikerider could desire: Adjustable windscreen; navigation; audio; cruise control; and every manner of adaptive cornering, braking, and traction control.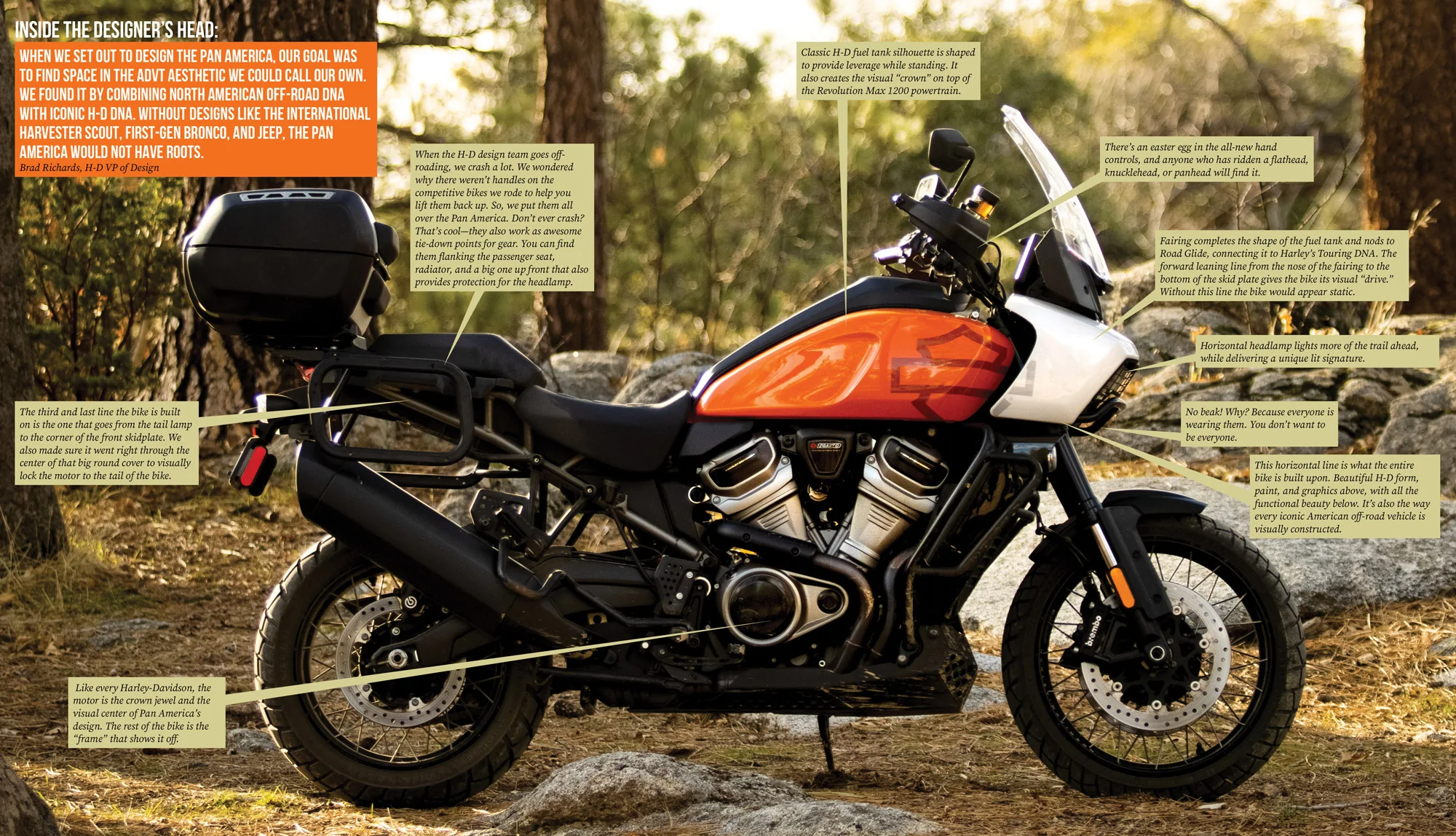 After leaving the mountain roads and returning to congested traffic, I had time to ponder what this whole ADV category is all about. After heated internal debate, I decided maybe you don't have to ride solo through Siberia to appreciate the charms these sophisticated machines deliver. Perhaps, Pan Am's spec sheet represents the peak evolution of the modern touring motorcycle. It's nice to be comfortable, but it's way more fun when you can adjust on the fly for multi-function, all-terrain capability. Like Harleys of old, Pan America's jack-of-all-trades nature provides the flavor I find most appealing. As a motorcycler who enjoys both kickstarting his 60-year-old street bike and igniting his modern Husky with the push of a button, the Pan Am has me thinking seriously about my first new Harley.