This article was originally published in the February-March 1997 issue of Cycle World's Big Twin magazine.
You see lots of Road Kings on the road, lots of Road Kings at rallies, and lots of Road Kings anywhere bikers congregate. What you don't see are lots of customized Road Kings. Most other Harley models commonly get the full-blown, double-throwdown, hair-on-fire custom treatment, but not Road Kings.
For good reason: When the King hit the streets in 1994, it quickly earned the reputation as the sweetest-handling Harley on the block. People immediately found that the FLHR was meant to be ridden, not to sit disassembled for weeks on end while undergoing a radical facelift. So, most owners would roll their new Road Kings off the showroom floor, wheel them onto the open road and disappear for weeks at a time.
Well, the FLHR is beginning its fourth year of production now, and we're just beginning to see them come on-line as customs. One superb example is this tasty dish of orange frappe, served up by famed bike-builder Dave Perewitz.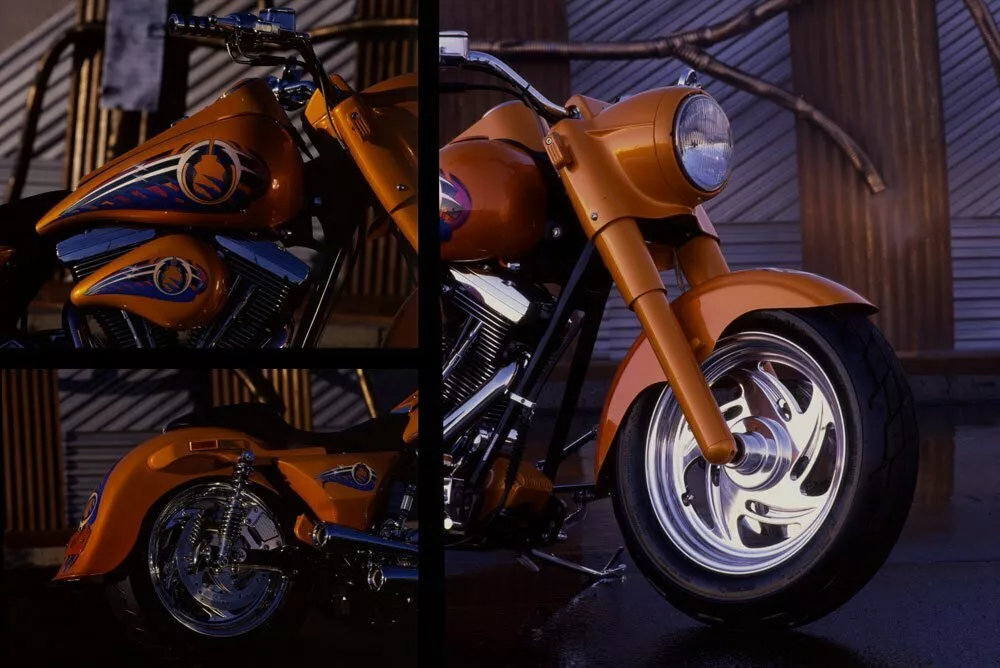 Perewitz built the bike for Joe "Pro" Procopio of Worburn, Massachusetts. His countless modifications include some of the usual H-D treat­ments, such as lowering the entire chassis, reversing the swingarm, and cutting and shortening the fork tubes. He also kicked out the steering neck five degrees and molded the entire neck area.
That's all well and good, you say, but how does it ride? After all, Road Kings are meant to be ridden.
"It rides like a dream," says the ebullient Joe Pro. "I've had Fat Boys before, but I just love this rubber-mounted Road King. Riding it is just like floating on a cloud, like gliding on a feather."
It only stands to reason that Joe Pro's bike would have to be functional: He's a hard-charging rider. You'll see him on his orange sweetheart at Daytona, Sturgis, Laconia and the Love Ride, riding the wheels off his custom and laughing all the way. Because under all the new paint and parts, after all the slammin' and jammin', this is still a Road King.
Still the sweetest-handling Harley on the block.