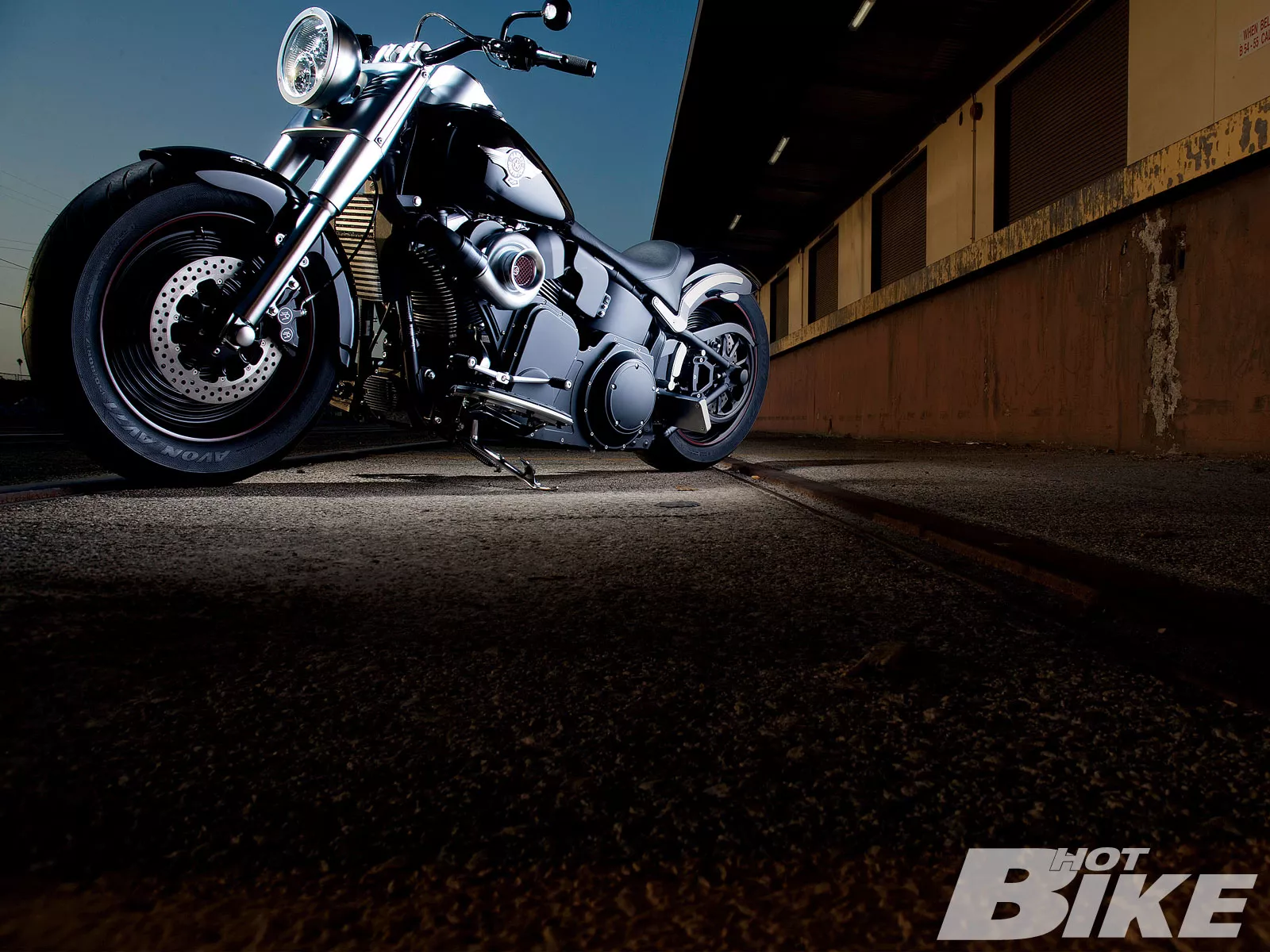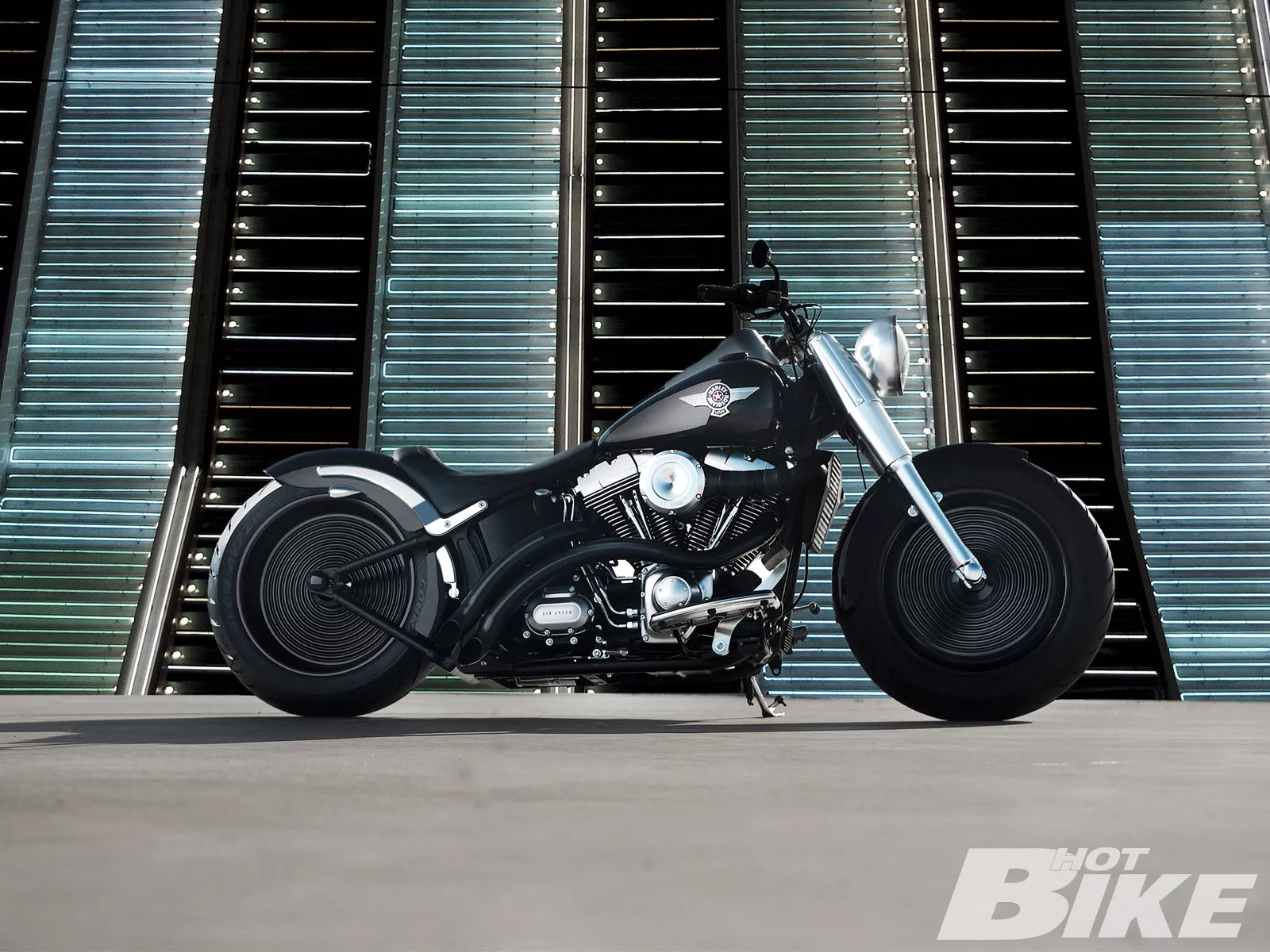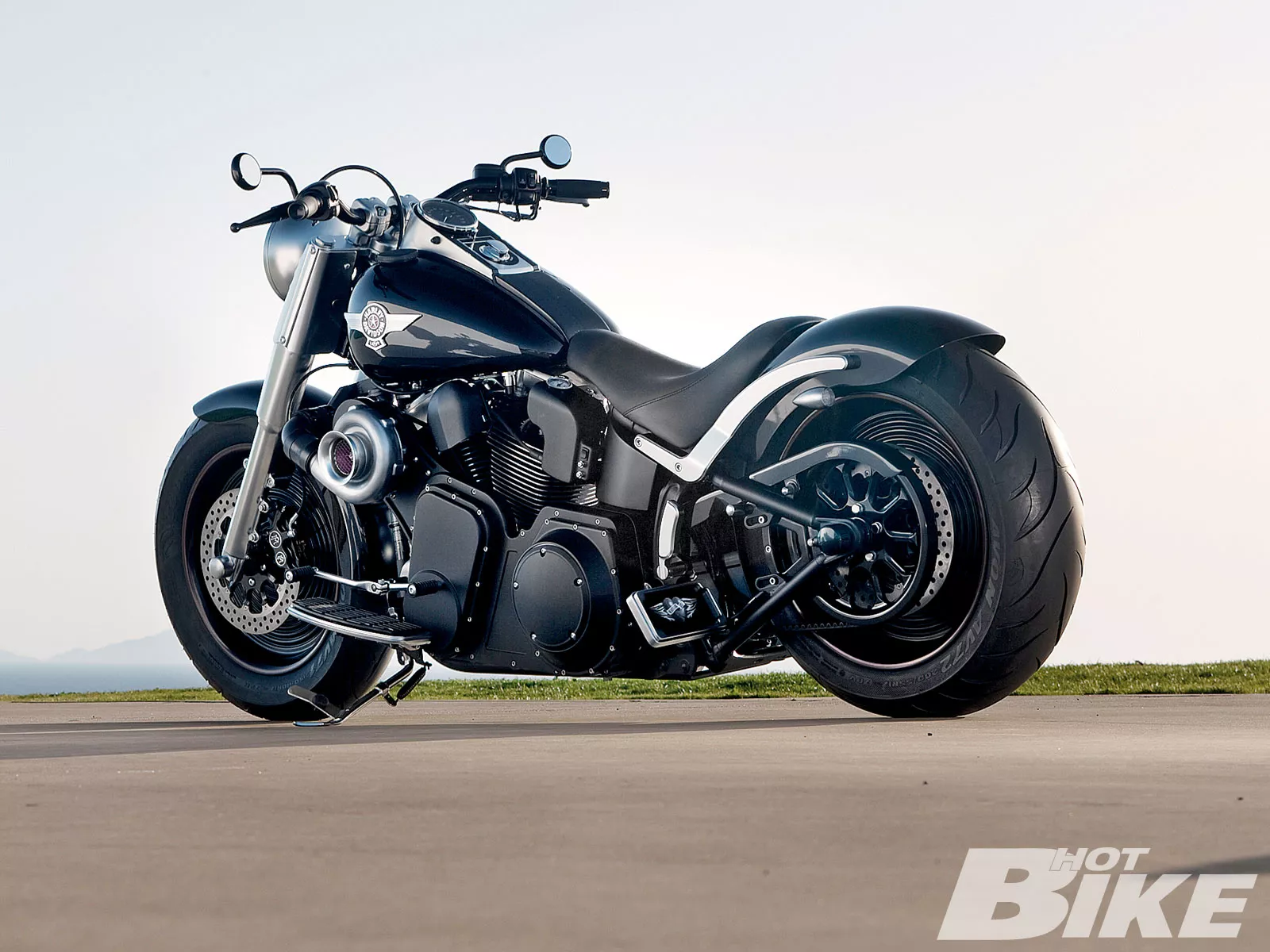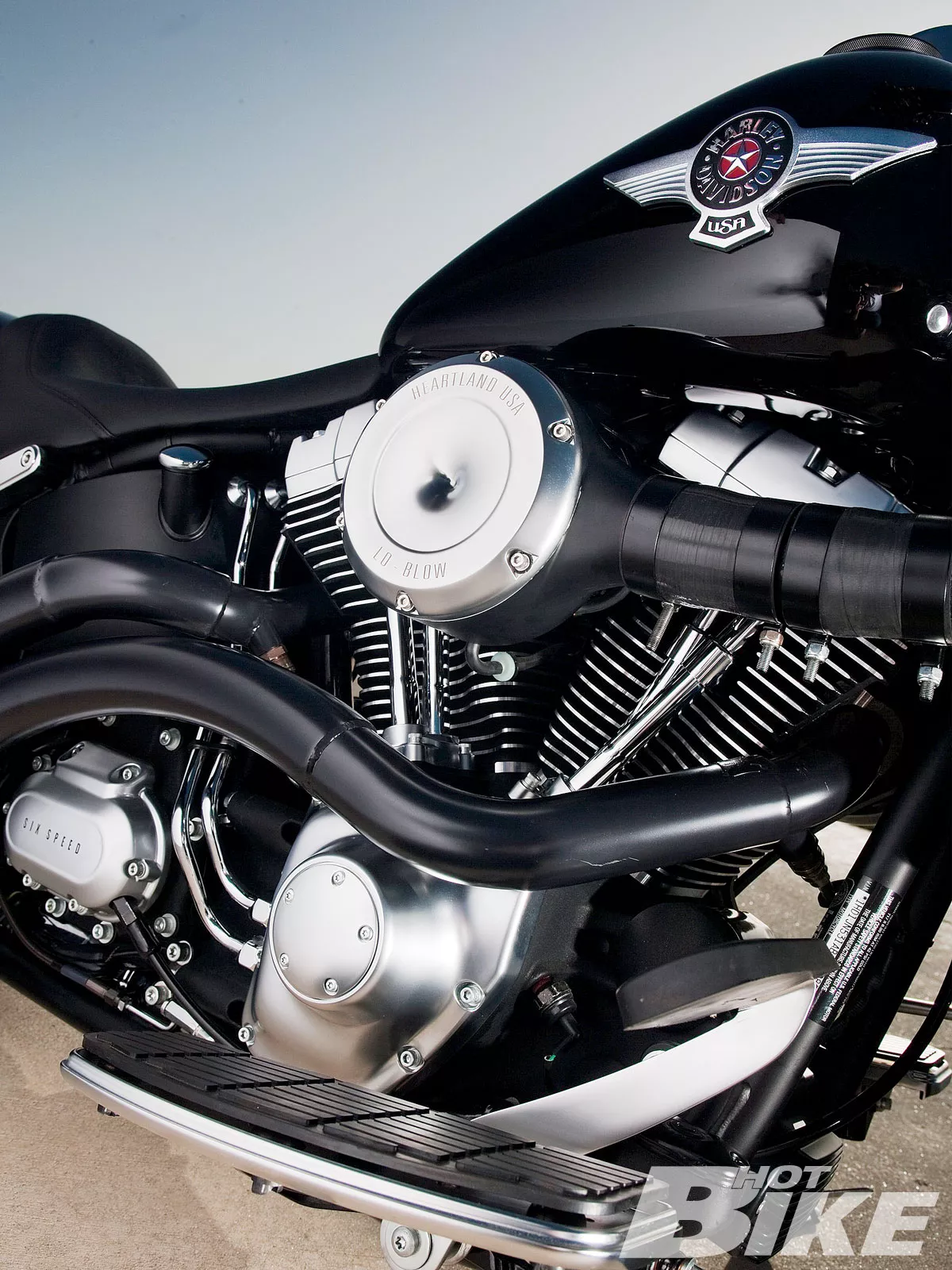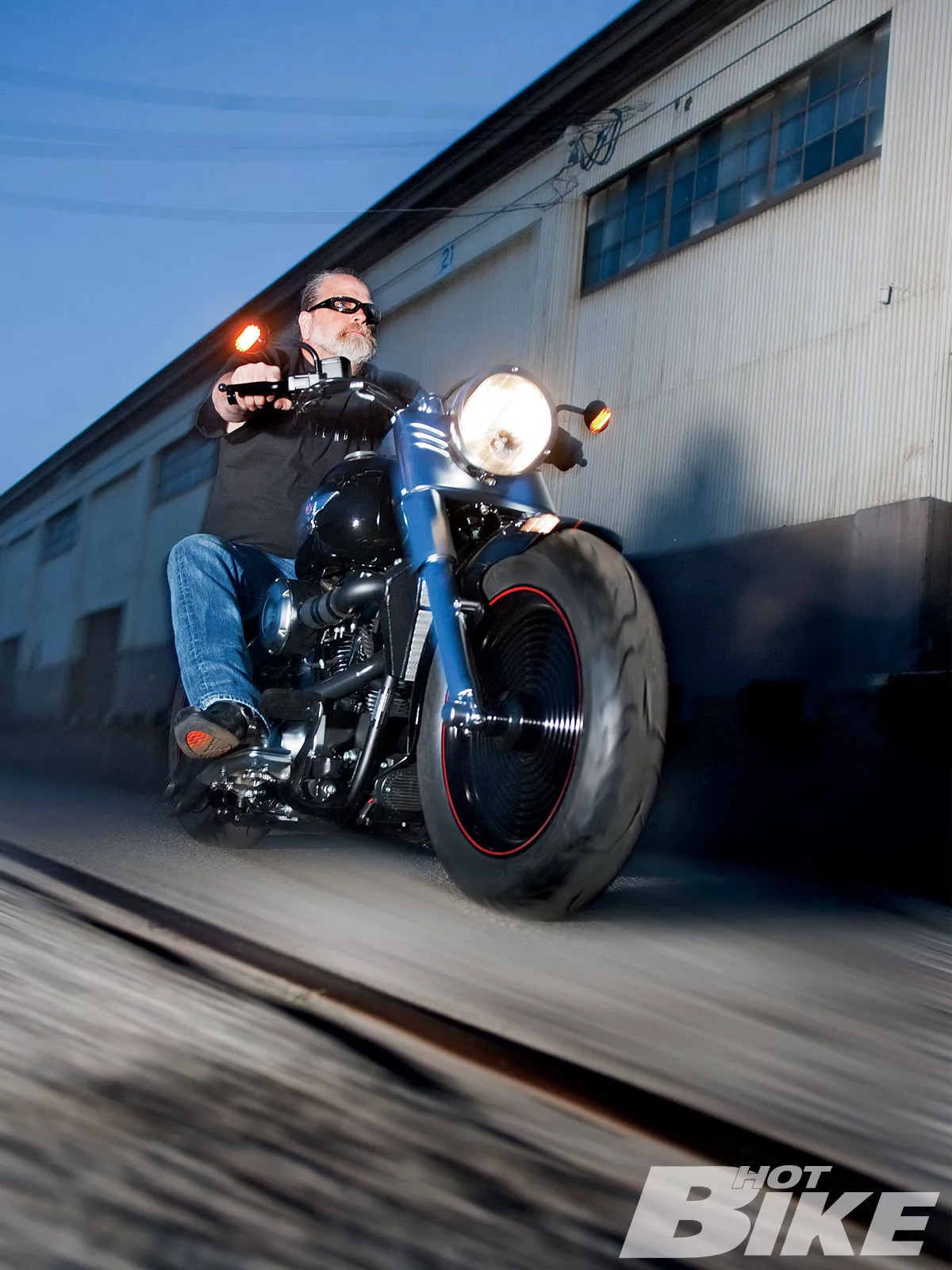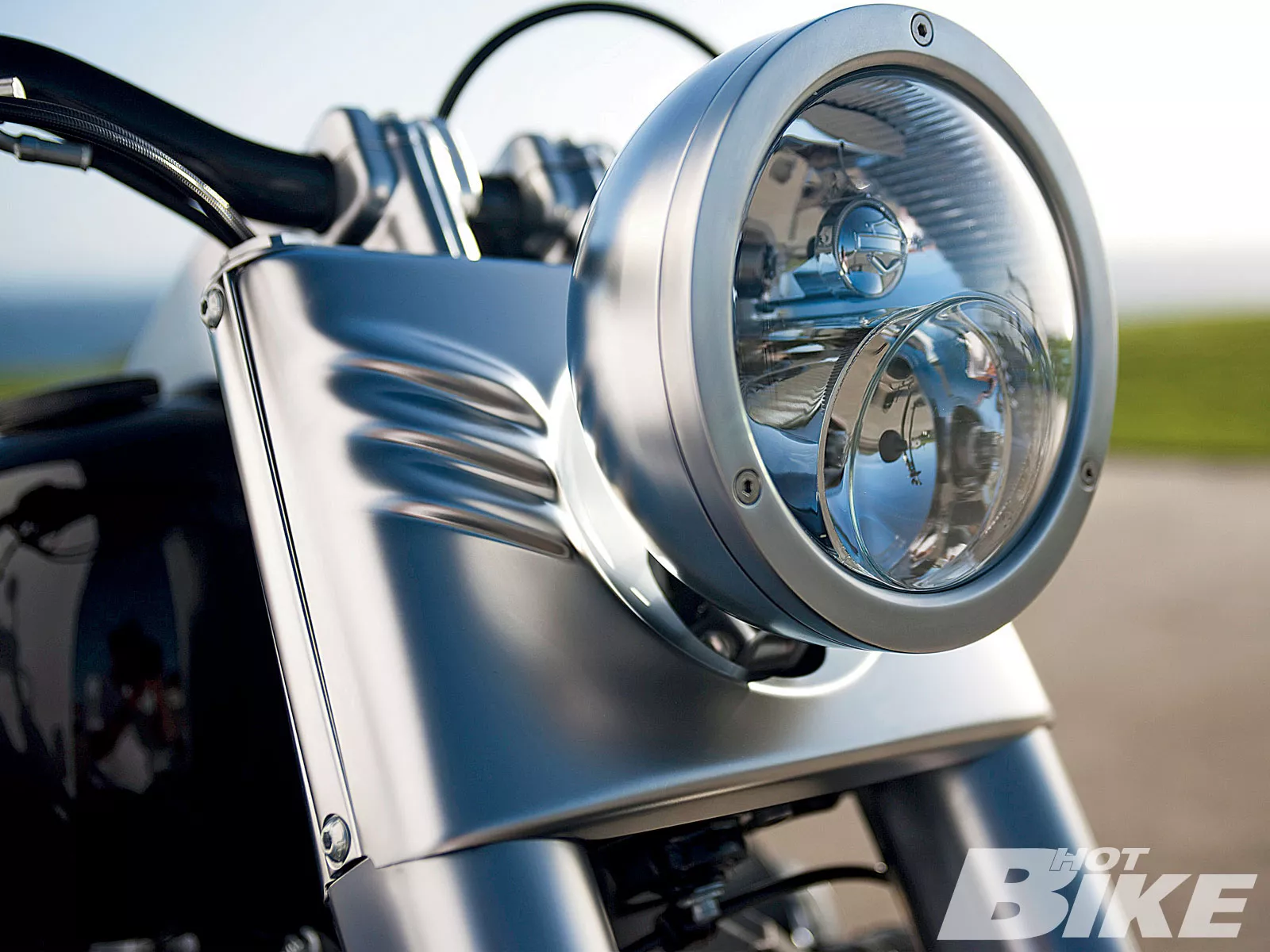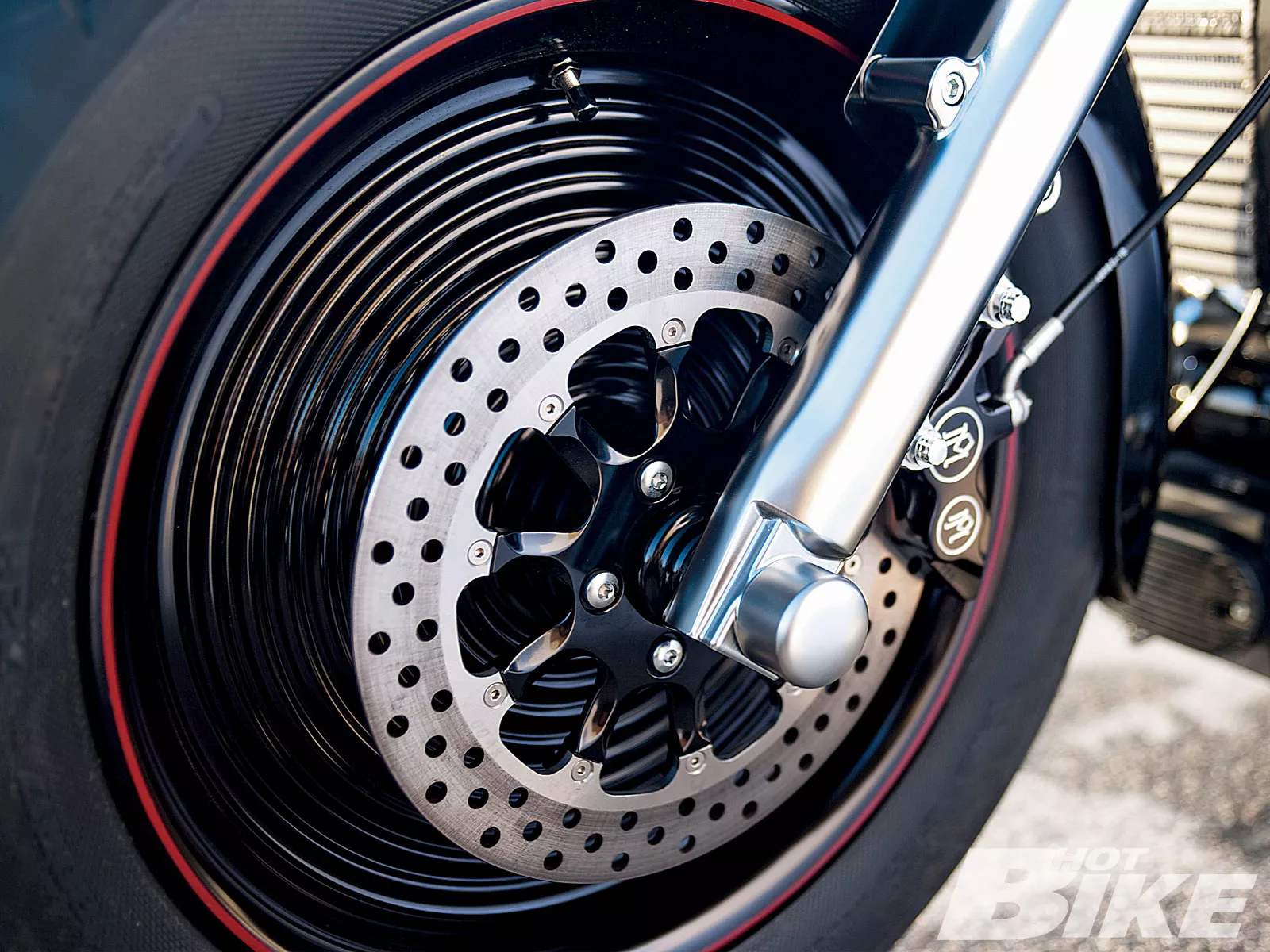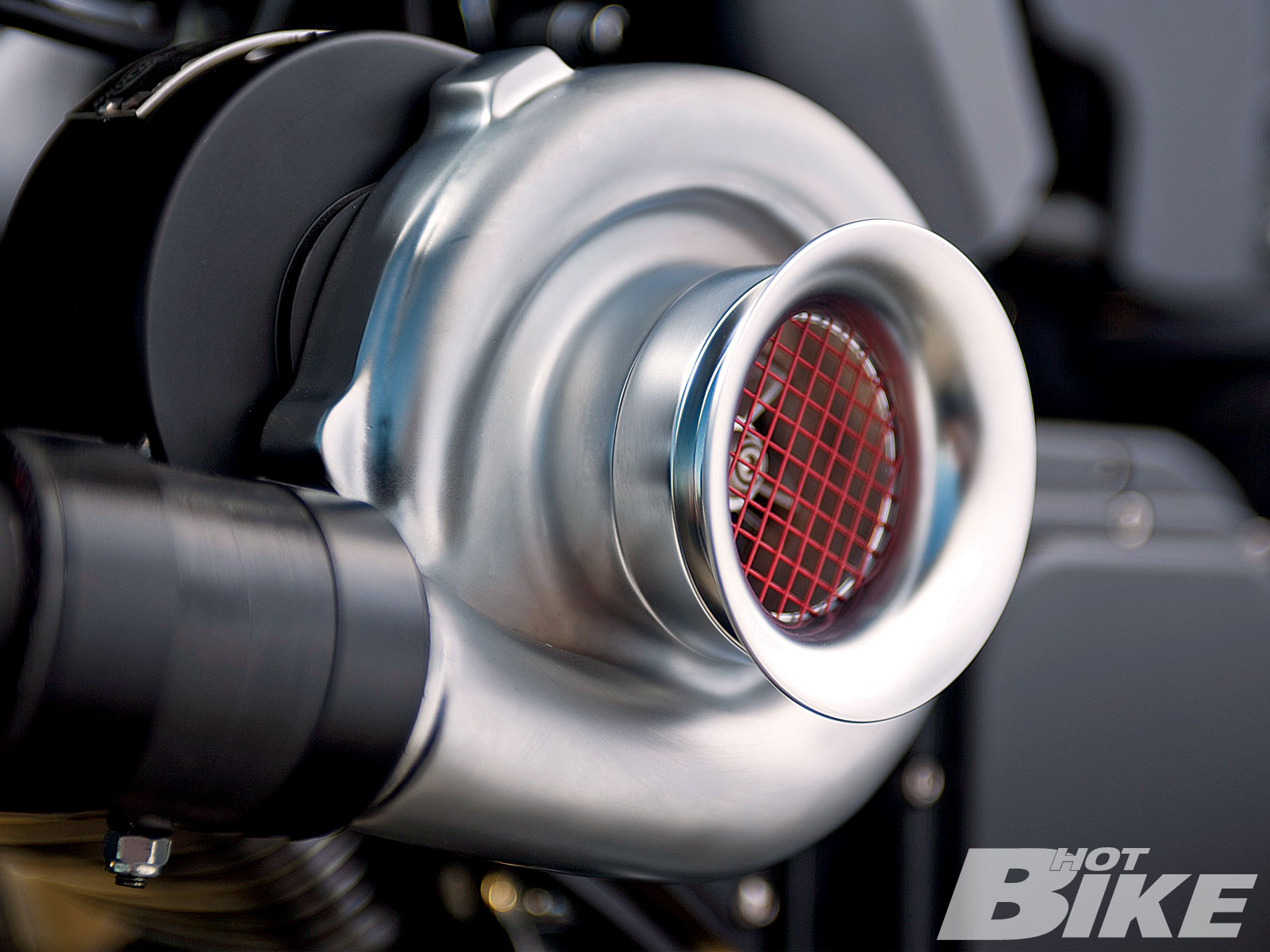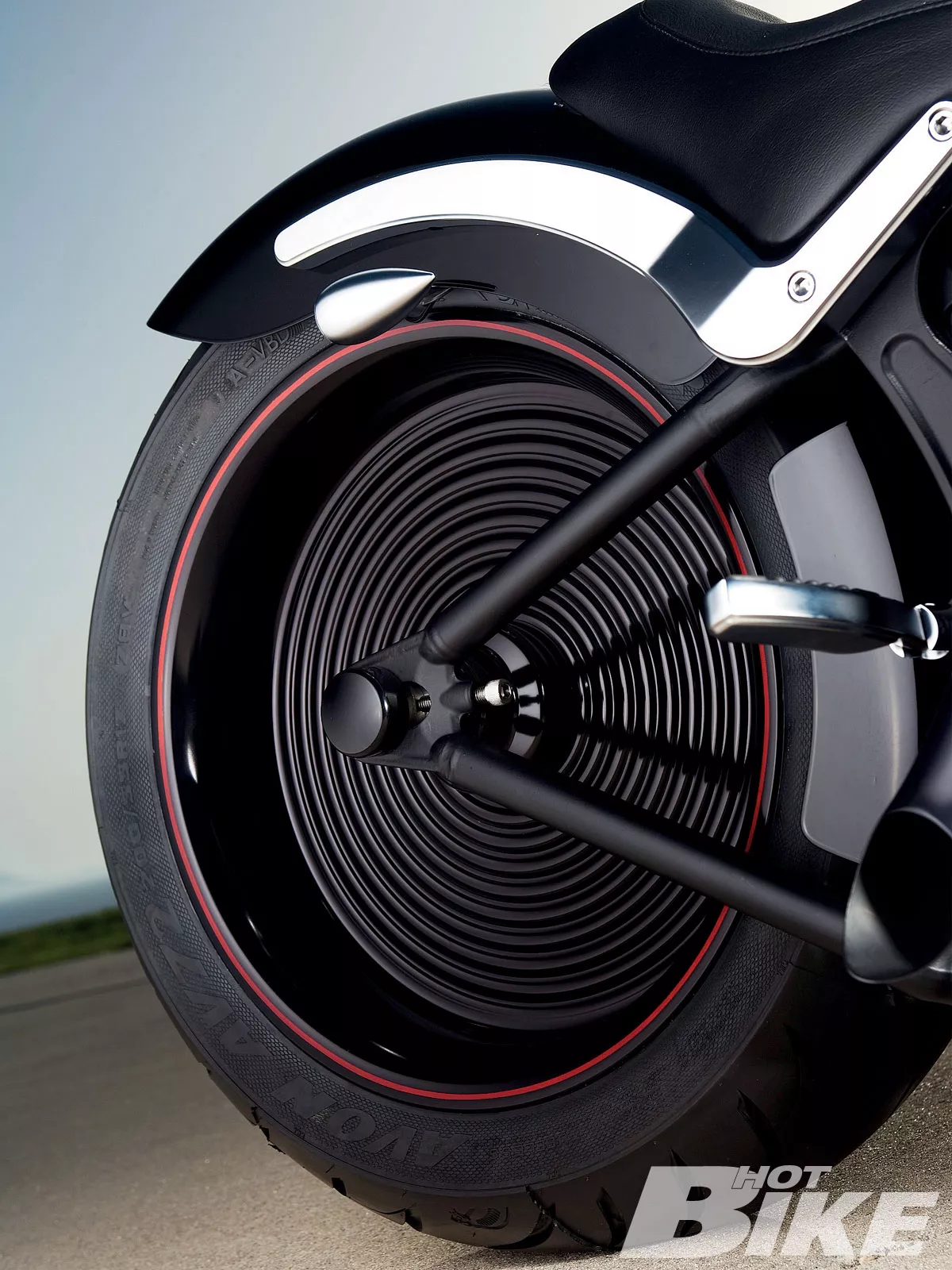 Specializing in components to make Softails look better, Heartland USA loves it when Harley comes out with a new model or even a slight twist on an existing model, as it gives the company an opportunity to showcase its goods. When H-D unleashed the Fat Boy Lo in 2010, Lonny Spiva and the Heartland crew snatched one up to give it some love. And since they were going to use it as their next V-Twin Expo bike build, the Softy had to catch eyes and draw people to the booth. Lonny's goal was to keep the essence of a Fat Boy, only meaner. Hence, he went into the project adding muscle-car style, and turned it into Heartland's idea of a muscled-out Fat Boy Lo, or as they call it, the Lo-Blow.
The shop couldn't really rep the macho muscle look without the cred to back it up. At the same time though, Heartland didn't really want to toss in a bored-out drag motor either. With more riders turning away from ground-up customs and toward modding their own stockers, it was decided to leave both motor and frame intact. You'd think the two positions (muscle car versus stock machine) would butt heads but this isn't Lonny's first trip to the rodeo. He knows a thing or 10 about customizing motorcycles. Lonny solved the quandary with a Pro-Charger. Made for use on a stock Twin Cam, it also screams, "horsepower" to the world. Pro-Charger provided them with one in a special satin black coating. Add in the West Coast Choppers Hellbent drag pipes, and all of sudden, that 96-inch motor has some guns to show off.
Heartland's other big balancing act presented itself with the wheels. A wheel-and-tire swap is sort of a no-brainer when tailoring the look and feel of any motorcycle-it gets you noticed and affects handling, be it on the freeway or in a tight canyon curve. The question here was how to get the attention without losing the solid wheels that scream Fat Boy. Lonny drew inspiration from the old hot rod Moon disc covers. Performance Machine liked the idea enough to help him realize it via the company's considerable computer design resources. Not only do the "Zoned Out" wheels have a funky concentric circle design, there aren't any visible valve stems obstructing the rims.
Part of that conversion involved a meatier back tire. Nothing too extreme, just a rider-friendly 200mm Avon Cobra. It's wide enough for a stronger look but not hard to manage in a corner. Adding it to Lo-Blow sent Heartland to the drawing board though. Rubber that much wider than stock required a rear fender conversion. The team came up with a 9-inch kit that uses Heartland's original style struts. Its medium-length Heartbreaker fender also shaved weight and cleaned up the Fat Boy's lines, as did the new tire skin up front.
Between the Pro-Charger, the wheels, and the tread-hugging new fenders, Heartland was well on its way to its muscle bike goal. They'd hit all the check marks for a sinister, meaty machine but there was one tradition that conventional wisdom might have caused them to skip-slamming the suspension. If your project bike had the name "Lo" in the name when it was stock, either the manufacturer is conservative in its estimation of what that means, or you like yourself some overkill. Harley's Fat Boy Lo sits 4.8 inches off the pavement as is. That may be slammed enough for the Motor Company, but for Lonny? Not so much. Between the Progressive Suspension lowering kit up front and the Air Tail out back, Heartland's Lo-Blow sits just 2.8 inches above the asphalt (we had action figures as a kid that were taller than that!). Of course, the air tail adjusts up or down at the rider's whim, so clearance may not be that much of an issue.
Lonny and company faced a big challenge when it came to Lo-Blow's finish. Jake Winter is Heartland USA's resident finish expert. Matching the new parts to Harley's new Satin Chrome fell on his shoulders. Not one to shirk his duty, Jake worked his magic and found a local operation up to the task: Quaker City Plating in Whittier, California. The shop matched 65 different parts in beautiful Satin Chrome for this project. Scott Baldwin kept the satin motif alive in the paint scheme, down to the hot rod pinstripes, even on the Zoned Out wheels.
Three months after this Fat Boy Lo left the showroom for its new life, Heartland USA was officially finished melding it into Lo-Blow. Since then, it's worked the spokesbike job pretty well. At least until this last July, when the new models were released. Now Heartland USA gets to start all over again…
| | |
| --- | --- |
| SPECIFICATIONS | |
| BIKE OWNER | Heartland USA |
| SHOP NAME | Heartland USA |
| SHOP PHONE | (310) 822-2697 |
| SHOP WEBSITE | heartlandbiker.com |
| YEAR/MAKE/MODEL | '10/H-D/Fat Boy Lo |
| FABRICATION | Lonny Spiva |
| ASSEMBLY | Heartland USA team |
| BUILD TIME | Three months |
| | |
| --- | --- |
| ENGINE | |
| YEAR/MANUFACTURER | '10/H-D |
| TYPE/SIZE | Twin Cam/96ci |
| BUILDER | H-D |
| CASES | H-D |
| CYLINDERS | H-D |
| HEADS | H-D |
| ROCKER BOXES | H-D |
| CARBURETOR | H-D EFI |
| AIR CLEANER | Heartland USA/Pro Charger |
| EXHAUST | WCC |
| | |
| --- | --- |
| TRANSMISSION | |
| YEAR/MANUFACTURER/TYPE | '10/H-D |
| CASE | H-D |
| CLUTCH | H-D |
| PRIMARY DRIVE | H-D |
| | |
| --- | --- |
| FRAME | |
| YEAR/MANUFACTURER | '10/H-D |
| RAKE | Stock |
| STRETCH | None |
| | |
| --- | --- |
| SUSPENSION | |
| MANUFACTURER FRONT | Progressive Suspension |
| LENGTH | 2 inches under |
| TRIPLE TREES | H-D |
| MANFACTURER REAR | Progressive Suspension |
| SWINGARM | H-D |
| | |
| --- | --- |
| WHEELS, TIRES, AND BRAKES | |
| MANUFACTURER FRONT/TYPE | |
| | Performance Machine/Lonny Spiva |
| SIZE-WIDTH/HEIGHT | 17×3.5 |
| TIRE/SIZE | Avon Cobra 150/17 |
| CALIPER | Performance Machine |
| ROTOR | Performance Machine |
| MANUFACTURER REAR/TYPE | |
| | Performance Machine/Lonny Spiva |
| SIZE-WIDTH/HEIGHT | 17×6 |
| TIRE/SIZE | Avon 200/50-17 |
| CALIPER | Performance Machine |
| ROTOR | Performance Machine |
| | |
| --- | --- |
| FINISH/PAINT | |
| COLOR | Vivid Black/Satin Black |
| PAINTER | Scott Baldwin |
| GRAPHICS | Satin black hot rod stripes by Scott Baldwin |
| | |
| --- | --- |
| ACCESSORIES | |
| FRONT FENDER | Heartland USA |
| REAR FENDER | Heartland USA |
| FENDER STRUTS | Heartland USA |
| GAS TANK & CAP | H-D |
| OIL TANK | H-D |
| DASH | H-D |
| GAUGES | H-D |
| HANDLEBARS | H-D |
| HAND CONTROLS | H-D |
| FOOT CONTROLS | H-D |
| FOOTPEGS | Heartland USA |
| HEADLIGHT | Alloy Art |
| TAILLIGHT | Heartland USA |
| TURN SIGNALS | None |
| LICENSE MOUNT | Heartland USA |
| SEAT | Heartland USA |