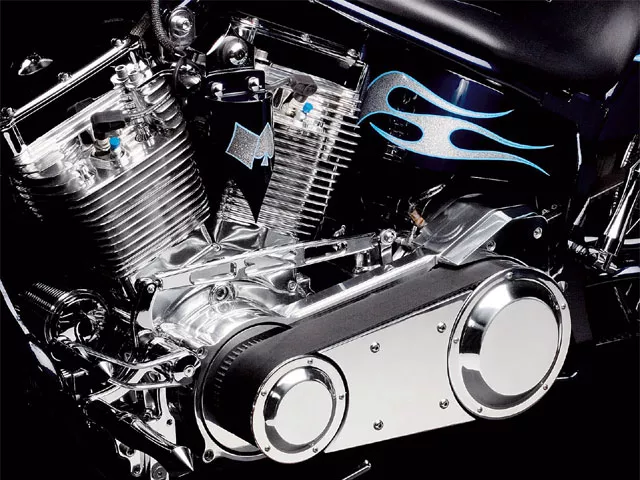 Primary SchoolJim Nasi Customs' 3-inch billet open primary drives are machined from 6061-T6 aluminum and have 356-T6 aircraft-grade aluminum pulleys. The pulleys are hard-anodized to reduce wear and increase belt life. The 3-inch belt is reinforced with Kevlar. The jackshaft assembly, clutch hub nut, and all other necessary hardware are included.
For more information, contact Jim Nasi Customs, (800) 964-6274, www.jimnasicustoms.com.
Uh, Where Does What Go?One deciding characteristic of a pro builder is the lack of guesswork involved in a bike's design. Let Custom Chrome take out the uncertainty factor for you with its complete drivetrain kits for Softail models. These kits include the company's latest RevTech engines and six-speed transmissions, and an updated RevTech chain-drive primary kit. The primary kit contains a 66-tooth ring gear with a nine-tooth starter pinion gear to increase starter-motor torque. The kit also maintains a higher primary ratio using a 25-tooth compensator sprocket and a 36-tooth clutch shell sprocket for easier starting. Also included are a RevTech Kevlar clutch, polished or black powdercoated high-torque starters; jackshaft; heavy-duty alternator rotor; stator; all mounting hardware; and seals, bushings, and gaskets (rectifier/regulator not included).
For more information, contact your local Custom Chrome dealer, (800) 729-3332, www.customchrome.com.
Don't Fret Your Weak ArmsAre you working out and lifting weights to compensate for that heavy clutch pull? You can cancel that gym membership, because AIM's VP92T clutch kit will reduce clutch pull about 7 percent from a stock setup by utilizing a centrifugal-force lock-up effect when more pressure is needed. The VP92T is designed for big-inch motors up to 124ci or up to 130 lb-ft torque motors with a stock clutch spring. The kit eliminates the need of a heavier spring for a big-inch motor.
For more information, contact AIM Corp, (714) 848-3030, www.aim-tamachi.com.
Handle The Power If you want a strong powerplant, then you have to be prepared to manage the power. S&S; engineers understand the demands of high-performance engines, so they designed a clutch to handle all the power they produce. A unique feature of the S&S; clutch is narrow friction bands placed farther out on the rings than normal. Narrow might seem to be the wrong direction, but with the bands' outward placement they improve clamping power significantly and increase the available torque to turn the transmission. The new S&S; clutch fits '91-'05-model Big Twins, has 11 friction and 10 steel plates, and can handle 150 hp to 200 hp with the optional spring kit-and it does so with less lever effort than a stock clutch. Additionally, the clutch includes a 66-tooth ring gear and a pinion gear to match for increased strength and reduced tooth breakage.
For more information, contact S&S; Cycle,(608) 627-1497, www.sscycle.com.
Low And LowerFor once it's OK to think low thoughts. The Drop Starter Slam Clutch (more easily referred to as the DSSC) is the latest offering from Baker Drivetrain. This design lowers the starter, which allows a lower center of gravity with a lowered oil tank and lowered seat height. With the DSSC the clutch is placed where the pulley would be located on a typical LSD motorcycle. The clutch weight is closer to the center of the chassis, so you have a more agile, better-handling motorcycle. The DSSC consist of a billet RSD setup, inner and outer primary, case, top cover, and shroud. All pieces are available in raw, show-polished, or spectacular chrome finishes.
For more information, contact Baker Drivetrain, (877) 640-2004, www.bakerdrivetrain.com.
Pearly WhitesThe expert dentists at Super Max have invented a method of removing the worn teeth of aftermarket aluminum pulleys and replacing them with a Super Max overlay pulley that is impervious to sand and gritty road grime, emits no noise or squealing, and claims to last well over 100,000 miles (as long as the recommended tensions and alignments have been adhered to). Super Max can modify most stock and aftermarket pulleys with 64, 65, or 70 teeth. The service is offered with a two-year warranty.
For more information, contact Super Max, (406) 755-8688, www.supermax.net.
Paughco Has You CoveredNo matter whether you're restoring a machine as old as a '36 or looking for something a little different to put on that resto-rod, Paughco has you covered. Shown here are the company's original steel inner and outer primary covers. The company first manufactured these precision reproduction pieces in 1968, and many believe they were responsible for launching the custom and restoration aftermarket parts industry. Paughco primaries feature fine craftsmanship and materials. Precision stamped for a perfect fit, the covers are chrome-plated by Paughco and thoroughly inspected prior to shipping.
For more information, contact Paughco, (775) 246-5738, www.paughco.com.
Pm ContourSeveral years of intense R&D; has resulted in the development of the PM Contour Belt Drive Primary. It's 12 lbs lighter than stock and can help return the weight balance to wide-wheel bikes that are forced to push the primary drive further off-center. Being 2 full inches narrower than the OEM unit also helps with the wide bikes and will not interfere with access to forward controls. A race-style clutch spring activates the Barnett clutch plates for a smooth operation and long life. All of this is surrounded by a machined aluminum housing in polished, chrome, or black-anodized finish. The Contour Open Primary includes everything you need to replace your existing system. It will work with '91-'04 H-Ds and customs.
For more information,contact your local PM dealer,(714) 523-3000, www.performancemachine.com.
The Ultimate Primary KitBy "ultimate," Pro-One means everything you'll ever need for a primary drive. This all-inclusive billet primary-drive kit includes triple-chrome-plated billet CNC-machined inner and outer primary covers, compensating sprocket, clutch spring, chain, tensioner, seals, gaskets, and Barnett Extra Plate clutch kit. The optional Smoothie-style outer primary cover eliminates the need for separate derby and inspection covers.
For more information, contact your local Pro-One dealer, (800) 884-4173, www.pro-one.com.
Big Dog's BruiserOwners of '05 and '06 Big Dog models are in luck. Bandit Machine Works now offers its Bruiser clutch, which installs easily into the stock clutch shell with no special tools and without having to remove any of the stock chain drive. The clutch features two additional friction plates to increase the friction area by 17 percent. The billet-aluminum pressure plate applies pressure from four fully adjustable coil springs. The springs allow the pressure to be easily set to handle any size of engine and also offer a smooth linear lever pull, lighter than the stock diaphragm springs in the '06 bikes.
For more information, contact Bandit Machine Works, (717) 464-2800, www.banditmachineworks.com.
Partner In CrimeGreat riders need reliable partners that are dependable and easily handled. For that purpose, J&P; Cycles introduces Milwaukee Twins' V-Rod extra plate kit for '02-'06 models that provides an added 10-12 percent of surface area, thereby increasing your effective clutch. This prevents clutch slippage, which is particularly essential for those hard-charging V-Rods.
For more information, contact J&P; Cycles, (800) 397-4844, www.jpcycles.com.
You Have Been WarnedSpiritual bikers who have been reading the signs may have already noticed the good "omen" that has come to the motorcycle parts market. Hitech LED Products has recently added the Omen Drive to its collection of belt drives. The Omen Drive's cool 3-D spooky design is supported with outer support bearings on the clutch basket and engine pulley, thus making this unit completely rigid under torque. All belt drives come with show-quality polish and all the necessary hardware, including a Barnett Scorpion clutch assembly. The drives are available for '90-and-beyond Softail, Dyna Glide, and Twin-Cam models. Belt drives are available in 4-, 5-, and 6-inch sizes.
For more information, contact Hitech LED Products, (818) 887-0136, www.hitechledproducts.com.
Ready to GoCan you imagine riding up to a stoplight with your bike in gear and not having to hold the clutch in? So did the guys at Grandeur Cycle-and then they created the Super Auto Clutch. To shift gears, simply pull the clutch and shift as usual, except that now the clutch lever can be pulled with only one finger. No more tired hands when sitting in traffic. For Neutral, pull in the clutch and shift. By replacing your clutch pressure plate with a new unit that works by applying centrifugal pressure to your clutch pack, engine speed does the work that is normally done by springs…and does it a lot better. Now when you pull the clutch, you are releasing only the pressure plate and not the clutch pack. The Super Auto Clutch comes complete with step-by-step, easy-to-follow installation instructions (including pictures for each step).
For more information, contact Grandeur Cycle, (336) 526-2468, www.grandeurcycle.com.
Get Your Adrenaline FixAttention, racers and serious street riders who not only love but come to crave the adrenaline rush that only comes when you drop the hammer and your scoot's clutch provides immediate and positive lockup. BDL is offering its Lock-Up clutch assembly for your speeding pleasure. During operation, centrifugal force allows the Lock-Up system's actuator arms to move outward, applying additional pressure against the plate and clutch springs. This extra pressure provides a smooth, immediate, and positive lockup while virtually eliminating dreaded clutch slippage. Designed specifically for all BDL open and closed belt drives and clutch assemblies utilizing the dome-style pressure plate, the new Lock-Up clutch ensures instantaneous power transfer under the most demanding conditions.
For more information, contact Belt Drives LTD, (714) 685-3333, www.beltdrives.com.
'Cause You're Worth ItWhy a high-performance clutch kit? Because your bike is worth it. Improve the performance and life of your clutch by adding this high-performance clutch kit. The clutch kit provides extended clutch life, fade- and slip-free operation, and superior shifting. The friction plates have exclusive high-heat friction materials for fade-free performance and are more durable than OEM plates, while the steel clutch plates will not expand.
For more information, contact your local Drag Specialties dealer, www.dragspecialties.com.
Packaged TechnologyWith a name like "High Tech 3" for its new belt drive, you can be sure Roadmax will be investing the latest technology and techniques into its manufacture. Sold as a total package, each Roadmax belt kit includes everything needed for a straightforward, no-hassle installation. From the polished, solid billet motor plate assembly to the ultra-strong Gates 3-inch belt, the complete diaphragm clutch, HP front and rear pulleys, polished pulley covers, and chrome belt guard to the aircraft-quality mounting hardware, pulley jig, and even a tube of Locktite, it's all here. The High Tech 3 is currently available for all Softail models from '90 to the present.
For more information, contact Roadmax, (714) 446-0787, www.roadmax.net.
Ease The WayTraffic is a big pain, but traffic with a cranky clutch can take even more joy out of riding. Harley Davidson's new Black and Chrome Hydraulic Clutch Kit will ease you through traffic as it reduces clutch-lever effort by up to 30 percent and delivers smooth clutch engagement. The kit complements the original-equipment hand controls and includes a black clutch master cylinder, polished clutch lever, chrome slave cylinder, and all necessary installation hardware. It fits '99-'04 Touring models and '00-later Softail models. Installation requires the separate purchase of the appropriate hydraulic clutch line. While it doesn't make heavy traffic enjoyable, it does make it bearable.
For more information, contact your local Harley-Davidson dealer, (800) 443-2153, www.harley-davidson.com.
Best Of Both WorldsBarnett's new Scorpion 3-inch belt drives are designed for appearance and function. These belt drives are CNC-machined from 6061-T6 billet aluminum and highly polished for a show-quality look. They also feature the company's Scorpion lockup clutch assembly for the ultimate in street or strip performance. The Scorpion lockup clutch provides a 100-percent increase in surface area (compared to stock) and allows the use of lighter coil springs by using adjustable pressure arms that progressively increase clutch spring pressure as rpm increase. Extra spring sets are also included for added adjustability.
For more information, contact Barnett Tool & Eng., (805) 642-9435, www.barnettclutches.com.
Think an Inch Can'tMake a Difference? Think again. Here's the custom bike world's first look at RMD Billet's 4-inch Sphinx open primary drive with outboard bearing support. Using 6061 aluminum, all individual pieces are milled from billet blocks of material for superior tolerances and strength. The motor plate is one solid piece and can house your oil filter and/or regulator. A Barnett clutch is packed inside billet pulleys and wrapped in a high-performance 8mm belt. The Sphinx Outboard Bearing Support was designed, machined, and individually measured to precisely align the front and rear pulleys for superior belt tracking-leaving no guesswork, no misalignment, no torn-up belts, and no loss of horsepower.
For more information, contact RMD Billet, (507) 348-8877, www.rmdbillet.com.
Within The LawThe Renegade open-primary belt drive from Tauer Machine, though well within the law, thinks outside of the box to bring you and your bike high performance. The 3-inch, 8mm belt drive features billet pulleys with a black hard-coat finish, three-piece starter gear/jackshaft assembly that prevents grinding, nine Kevlar clutch plates for increased friction surface area in the clutch basket, and show-quality polish or chrome-plated finish on the remaining components.
For more information, contact Tauer Machine, www.tauermachine.com.