I better do a good job on this story because the last thing I need is another butt-kicking and the guy who owns this Street Glide could serve one up in about two seconds. He's Neil Hardin and not only is this his bike, he's also a kenpo karate champion.
Neil picked up a 2006 Harley and thought it'd be ideal as a mobile menu for Huntington Beach Hogs and Choppers HBHC's work. However, it's also his personal bike, so above all else, it had to be what he wanted and he focused the changes on the motor, bodywork, and wheels. He didn't go crazy with the controls or lighting.
Having said that, the real star here is the paint. HBHC had Spade Brothers coat the frame and bodywork in a thick orange metalflake, then airbrushed tiki gods on the tank and fenders, and pinstriped it. If you look at the gods' eyes, they seem to glow. We did a double take at first because when the bike's parked, the eyes look like unlit LEDs until you get up close. That's when you realize Spade Brothers shaded them in such a way as to give that effect.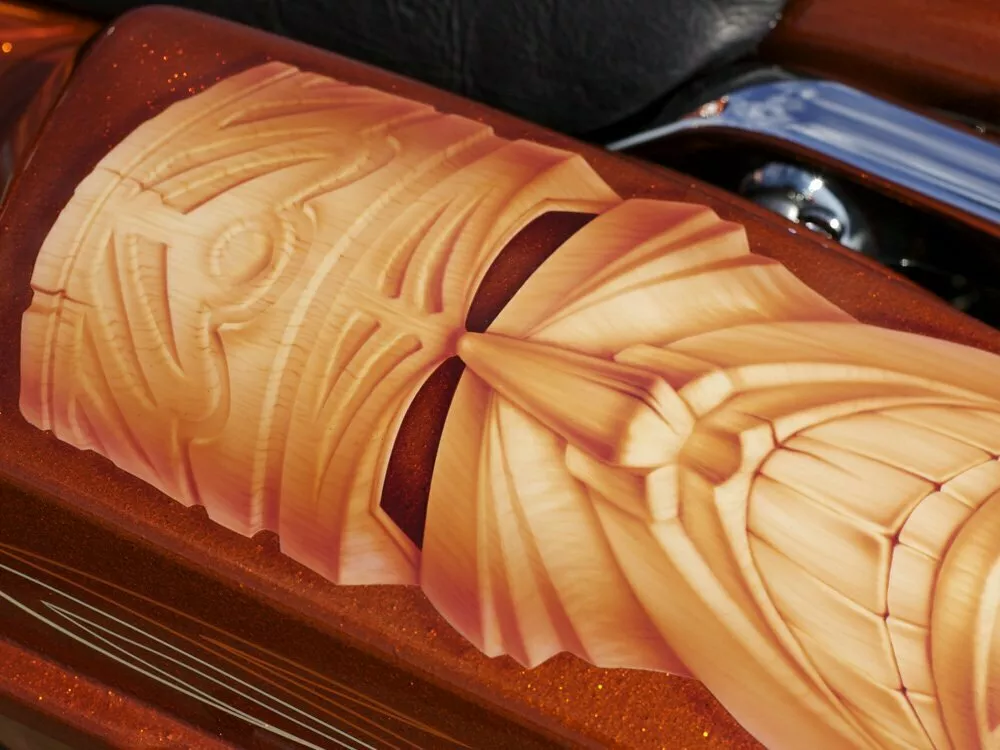 All that show doesn't mean as much without any go; HBHC prides itself on building hot rods and, working in conjunction with T-Man Performance, the shop gave the motor the works. Of the original stock parts only the cases, valves, rocker assemblies, and intake remain. Everything else got tossed as HBHC upgraded Neil's mill to a 124-incher that pumps a reported 141 hp.
I just hope Neil's response to this story is positive. I'd hate to spend the next six weeks waiting for my kneecaps to grow back.