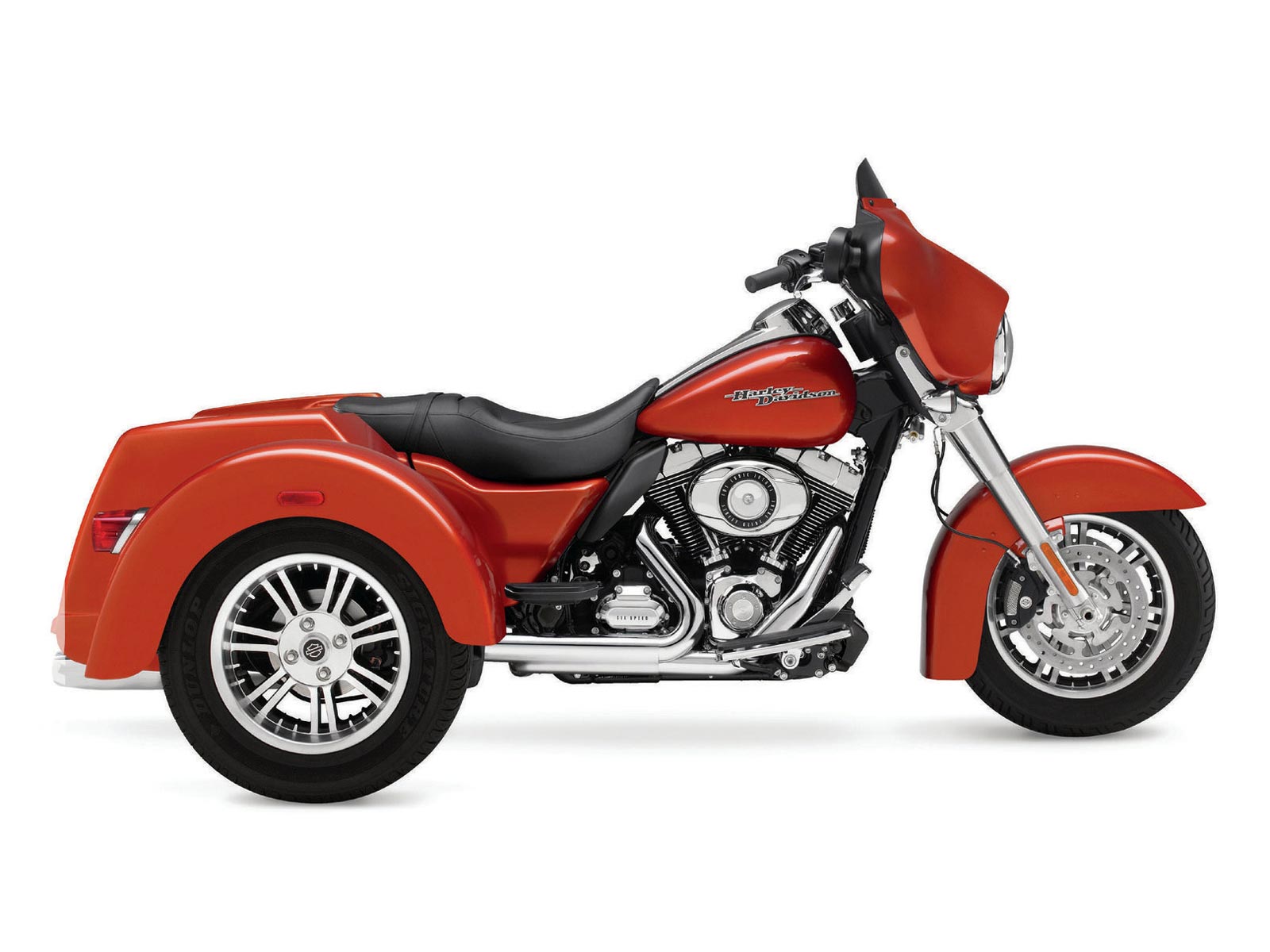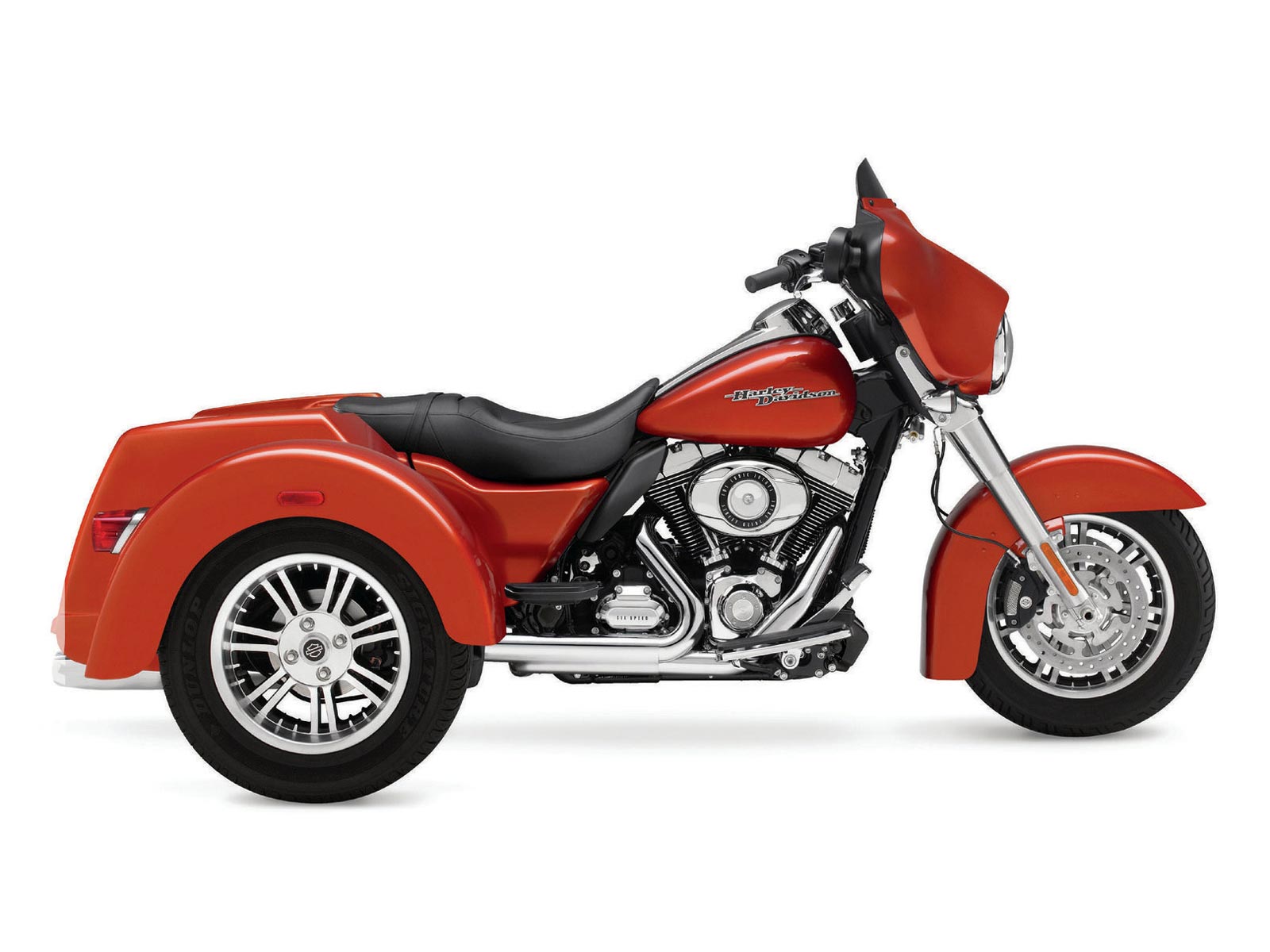 | | |
| --- | --- |
| Just the Facts | |
| Engine | 103ci Twin Cam |
| Trans | Six-speed Cruise Drive |
| Length | 105.8 inches |
| Wheelbase | 66.6 inches |
| Seat Height (laden) | 26 3/4 inches |
| Fuel Capacity | 6 gallons |
| Weight (as shipped) | 1,091 pounds |
| | harleydavidson.com |
Back in the '60s and '70s there was a plethora of guys cruising around on chopped-up trikes with psychedelic paint schemes, fully molded frames, king and queen seats, and sometimes canopied tops. As we get older, we learn things about ourselves; we are not as spry and agile as we used to be, our bones and joints tend to ache and creak much more, and while two can be fun, three can be great. Nowadays many of those freewheelin' riders from the chopped trike's hey-day are taking to three wheels again, mostly because they either find them easier for low-speed maneuvering or their kick sticks just can't support a 700-plus-pound machine like they used to.
It took quite some time but as of late the younger generation of riders has caught onto to the comfort and customization possibilities of baggers. So with Harley's introduction of its trike models, we have to ask, will we see the hipsters and next gen of custom bike builders hittin' the three-wheel motion and bringing in a resurgence of wild and crazy custom trikes? As they say, anything is possible, and if we do see a new trend of custom trikes, Harley's stripped-down, hot-rod styled, FLHXXX Street Glide Trike is a clean slate just begging for a psycho-flake paintjob.
Junk in the Trunk
This baby's got back, 4.3 cubic-feet of back to be exact. Pop the rear hatch on the SGT and there's enough room to store 50 pounds (or 22.7 kg if you prefer) of gear. Keeping everything nice and plumb below your bum is the rear axle assembly with a lightweight center section and steel axle tubes.
**Yeah Baby, It's a 103 **
Centered in the frame is one of H-D's rubber-mounted 103ci (1690cc) Twin Cam engines with Electronic Sequential Port Fuel Injection. The engine is rated at 101 lb-ft of torque and is backed by the six-speed Cruise Drive transmission. If you want to go back in time, an optional electric reverse gear is available for $1,195.
**These Are the Breaks **
To help optimize the steering, the frontend on the Street Glide Trike is raked and lengthened. Dual front disc brakes and a dual-disc rear system keep your speeds in check while a lever-actuated integrated parking brake helps you whip the Triple X into the tightest of parking spaces at the bar like a boss!
It's Got More Bite
Once you've scored a betty at the bar, a new 30-tooth transmission output sprocket will help you launch the XXX Trike like the Duke boys trying to make a break for the Hazzard County line