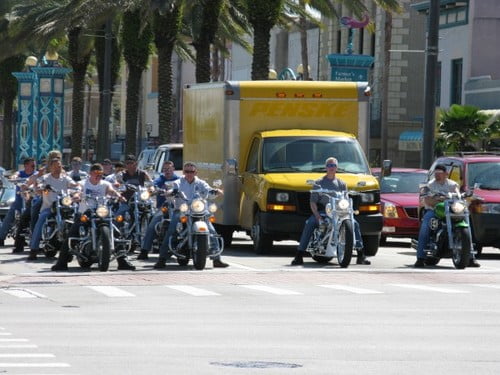 Daytona had always been one of my favorite events. it was pretty easy to navigate. Just roll down Main St. hit all the vendors pop into a couple of the bars lining the drag then putt over the bridge hand a right on Beach Street and hit up all rest of the vendors. Over the years the event has continually spread out across the city and even into other cities making for longer trips, more traffic and just less overall (for me at least). In recent years beach Street has become a shell of its former self with very few big or quality vendors and a lot of you jerky and trinket guys–pretty disappointing.
Well it seems as though people are startging to take notice and trying to revitalize the Beach Street area.
Harley-Davidson gets the riding season off to a fast start at Daytona Bike Week 2010 with activities at a new location at Riverfront Park on Beach Street and a larger presence at the Daytona International Speedway. The 69th Annual Daytona Bike Week 2010 renews the long tradition of riders, enthusiasts, bikes and racing all in the sun and sand of Daytona Beach, Fla. Attracting huge crowds of riders and motorcycle enthusiasts of all kinds from all places, Daytona Bike Week is a biker's rite of spring not to be missed.
Harley-Davidson activities at the Riverfront Park on Beach Street will run from Friday, February 26 to Saturday, March 6, 9 a.m. to 7 p.m. daily. Highlights include:
- Harley-Davidson Parts & Accessories® and MotorClothes® Products interactive experience: Check out the latest and greatest in customization and technology.
- Third Annual Harley-Davidson Women's Ride (Tuesday, March 2)
- Harley-Davidson Ride-In Custom Bike Show (Wednesday, March 3)
- V-Rod® Race Experience – Race your friends and win!
- Fit Shop customization activities
- Tattoo competition
- Muscular Dystrophy Association (MDA) bike build and raffle
- Food, beverage, music and free parking