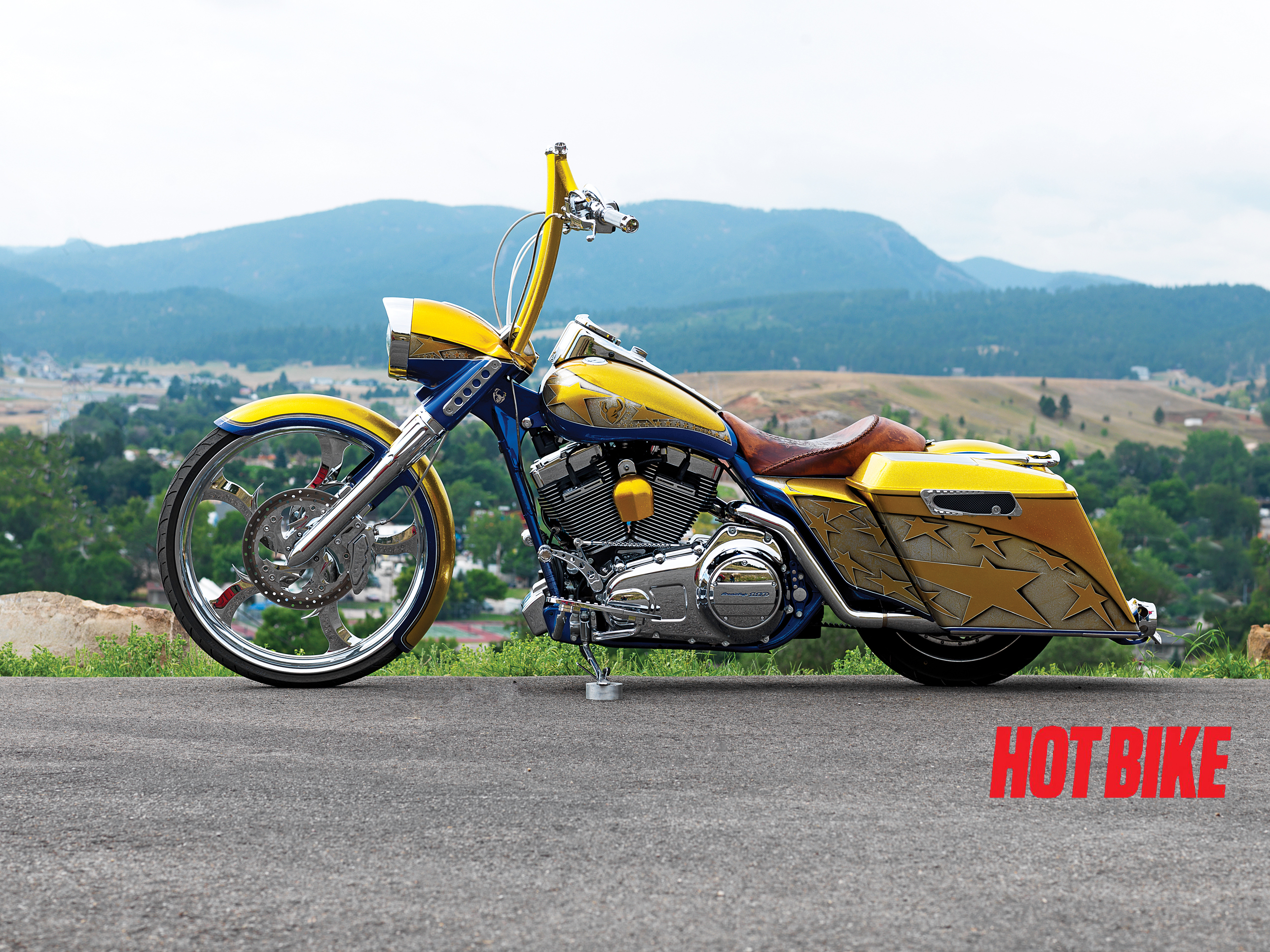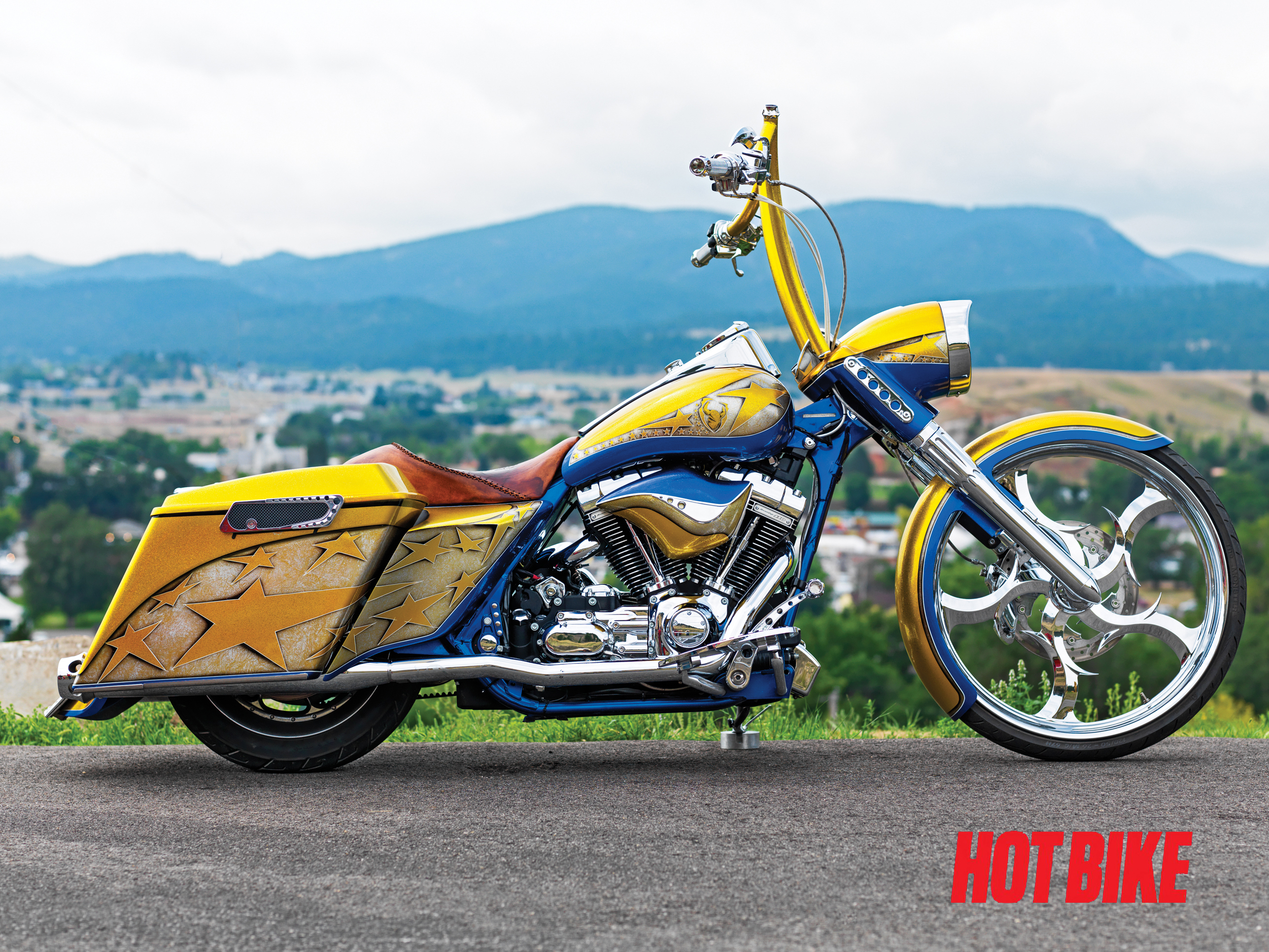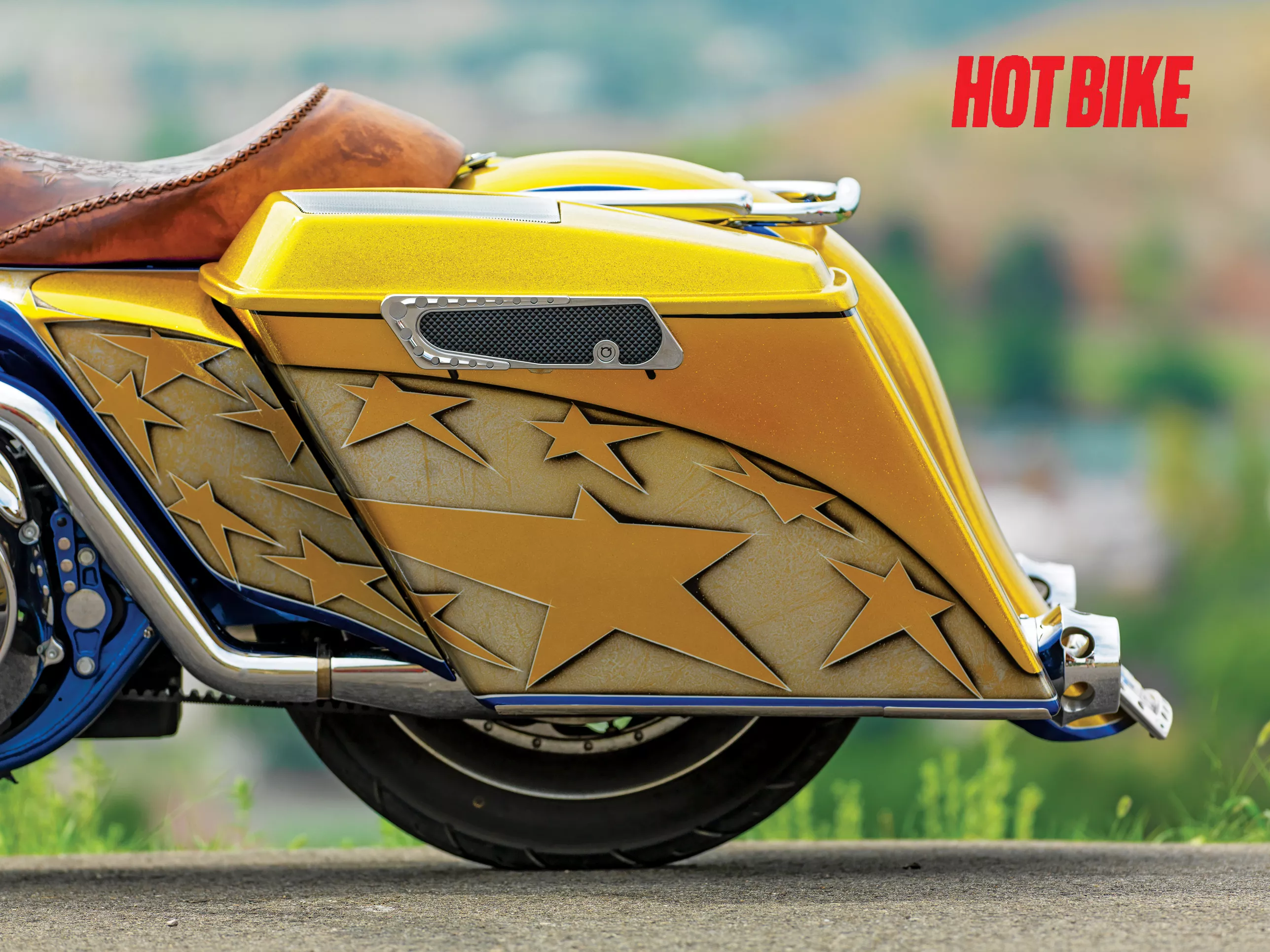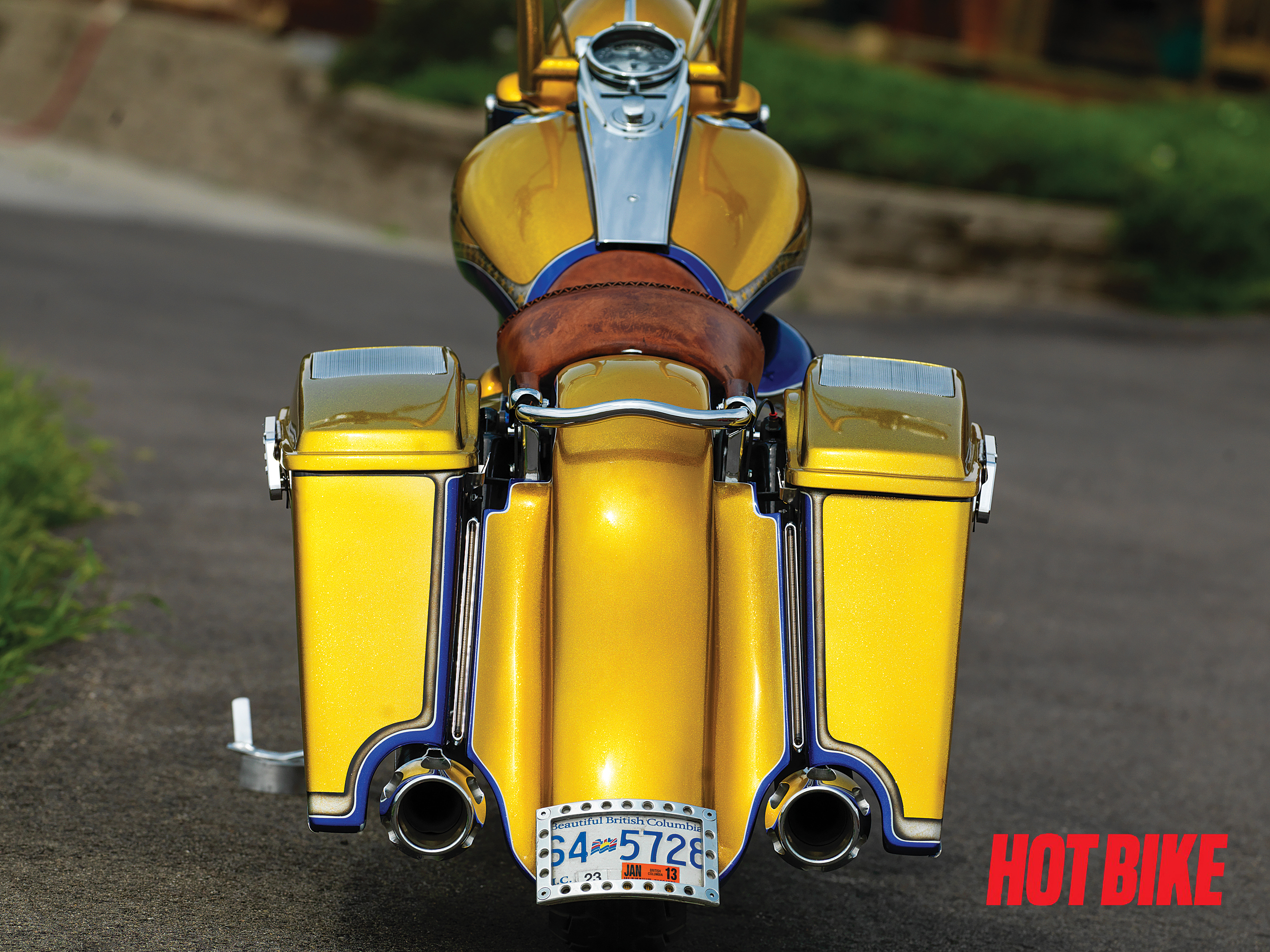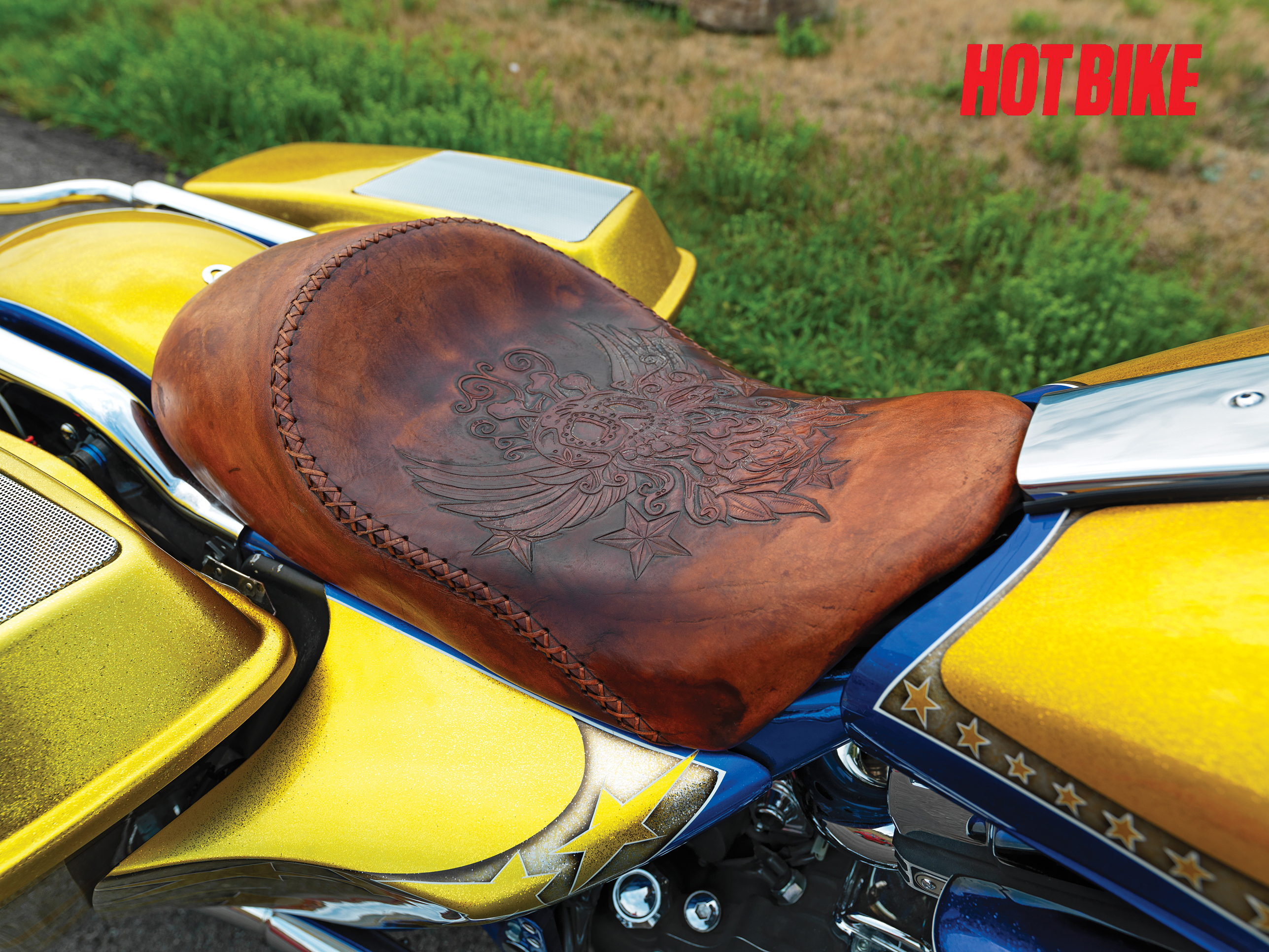 This bike ain't no wallflower. This is what your parents warned you about. This brash, bold, raw, in-your-face bike is hard to mistake for any other bike out there. You feel it coming, you hear it coming, you see it coming, and you can't help but look as it grabs your attention. Which is exactly why Azzkikr Custom Cycles dubbed its Road King "Rock Star."
Everyone knows that Harley-Davidson makes quality bikes. A 2007 Road King with a 110ci Screamin' Eagle mill demands its own respect, which is exactly why the crew at Azzkikr took it upon themselves to use that model as their blank canvas in order to showcase the company's capabilities. Their recipe is simple: Take a quality bike, add a few ounces of pure attitude and a dash of power, mix in a raucous sound system and a wild paint job, and this bike is what you end up with!
However, as we all realize, it is the experience and knowledge of the best in the business that makes complicated things sound simple. These boys know how to get it done and how to do it right. They have been making show-winning bikes in the Pacific Northwest for more than eight years and continue to do so through tough times. Their clients want the best and are treated to some of the best bikes the industry can offer. It truly is a team effort at the Azzkikr shop.
Azzkikr started with the mechanical components and made sure the engine, suspension, and frame, basically, the overall chassis, was sound and functioning at peak levels. Alan Terasenco and Steve Dobbing work through each bike as if it were their own. They began by inspecting the chassis and tweaking it before anything else happens to the bike. Once the basics were handled and the bike passed muster in "the back shop," the creative boys took over. Hakeem "HK" Hassan, Pat Spavour, and Karl Fisher sometimes scare people with their thought processes and creative minds. They were going to create a rockin' bagger out of a perfectly good Screamin' Eagle.
Now although Azzkikr manufactures many of its own parts and components, the company also believes in promoting the best parts it has for each build. In this build the best parts for this design included a substantial shopping list assembled by Pete, Azzkikr's parts manager. He set to the task of contacting the suppliers to attain wheels from Renegade, axles and triple trees from HHI, exhaust from Rinehart, MTX for the stereo components, and from their friends at Bagger Nation the fairing, fenders, bags, and headlight nacelle. The rest of the components came from Azzkikr's own in-house DLUX brand of accessories.
Being a custom-bike-building outfit, the crew at Azzkikr has the knowhow to create custom parts as their customers desire. For this build, Karl started by jigging the bike for a 26-inch front wheel. They have the experience in creating neutral-handling bikes with kick-ass large wheels. Then he moved on to a wild set of DLUX Gorilla apehanger handlebars while HK worked on a radical custom air cleaner.
The apes for this build turned out so well the crew decided to jig the bars for future sales. They also realized that the description of "ape" handlebars was not sufficient to describe them, so they decided these would be best named as DLUX Gorilla Bars. As stated previously, these boys are more than scary.
Meanwhile, back at the ranch, Pat was reshaping the bodylines on the bags to accept an outrageous MTX stereo system complete with a molded-in subwoofer and amplifiers. Pat is "the elf" in the body and paint shop who gets all the best jobs in that he handles most everything that goes through the shop.
Once everything was mocked up in the back shop and ensured it all fit, HK and Pat went on to apply the paint. Not any ordinary paint finish—after all this is a Rock Star and the paint must match the name—HK came up with metallic flake gold and a candy blue theme set off with white hand-applied pinstripes about a star graphic that lies out across the entire bike. Al and Steve added the Azzkikr DLUX trim components for the foot and hand controls, footboards, the bars, lights, and bag latches.
To add the final touches to the build, the boys turned to Curtis Rafino for a one-of-a-kind retro design, hand-tooled leather seat, and funky print bag liners to complete the overall bike appearance and finish.
This bike was completed as an entire team effort from the crew at Azzkikr within two months. Each member of the crew worked on or contributed to the bike in some form or another, which makes it a very special project for the entire crew. And this bike shows up everywhere as it gets ridden often. This ain't no trailer queen nor would it ever be dubbed a wallflower.