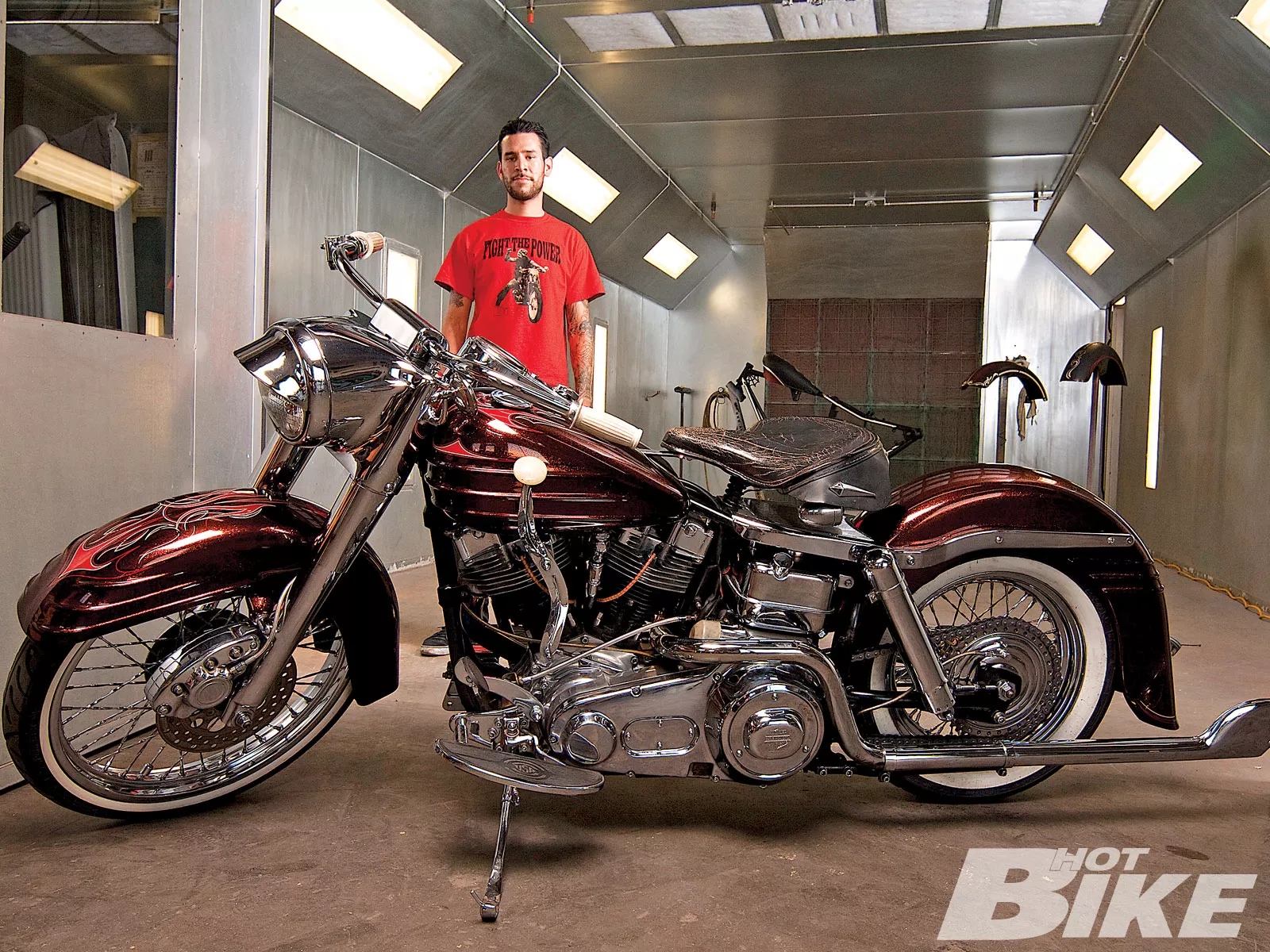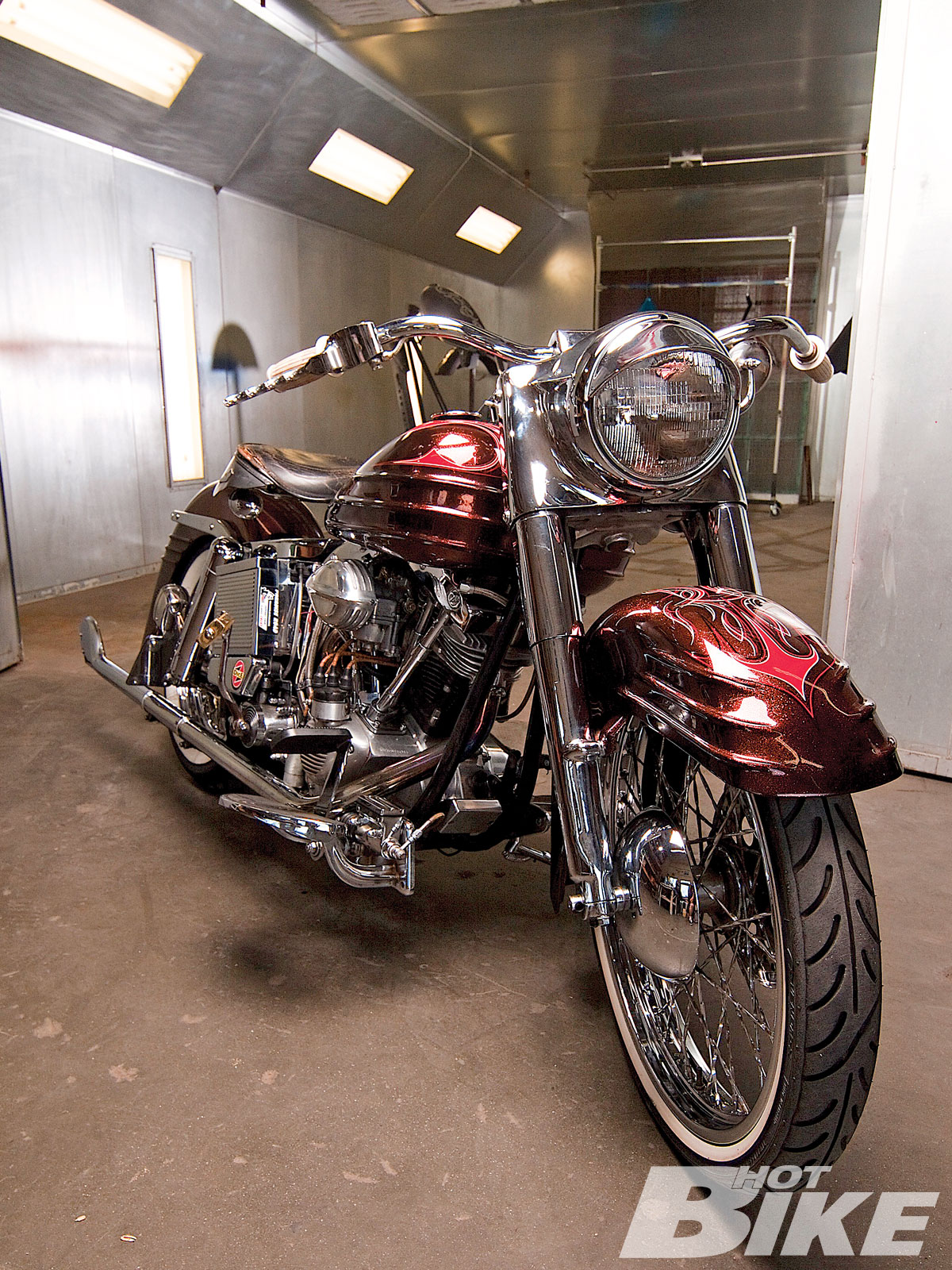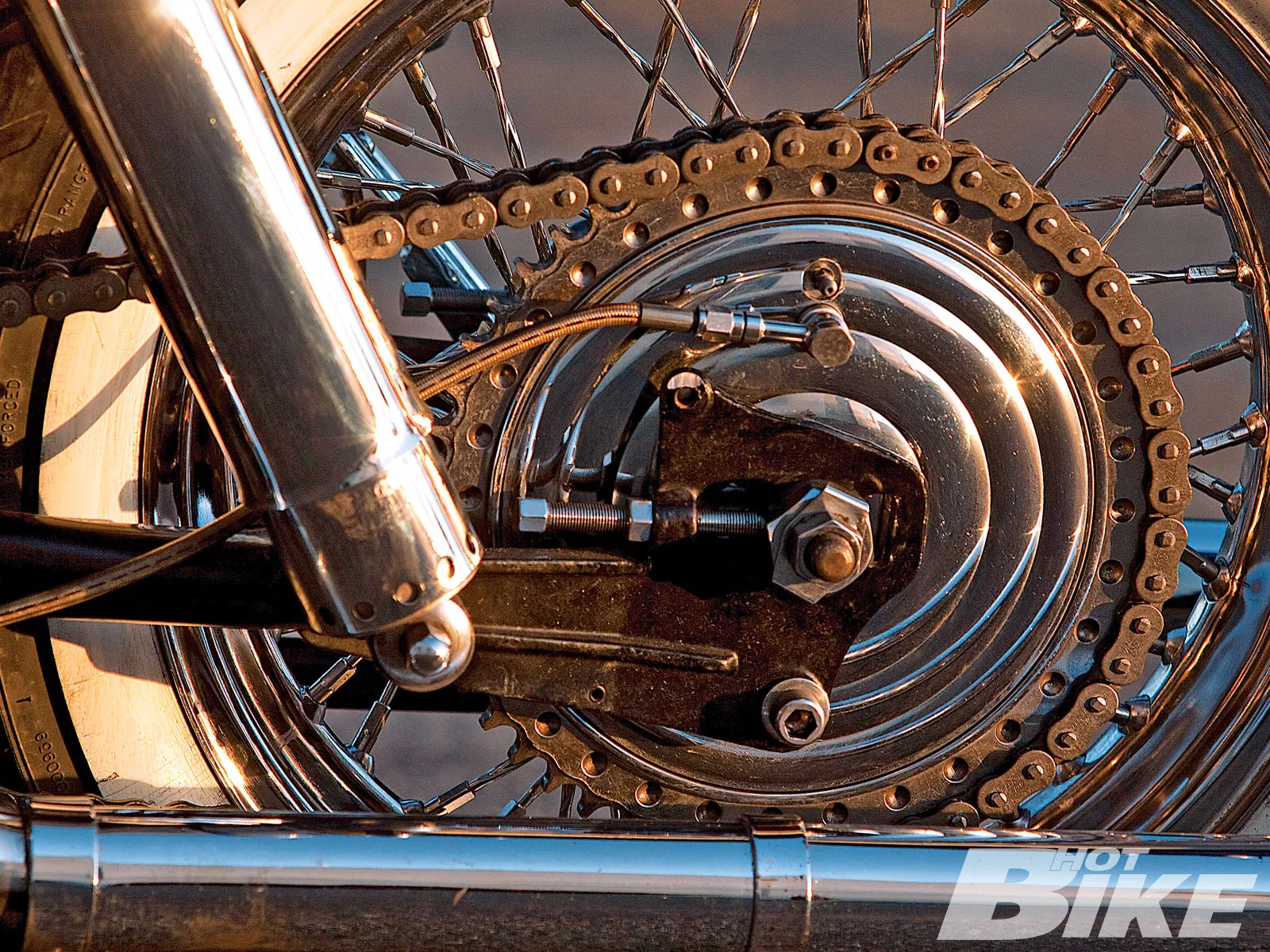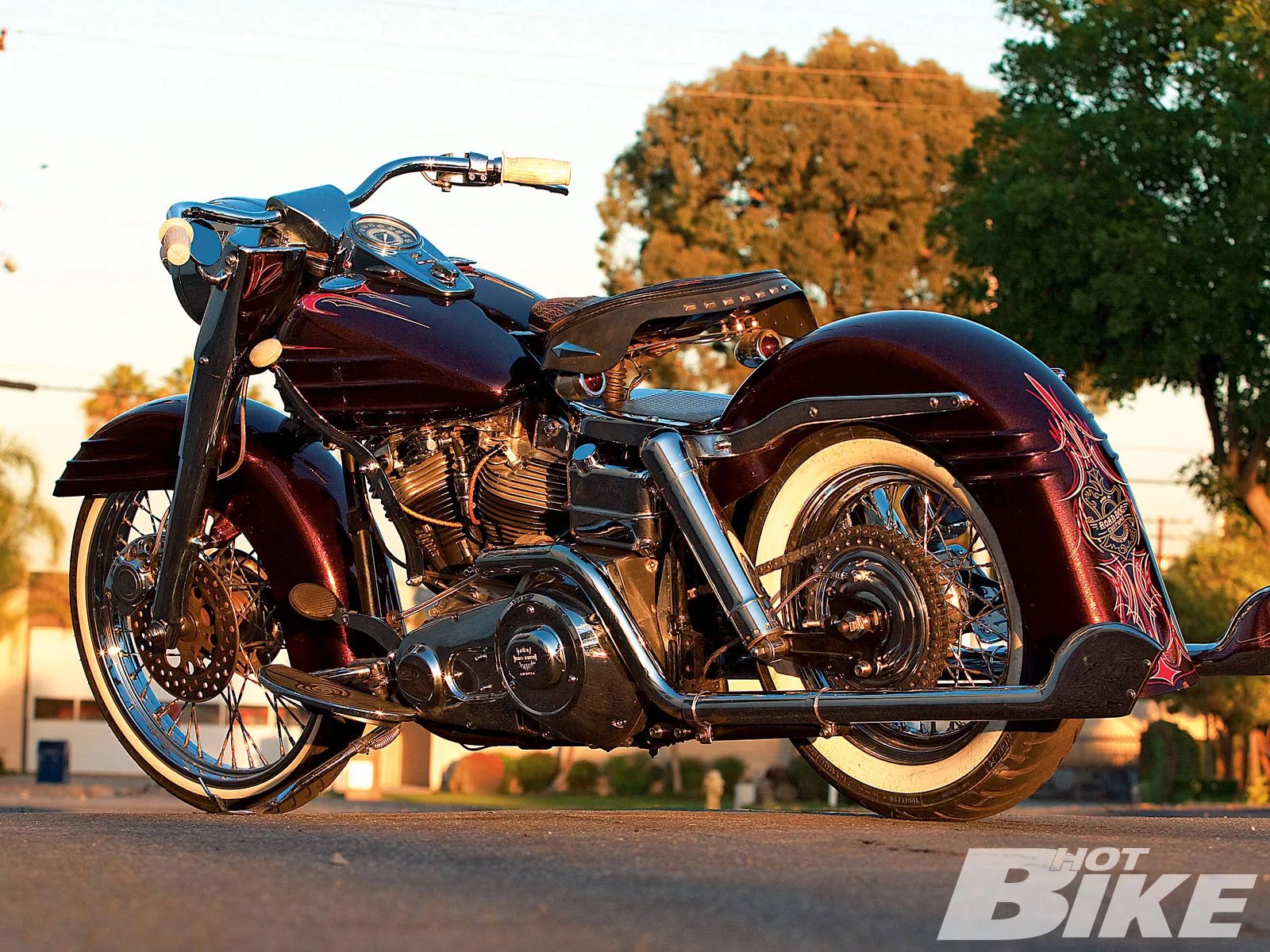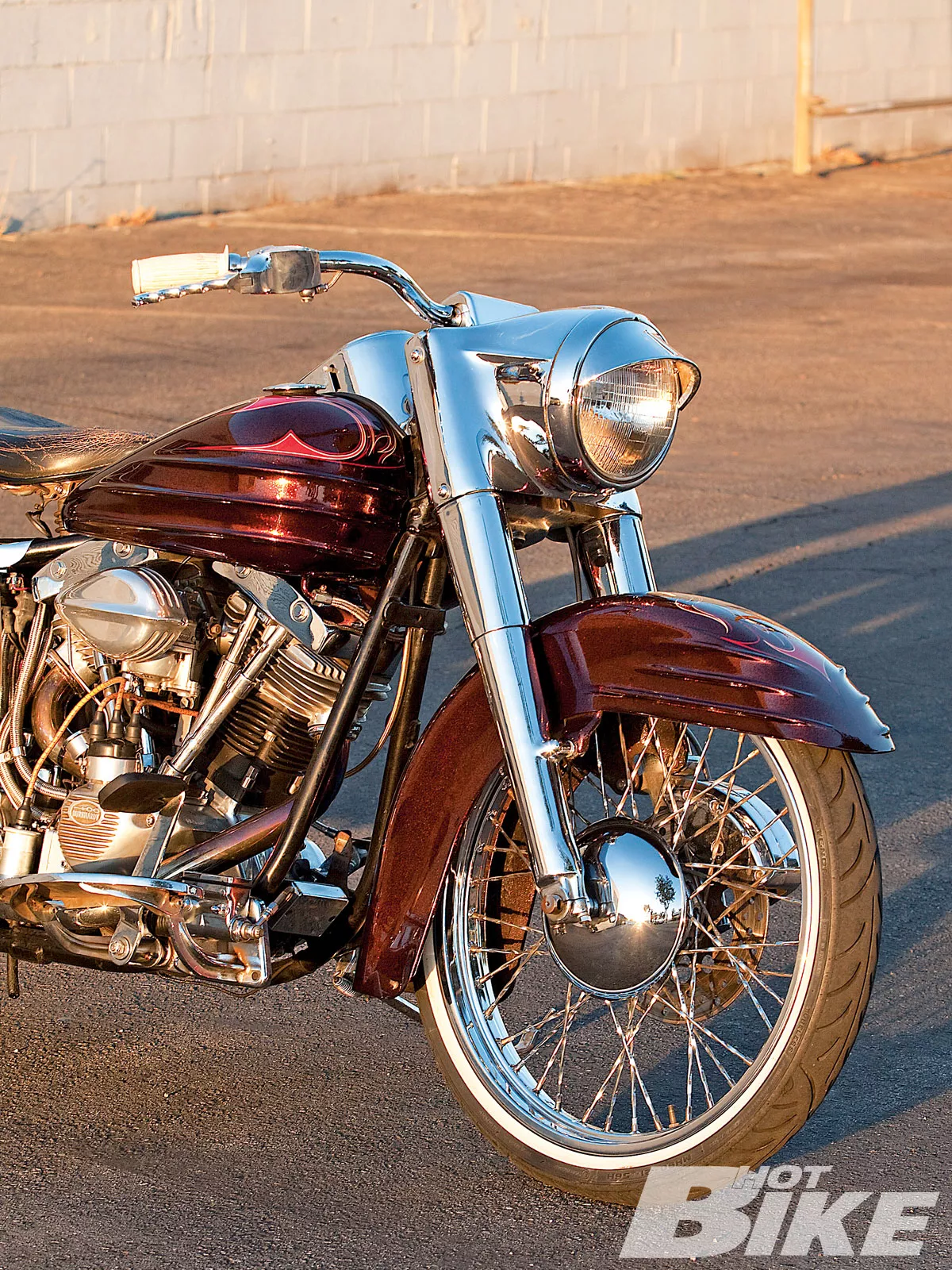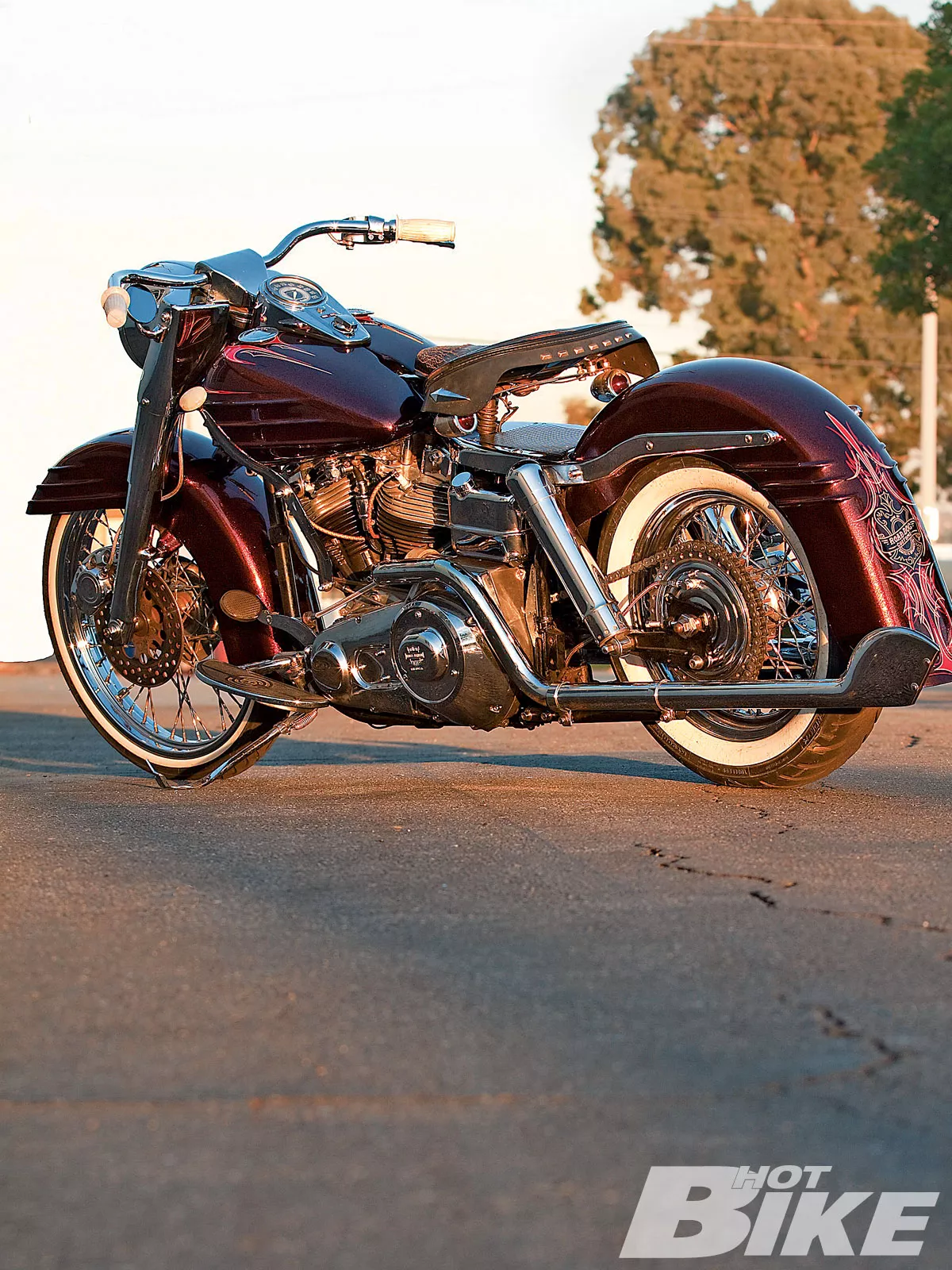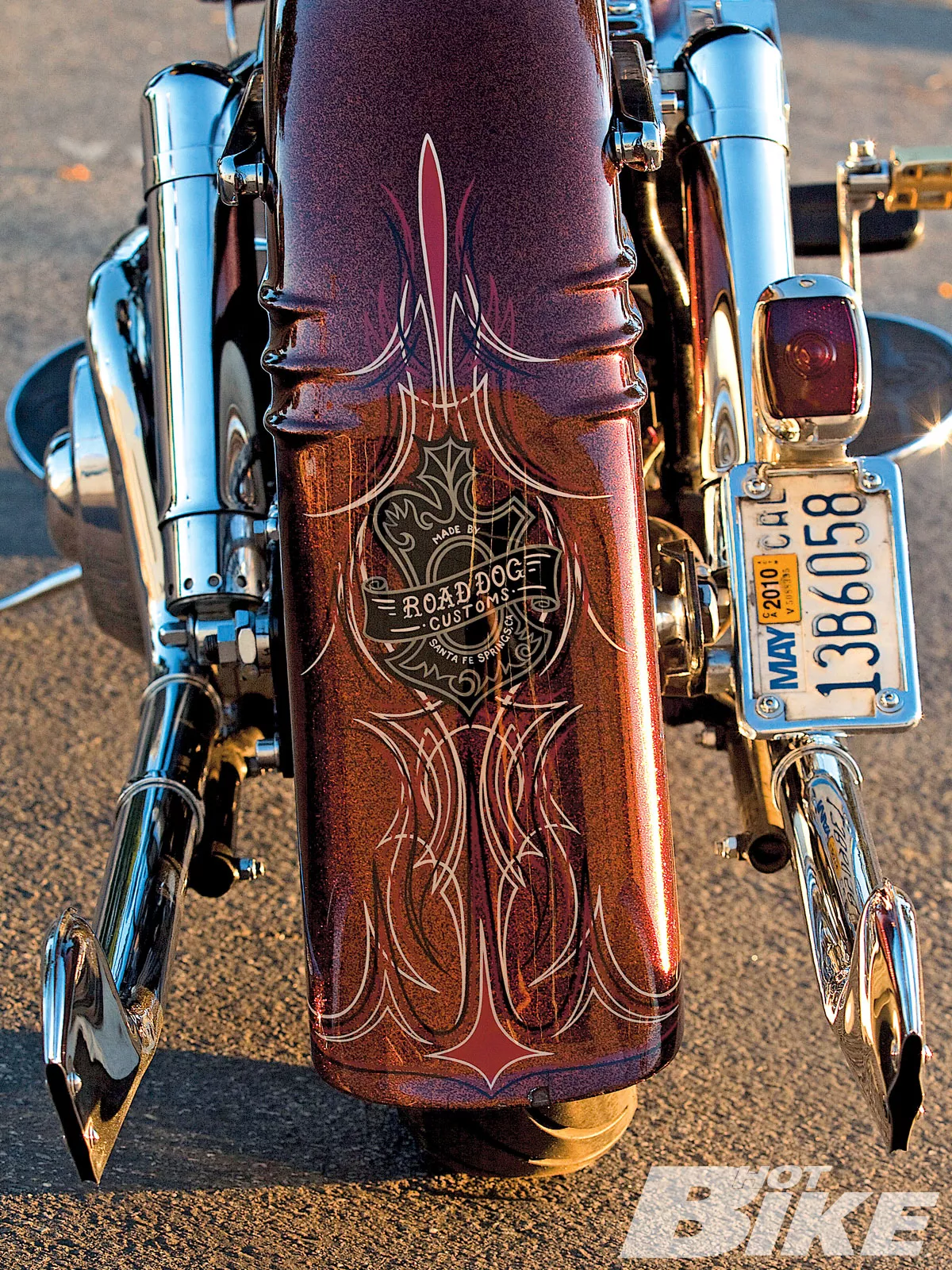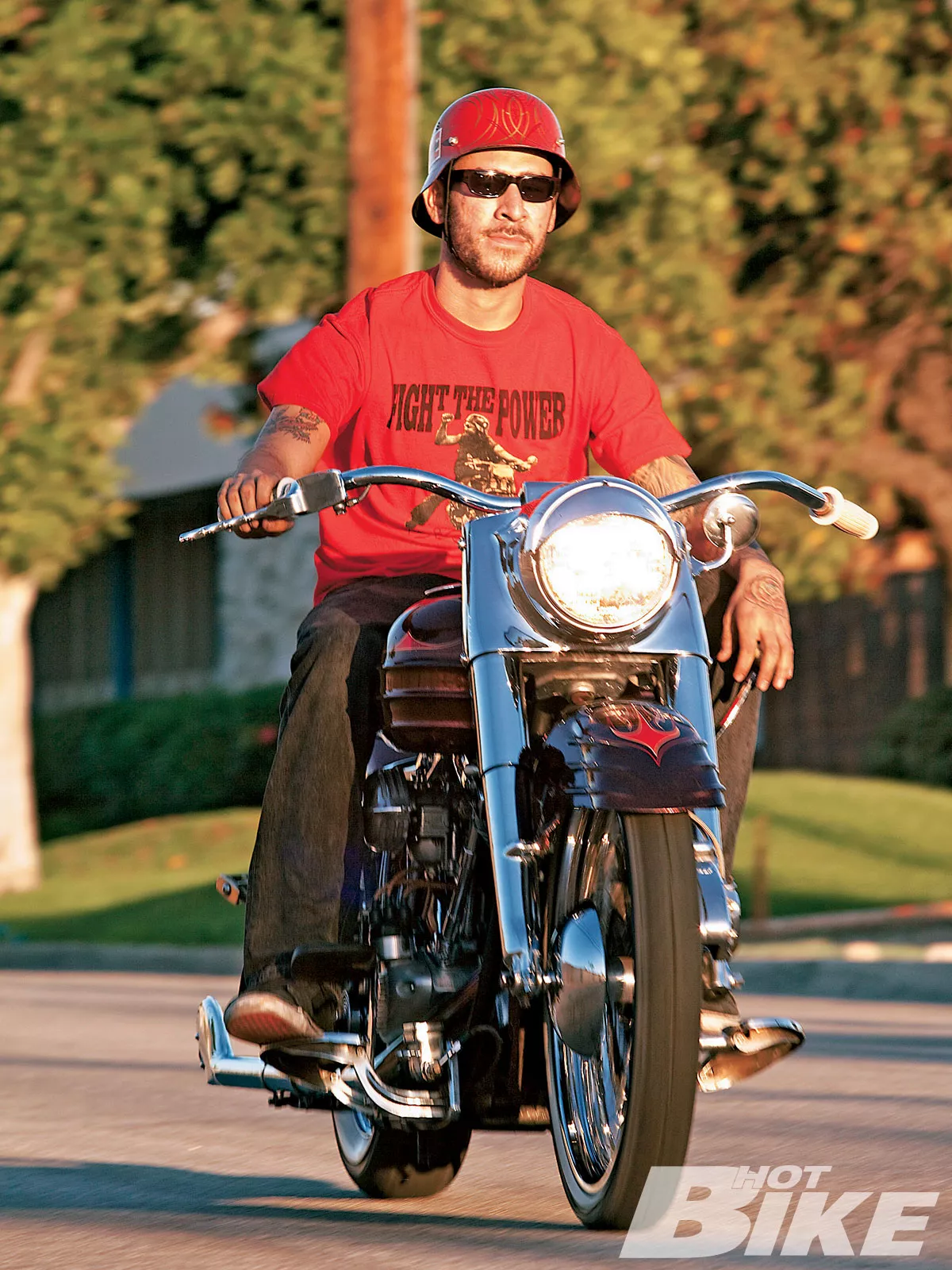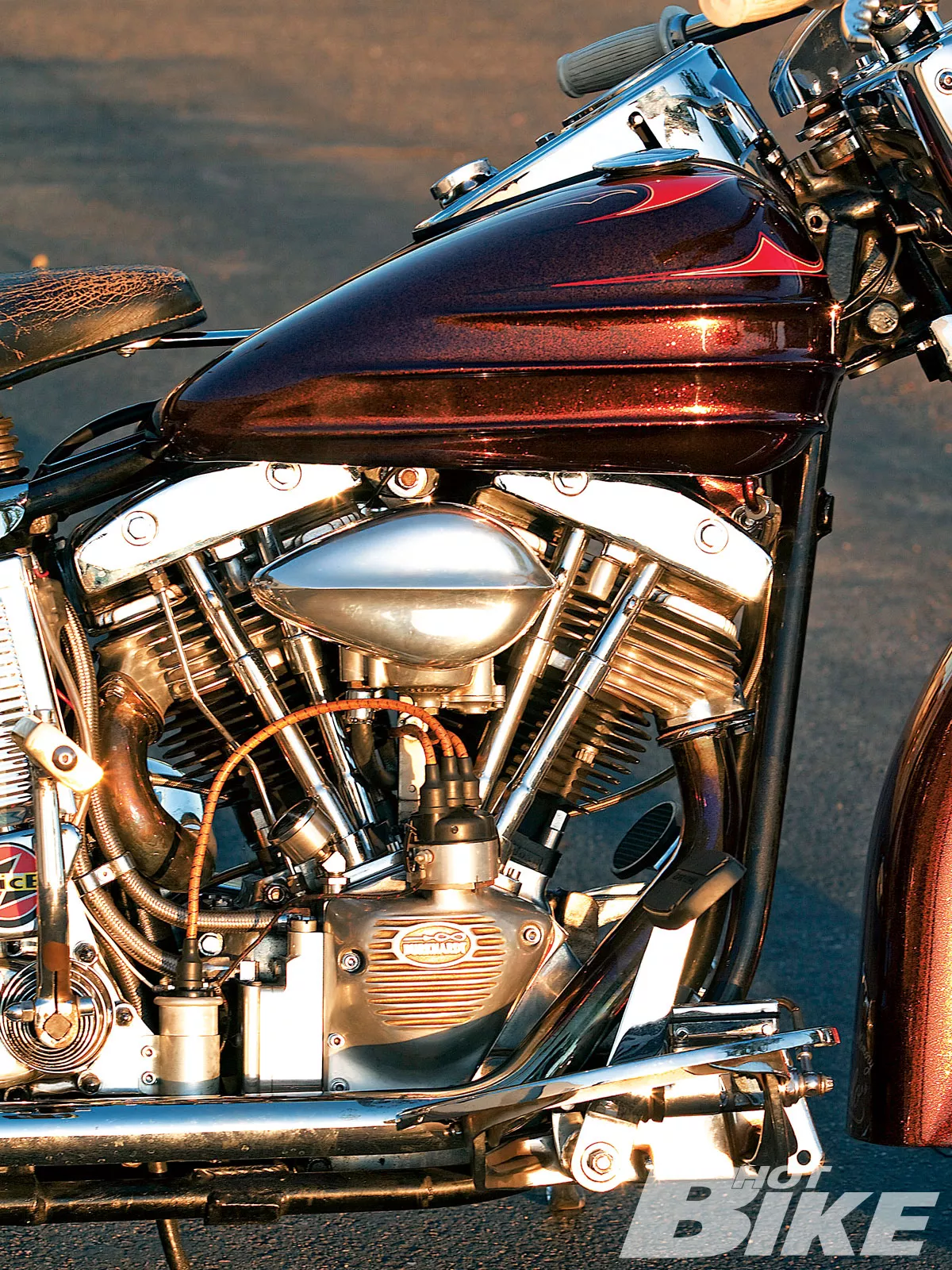 Since 2004 Road Dog Customs has been dropping, flaking, striping, and ape hanging just about every Harley that rolls into its Santa Fe Springs, California, shop. Road Dog has also been pinned as being one of the shops that created the "Vato" or "Homeboy" look that started in Los Angeles with the Harlistas (slang for a Harley enthusiast of Mexican-American heritage) and has since grown across the USA, Japan, and Europe.
Road Dog's shop painter, known as Sonny Boy, is a young gun, but his personality exudes being more of an old school kind of guy. Knowing that bit of info, it was no mistake that his take on this '81 Shovelhead perfectly combines the essence of the old and the current two-wheeled Lowrider look.
Sonny is a very talented painter that can handle shooting raked '70s choppers just as easily as the latest big-wheeled bagger, so this bike was built to showcase the many skills he possesses. The bodywork is also a highlight of this bike. Sonny molded the fenders and gas tank like a '60s custom car. For the final finish, Sonny flaked them with bass-boat silver and finished it off with his own custom mix of root beer candy. Sonny then applied the graphics, which are somewhere between flames and scallops, then topped it all off with a ton of aggressive hot rod-style pinstripes to complete the look.
Up front, no real Harlista would ever be caught dead without a pinner Avon white wall tire stretched over a 21-inch wheel. Sonny upped the ante by adding a chromed-out 40-spoke wheel with twisted spokes from Drag Specialties. Out back the bike rolls on a matching 16-inch twisted spoke wheel with a gangster Avon whitewall.
One of the mainstays of the Lowrider look is fishtails, and Sonny added his own twist with a set of handmade pipes with custom cut tips. Another take on the classic was the custom "Bull Bars" that the guys at Road Dog also bent up.
Though the bike has had a massive makeover, it still possesses many classic real-deal Harley parts such as the pogo seat, oil tank, and nacelle. That is all fine and good, but the full-custom parts that make this bike shine are the '40s Chevy taillight, Kustom Tech rear juice hub and license plate mount made by none other than the boys at Road Dog.
The engine is the same '81 Shovelhead that was rebuilt in-house by Road Dog and while the cases were cracked, they punched it out to 93 ci. The H-D powerplant also sports a Goodson Air Cleaner for better breathing and a vintage magneto.
In the transmission department, the bike is a classic kick-and-electric start cycle and Road Dog also rebuilt the original four-speed tranny with beefier gears and hardened shafts. The bike also has a foot clutch by Energy One connected to a vintage-looking tank shift topped with a one-off pearl-escent knob.
Between customer builds and Road Dog's daily repairs and service, the bike took countless hours to build. So many that Sonny and the crew lost track of the assembly time about halfway through the build. Nonetheless the ends justified the means, and the bike ended up being a V-twin testament to living the Los Angeles lifestyle. And as Sonny explained it to us best: "This is the kind of thing you earn, not buy." Fakers need not apply.
| | |
| --- | --- |
| SPECIFICATIONS | |
| BIKE OWNER | Sonny Boy |
| SHOP NAME | Road Dog Customs |
| SHOP PHONE | (562) 698-8999 |
| SHOP WEBSITE | roaddogcustoms.com |
| YEAR/MAKE/MODEL | 81 H-D/FLH/Shovelhead |
| FABRICATION | Road Dog Customs |
| ASSEMBLY | Road Dog Customs |
| BUILD TIME | Cant remember |
| | |
| --- | --- |
| ENGINE | |
| YEAR/MANUFACTURER | 81/H-D |
| TYPE/SIZE | Shovelhead/93ci |
| BUILDER | Road Dog |
| CASES | H-D |
| CYLINDERS | H-D |
| HEADS | H-D |
| ROCKER BOXES | H-D |
| CARBURETOR | S&S |
| AIR CLEANER | Goodson |
| EXHAUST | Road Dog Customs |
| | |
| --- | --- |
| TRANSMISSION | |
| YEAR/MANUFACTURER/TYPE | 81/H-D/Four-Speed |
| CASE | H-D |
| CLUTCH | Energy One |
| PRIMARY DRIVE | H-D |
| | |
| --- | --- |
| FRAME | |
| YEAR/MANUFACTURER | 81/H-D |
| RAKE | Stock |
| STRETCH | None |
| | |
| --- | --- |
| SUSPENSION | |
| MANUFACTURER FRONT | H-D |
| LENGTH | Stock |
| TRIPLE TREES | H-D |
| MANUFACTURER REAR | Stock |
| SWINGARM | 61 Panhead |
| | |
| --- | --- |
| WHEELS, TIRES, AND BRAKES | |
| MANUFACTURER FRONT/TYPE | Drag Specialties/40-spoke twisted |
| SIZE-HEIGHT/WIDTH | 21×2.15 |
| TIRE/SIZE | Avon/ MH90-21WW |
| CALIPER | H-D |
| ROTOR | Russell |
| MANUFACTURER REAR/TYPE | Drag Specialties/40-spoke twisted |
| SIZE-HEIGHT/WIDTH | 16×3.5 |
| TIRE/SIZE | Avon/MT 90 |
| REAR BRAKE | Kustom Tech |
| | |
| --- | --- |
| FINISH/PAINT | |
| COLOR | Root beer candy |
| PAINTER | Sonny Boy |
| GRAPHICS | Sonny Boy |
| | |
| --- | --- |
| ACCESSORIES | |
| REAR FENDER | Road Dog Customs |
| FENDER STRUTS | H-D |
| GAS TANK & CAP | H-D |
| OIL TANK | H-D |
| HANDLEBARS | Road Dog Customs |
| HAND CONTROLS | CCI |
| FOOT CONTROLS | H-D |
| FOOTPEGS | Swap meet |
| HEADLIGHT | Swap meet |
| TAILLIGHT | Chevrolet |
| LICENSE MOUNT | Road Dog Customs |
| SEAT | H-D Pogo |