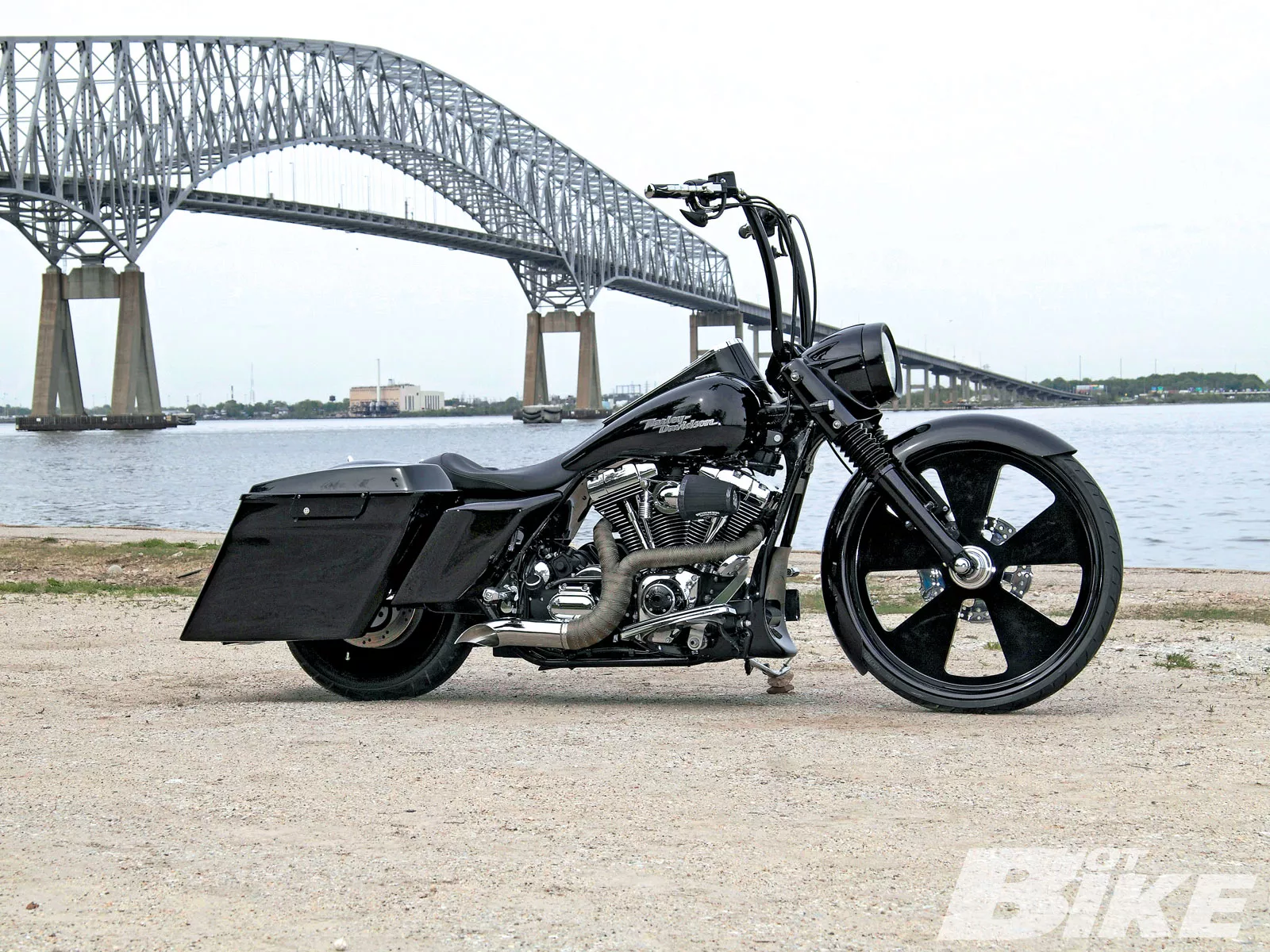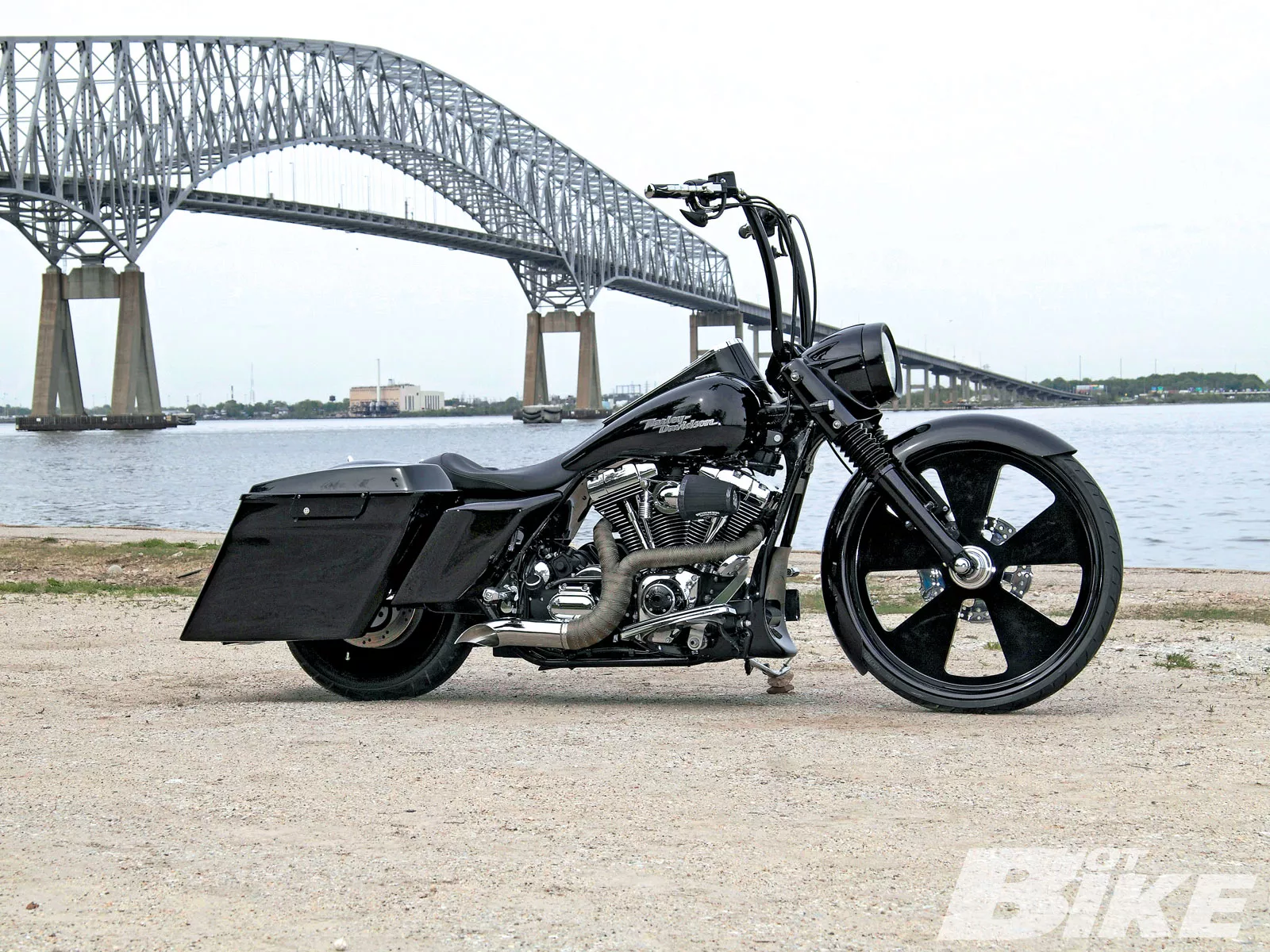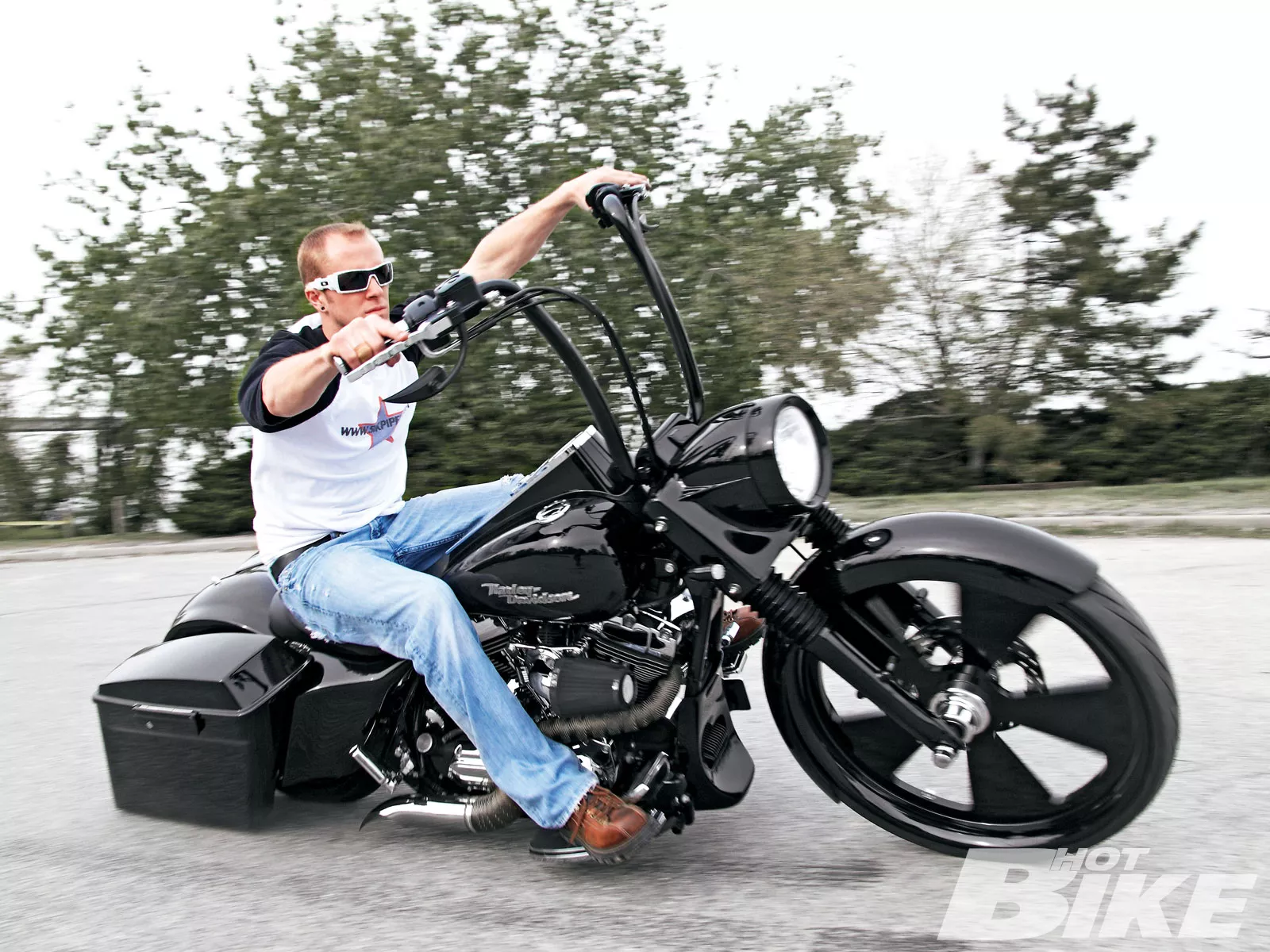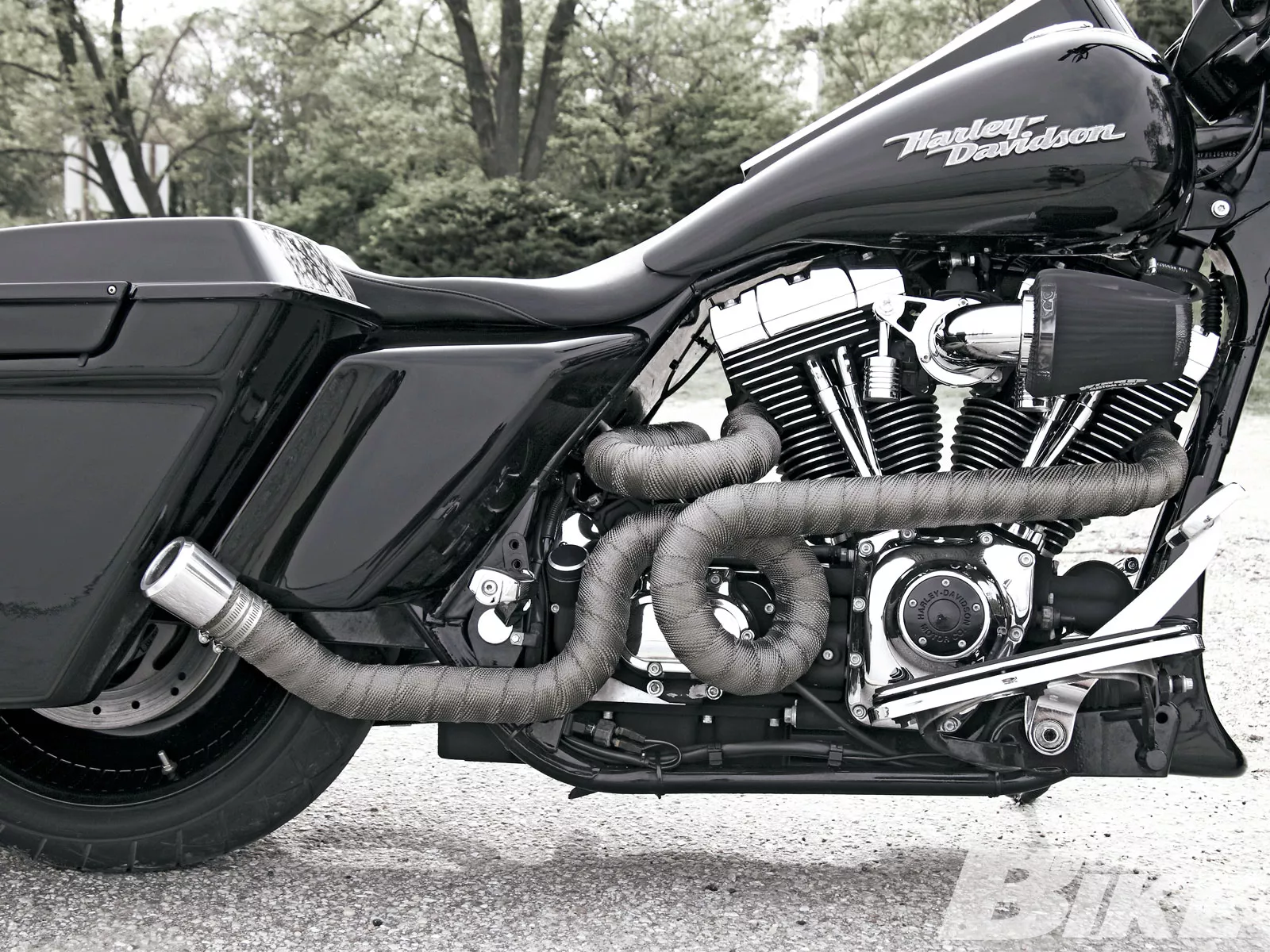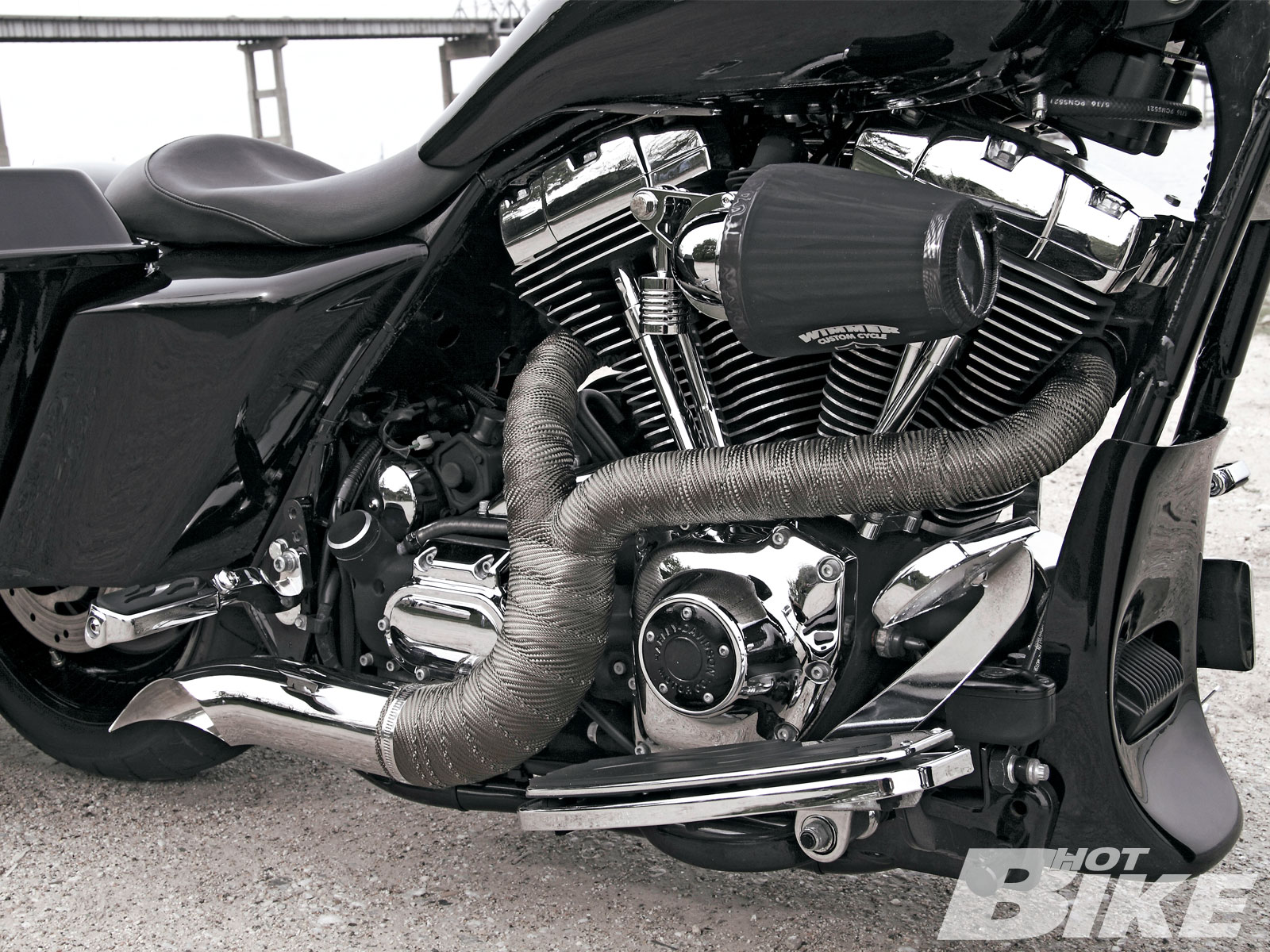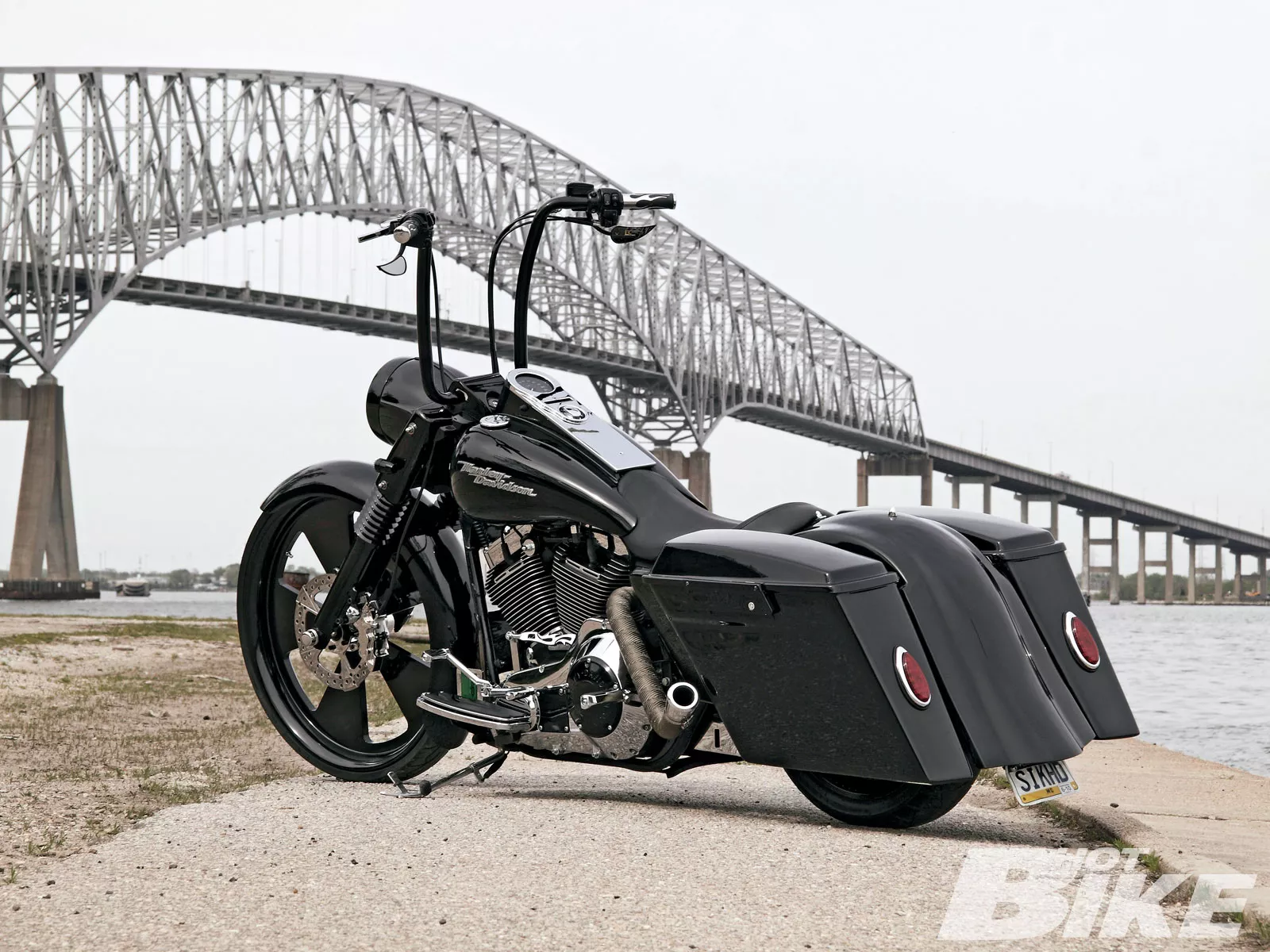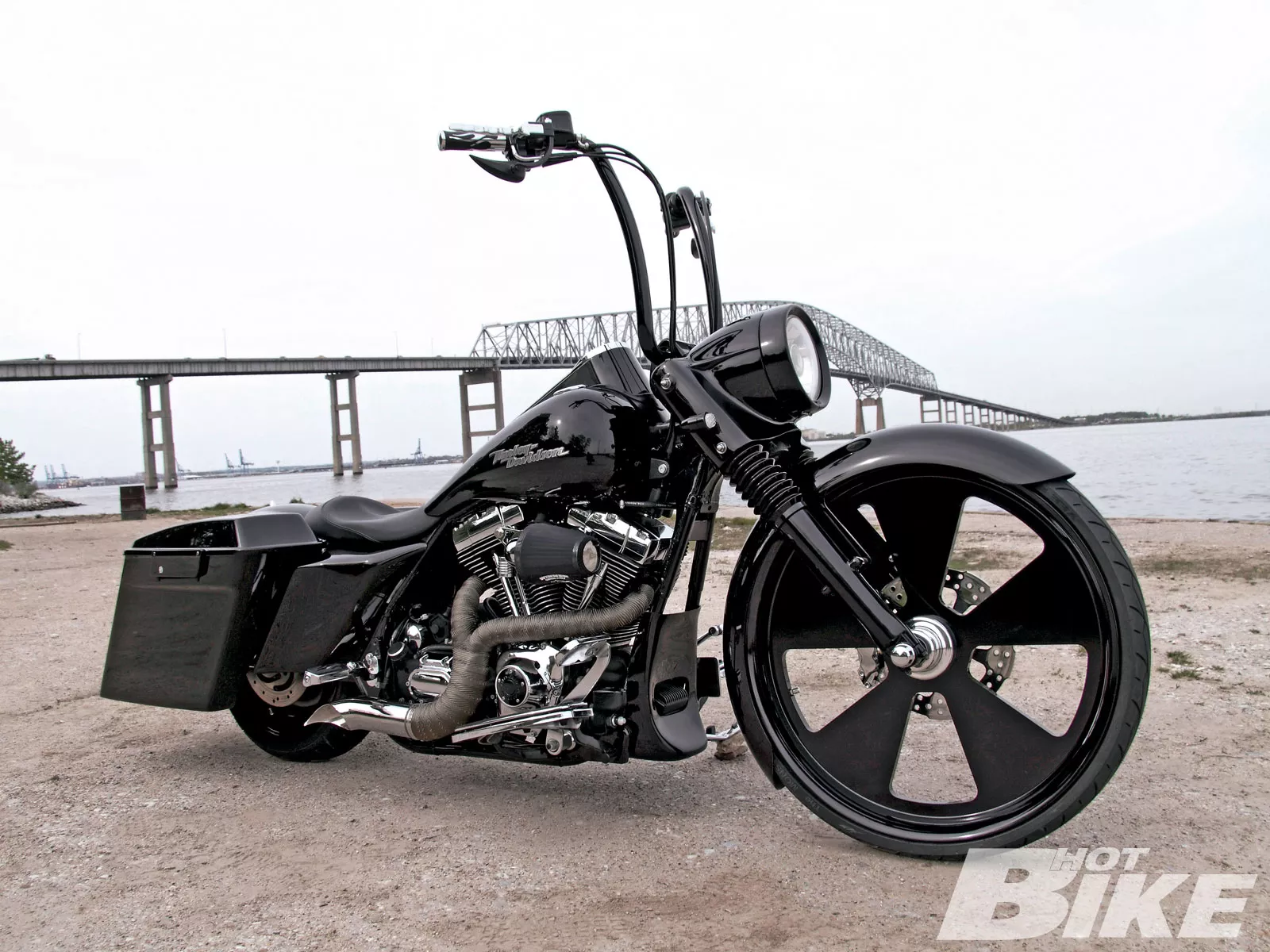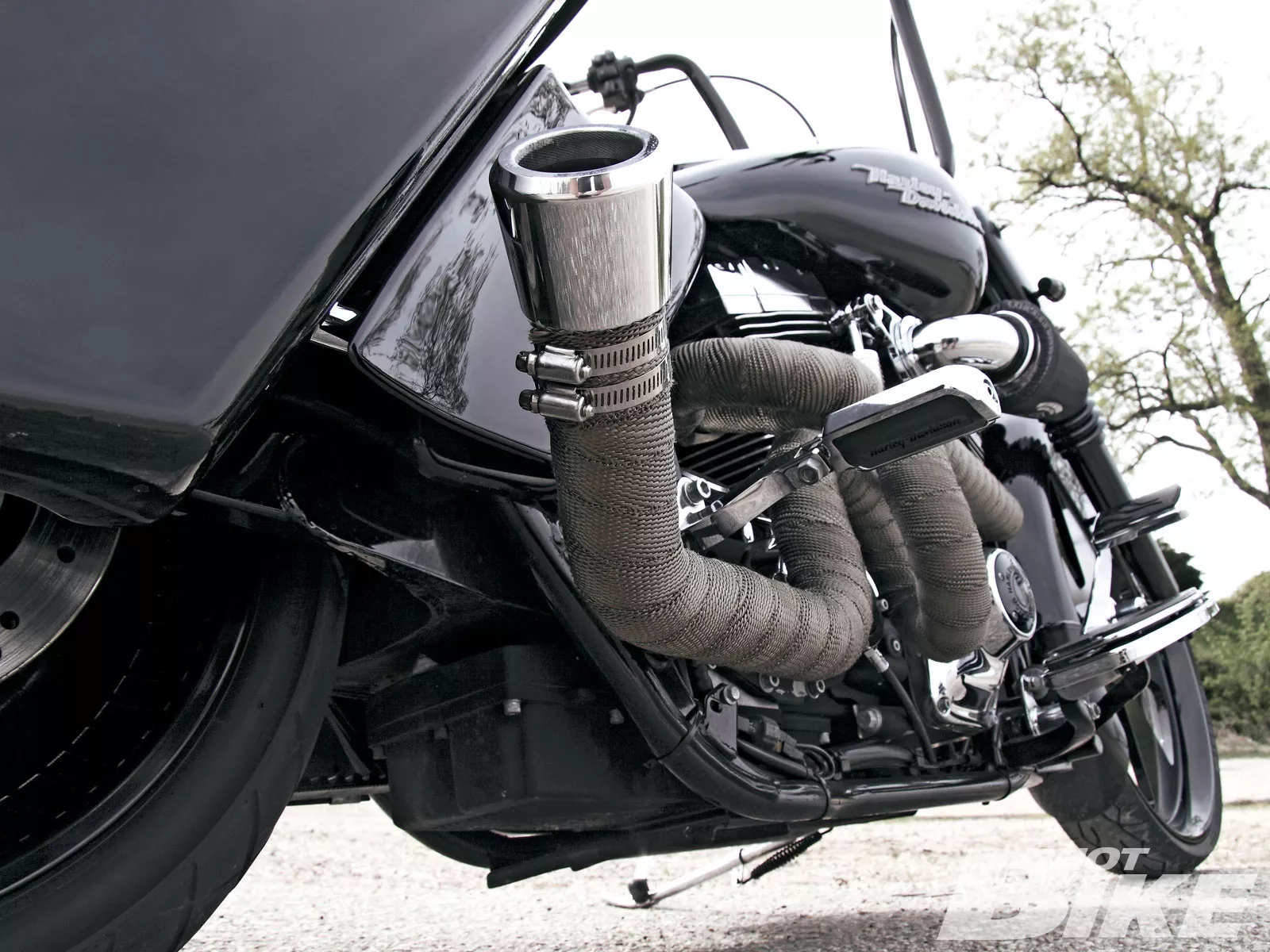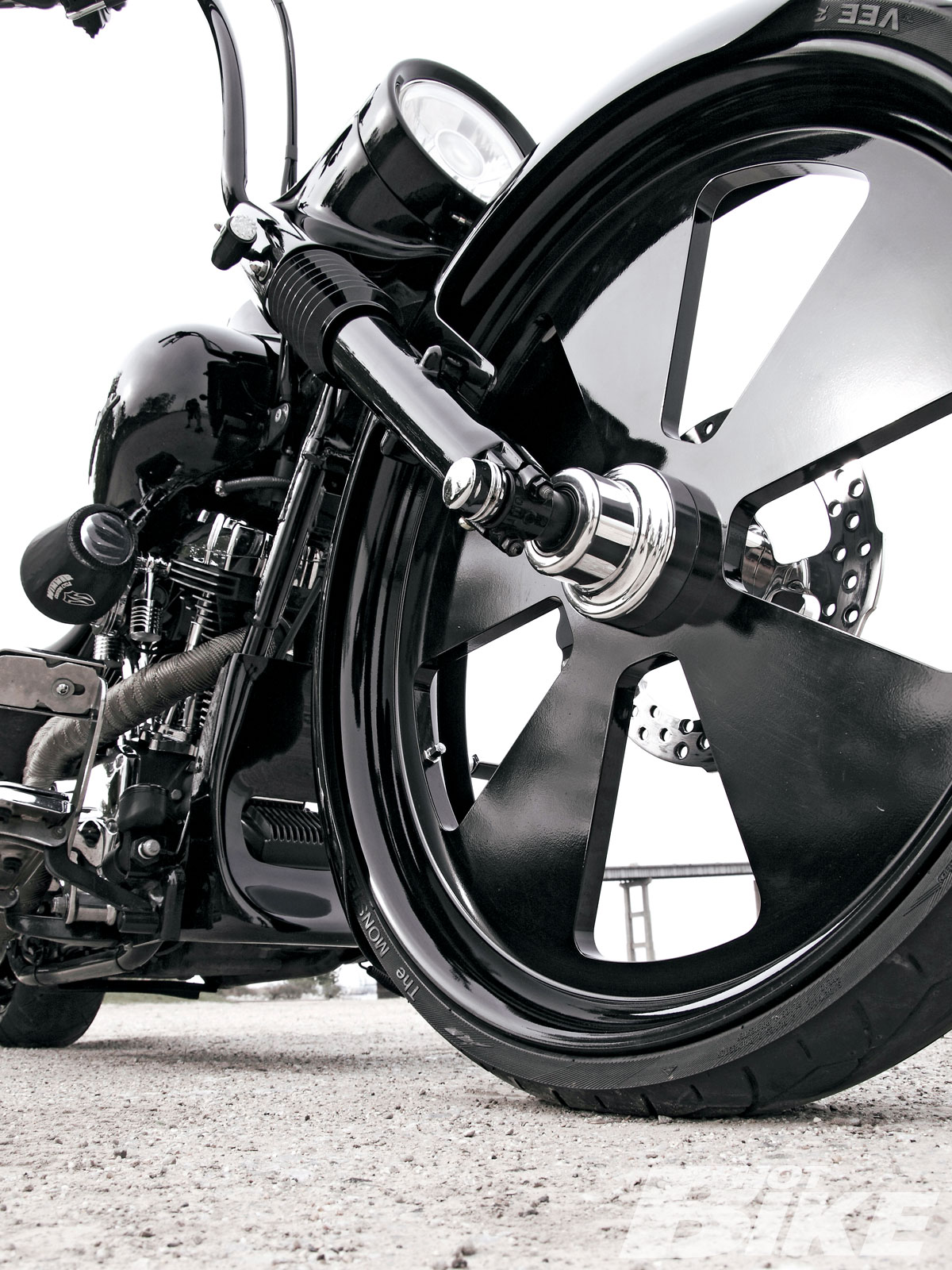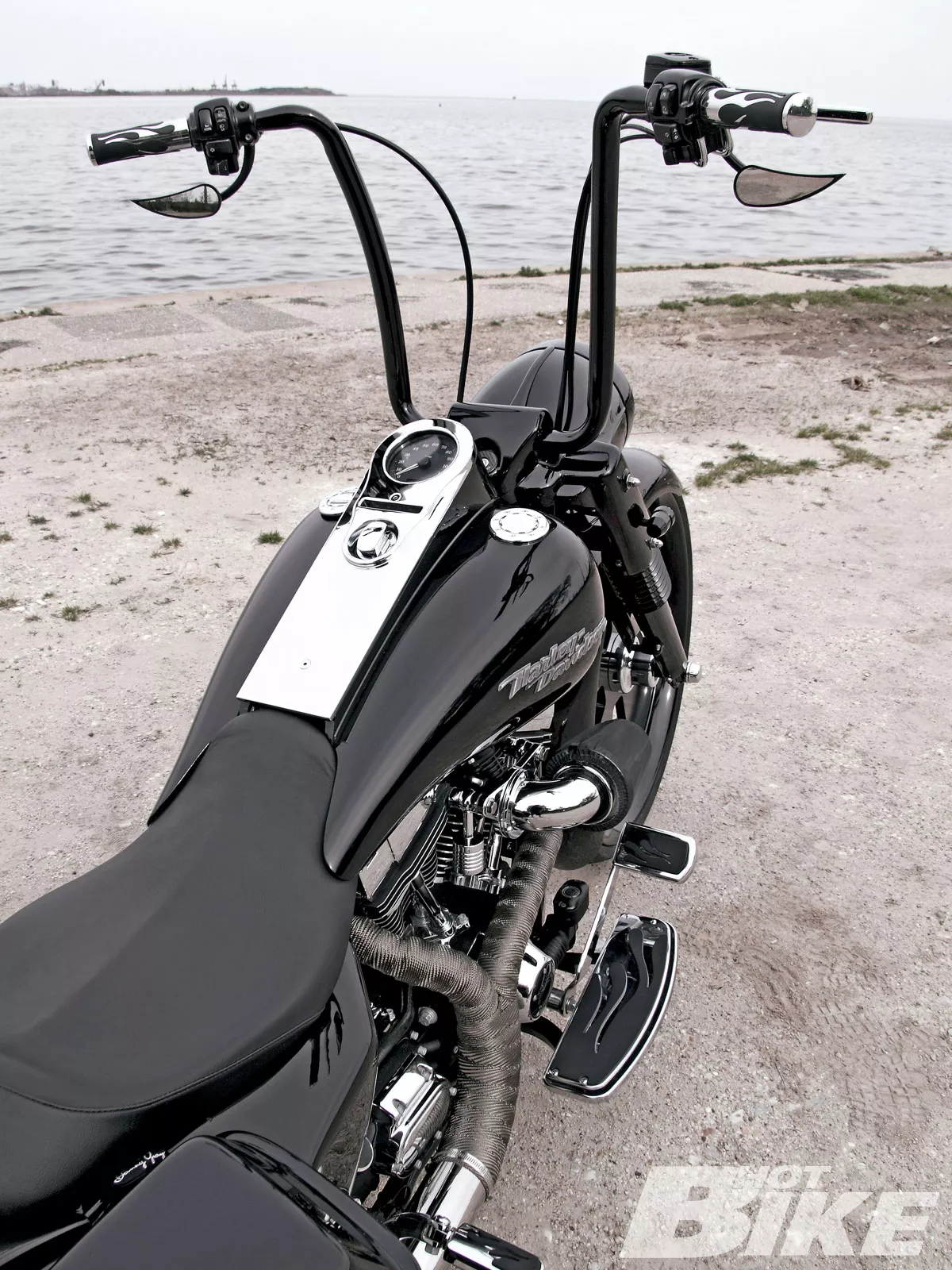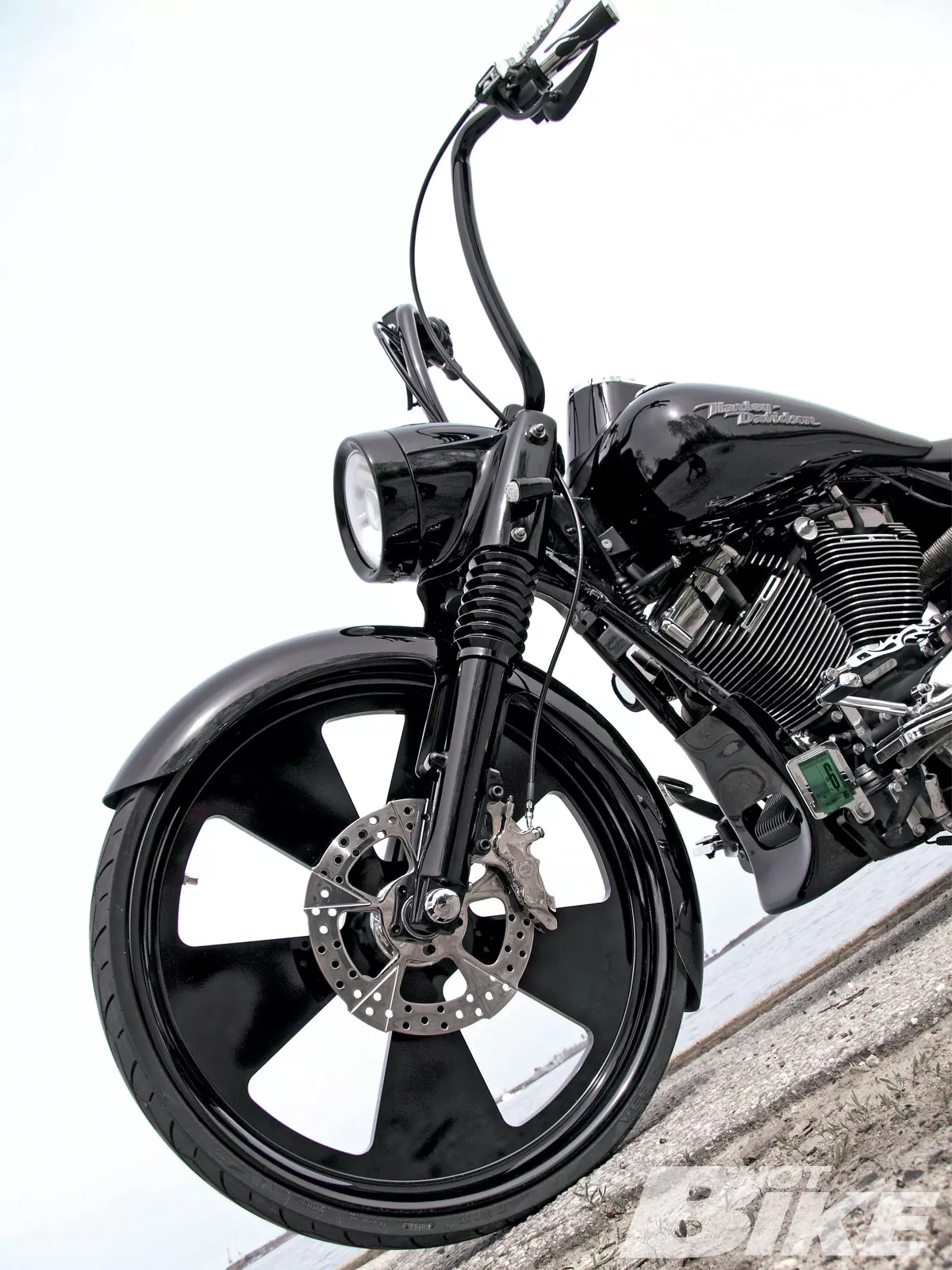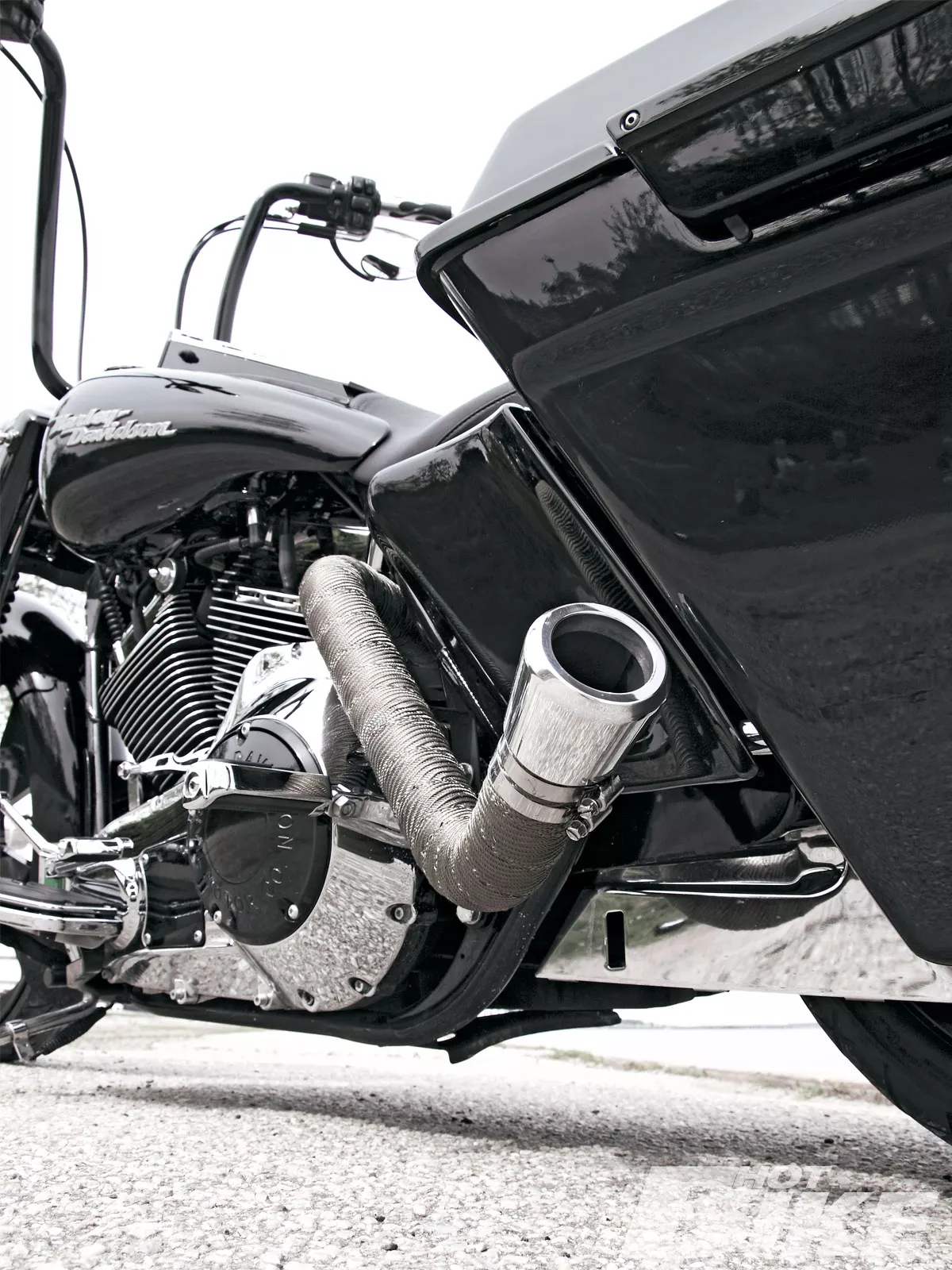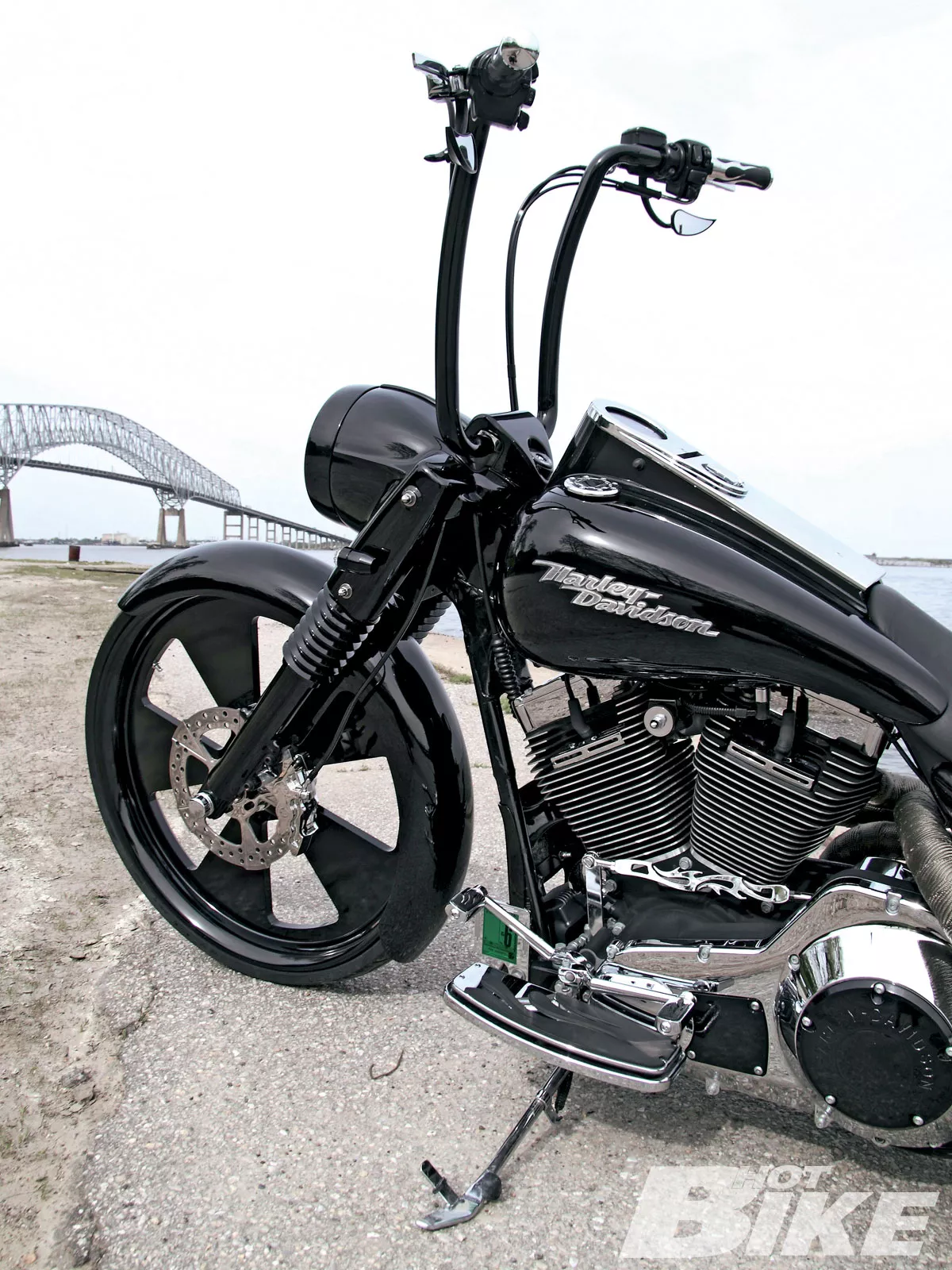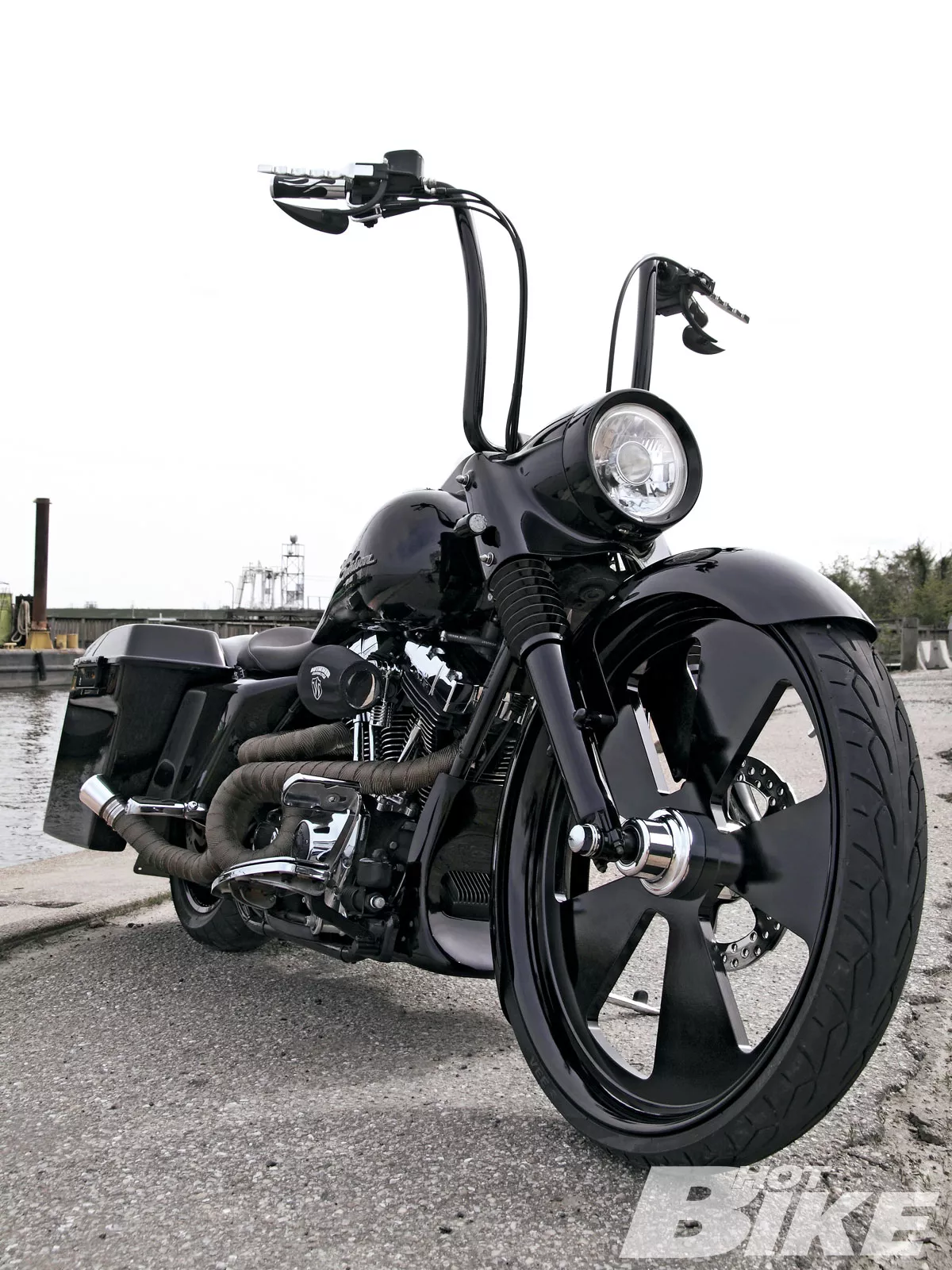 Watch for motorcycles," is typically the phrase you'll find on many highway signs and bumper stickers. However, there are the few motorcycles you don't have to keep an eye out for like Tyler Foster's '02 Road King Classic as it shakes the ground when he rides the highway. Tyler has created his own sound in the world with his custom exhaust shop SikPipes. Tyler's custom exhaust on his Road King has everyone in their cars, walking down the streets, and even at many shows turning their heads to find out where that deep sound is coming from.
"As a kid, I watched my dad build and work on his hot rods and motorcycles, and was always around racing," Tyler said. As he got older, Tyler's passion and interest for motorcycles took over his life for years to come. His first choice for a motorcycle landed him a Yamaha sportbike. Tyler's thirst for more in a cycle then led him to buy a Redneck Mutant Chopper frame, which he used as the basis for his first ground-up build. As he found himself in a stalemate searching for a loud exhaust to finish off the chopper, he ended up fabricating his own pipes to get the sound he was after. As Tyler traveled around with his chopper, he found himself answering question after question as to how he made the pipes, how long it took him, and could he make pipes for other people as well. With all the great feedback from friends and other custom motorcycle enthusiasts, he started fabricating custom exhausts as a side job.
After Tyler lost his job, his biggest supporter, his wife Greta, encouraged him to pursue his dream of creating custom exhausts. As SikPipes took off, the only thought running through Tyler's head was, "Who gets to do what he loves for a living these days?" When he started SikPipes in 2007, he was mostly fabricating pipes for Buells and late-model Sportsters. He eventually began creating pipes for Iron heads, Evos, and Twin Cams. With a target market of anyone building a badass bike, Tyler wanted to go above and beyond to create sick exhaust systems for his customers, hence the name SikPipes.
While business was picking up, Tyler felt he was still lacking something to really bring his company to the masses; a sick motorcycle to promote his SikPipes. Tyler wanted to build a bike that would turn heads everywhere he took it, would be great on long-distance rides, and would show off his creative style. He purchased his '02 Road King and immediately started ripping every panel and bolt off to set it up the way he wanted.
The bike's first makeover only included custom wheels and a gloss black paintjob to give it that feel of toughness. After the first customization, Tyler wasn't satisfied and began his second makeover to get it, as he says, "As sweet as possible." Tyler knew all along he wanted to go with a large front wheel with a low-profile tire, so he purchased a 26-inch wheel blank and had a close friend mill out his design. He then installed a Bad Dad extended rear fender and matching bags with a tear-drop-style LED taillight in each saddlebag. A custom set of side panels was installed to make the saddlebags flow into the bike better.
Next, Tyler lowered the rear of the bike with a set of Progressive shocks and used a set of Burly Lowering Blocks to drop the rear another inch. To finish up the rear of the bike, he installed a 17×5-inch solid rear wheel with a 160/60/17 tire. To keep the flow coming up from the rear with the side panels, he stretched the tank and smoothed it out and installed a smooth dash panel. He then raked the neck out to 39 degrees to make room for the massive 26-inch wheel. Tyler then wrapped the Vee Rubber tire with a B'cool Product front fender. He lowered the front of the bike using the stock front lowers and installed a Progressive lowering kit. He also smoothed out the right-side lower leg and ran a single-side front disc. Tyler had everything on the front of the bike (lowers, Arlen Ness bells, headlight nacelle, and the handlebars) powdercoated by Retro Powdercoating to keep the cycle all black up front. Tyler wanted a set of bars that were going to make the bike look mean and deserving of attention, so he went with a set of 18-inch Carlini Fly'in Apes and installed all black lines. The bike was dressed with Paul Yaffe levers to spruce up the stock controls along with flamed H-D grips, pegs, and floorboards. LED turn signals were installed along with Tyler's favorite accessory other than his pipes, the HID headlight conversion kit, which lights up the street as he and his bike own the night.
As for the motor, it was pretty much left as a stock 88ci EFI TC. Tyler left the bike alone in this area as it had low miles and ran great. The only thing he added was a Power Commander, Wimmer Machine intake, and some black powdercoated covers. Of course being in the custom exhaust business Tyler had to show off his talents so he made two different pipes for the bike. One is a set of wild true duals that wind around towards the back of either side of the bike like a pair of snakes. While the other, a two-into-one with a talon-tipped 3-inch muffler is a little more tame in the looks department, but blasts one hell of a note.
Tyler would love to thank his wife, Greta, for all her support and confidence to help him build SikPipes.
Specifications
| | |
| --- | --- |
| BIKE OWNER | Tyler Foster |
| SHOP NAME | SikPipes |
| SHOP PHONE | (570) 484-5569 |
| SHOP WEBSITE | www.sikpipes.com |
| YEAR/MAKE/MODEL | '02/H-D/Road King Classic |
| FABRICATION | SikPipes |
| ASSEMBLY | SikPipes |
| BUILD TIME | One year |
| | |
| --- | --- |
| ENGINE | |
| YEAR/MANUFACTURER | '02/H-D |
| TYPE/SIZE | HD TC/88ci |
| BUILDER | H-D |
| CASES | H-D |
| CYLINDERS | HD |
| HEADS | H-D |
| ROCKER BOXES | H-D |
| EFI | H-D |
| AIR CLEANER | Wimmer |
| EXHAUST | SikPipes |
| | |
| --- | --- |
| TRANSMISSION | |
| YEAR/MANUFACTURER/TYPE | '02/H-D |
| CASE | H-D |
| CLUTCH | Energy One |
| PRIMARY DRIVE | H-D |
| | |
| --- | --- |
| FRAME | |
| YEAR/MANUFACTURER | '02/H-D |
| RAKE | 39 degrees |
| STRETCH | 0 |
| | |
| --- | --- |
| SUSPENSION | |
| MANUFACTURER FRONT | H-D/Progressive |
| LENGTH | -1 1/2 inches |
| TRIPLE TREES | H-D/Owner |
| MANUFACTURER REAR | Progressive |
| SWINGARM | H-D |
| | |
| --- | --- |
| WHEELS, TIRES, AND BRAKES | |
| MANUFACTURER FRONT/TYPE | Johnson's Machine/One off |
| SIZE-HEIGHT/WIDTH | 26×3.75 |
| TIRE/SIZE | Vee Rubber/120/50-26 |
| CALIPER | Performance Machine |
| ROTOR | Hardcore Products |
| MANUFACTURER REAR/TYPE | H-D/solid |
| SIZE-HEIGHT/WIDTH | 17x 5.5 |
| TIRE/SIZE | Dunlop/150/60-17 |
| CALIPER | H-D |
| ROTOR | H-D |
| | |
| --- | --- |
| FINISH/PAINT | |
| COLOR | PPG Vivid Black |
| PAINTER | Tyler Foster |
| | |
| --- | --- |
| ACCESSORIES | |
| FRONT FENDER | B'Cool Products |
| REAR FENDER | Bad Dad |
| FENDER STRUTS | H-D/Custom |
| GAS TANK & CAP | Stretched H-D/Küryakyn |
| OIL TANK | H-D |
| HANDLEBARS | Carlini |
| HAND CONTROLS | H-D/Yaffe levers |
| FOOT CONTROLS | H-D |
| FOOTPEGS | H-D |
| HEADLIGHT | HID conversion |
| TAILLIGHT | LED Hot Rod |
| LICENSE MOUNT | Custom hidden under fender |
| SEAT | Danny Gray |
| SADDLEBAGS | Bad Dad |
| SADDLEBAG LATCHES | H-D |