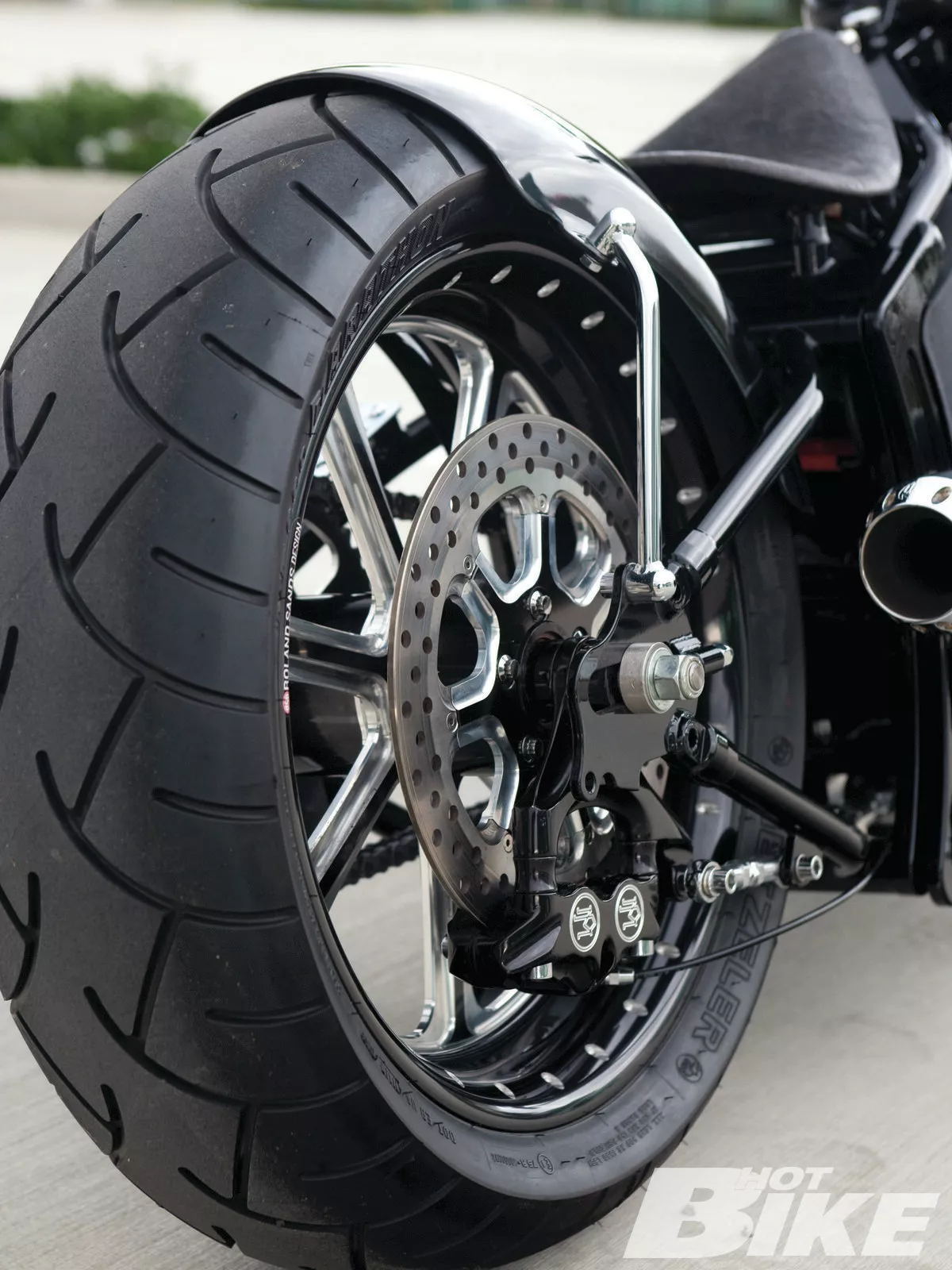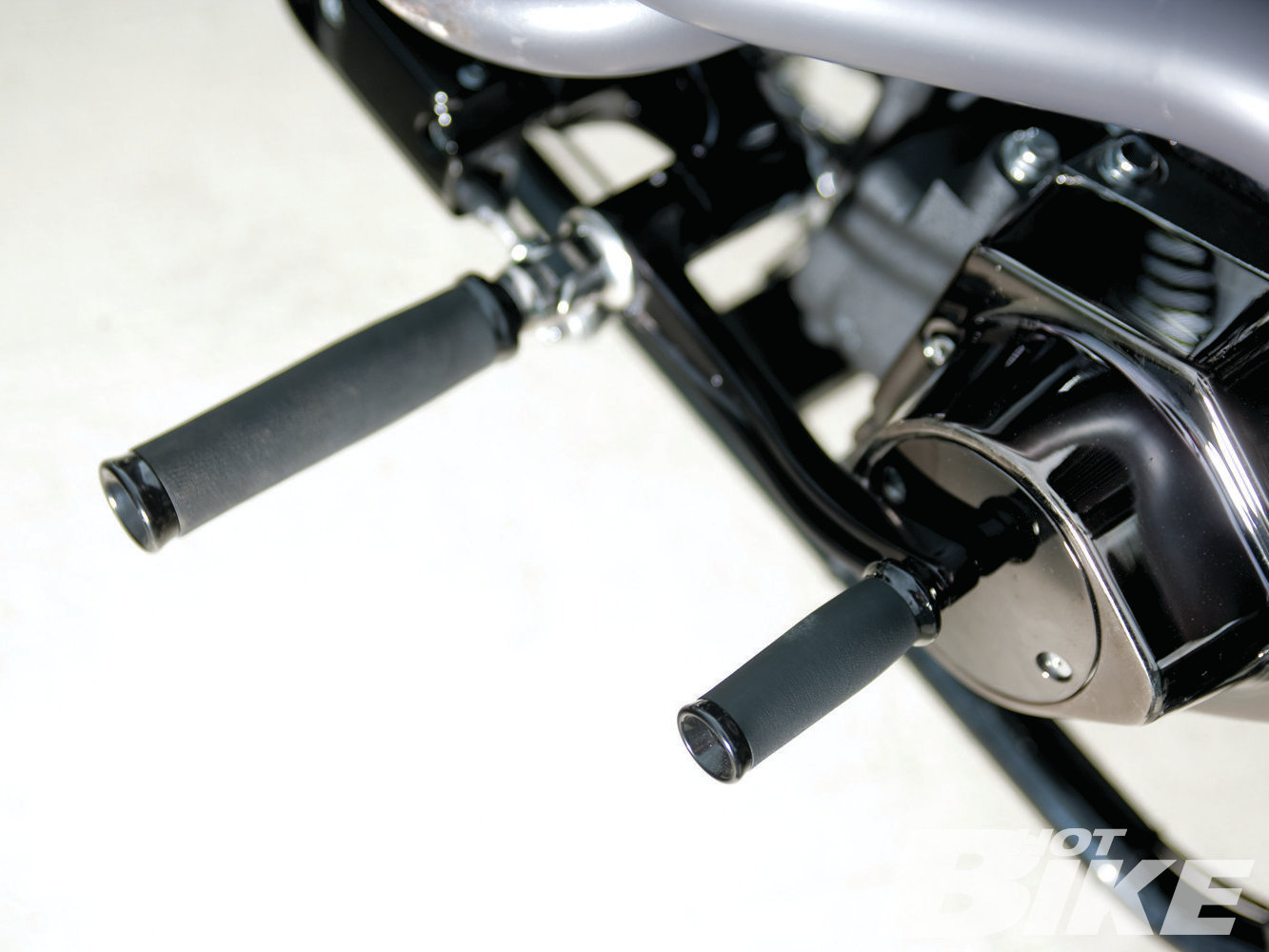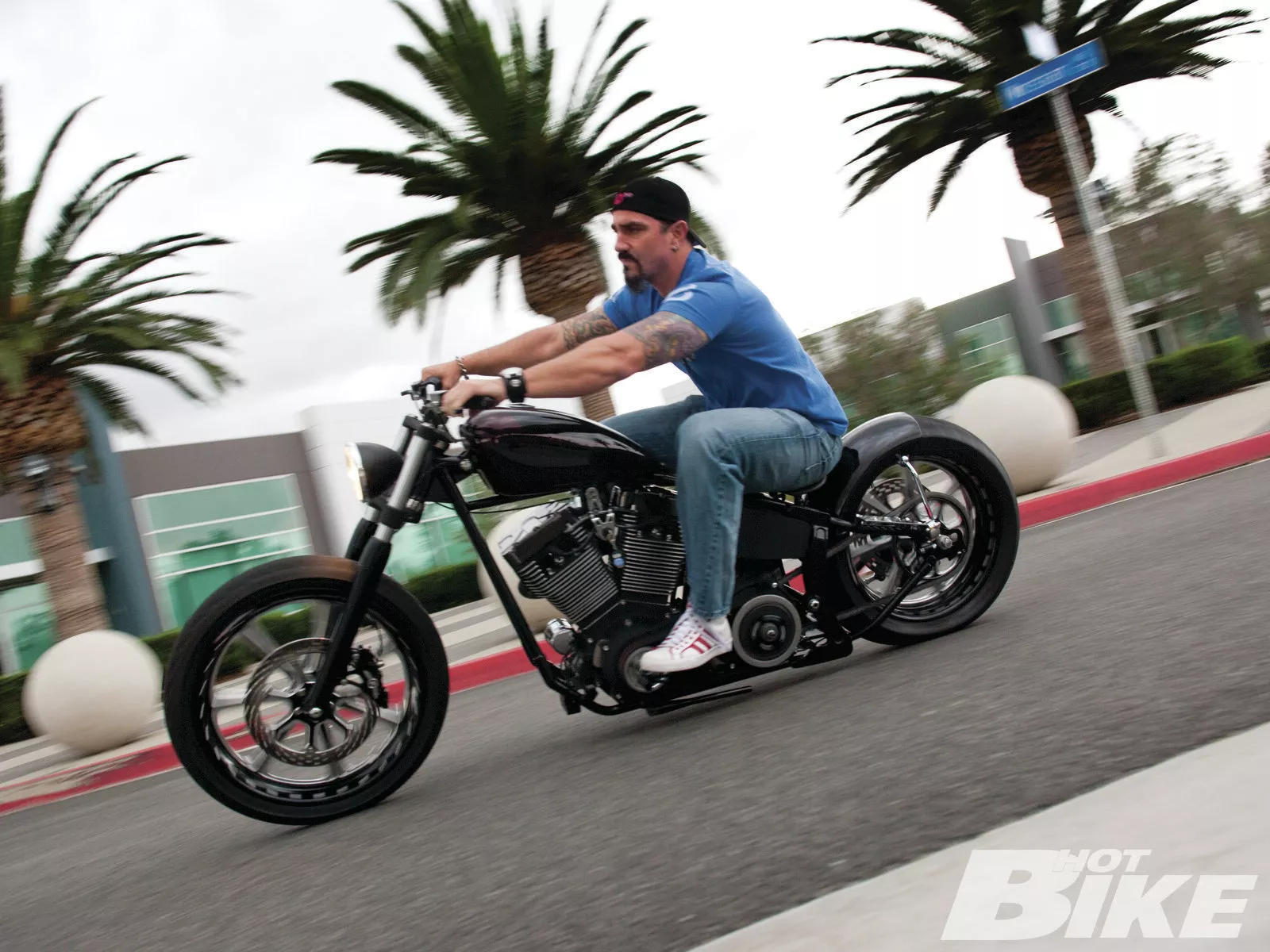 For me, having a ground-up custom designed and built by Tom Foster was the realization of a life-long ambition. Tom and I have been friends for nearly 25 years, since back when he worked at Boeing and I was just a scrawny 15-year-old kid playing drums in heavy metal bands. This was back when Tom still had some surface area on his body that wasn't tattooed, and I had yet to have a tattoo gun drill into my virgin skin. I held Tom's son the day he came home from the hospital, and we've helped each other through broken relationships, the loss of family members, and many other ups and downs that are too numerous to list here. Tom has always been like an outlaw older brother for me. My family is straight-up "suburbia" from the South Bay area [in Southern California]. Tom is straight-up East L.A. "OG," by way of Chino. It was Tom who turned me on to choppers, bringing his latest creations by my house whenever he'd complete them. For me, there was nothing like the roar of those motors out on 124th St. in Hawthorne, California, as Tom laid into a burnout before blasting off to wherever he was headed. Anyone who knows Tom and his bikes, knows that they are designed for riding and riding hard. Don't be mistaken, his bikes "show" well too. But with Tom, it's about bikes that perform in a manner that I would best describe as "violent precision." Tom's bikes command respect, plain and simple.
<div class="st-block quote text-
Notice: Undefined index: st_text_align in C:laragonwwwhotbike-importblocksquote.php on line 1
">
This combination of blacks not only achieves the mean and hard vibe we wanted, but most importantly, it gives the bike a classy and sophisticated state-of-the-art feel.
I didn't start riding until I was about 30. My first bike was an H-D Softail Standard that Tom and another brother of ours, Felix Perez, helped modify. We turned that thing from stock to "shock" switching out everything but the motor, and it still turns heads now. But as badass as that Softail may be, I was still left day-dreaming about having Tom build me a ground-up custom of my own.
Thanks to my sports marketing business, I finally was able to scrounge up the dough I'd need to have Tom bring one of his creations to life for me. I had all kinds of thoughts and ideas about the bike I wanted. But building a custom bike is a lot like getting a tattoo. You don't want to control the process very much at all. You tell the artist the basic concept that you want, then get the hell out of the way and let him create his art. Tom was my favorite bike builder and his style of lean and mean timeless hot rods was what I was after. The only specs I gave him were "softail, Sportster tank, classic H-D Deuce frontend, and I want it to look hard and mean as f%@k!" The rest was up to him.
Tom and I got together to discuss the bike and figure out the parts list. Tom then took to the task of getting all the parts together. Obviously, Tom's industry relationships run deep so he was able to do the lion's share of the work, contacting the best in the industry for the best the industry has to offer. Just happy to be a part of the process, I pitched in where I could, driving out to pick up a part or two and storing everything in my garage. Once we had everything we needed, I trucked it all up to Tom's garage, dropping it off like a stressed-out husband dropping his pregnant wife off at the hospital to give birth to his first child.
The Ultima 113ci Black Gem motor with its unique nickel-plated finish would serve as the heart of this beast, set within the confines of its Chopper Guys softail frame. My beloved H-D Deuce frontend would help maintain a classic vibe, and a five-speed H-D tranny would keep me going through the gears with reliability. The bike would feature a host of PM and RSD accessories, including grips, risers, and hand and foot controls. And then there are the absolutely sick RSD Diesel wheels with the black and aluminum combo that would go far in maintaining the understated mean vibe of this bike. I definitely didn't want this bike blinging, which was something Tom agreed with from the start.
For the next several months, Tom went about the craft of building what I believe to be the perfect chopper. I would check in weekly with Tom, visiting his garage to see the ongoing progress as it occurred. Each visit revealed new milestones in the build process. I especially reveled in seeing the nuances of Tom's vision become reality. For example, I originally wanted to run Chica Mini-Z bars on the bike, but Tom sent them back to me. In his mind's eye, they weren't going to work on this bike as well as a simple set of drag bars would. And when I saw the drag bars mounted, I felt stupid to have suggested the Mini-Zs in the first place. Equally special for me were Tom's one-off rear-fender mounts and motor and fuel-tank mounting brackets. Tom was also able to score one of Todd Silicato's air cleaner designs to front the Mikuni carb that came with the Ultima motor. Along with the bull-shoulder leather seat by Bitchin Rich, the air-cleaner is one of my favorite pieces on the bike and yet another example of the value of trusting Tom's mind's eye.
Each time I visited Tom during the build, the subject of color would come up. I always envisioned a lot of black on the bike to get that meaner, harder look, but I still assumed that the tank and rear fender would feature some deep rich color tone that would characterize the bike. We kicked around a bunch of color ideas but hadn't settled on anything. That's about when Tom said, "How about we just paint it black?" My response was like, "Black? That's it? Black?" He went on to describe how he was planning to mix a variety of black tones on this bike, and that it would find a really unique look in those varying shades. I was thinking, "Varying shades of black?" I didn't even realize black had variance. But when you look at this bike, once again, Tom was exactly right. The bike features gloss black on the sheetmetal and lower legs, flat black on the controls, headlamp, wheels, air cleaner, and pipes, and even textured black on the oil tank and triple trees. And best of all, all of it only showcases the unique black-nickel finish of the motor. This combination of blacks not only achieves the mean and hard vibe we wanted, but most importantly, it gives the bike a classy and sophisticated state-of-the-art feel. Elite quality isn't flashy.
But it wouldn't be fair to say this is just a black bike. The tank is actually adorned with cherry wine scallops and grey pinstriping by master painter Rich Evans. Tom knew my heart was set on having some color on the bike, so he had Rich lay down the scallops and pinstripes, after which he shot it with some thin coats of black candy. From most angles, the bike appears straight black. But when light hits the tank, the cherry wine scallops come bursting through from underneath the black candy. It's a totally unique look and yet another example of trusting Tom's mind's eye.
This entire experience was mind-blowing. I may have run down the parts and accessories that comprise this bike, but they are not what make it as great as it is. It's like human beings: we're defined not by our bodies, but by our souls. And the soul of this bike is found in Tom Foster's bloody knuckles and the aluminum shavings that adorn the floor of Tom's garage. This bike is about that incredible amount of time and effort, the attention to detail, and the fact that in the end, the bike is a manifestation of Tom Foster the person and my dear friend. Just like our friendship, this bike is all about heart and soul. HB
Specifications
| | |
| --- | --- |
| Bike Owner | Marc Altieri |
| Shop Name | crazyfastcracker.com |
| Shop Phone | (323) 428-5830 |
| Shop Website | crazyfastcracker.com |
| Year/Make/Model | '10/Landshark/Softail |
| Fabrication | Tom Foster |
| Assembly | Tom Foster |
| Build Time | 13 weeks |
| | |
| --- | --- |
| Engine | |
| Year/Manufacturer | '10/Ultima |
| Type/Size | Evo/113ci |
| Builder | Ultima |
| Cases | Ultima |
| Cylinders | Ultima |
| Heads | Ultima |
| Rocker Boxes | Ultima |
| Carburetor/EFI | 45mm Mikuni |
| Air Cleaner | Todd's Cycle |
| Exhaust | Vance & Hines |
| | |
| --- | --- |
| Transmission | |
| Year/Manufacturer/Type | '99/H-D/Five-speed |
| Case | H-D |
| Clutch | BDL |
| Primary Drive | BDL |
| | |
| --- | --- |
| Frame | |
| Year/Manufacturer | '09/Chopper Guys |
| Rake | 36 degrees |
| Stretch | 1-1/4-inch out |
| | |
| --- | --- |
| Suspension | |
| Manufacturer | Front H-D |
| Length | 2 inches under |
| Triple Trees | Custom |
| Manufacturer Rear | Race Tech |
| Swingarm | Chopper Guys |
| | |
| --- | --- |
| Wheels, Tires, And Brakes | |
| Manufacturer Front/Type | PM/Diesel |
| Size-Height/Width | 21×3.5 |
| Tire/Size | Metzeler/120-21 |
| Caliper | PM |
| Rotor | PM |
| Manufacturer Rear/Type | PM/Diesel |
| Size-Height/Width | 18×5.5 |
| Tire/Size | Metzeler/200-18 |
| Caliper | PM |
| Rotor | PM |
| | |
| --- | --- |
| Finish/Paint | |
| Color | Black, burgundy, and black candy |
| Painter | Rich Evans Designs |
| Graphics | Rich Evans |
| Powdercoat | Concept Powdercoating |
| | |
| --- | --- |
| Accessories | |
| Rear Fender | WCC |
| Fender Struts | Fab Kevin/Tom Foster |
| Gas Tank & Cap | CCI |
| Oil Tank | Chopper Guys |
| Gauges | CCI |
| Handlebars | Biltwell |
| Risers | RSD |
| Mirrors | Todd's Cycle |
| Hand Controls | PM |
| Foot Controls | PM |
| Footpegs | PM |
| Headlight | Headwinds |
| Taillight | Fab Kevin |
| License Mount | Fab Kevin |
| Seat | West Eagle pan/covered by Bitchin Rich |