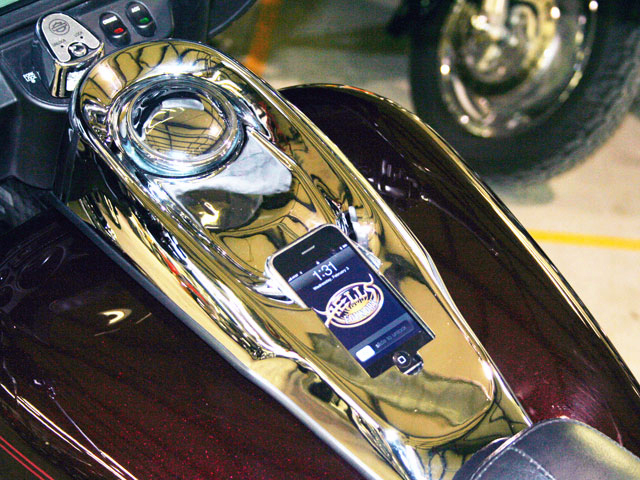 Brighton, MI - Hell's Foundry™ proudly introduces DashLink, the first motorcycle console to integrate a complete docking station for iPhone and iPod touch.
Because DashLink keeps your iPhone and iPod touch fully charged, it allows you to use the best features of your device full time!
That means your Navigation Application can run with the screen lit while playing tunes! Use Blue-tooth earphones or Wi-Fi enabled devices, use as a head-unit with streaming audio like Sirius/XM or Rhapsody, there is NO LIMIT!
The docking location provides convenience never before seen in a "Phone Holder"
Features Complete replacement fuel tank console with integrated docking station
Smart charging system with self-sensing on/off circuit to detect when a device is present: "No device, no power, no worries"
Audio out circuit using line-level output
Clean 'wire-free' appearance
Volume up/down control through stock handlebar controls (FLH/FLT only)
Fitment
Harley-Davidson FLHT/FLTR & FLHR models Sportster & Dyna coming soon – call for yours Available in Chrome Plate, Gloss Black or Carbon Fiber Finish For additional information: www.hellsfoundry.com or 866.999.HELL (4355)
™Hell's Foundry is a registered trademark of Hell's Foundry, Inc. ®Road Glide and H-D are registered trademarks of Harley-Davidson iPhone and iPod touch are trademarks of Apple Inc., registered in the U.S. and other countries