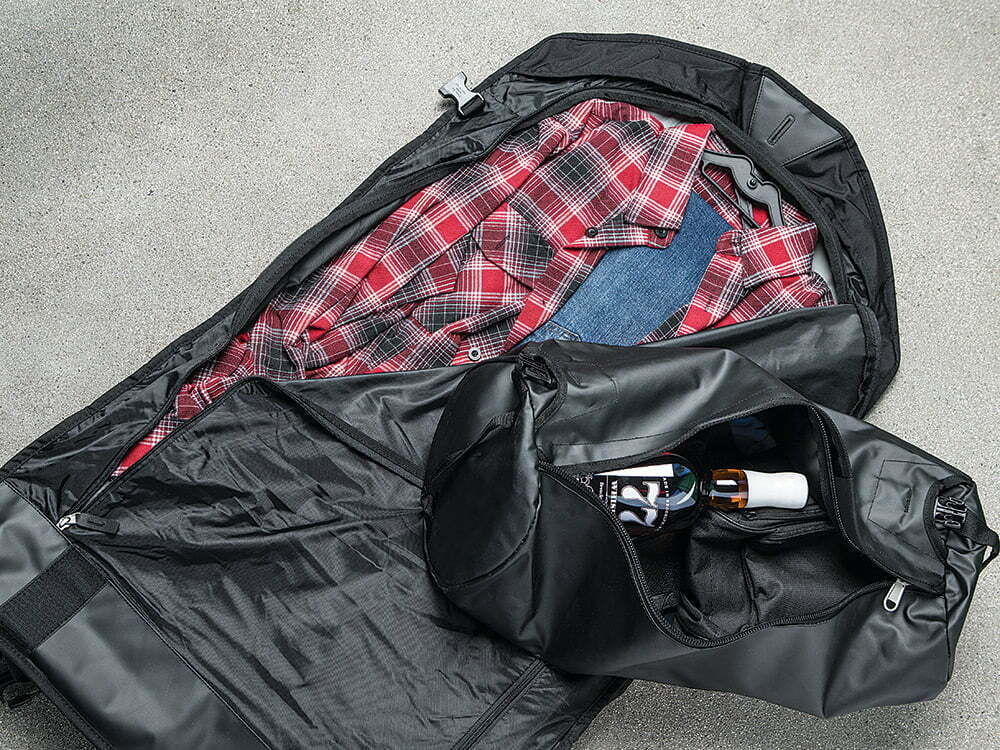 I always overpack when I travel. Half the stuff I bring on rides never even makes it out of the bag. But I'm comforted by the fact that I can pack a third bottle of booze if necessary (you never know who you'll have to entertain). The Henty CoPilot bag is something big enough—and smart enough—to allow my hoarding habits.
After a visit to Henty's website (henty.cc), I noticed the CoPilot's selling point is its ability to pack a suit in the garment bag. Now, I'm pretty sure I won't use it for that purpose, but if I wanted to, I could (are you starting to understand my pack-rat affliction?).
Henty was founded as a result of a seemingly simple problem: how to transport business clothing to and from the office and have it ready to wear on arrival. With nothing on the market that met this need, Jeremy Grey designed and made a prototype to solve the problem. When it worked, he and childhood friend Jon Gourlay joined forces, and in 2012, they started Henty. The result: the Wingman, a multipurpose suit and garment bag, which can now be found carrying wardrobes all over the globe. Today, Henty is based in the co-founders' home state of Tasmania, Australia. The team is focused on creating innovative products based on their "carry clever" ethos. Its focus is simple: to take quality materials, create clever products, and make people's lives easier. I saw the Henty bag as a very capable motorcycle transport bag; it's a smart product for those on the go.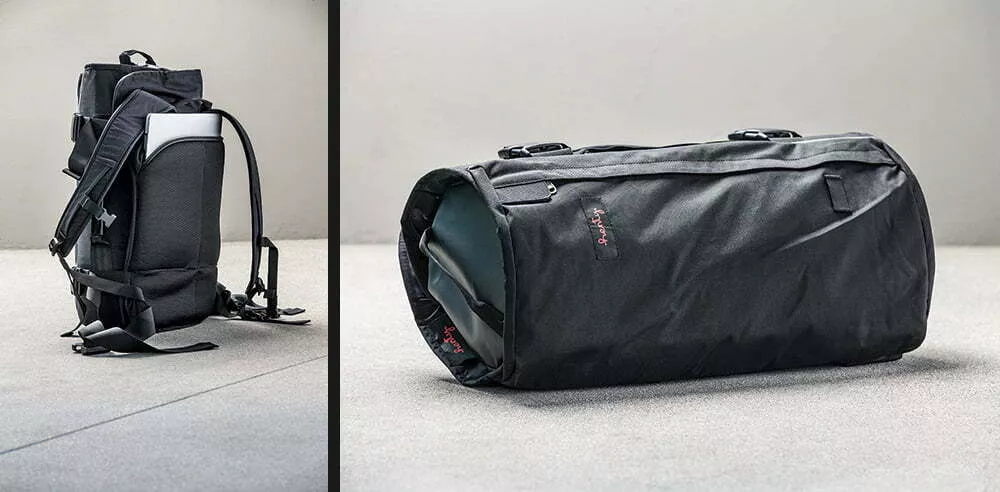 The CoPilot is a durable multipurpose bag made from waxed canvas, based on Henty's popular Commuter range. Optimized for airplane travel, the CoPilot features a larger inner tube stuff sack that allows you to maximize luggage space on a weekend away or a two- to three-day business trip on the bike. It's also pretty light and easy to handle for long bouts in the saddle. The CoPilot also features a large external pocket for belongings such as chargers, keys, and accessories; a removable 13-inch laptop pouch; a padded adjustable shoulder strap with aluminum buckle; and a stabilization strap perfect for motorcyclists. I especially like the fact that the exterior features a waterproof rain cover that prevents your goodies from getting wet, and the reflective piping around the bag's perimeter is also a nice touch. The CoPilot is available in khaki, olive, blue, and, of course, black. Measuring in at 12.78 x 8.94 x 0.95 inches, the CoPilot is easily portable but still large enough to fit a ton of gear.
I've used the CoPilot on several occasions for different scenarios, such as motorcycle camping trips where I've literally folded a sleeping bag in the wardrobe area and all the fixings for a good night's sleep in the duffel. I've rocked it on overnighters on the Sportster. I've taken it on several airplane travel trips just because I've gotten so used to its compartments—I'm a creature of habit. I've even used it for packing my work equipment for shoots (13-inch MacBook Air, external drives, Canon 5D Mark III, Canon 16/35 2.8L and 70/200 2.8L lenses, batteries, chargers, even my monopod for video); the CoPilot balks at the challenge and still leaves plenty of room for my vices.
The CoPilot is a great multipurpose bag that allows me to pack all the things I need, and especially the things I don't need, which for me, is a very good thing.