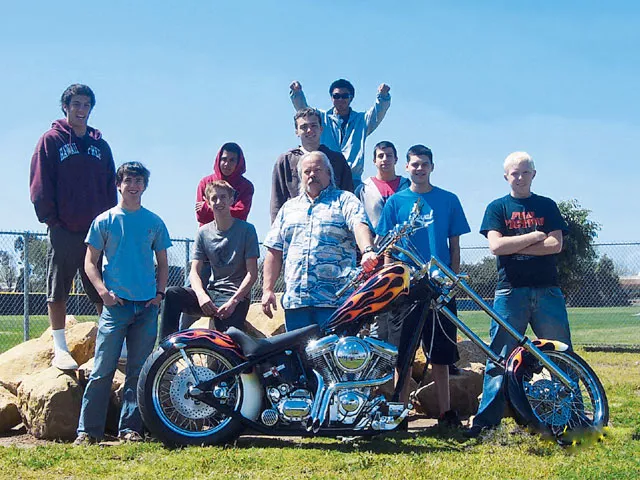 Editor's Note: Every once in a while we'll get a call about a group of high school kids building a custom bike. We try to feature the bikes when we can, but when this idea was pitched to us we couldn't pass it up. Basically, the deal was to get the auto shop, photography, and journalism students to work together to come up with a story on a custom bike-build project. Well, after several months and one spring break (for the students, not us), this is what the students at Corona Del Mar High School in Southern California came up with.
Ed Ollila is the auto shop advisor at Corona del Mar High School in Newport Beach, CA. Since November, Ed, along with some of his advanced auto shop students, has been feverishly working to finish the construction of a Custom Chrome Hardcore II Chopper before the end of the school year.
The project this team took on proved itself to be no easy task. With the students only working on the project for about an hour a day during auto shop class, the project in its entirety (paint and powdercoating included) took about five months to complete. It all started with a bike kit from Custom Chrome. Four crates consisting of all the necessary components (namely, the engine, transmission, and frame) were drop-shipped to the school steps, and the assembly process soon began.
The systematic construction of this bike was no different from the process professional bike builders go through. First, the bike was mocked up to make sure that everything fit and Ed and the students could identify what needed to be modified and/or customized. "The most challenging part of the project was making all the modifications," said Ed. "I didn't like the front fender or the handlebars, so making those changes required a lot of extra work on our part."
Patience is undoubtedly a virtue when it comes to bike construction. "We must've had to readjust the rear fender and rear wheel about 10 times," reported Ed. In order to get the wheel centered to perfection, shims were required for adjustment; this aspect of the project required a lot of attention.
Along with patience, inevitably there is frustration. Seniors Jeff Edwards and Max Page each experienced their own shares of it. "I don't think I've ever been that frustrated," said Max. "Some of the stuff I didn't know the names of," including a "jiffystand," which Max later learned was motorcycle terminology for a kickstand. "I had to go through books to find the names for certain parts, and sometimes measurements, but in the end I learned a lot." Jeff said, "If it didn't fit, we had to take it apart and modify it." Clearly, dedication was not in short supply for these two ambitious seniors.
The paint scheme for the bike is a classic '60s chopper look: black with a yellow and red flame job. Concept Powder Coating covered the frame in a glossy black powdercoat, while Rock & Roll Customs laid the black base and killer graphics on the sheetmetal. A defining decal, however, is a representation of Skeletor the Sea King, a new rendition of Corona del Mar High School's mascot. "We thought it would be a good way to represent our school," Max said.
One of the final components added to the bike was a speedo/tach the students had received from Dakota Digital. Then, to make sure their homework was complete and done right, they had Geoff Gaites, "The Harley Doctor," give the bike a thorough inspection before they fired it up.
All three said they would look back on the project with fond memories. "It was a lot of fun," said Ed. "Of course, there are things I would do differently, but when it comes down to it, I would definitely consider doing it again." Ed went on to say that he plans to continue the project in future classes, but next time he would prefer to build a Softail.
"This is something I've been wanting to do for three or four years. I thought it would be good promotion for the school and a good experience for the students involved."
"My favorite part was when we finally got the engine to turn over, and we heard the motor for the first time," said Jeff. "That was the best feeling."
Max added, "Seeing it work was pretty dope. I couldn't believe it was so loud."
Ed plans to auction the bike at the Neptune's Ball, a fundraiser for the school. The money will be used for future projects such as this one. Corona Del Mar High School would like to say a special thanks to Custom Chrome, Geoff Gaites, Dakota Digital, Concept Powder Coating, and Rock & Roll Customs for making the project a success.