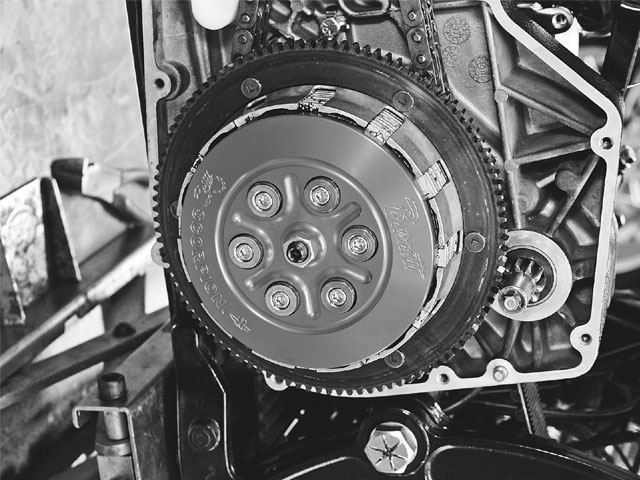 Dictionary.com describes a "clutch" as1 A device for gripping and holding.2a Any of various devices for engaging and dis-engaging two working parts of a shaft and driving mechanism.2b The apparatus, such as a lever or pedal, that activates one of these devices.
Ever since man began building mechanical devices, he's had the need to control the movement or force created by those devices. This simple concept has seen many different forms over the years, as it has been incorporated into so many items we use every day-everything from portable electric drills to heavy construction equipment, cars, trucks, conveyors, machining equipment, and, in our case, motorcycles. Basically, if there's a piece of equipment that generates a force-such as a motor or an engine-there's a pretty good chance that some sort of clutch mechanism is employed to deliver this force to its final destination, wherever that may be.
While clutches in the Sportster and Buell line differ from the Motor Company's Big-Twins, they all perform the same basic function: allowing the rider the ability to safely and predictably (in the case of a properly adjusted clutch in good working condition) deliver the power produced by the engine to the transmission. While Harley's designs work quite well in stock applications, they begin to show signs of diminished performance when placed in high-horsepower, high-torque applications. The lack of a clutch's effectiveness will normally show up as slippage, i.e., the lack of ability to deliver all the power an engine has produced to the transmission.
That's where Barnett Performance Products comes in. The family-owned and -operated company got its start as Barnett Tool & Engineering in 1948, when brothers Afton and Charlie Barnett began manufacturing motorcycle cables. Still owned by daughter Colleen and husband Mike Taylor, the pair has continued to produce some of the highest-quality components for the motorcycle industry available anywhere.
When it came time to assemble the driveline for our '99 Fat Boy, we knew the stock clutch just wasn't up to the task of handling all the power put out by our freshly assembled 96-inch Evo motor. So we got on the phone with Xavier Romero to see what Barnett had that would fit the bill. We chose a Scorpion Clutch Assembly (part No. 38520; MSRP: $550). The kit includes a 4130 chrome-moly hub complete with studs, organic friction rings, steel drive plates, a 6061 T-6 billet pressure plate, and an assortment of springs that will allow you to fine-tune the clutch for optimum performance. Also included in the kit were various fasteners and a 5mm hex wrench for clutch adjustment. Barnett offers friction rings made from Kevlar for street use, organic for street and strip (the vast majority of what the company sells), and carbon fiber (for racing applications). Both the Kevlar and carbon-fiber versions are special-order items.