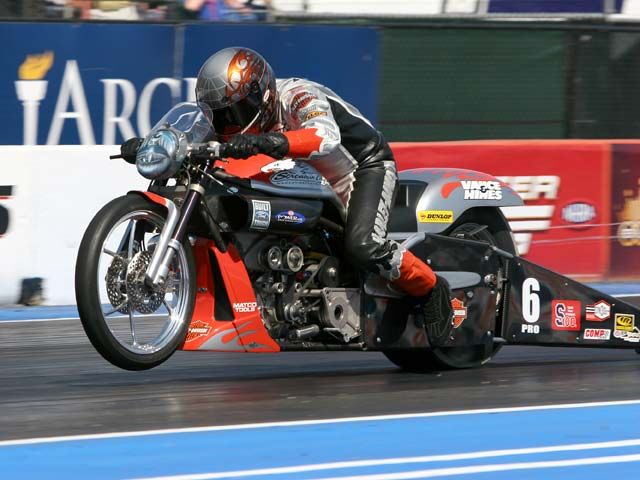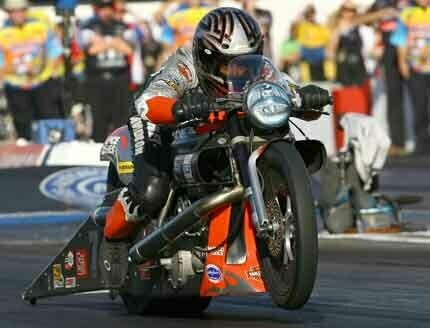 HINES TAKES SCREAMIN' EAGLE V-ROD TO HOUSTON SEMI-FINALS
Hines Sets Track Record to Lead Qualifying; Krawiec Advances to Second Round
HOUSTON, Texas (March 29, 2009) – Screamin' Eagle®/Vance & Hines rider Andrew Hines rode a Harley-Davidson V-Rod® to the No. 1 qualifying position and advanced to the semi-final round in Pro Stock Motorcycle eliminations at the O'Reilly NHRA Spring Nationals at Houston Raceway Park. Screamin' Eagle/Vance & Hines rider Eddie Krawiec, the defending NHRA Pro Stock Motorcycle champion, qualified sixth and advanced to the second round of eliminations.
Taking advantage of the 54-degree temperature and low humidity, Hines claimed the 23rd top qualifying spot of his career with a 6.889-second pass in the first round on Saturday, at the time a new Pro Stock Motorcycle track record and the sixth-fastest ET in Pro Stock Motorcycle history. Krawiec qualified sixth with a 6.983-second run.
"We took advantage of optimal conditions in the first session," said Hines. "To run this strong in just our second race with the new Screamin' Eagle V-Rods is great. We had the set-up just right. That was an impressive run."
Hines opened Sunday eliminations with a 6.946 run to score a win over Suzuki rider LE Tonglet (7.204), and used a 6.934 run to defeat the Steve Johnson WyoTech Suzuki (7.011) in the second round.
A red-light start by Rum Bum Racing Buell rider Shawn Gann gave Krawiec a win in the first round. In the second round, Krawiec rode his Screamin' Eagle V-Rod to a personal-best ET of 6.932 seconds, but that was not enough to defeat the NitroFish Suzuki of Matt Smith, who made a 6.865-second run to set a new national Pro Stock Motorcycle ET record.
"Smith had a great pass," said Krawiec. "We had just installed a new engine for the second round, and I made the best pass of my career at an NHRA event. It's clear the new V-Rod has a lot of potential and we'll just keep dialing it in."
Making his second consecutive semi-final round appearance of the season, Hines left the line 0.013-second early to give a win to Douglas Horne. Horne lost to Team Scream Suzuki rider Craig Treble in the final round.
"I chunked the rear tire in the second round, and the new tire affected our set-up for the semi-final round," said Hines. "To compensate, I focused a little too much on the tree and got the red light. This one's on me."
After two events on the 17-race 2009 NHRA Full Throttle Pro Stock Motorcycle schedule, Smith leads the standings with 174 points. Hector Arana is second with 172 points, followed by Hines in third with 152 points. Treble is fourth with 151 points, followed by Horne with 125 and Krawiec in sixth with 107.
The next event on the 2009 NHRA Pro Stock Motorcycle schedule is the Summit Racing Equipment NHRA Southern Nationals, April 16-19, in Atlanta.
Screamin' Eagle Performance Parts are inspired by and built in the spirit of the raw adrenaline and power of motorcycle racing. Screamin' Eagle Pro parts are specifically designed for race-use applications, while Screamin' Eagle parts offer street-use performance options for the Harley-Davidson motorcycle owner. Visit www.harley-davidson.com for more information.
The Screamin' Eagle/Vance & Hines Pro Stock Motorcycle team is sponsored by Matco Tools, Dunlop and S100.