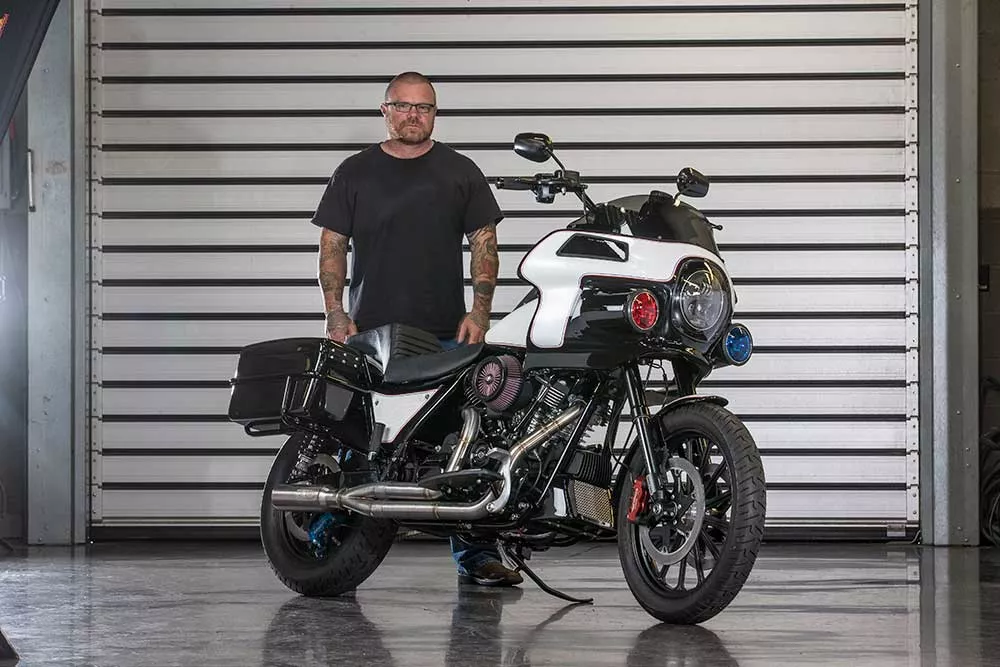 The M8FXRP has got to be one of the coolest project bikes Hot Bike has ever done. It started as most other great ideas do, with a simple question: What if you took the best performance chassis Harley-Davidson ever made and gave it high-output modern performance? And, of course, the simple question was the easiest part of the project. Just ask Danny Wilson. "The idea behind the bike was to make an FXRP that has all the modern 2018 powertrain parts and electronics," he says. "The inspiration was that no one has ever done it before."
This best-of-both-worlds was the brainchild of Wilson and Hot Bike's own Jeff G. Holt. It also served as Wilson's entry for the 2018 Hot Bike Tour. Jeff hunted all over the place for a suitable retired FXR and found the perfect victim at the Fairfax, Virginia, police department in the form of a retired '93 cop bike. Harley-Davidson kicked in a Milwaukee-Eight engine and transmission. With that, the project was a full go.
---
RELATED: 2018 Hot Bike Tour Invited Builder Danny Wilson
---
That powerplant wasn't allowed to stay stock. You don't partner up with a guy named MotorWitch if you plan on leaving your engine as-is factory fresh. No, you work some sorcery on that thing and transmogrify it into something evil, like, say, a 151-inch pavement-eating demon. In fact, what Wilson loved most about the bike is that it handles like an FXR but has the power of a 151-inch M-8 and all the modern electronics.
Fitting all that power into a FXR frame made to hold an Evo took some doing though. FXR Division's Chris Eder and Justin Coleman tackled that engineering challenge, making the needed changes to the frame for holding a motor that came out 25 years after the chassis did. The rest of the bike came together without any outside interference by the biker gremlins that often infect a project. We've covered the build both in print and digitally, including the techy how-to stuff of how M8FXRP came to be. You'll find all the stories on it here.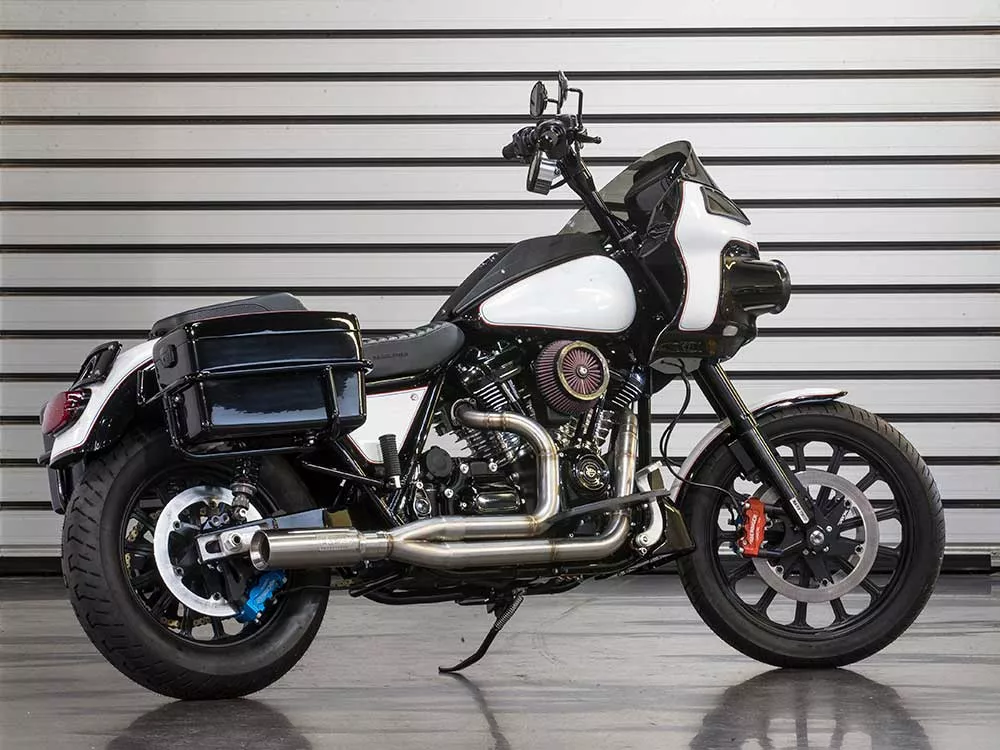 | Spec Sheet | |
| --- | --- |
| General | |
| Owner | Jeff Holt |
| Shop | Buddy Stubbs Harley-Davidson |
| Shop Phone | (602) 971-3400 |
| Website | buddystubbshd.com |
| Year/Make/Model | 1994/Harley-Davidson/FXRP |
| Fabrication | FXR Division/MotorWitch |
| Build Time | 11 months |
| Engine | |
| Year/Type/Size | 2018/Milwaukee-8/Leading Edge V-Twin 151ci |
| Builder | MotorWitch |
| Cases | Modified H-D |
| Cylinders | Modified H-D |
| Heads | Leading Edge V-Twin |
| Rocker Boxes | Stock |
| Cams | Leading Edge V-Twin |
| Throttle Body | HPi |
| Exhaust | Fab 28 |
| Air Cleaner | Screamin' Eagle |
| Transmission | |
| Year/Type | 2018/H-D 6-speed |
| Gears | Stock, Cryo treated |
| Clutch | Rekluse TorqDrive |
| Primary Drive | Stock |
| Year/Type | 1994/FXRP |
| Rake/Stretch | Stock |
| Suspension | |
| Front End | Race Tech G6 |
| Length | 2 in. over stock |
| Triple Trees | Speed Merchant |
| Swingarm | Brocks |
| Shocks | Race Tech |
| Wheels, Tires, and Brakes | |
| Front | |
| Builder/Size | Jad Affiliated/19-in. |
| Tire/Size | Continental 100/90-19 |
| Calipers | Beringer Aerotec |
| Rotors | Beringer |
| Rear | |
| Builder/Size | Jad Affiliated/16-in. |
| Tire/Size | Continental 150/80-16 |
| Caliper | Beringer Aerotec |
| Rotor | Beringer |
| Pulley | Jad Affiliated |
| Finish/Paint | |
| Colors | Black and White |
| Paint/Graphics | Schultz Designs |
| Plating/Polishing | N/A |
| Powdercoating | All Valley |
| Accessories | |
| Front Fender | H-D |
| Rear Fender | H-D |
| Gas Tank | H-D modified for fuel injection |
| Dash | Stock FXRP |
| Gauges | 2018 H-D for Road King |
| Handlebars | Lucky Daves in Hard Case Performance risers w/ gauge mount |
| Grips | H-D |
| Mirrors | H-D |
| Hand Controls | H-D |
| Foot Controls | Hand made for this application |
| Floorboards | Hand made for this application |
| Headlight | Motodemic |
| Taillight | Rogue Rider |
| Turn Signals | Rogue Rider |
| License Mount | Drag Specialties |
| Seat | Saddlemen |
| Stereo | N/A |
| Amplifier | N/A |
| Speakers | N/A |