"I built bikes for three other tours for the company I was formerly with. Never got to ride. Just build. This time it was my turn," Chris Moos of Mooscraft told me about his 2018 Hot Bike Tour machine. A declaration like that means you've got a manifesto to pull a Sinatra and do it your way. What followed from that would be a statement in metal and rubber defining what he liked in a personal bike. To be honest, bikes like that are among my favorite to write up since the builder has a more personal stake in them than usual.
In this case, the final work blended antique brass and a big front wheel in a Dyna platform. That's not exactly a stereotypical scoot, but, then again, I don't think of cookie cutters when I think of Chris Moos' machines.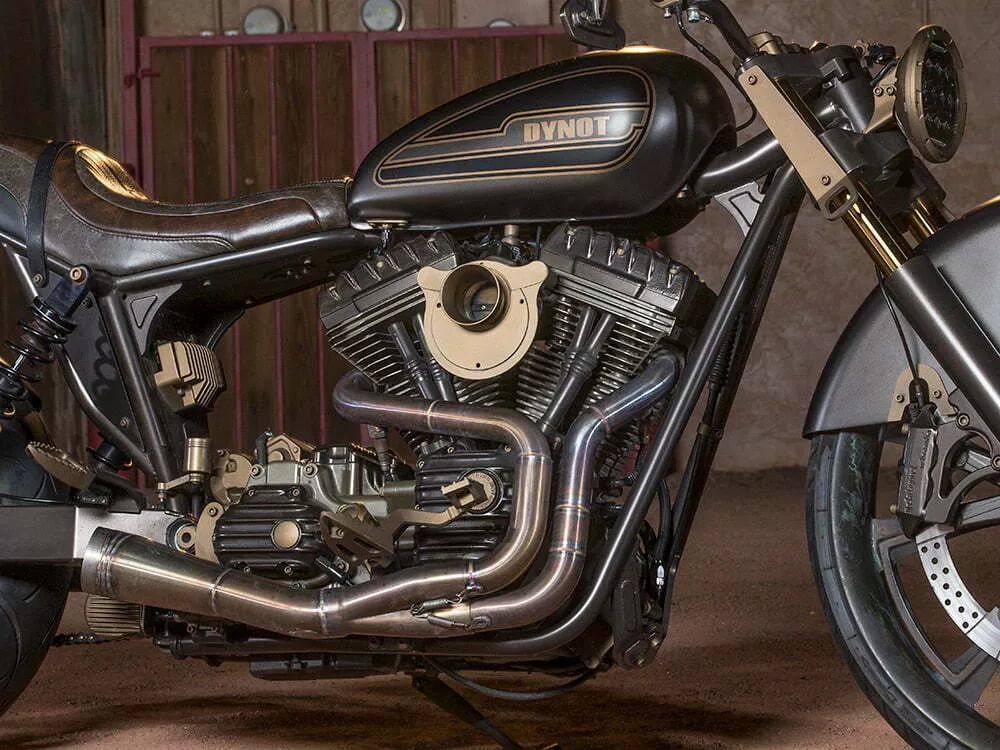 Even his rider origin story isn't what you'd expect. In 2013, he stumbled into a bike shop to help a guy with some fabrication work. He'd fallen into the world of creating custom motorcycle parts and stayed in it ever since. Chris has built a full hand-formed aluminum 30-inch lay frame bagger with a twin plenum 132-inch S&S X-Wedge engine in it on Discovery Channel's BikerLive.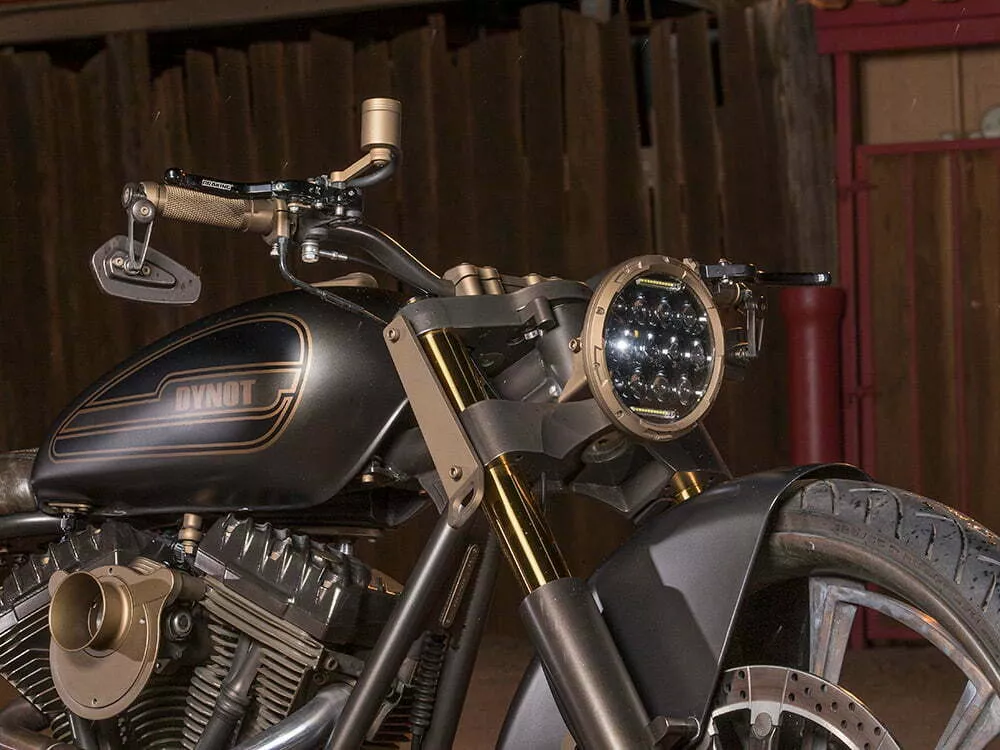 Since then he's also built multiple magazine bikes and developed tons of product for the industry, including patents for industry-changing parts. In all that time, though, he just never got to ride. Chris also got real tired of being told he couldn't ride the shop's customer bikes. He solved that dilemma by buying a 2012 Road King at a local dealership: "I basically walked in and saw what I needed as a donor and had the guy show me how to start it. Yes, start it… And I rode it down the highway in rush-hour traffic." It was a crash course in riding, without the crash.
"That was the first bike I owned," he says. "It changed my life. There's something unmistakable about the place my mind goes to when I'm riding; your body blending with this creation that went from your mind to the pavement. The sense of fear yet control, knowing that I've crafted it and completely obsessed over its details. It's a comfortable place I try to go to as often as possible."
Of his Hot Bike Tour scoot he says, "I wanted to build something performance-based that also was respecting the part of the industry I was currently focused on at the time: Showing people that a bike with a 26-inch front wheel can be rode hard and put up wet. Too many people in the big wheel part of the industry are looked at as non-riders. Most of those bikes don't see a ton of road time. I've ridden this build from Dallas to Sturgis and hundreds of miles while riding there as well, in just one trip. The bike is super nimble and performs very well. The Revolution Performance 117-inch Big Bore engine has super-reliable power and stops on a dime. And definitely having Legend Suspensions on the team to help dial in handling and Metzeler tires to keep sticky side down was a huge help. I couldn't be happier!"
Spec Sheet
| sdfs | |
| --- | --- |
| General | |
| Owner | Chris Moos |
| Shop | Mooscraft |
| Website | mooscraft.com |
| Year/Make/Model | 2018/Mooscraft/DYNOT |
| Fabrication | Chris Moos |
| Build Time | 2 months |
| Engine | |
| Year/Type/Size | 2012/Harley-Davidson/Twin Cam 117ci |
| Builder | Revolution Performance |
| Cases | H-D |
| Cylinders | Revolution Performance Big Bore 117 |
| Heads | Revolution Performance Stage 3, CNC ported |
| Rocker Boxes | EMD |
| Cams | Drago's 657 |
| Throttle Body | Horsepower Inc. 58mm |
| Exhaust | Royal-T Racing |
| Air Cleaner | Horsepower Inc. velocity stack |
| Computer And Tuner | Thundermax EFI |
| Transmission | |
| Year/Type | 2006/H-D Dyna |
| Gears | Stock |
| Clutch | AIM-Tamachi/Barnett |
| Primary Drive | Closed w/ EMD cover |
| Frame | |
| Year/Type | 2018/Mooscraft DYNOT |
| Rake/Stretch | 30°/1.625-in. up and 0.75-in. out |
| Suspension | |
| Front End | Legend Suspensions 49mm Axeo, inside titanium nitrided Top Line tubes, using Arlen Ness smooth lowers |
| Length | Stock FLH |
| Triple Trees | Mooscraft Short Neck FLH 8° |
| Swingarm | C&S by Garwood Cycles |
| Shocks | Legend Suspensions 14-in. Revo-A |
| Wheels, Tires, and Brakes | |
| Front | |
| Builder/Size | Antique brass-plated 26 x 3.5-in. Metalsport Bridge |
| Tire/Size | Metzeler 888 120/55-26 |
| Calipers | 6-piston Brembo Monoblock |
| Rotors | 18-in. Metalsport 3D machined |
| Rear | |
| Builder/Size | Antique brass-plated 18 x 5.5-in. Metalsport Bridge |
| Tire/Size | Metzeler 888 200/50-18 |
| Caliper | 6-piston Brembo Monoblock |
| Rotor | 11.8-in. Metalsport 3D machined |
| Sprocket | Metalsport 3D machined |
| Finish/Paint | |
| Colors | House of Kolor Satin clear, Hyundai metallic brown, black, custom bronze by End Fab |
| Paint/Graphics | Jordan Taylor Ford of End Fab |
| Cerakote | My lovely woman Krystal Hess |
| Powdercoating | Krystal Hess and Crush Alvarado at Metroplex Kustoms |
| Accessories | |
| Front Fender | Mooscraft cut from Led Sled builders' blank |
| Rear Fender | Mooscraft cut from Led Sled builders' blank |
| Gas Tank | 1976 Yamaha RD200 with Sportster pump |
| Handlebars | Modified Biltwell for 7/8-in. controls, MJK risers |
| Grips Brass | Balls No-Slip grips |
| Mirrors | Tombstone |
| Hand Controls | CRG adjustable lever cable clutch w/ Barnett cable and braking adjustable lever radial brake |
| Foot Controls | Hammerhead |
| Pegs | Brass Balls Meathooks |
| Headlight | Oracle Cree LED |
| Taillight | Generic mini strip |
| Turn Signals | Left arm |
| License Mount | Kuryakyn |
| Seat | Kyle Hix of Hix Design laser-cut pan w/ CNC-stitched insert w/ CNC-etched grab handle that says "Moos/Squirrel" |