Back in 1992 a Dutchman by the name of Hans Rinner had an ill-handling bike and thought he could make it work better with a set of his own custom springs for the OE shock absorbers. And he did. So much so that Hans spent the next few years making thousands of springs for hundreds of different model bikes the world over.
By 2006 Hans introduced a series of 100-percent hand-built Hyperpro shocks for a slew of happy customers who wanted real-deal suspension on their road bikes. I ordered a set of 13.5-inch reservoir "Twin" shocks from Hyperpro's USA importer EPM Performance Imports Inc. As with all Hyperpro's shocks they are made to order with specifications given from the rider. Mind you that there are no off-the-shelf Hyperpro shocks but ones that are built just for you. Once assembled the shocks are then tested by trained technicians on EPM's shock dyno in the USA to match Hyperpro's European exacting standards set by the Dutch engineers overseas.
I had the shocks built especially for our 2015 Harley-Davidson "Daily Dyna" Lowrider testbike with the rider weight being 210 pounds. The shock was also set up for "Sport Touring," meaning they were going to be a bit more stiff than stock.
Once I installed the shocks on the bike I ran them the way they came from the manufacturer for about 250 miles. I then upped the spring preload two and a half turns and stiffened up the rebound damping to accommodate for the slightly stiffer ride. After another 100 or so miles I adjusted the high-speed compression to be a little softer for the bumpy SoCal freeways. Then, after about another 100 miles, I stiffened the low-speed compression just a tad.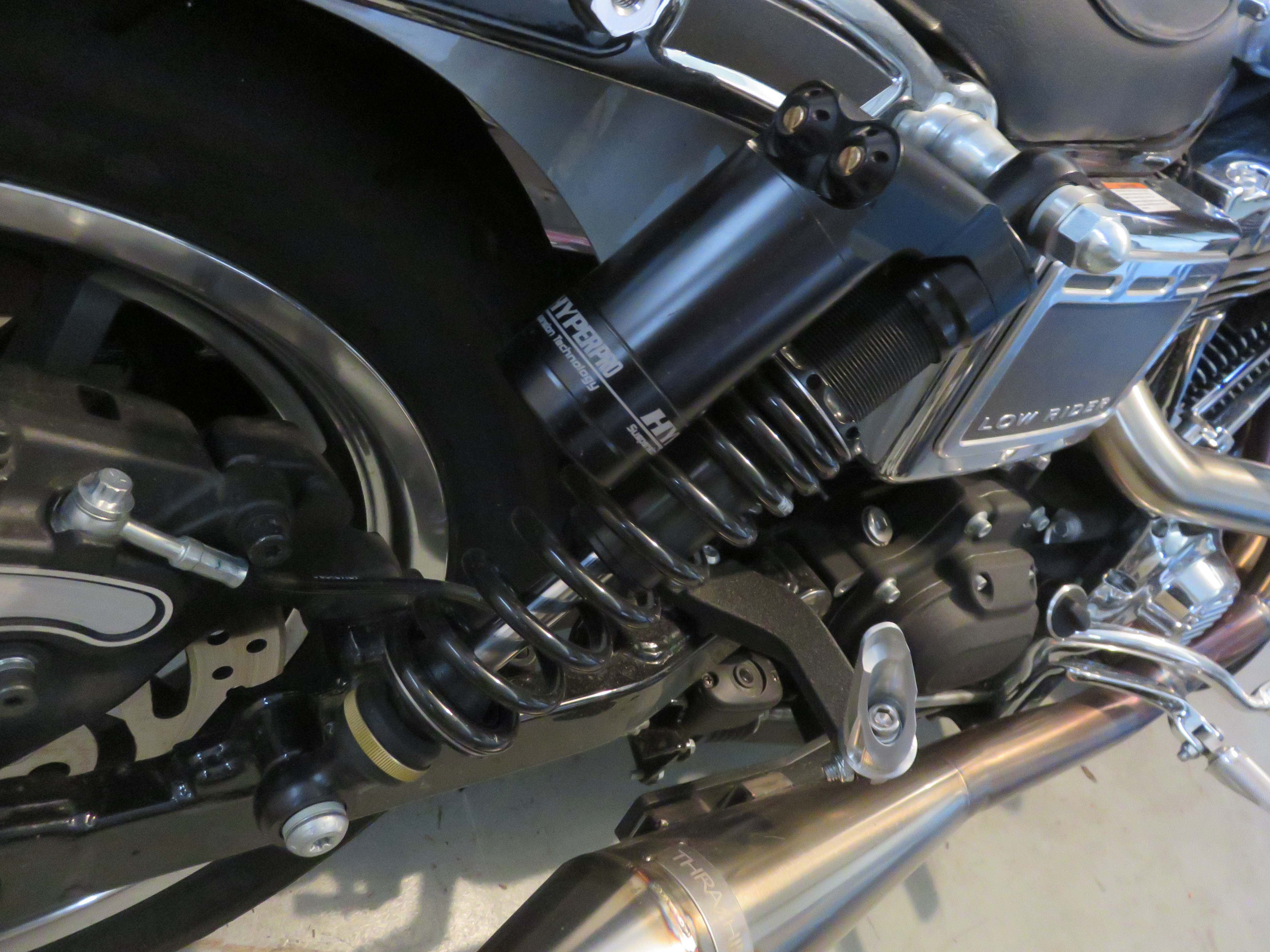 Once I was used to those settings and after a few more miles, I actually ended up softening up the spring preload one and a half turns and fiddling with both the high- and low-speed compression until I got them dialed in for my style of riding. Since then the bike has been to Sturgis and back and also did 1,000-plus miles on the Hot Bike Tour.
Both on the highway and while canyon carving, the Hyperpro Shocks made the normally heavy-handling Dyna feel much more like a sportbike than any other high-end "piggyback" reservoir shocks I have used before. The Hyperpro Twin shocks are in no way cheap at $1,299, but I have to say that they just might be the pinnacle of rear suspension for a late-model H-D Dyna.
For more info on Hyperpro, contact the fine folks at epmperf.com. Click here to browse more Hot Bike tech.