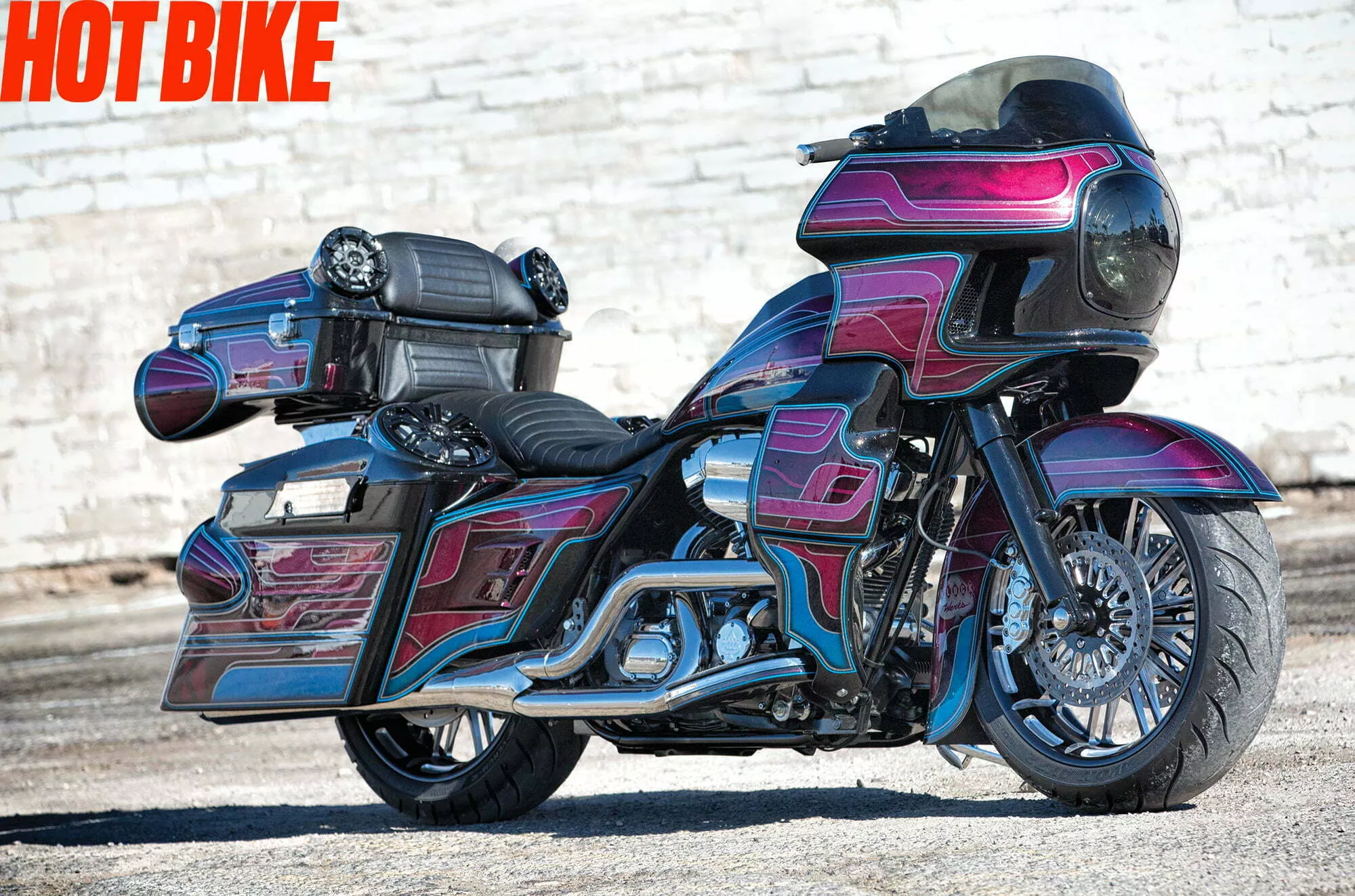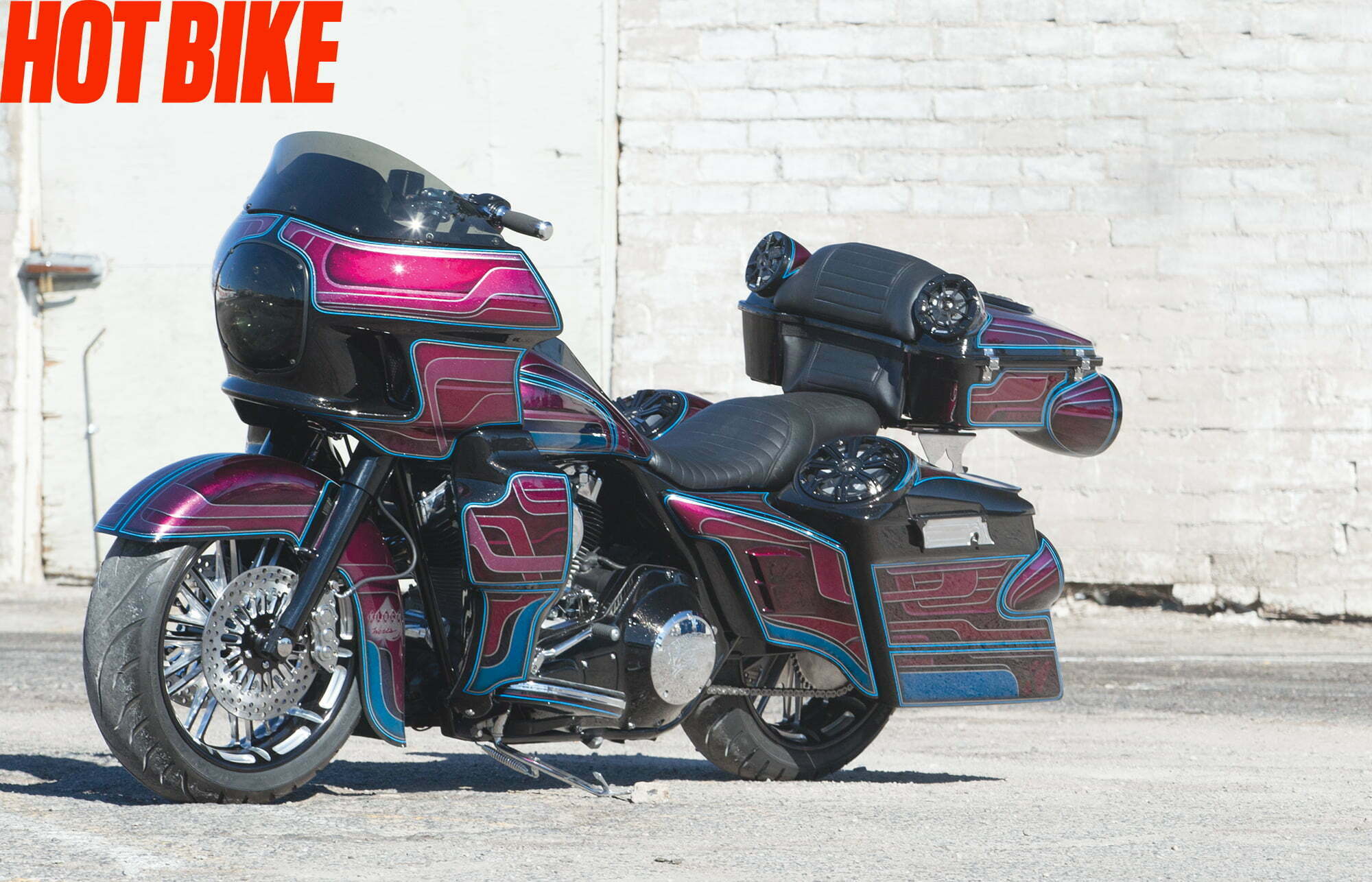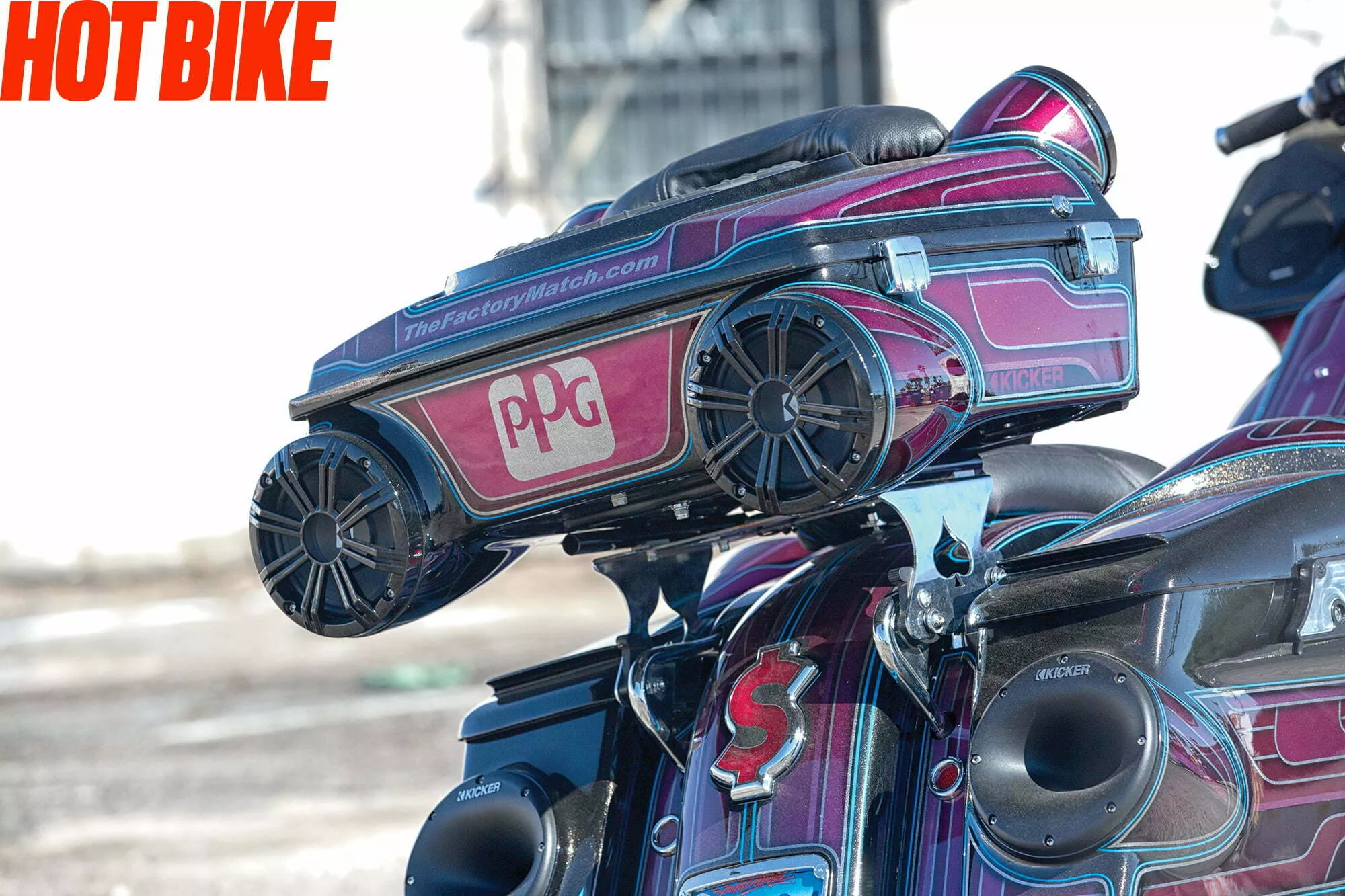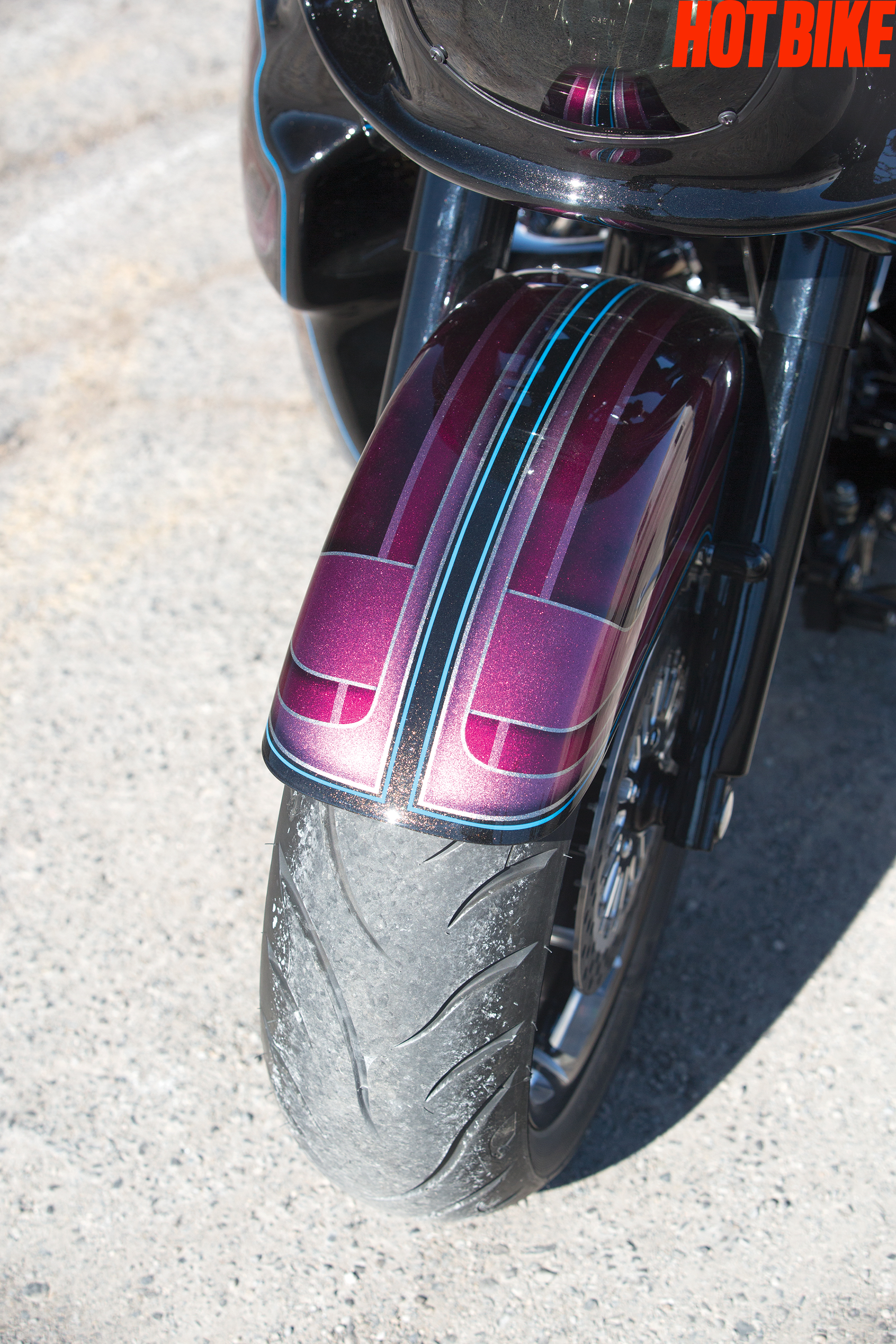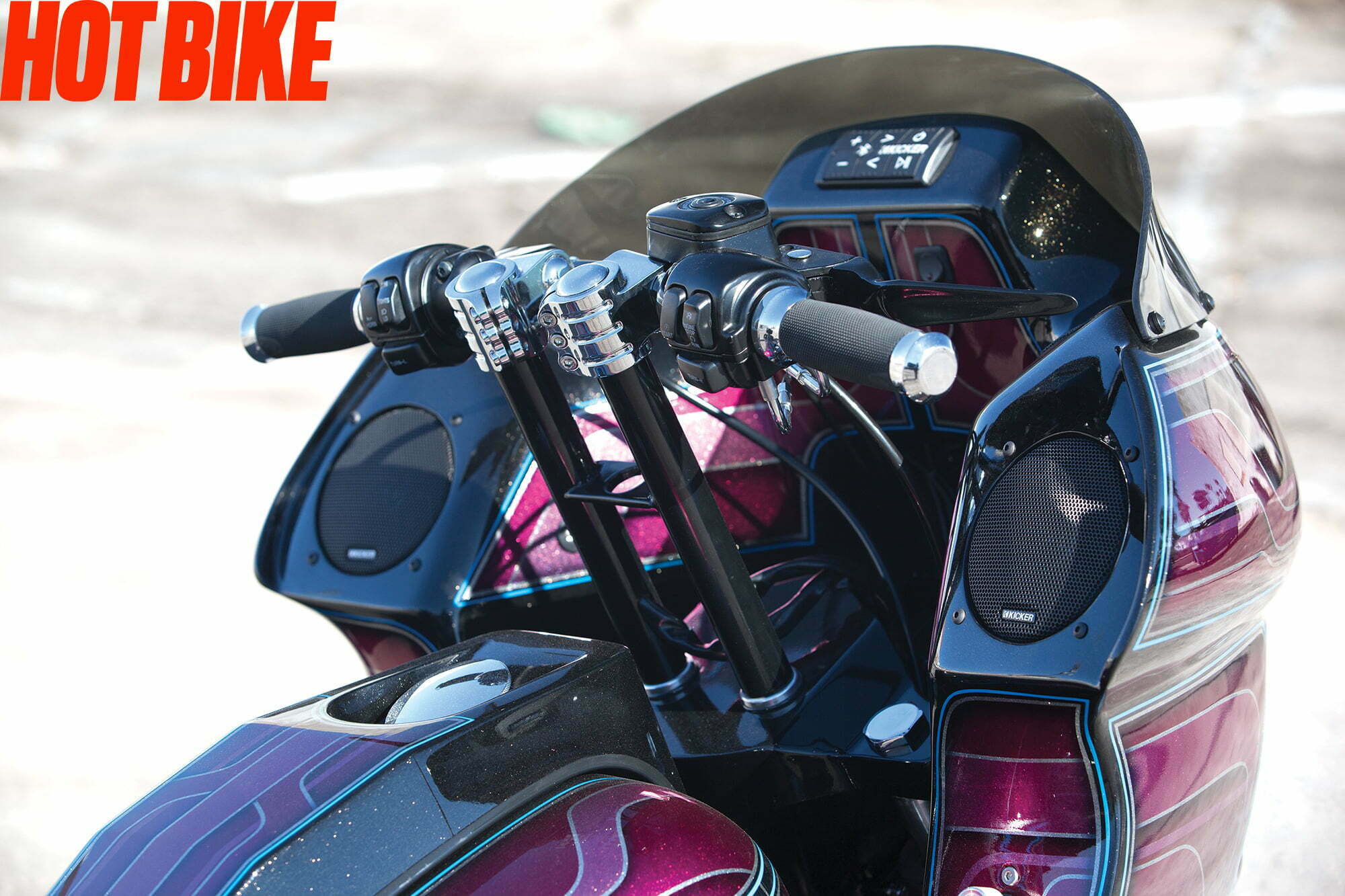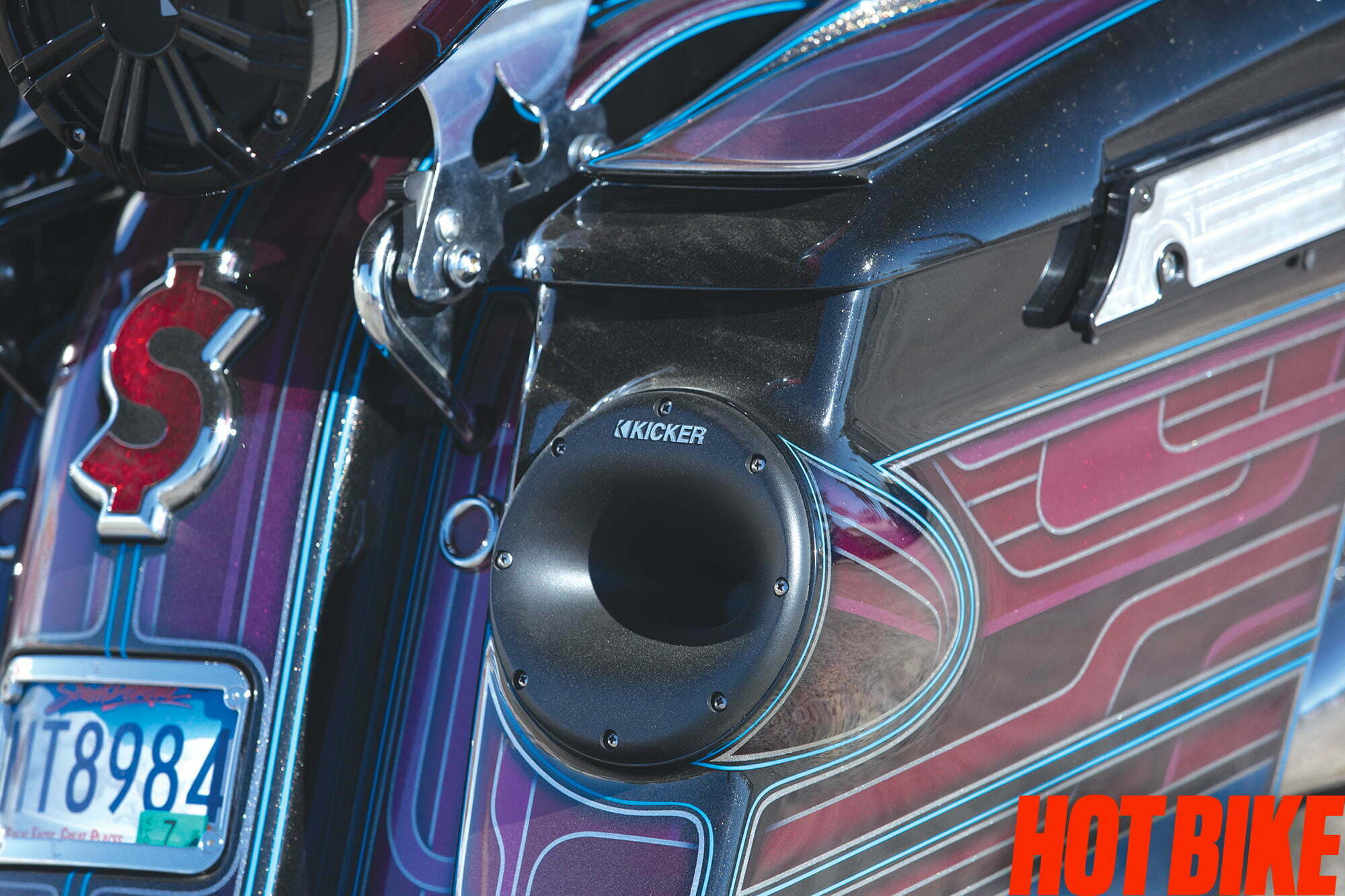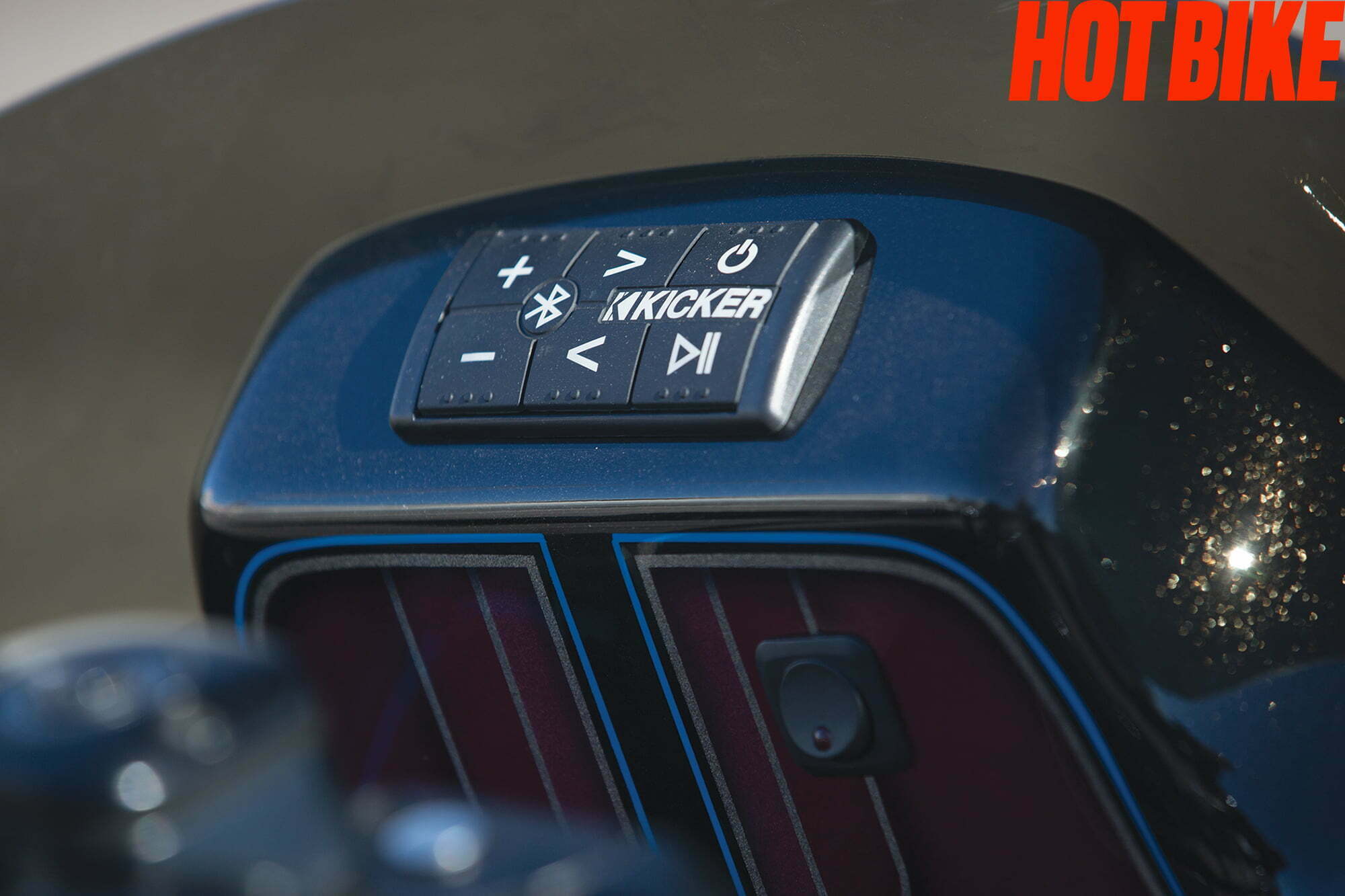 "From the dawn of time we came; moving silently down through the centuries, living many secret lives, struggling to reach the time of the Gathering; when the few who remain will battle to the last. No one has ever known we were among you…until now." Sean Connery as Juan Sanchez Villa-Lobos Ramirez, Highlander (1985)
<div class="st-block quote text-
Notice: Undefined index: st_text_align in C:laragonwwwhotbike-importblocksquote.php on line 1
">
Joe's overall game plan called for an FXR look to his bike, his way of setting the bagger apart from the monster-front-hula-hoop crowd
Joe Mielke named his 1999 FLHT Standard "Tugboat," but it's had almost as many lives as Connor MacLeod in the old Highlander movies. Born a stocker then wrecked, Joe bought it in 2011 from his friend Robbie Pastor. That's where life number two kicked in. "I rebuilt it with a bunch of takeoff parts and some new Klock Werks parts," Joe recalls. "I rebuilt the engine and went from an 88-inch to 95-inch setup. I called it the Cash Bike."
That iteration lasted all of a year. Joe heard the high-octane call of the dragstrip, killed the Cash Bike, and then reincarnated the FLHT for a life of racing. High-compression pistons, high-lift cams, and a 45mm Mikuni carb ramped up the power factor this go-around. Having installed a café fairing and fabricated an aluminum tailsection, Joe was off to the strip. This life was a little more than two years of 11-second quarter-mile runs.
Meanwhile, Joe was working at Klock Werks on a joint venture with Kicker Audio. The idea was to bring Kicker's quality audio upgrades to the motorcycle industry. January of 2014 saw Klock Werks and Kicker at the Consumer Electronics Show (CES) launching the Klock Werks Powered by Kicker Fit-Kits for Harley-Davidson models. "We searched around CES to see what kind of motorcycle presence there was," Joe says. "There wasn't anything too impressive as far as custom motorcycles with a quality stereo system. In talking with the team at Kicker, we all agreed we needed to build an over-the-top showpiece for Klock Werks and Kicker to display as much Kicker audio equipment as possible."
Time for life number four.
Joe offered up his '99 Standard as the base of the build. He contributed his time, sweat, and blood, Klock Werks came through with parts, and Kicker kicked in the audio equipment. Joe's overall game plan called for an FXR look to his bike. He's a big fan of FXRs and was reproducing an FXR-esque fairing and lowers when build four began, so the plan melded together pretty seamlessly. This is his way of setting the bagger apart from the monster-front-hula-hoop crowd.
Six months passed as Joe worked on and off on this project, eventually riding the partially completed bike to Sturgis and the subsequent GEICO Tour. Fabrication resumed after that, and along the way somewhere, he christened the bike with its latest moniker. "It earned the name 'Tugboat' because this motorcycle has more plastic and fiberglass than a motorcycle should have," Joe says. He also says the finished project has a ridiculous amount of stereo equipment but still remains a powerful and rideable custom.
For as long a journey and as many lives as this motorcycle has had since 2011, in a way it has come full circle, namely with the paint. Joe's old buddy Robbie, who sold him this scoot, used to work with Prince and The Revolution and Morris Day and The Time. "Who wouldn't want to build a Purple Rain tribute bike?" Joe asks. "So I took advantage of this opportunity with a color palette that pays homage to The Revolution and The mother f—kin' Time!"
We met the finished FLHT during its debut at the 2014 SEMA show in Las Vegas. You can catch it live in Sin City yourself when it returns for the 2015 CES.
| Specifications | |
| --- | --- |
| General | |
| Owner | Joe Mielke |
| Shop | Klock Werks Kustom Cycles |
| Year make and model | 1999/H-D/FLHT Standard |
| Fabrication | Joe Mielke |
| Build time | 4 Months |
| Engine | |
| Year/Type/Size | 1999/Twin Cam A/95ci |
| Cams | Wild Things |
| Carb | Mikuni 45mm Carb |
| Air cleaner | Cycle Visions Moflow |
| Exhaust | Klock Werks 2:1 |
| Transmission | |
| Year/Type | 1999/H-D 5-speed |
| Clutch | Barnett Scorpion Clutch |
| Frame | |
| Year/Type | 1999/H-D FLHT |
| Rake | Stock |
| Suspension | |
| Front | H-D Forks, Progressive Suspension Monotube Cartridges |
| Rear | Progressive Suspension 944 Series Ultra-Low Shocks |
| Wheels/Tires/Brakes | |
| Front Builder/Size | Roland Sands Design Boss 18 x 5.5 in. |
| Tire/Size | Avon 180/55-18 |
| Front Calipers | Jay Brake 6-piston |
| Front Rotor | Roland Sands Design Boss two-piece |
| Rear Builder/Size | Roland Sands Design Boss 18 x 5.5 in. |
| Tire/Size | Avon 180/55-18 |
| Finish/Paint | |
| Colors | PPG Purple Rain |
| Paint/Graphics | The Factory Match |
| Plating/Polishing | Perfection Metal Polishing |
| Powdercoating | North Side Ind. |
| Accessories | |
| Front Fender | Klock Werks Benchmark Front/Modified |
| Rear Fender | Klock Werks Benchmark Rear |
| Gas Tank | H-D/Joe Mielke |
| Handlebars | Joe Mielke, Klip Splitters |
| Grips | H-D |
| Mirrors | None |
| Foot Controls | H-D |
| Headlights | H-D |
| Turn Signals | Klock Werks LED |
| Taillight | Klock Werks Dolla |
| License Mount | Klock Werks |
| Seat/Upholstery | Joe Mielke |
| Stereo | Kicker PXiBT50.2 |
| Speakers | Kicker: 1pair KST25 1-in. dome tweeter, 1 pair PS5250 5.25-in. coaxials, 1 pair PS69 6×9-in. coaxials, 1 pair PS4 4-in. coaxials, 1 pair KM8 8-in. coaxials, 1 pair KMS67 Tower System, 1 CompRT12-in. Subwoofer |