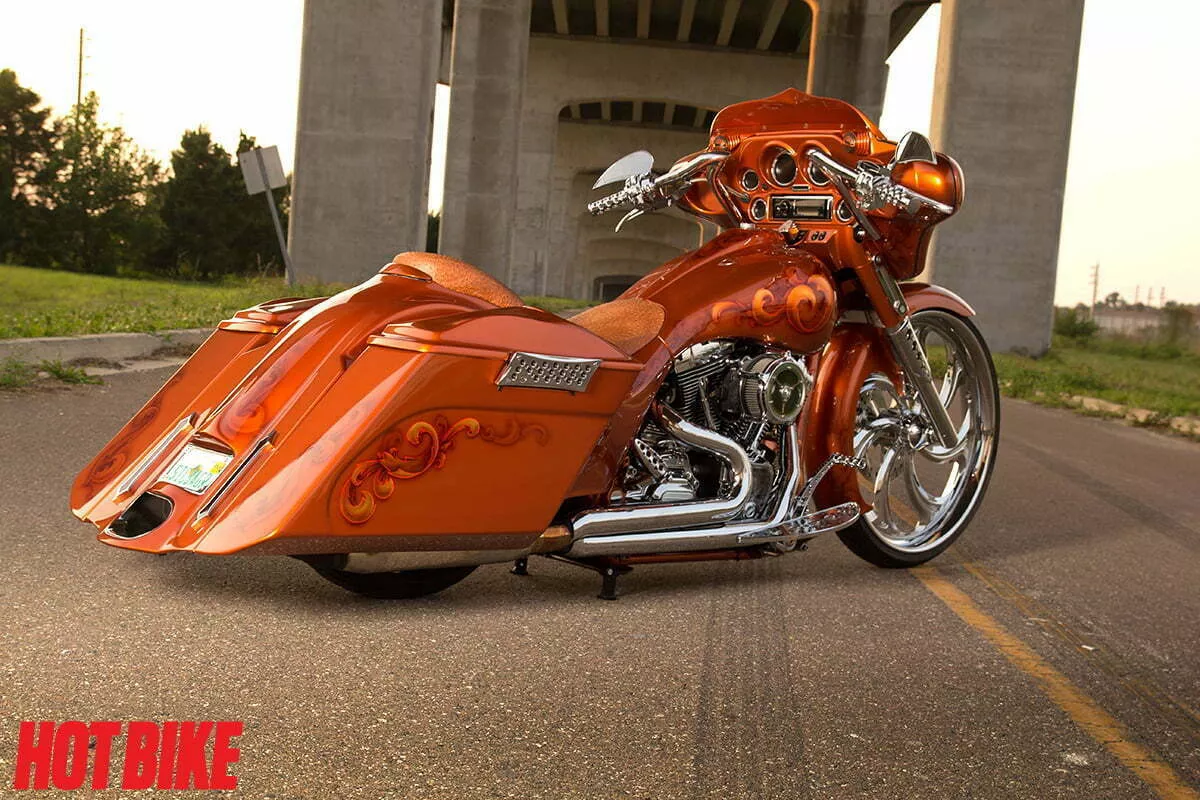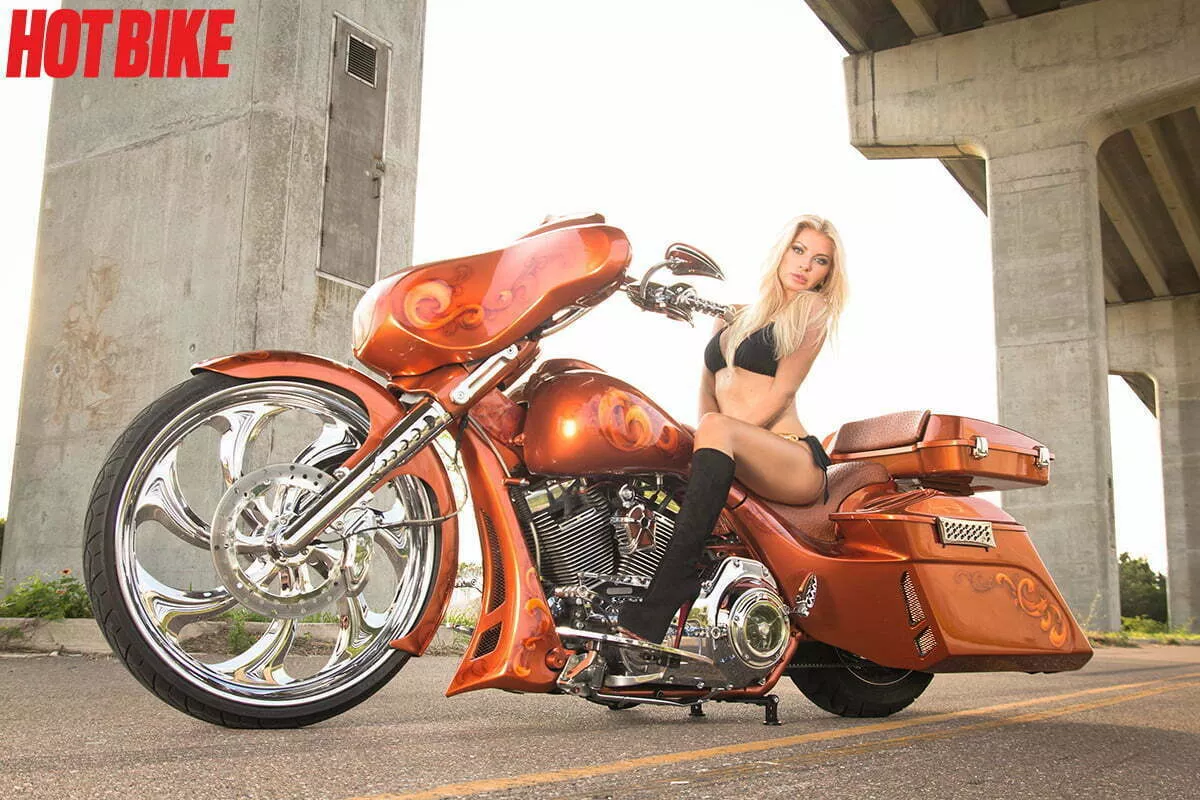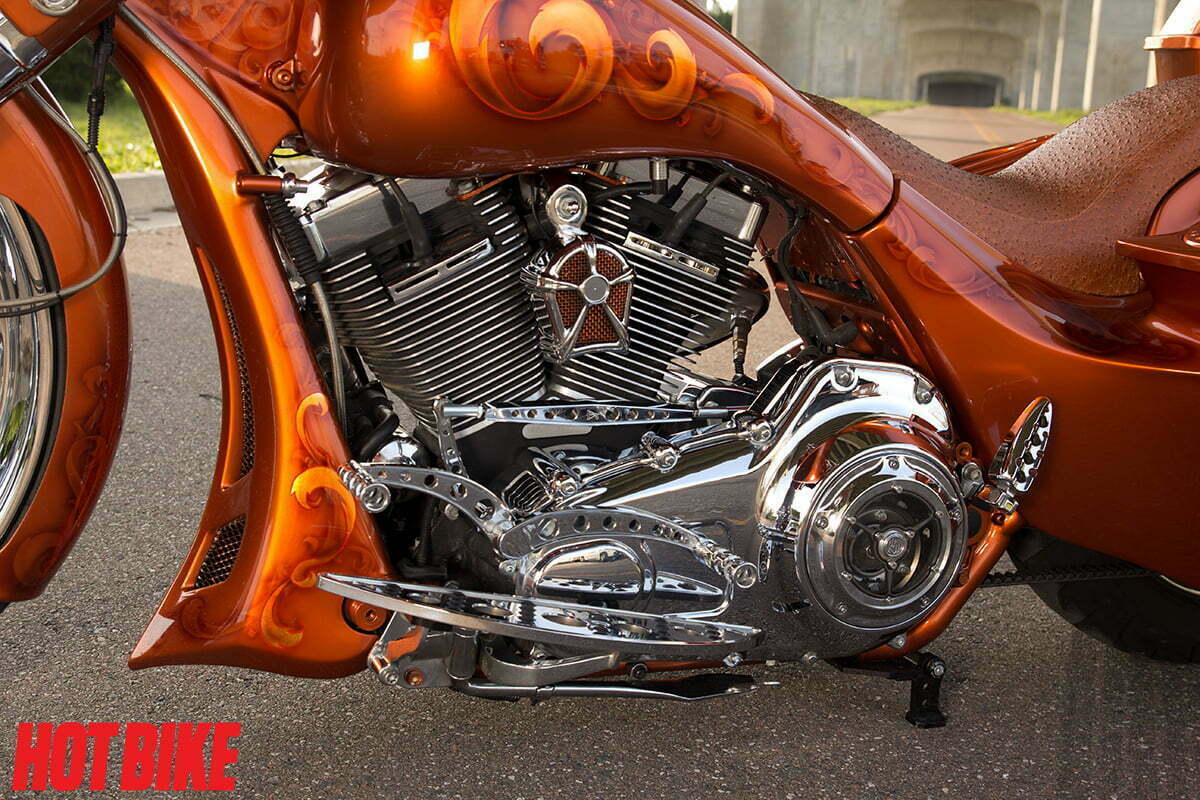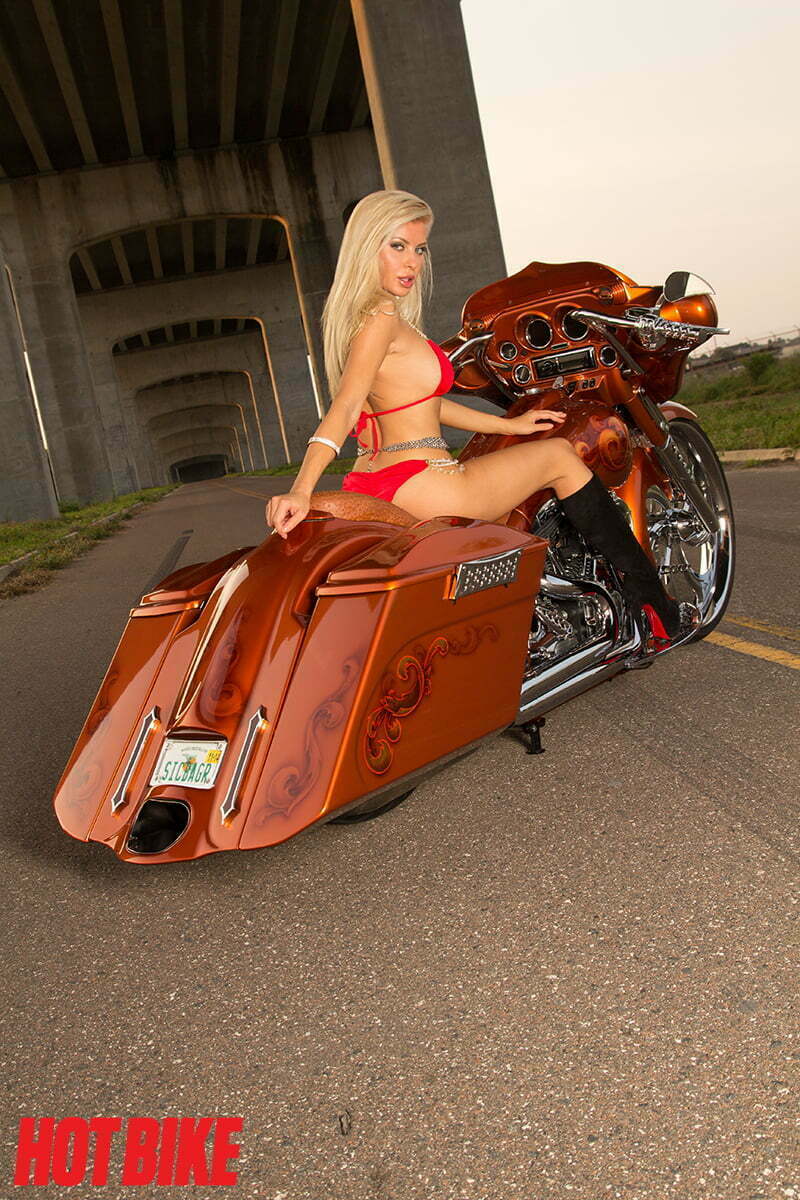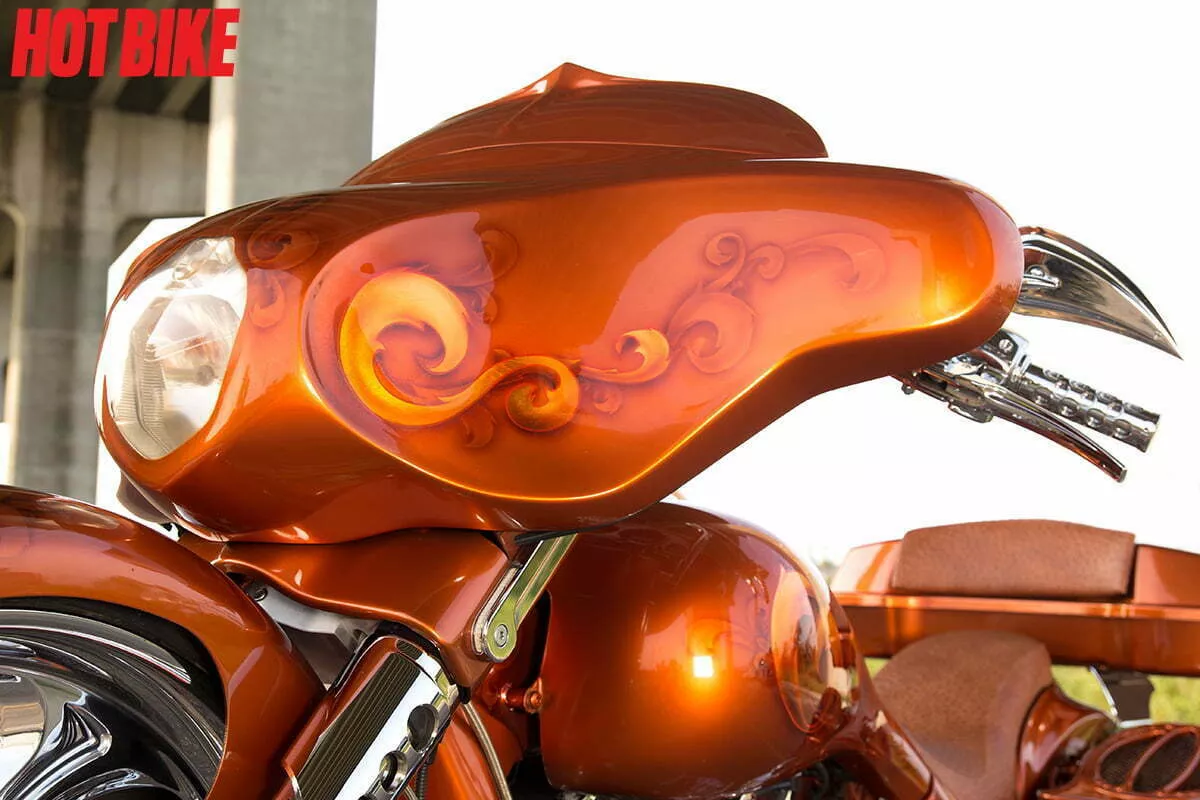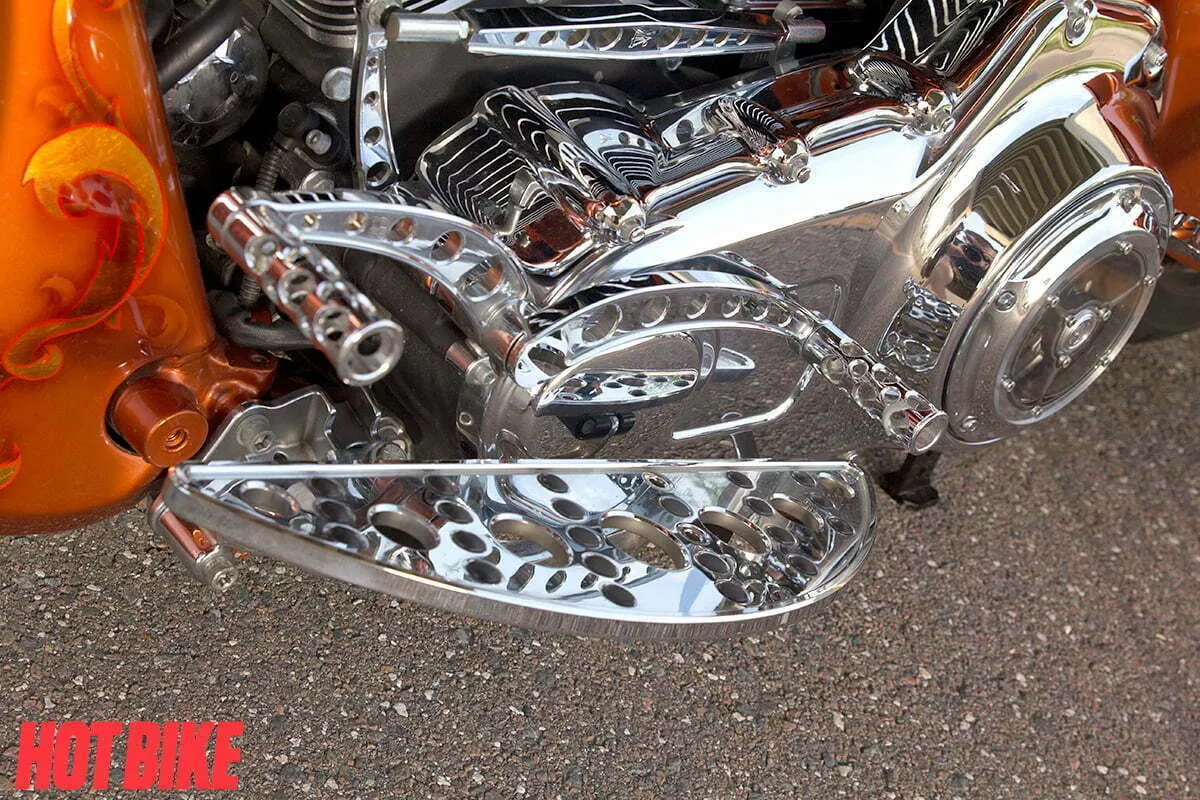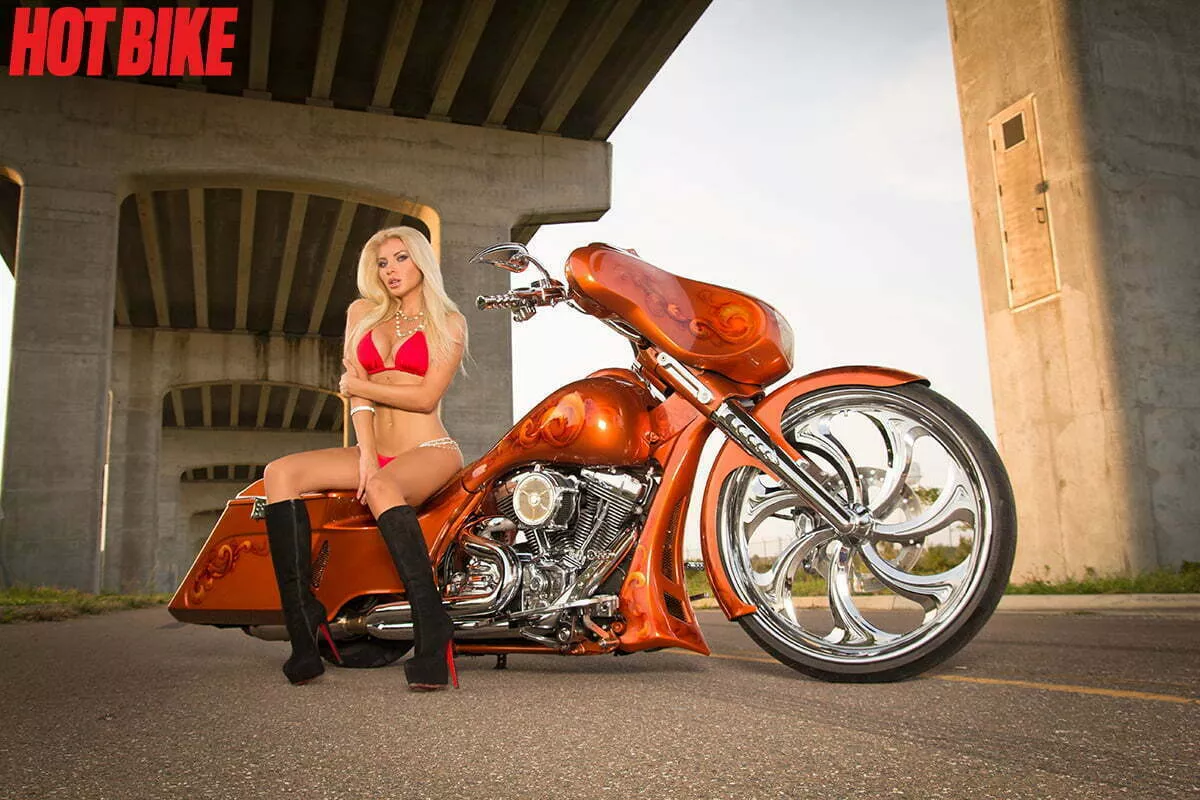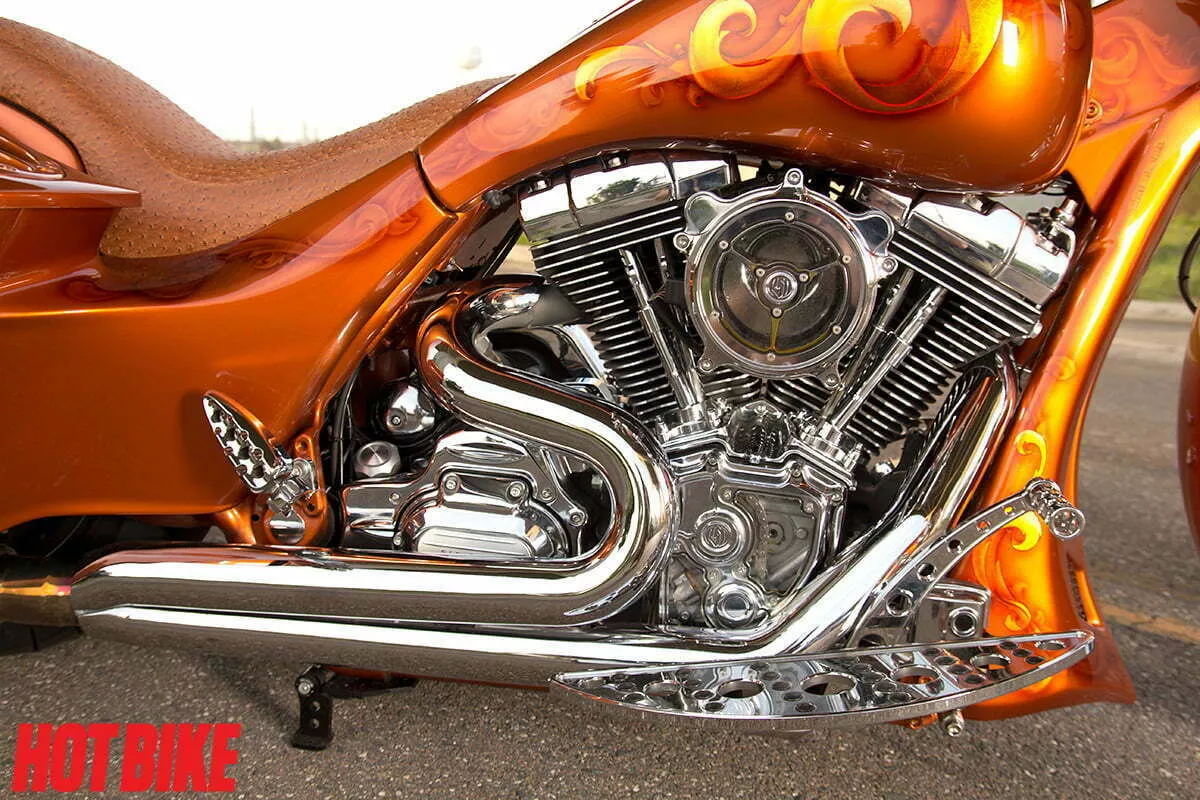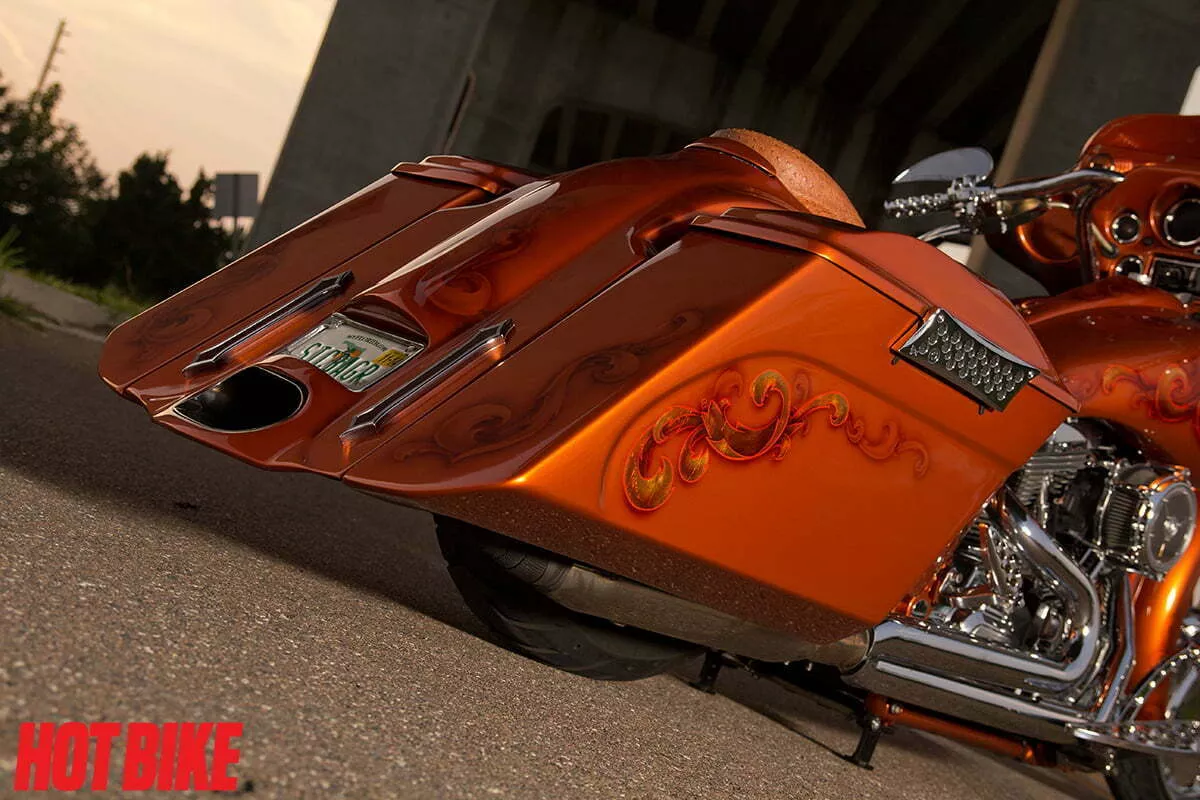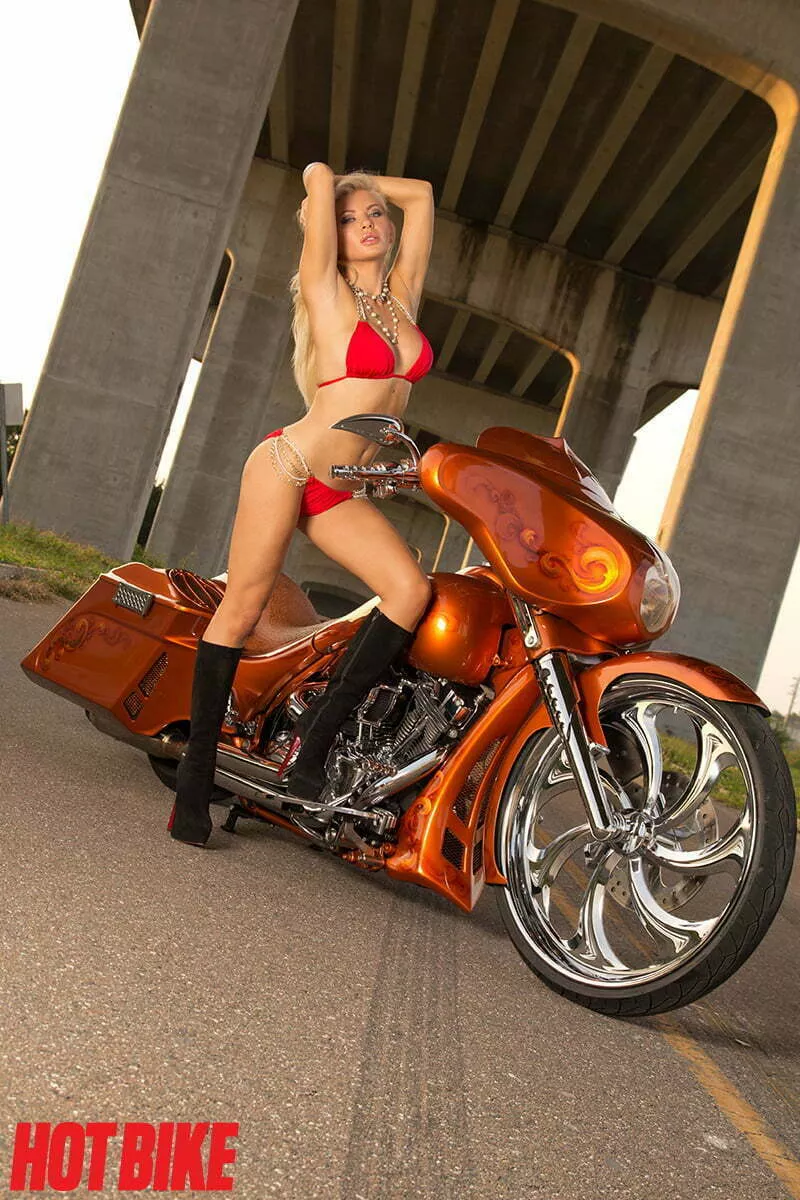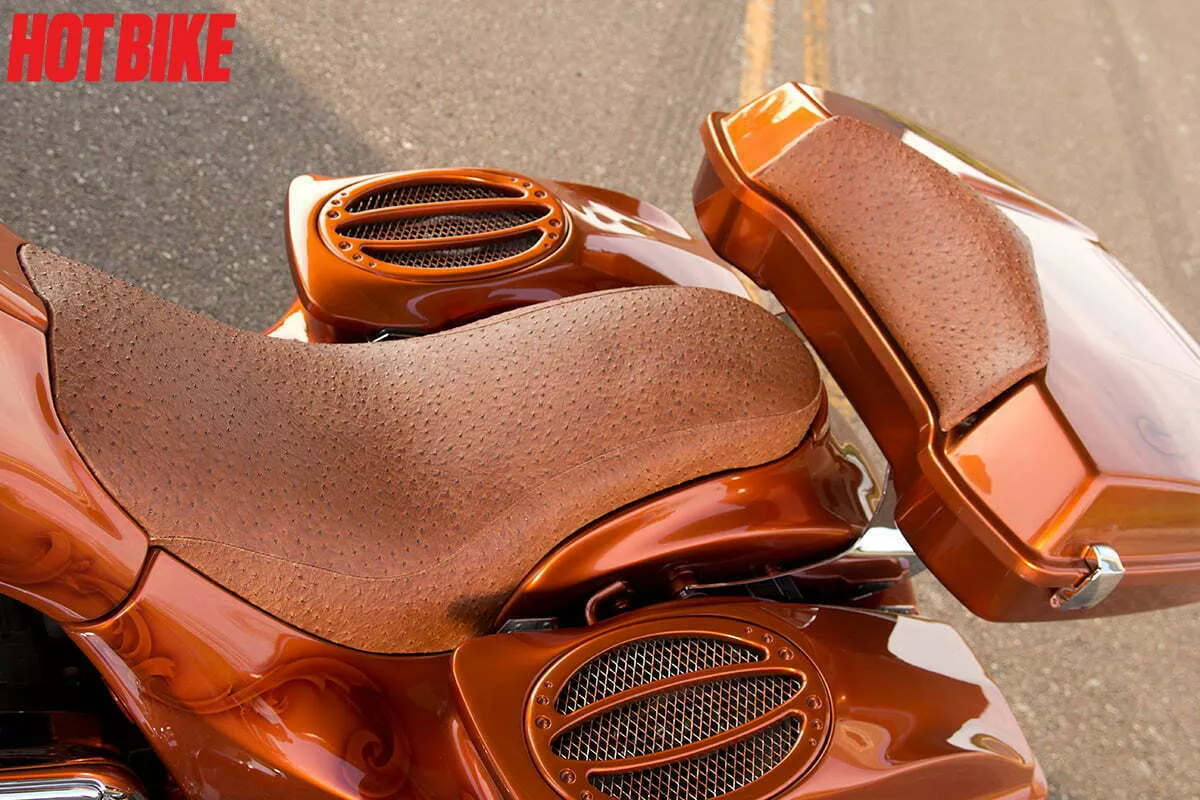 This bike build was a retirement gift to myself. Jason Sweeney of Sweeney Inc. was called to build my dream/retirement bike after retiring as a chief of 24 years in the US Navy. Although the bike has several aftermarket brand-name items, those items were further modified by the skills of Jason to give the bike a one-off custom look.
The rear fender was modified so that a center exhaust tip could be used. There's a functional custom variable exhaust muffler attached to that exhaust tip, which allows the bike exhaust system to be as loud or as quiet as you want. With the exception of the T-Man 555TQ cams, the bike engine is stock, however with the use of cams and a Thunder Max auto tuner, tuned by Rick at Cycle and Ski concepts, the bike sits right at 100 hp and more than 100 foot-pounds of torque. The bike also has full front and rear air ride that sits on the MRI center stand for a low, sleeker look. The bike bags and side panels have been molded together as one unit with functional cooling vents and screens to match the Ballistic chin spoiler. Also to give the bike a custom look, the chin spoiler has been molded to the fame for a clean neat finish.
<div class="st-block quote text-
Notice: Undefined index: st_text_align in C:laragonwwwhotbike-importblocksquote.php on line 1
">
"I wanted it loud so the bike was fitted with eight speakers for competition sound"
When it came to graphics, I didn't want the usual flames or skulls in my quest to be different, so Chad Chamber was used to add a touch of class. Scroll was the design of choice with 18-karat gold leaf.
I wanted it loud, so the bike was fitted with eight speakers for competition sound, which includes four Hertz speakers mounted in the front fairing, two Hertz 6×9 mounted in modified stock Harley lids by Jason, two DD subwoofers in the bags, and a 1,000-watt Hertz amp all installed by Darren by Audio Design and Custom Graphic.
This might not be the only 26-inch custom bagger on the road, but it definitely gets all the attention at every stop. The bike was a hit at Daytona Beach 2014 Bike Week, placing third at the Chopped Bagger Bike Show amongst the big custom bike builders and has placed first in every other bike show entered. It's good to be the chief.
| Specifications | |
| --- | --- |
| General | |
| Owner | Frederick Armstead Jr. |
| Shop | Sweeney Inc., New Smyrna Beach, FL |
| Year make and model | 2011/H-D/Street Glide FLHX |
| Fabrication and assembly | Jason Sweeney, Sweeney Inc. |
| Build time | 5 Months |
| Engine | |
| Year/Type/Size | 2011/H-D/103 |
| Cams | T-Man 555TQ |
| EFI controller | Thunder Max Auto-Tuner |
| Air cleaner | Roland Sands Clarity |
| Exhaust | Drago's Dragula 2:1 with Modified Muffler |
| Transmission | |
| Year/Type | 2011/H-D |
| Clutch | H-D |
| Frame | |
| Year/Type | 2011/Stock |
| Rake | Pickard USA Neck Rake Kit |
| Suspension | |
| Front | Backyard Baggers Custom Front Air Ride |
| Rear | Backyard Baggers Custom Rear Air Ride |
| Triple trees | Pickard USA 9º Bagger Tree |
| Wheels/Tires/Brakes | |
| Front Builder/Size | Colorado S7/26 in. |
| Tire/Size | Vee Rubber /120/50/26 |
| Front Calipers | HHI 6-piston chrome |
| Front Rotor | Colorado Single Side 13.0 Chrome |
| Rear Builder/Size | H-D Chrome/16 in. |
| Tire/Size | 180/65B16 |
| Finish/Paint | |
| Manufacturer | House of Kolor |
| Colors | Designer Cinnamon Pearl w/ gold leaf |
| Paint/Graphics | Sweeny Inc./Chad Chambers Customs |
| Plating/Polishing | Jason Sweeney |
| Accessories | |
| Front Fender | Dirty Bird Concepts Thick Sick Wrap Metal Fender Modified |
| Rear Fender | Arlen Ness Down and Outs Modified |
| Gas Tank | Camtech Modified |
| Gauges | Dakota Digitals Gauges |
| Handlebars | Dirty Bird Wicked Bars |
| Grips | Battistinis C-Thru |
| Mirrors | Arlen Ness Rad III |
| Foot Controls | Battistinis C-Thru |
| Headlights | Ballistic Cycles MT03 Modified |
| Taillight | Bad Dad custom 957 Taillights |
| Seat | Camtech Drop Seat/Ultimate Cycles |