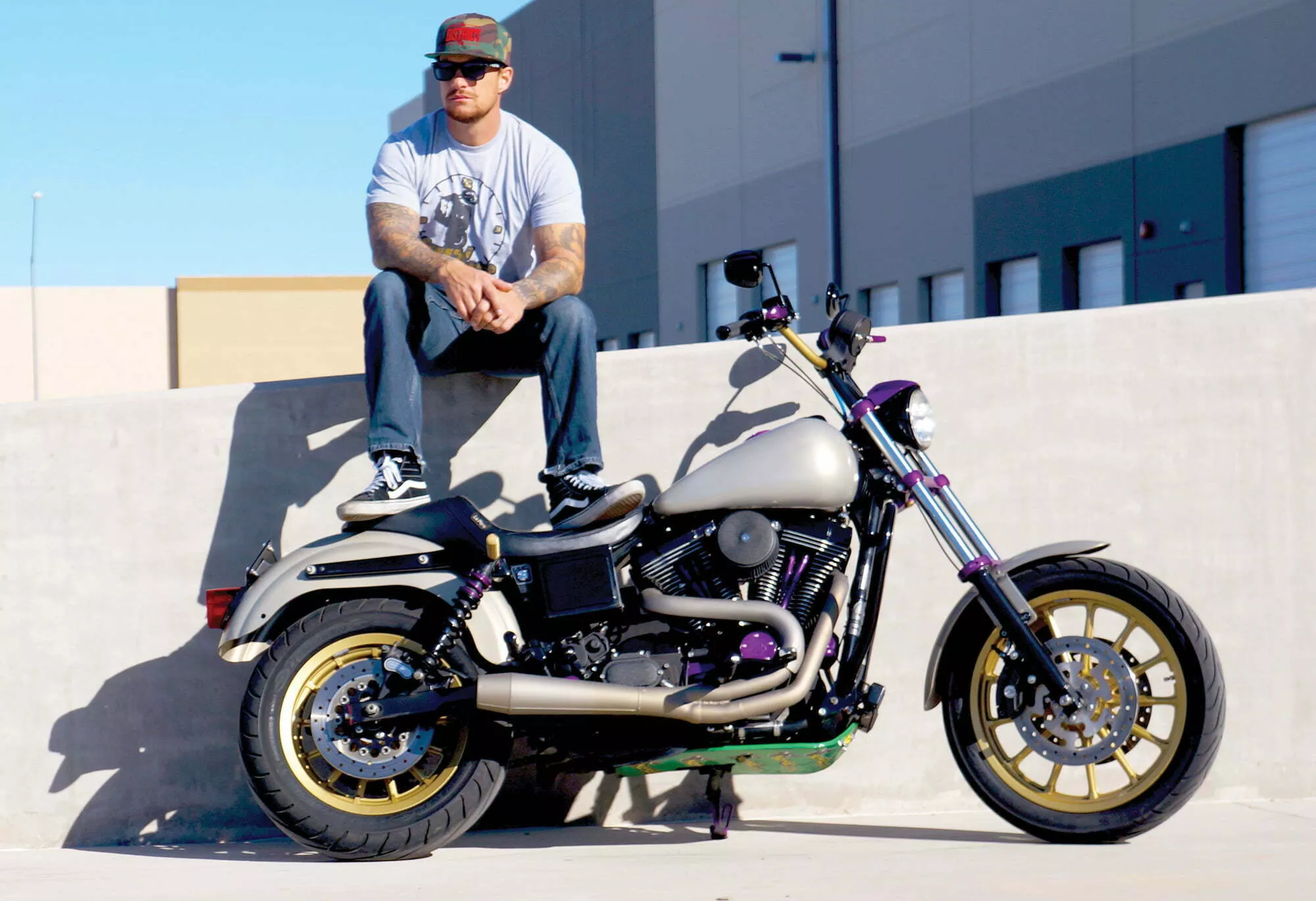 Name: Ryan Kruesi
Shop: Kruesi Originals
Location: Phoenix, AZ
Website: kruesioriginals.com
#Twitter/@Instagram Handles: @kruesioriginals
Describe yourself in three words.
Pimpin' ain't easy.
What are you currently building?
Right now I'm working on a 1990 FXRP. It's the Neon Green and Battleship Gray one that I built for a customer Gerrit Hillebrand. We're taking it back down to the frame and redoing it all black and white, back to the original copbike style. We're putting a 110-horse Twin Cam and a Baker six-speed in it as well. We also have an '01 FXDX. This one is mine; I just picked it up. It needs a motor, tank, and fender. We have plenty of that shit laying around. So we're going to take it down to the frame and build it all the way up with some nice neon fanciness. We're also redoing a T-Sport and working on a 124-powered wheelie Road Glide.
What was your first bike?
A 1987 Honda XR75. I traded a 1986 Hyundai Excel for it. My first Harley was a Night Train Softtail with 16-inch apes, a bitchin' lowering kit, and 3-inch forward control extensions. Oregon style, hard as f—k.
What is your all-time favorite bike?
I love FXRs, and I love riding them, but they're a little too small for me, and I look weird as hell. So I'd have to say that my '03 T-Sport is my all-time favorite bike. I've had it through thick and thin. Six different colors, four motors, and god knows how many miles. I haven't had a speedo in four years.
Why did you choose to work in the motorcycle industry?
I've been a mechanic as long as I can remember. It started with Legos, then bicycles, dirt bikes, cars, then back to motorcycles.
When I was a kid I had a BMX shop in my garage. I would work on all of the neighborhood kids' bikes for money or whatever BMX parts I could hustle out of 'em. Then I went on to start building dirt bikes and working on cars by the time I was 15. I spent my late teens and early 20s building drift cars and dragracing imports. I was super-obsessed with that shit for about eight years. And, yeah, I love American motorcycles, but I'll always take a Japanese car. That's where a lot of my style comes from in the bike game now. A lot of my color schemes and setup are based out of Japanese drift style. My bike is the HKS color scheme. I started building some rigids and stuff on the side—old-school bobber stuff. Then some shit went down and it was time for me to get out of Oregon, so I signed up for MMI and split for Phoenix. I hustled my ass off, starved to death for years, but I knew the whole time exactly what I was going to do and exactly where I was going to end up.
What do you think the future of the motorcycle industry is?
This Dyna/FXR craze is blowing up right now with the club and stunt style. I love it. I'm glad to see something has finally come along to combat the big-wheel bagger, mid-life crisis style. As far as the future of the industry goes, I think the high-performance thing is where I want to see it go. I'd love to see more people focusing on how their bikes perform. I love riding a motorcycle that's a motorcycle. Something that's build to rip shit up. Shred corners, rip wheelies, do burn-outs and ride a thousand miles a day. That's where I think the motorcycle industry is going. More towards the ride-hard motherf—ker and less towards the garage queen.
What is your greatest life achievement so far?
I have to say that's a hard one because I'm never satisfied. But I am thankful I've done a lot of amazing shit. Actually, knockin' two dudes out at once at a NASCAR race was probably it.
What has been your biggest regret to date?
No regrets. And everybody wang chung tonight. That's my motto.
What inspires you?
Competition. The thought of people doing it bigger and better than me always keeps me driven. I try to be the best at everything I do in my life.
Who are your three all-time favorite bike builders?
Indian Larry of course. He was one of the first guys to inspire me and make me really want to start building bikes. I love that old-school bobber style.
Nick Trask. The guy is my inspiration as far as being a businessman in this motorcycle game. He started with a one-man operation and turned it into an empire. And as far as the bagger game goes, he's the only one doing it right.
Earl Chafin. Crossroad Cycles. Lebanon, Oregon. Real-deal, old-school bike builder. Me and all my homeboys used to hang out at his shop all of the time. He helped me build one of my first rigids. I would say he was the one that really opened my eyes to the way it should be. A shop should be a place that's just cool as f—k and anybody can come hang out and feel welcome.
Any last words?
Ride hard or go limp.
---
Get the all the latest issue of Hot Bike magazine! Subscribe directly from us.