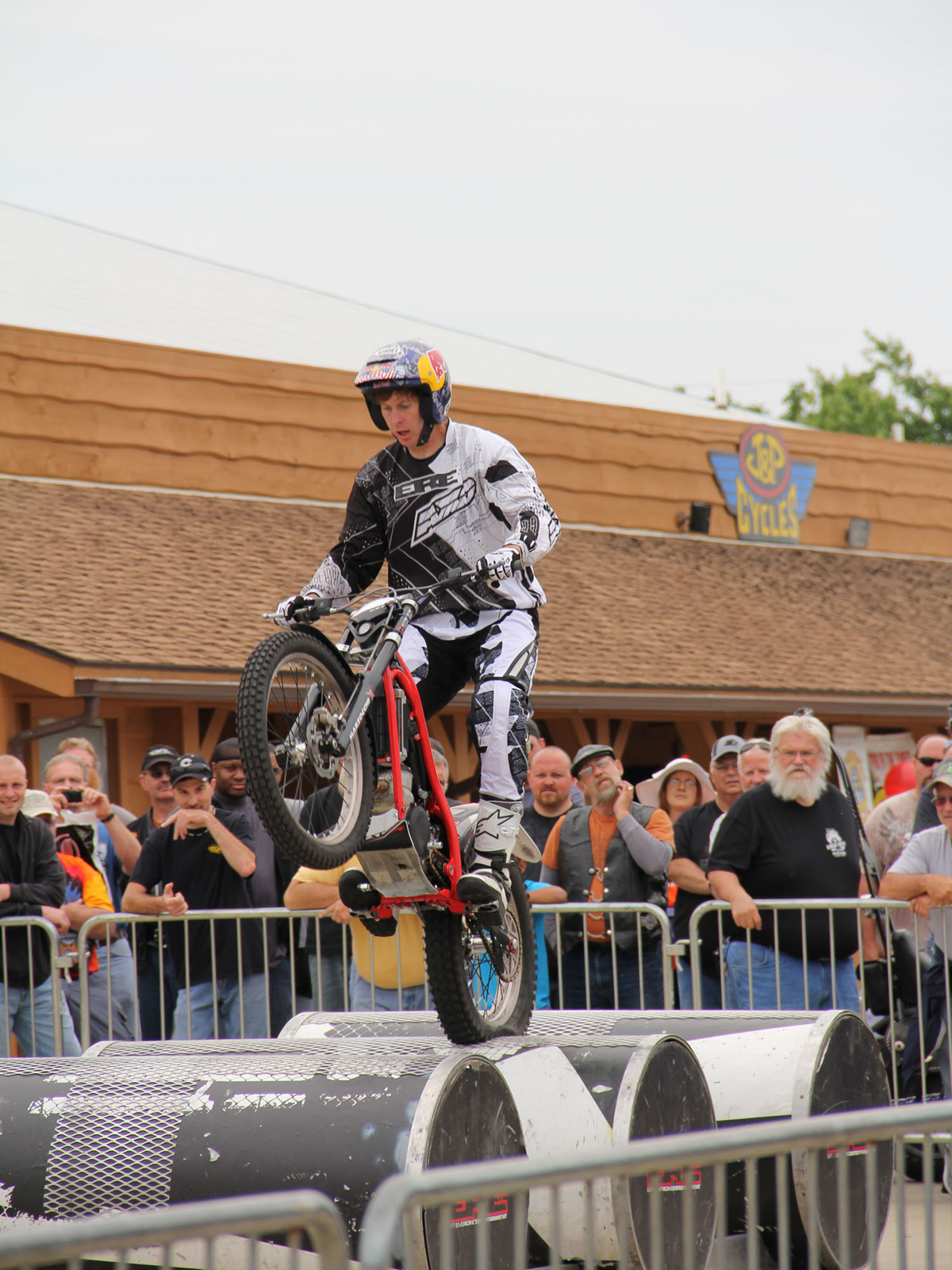 Anamosa, IA, June 13, 2012 - HUGE – that word sums up the 33rd Annual J&P; Cycles Open House – now known as the J&P; Cycles Open House Rally – scheduled for June 23-24 at their headquarters outside Anamosa, Iowa! The 2012 event is going to be the biggest and best event, yet. More than 100 motorcycle vendors will be onsite showing off their merchandise including a staggering 20 semis!
See Geoff Aaron's Red Bull Extreme Stunt Show, 1 Wheel Revolution, and participate in the ride-in bike shows. American Iron, Motorcycle Bagger and RoadBike magazines are sponsoring Saturday's show for all makes and models. Registration will take place from 8 to 11 a.m. or the first 50 bikes. The Sunday show is for Vintage and Retro Bobber motorcycles and is sponsored by American Iron magazine. Registration is from 9 to 11 a.m. or the first 50 bikes. The entry fee for both shows is $15 for each bike. Awards for both shows will be at 3 p.m. Classes include: Class Awards, Sponsor's Choice, Judge's Choice and Best Paint.
Visitors will save big throughout the weekend on J&P; Cycles' enormous inventory of parts and accessories. Most products in the showroom will be 10 percent off (15 percent for Gold Club members) and a 40'x40′ tent will be devoted to drastically reduced clearance items (up to 50 percent off).
Attendees can sign up to win more than $7,000 in door prizes. Plus, donate for a chance to win the National Motorcycle Museum's 2012 Indian Chief. There will also be a silent auction to benefit the National Motorcycle Museum. Grab a free burger or hotdog in the food tent – courtesy of Allstate Insurance Company. More information can be found on the J&P; Cycles website, WWW.JPCYCLES.COM.
The J&P; Cycles annual Open House Rally event grows each year and we hope that this year is no different! More than 25,000 of our customers attended last year.
The J&P; Cycles Open House Rally started out as a small Customer Appreciation Day held by co-founders John and Jill Parham to thank their customers for their business throughout the year. Now, as the world's largest aftermarket retailer of parts and accessories for Harley-Davidson®, Cruiser, Gold Wing and Sport Bike motorcycles, this event has turned into a two-day rally and, outside of Sturgis, is one of the only places in the Midwest to see this many motorcycle manufacturers in one area.
So, make plans now to attend and check it out. You will be glad you did!
About J&P; Cycles
J&P; Cycles, founded in 1979, is the world's largest catalog retailer of aftermarket parts and accessories for Harley-Davidson® motorcycles. J&P; Cycles also carries a full line of V-Twin Cruiser parts and Sport Bike parts and accessories. Featuring tens of thousands of items in stock in its print and online catalogs, J&P; Cycles also prides itself on having the industry's best customer service and return policy. For more information, visit www.jpcycles.com.