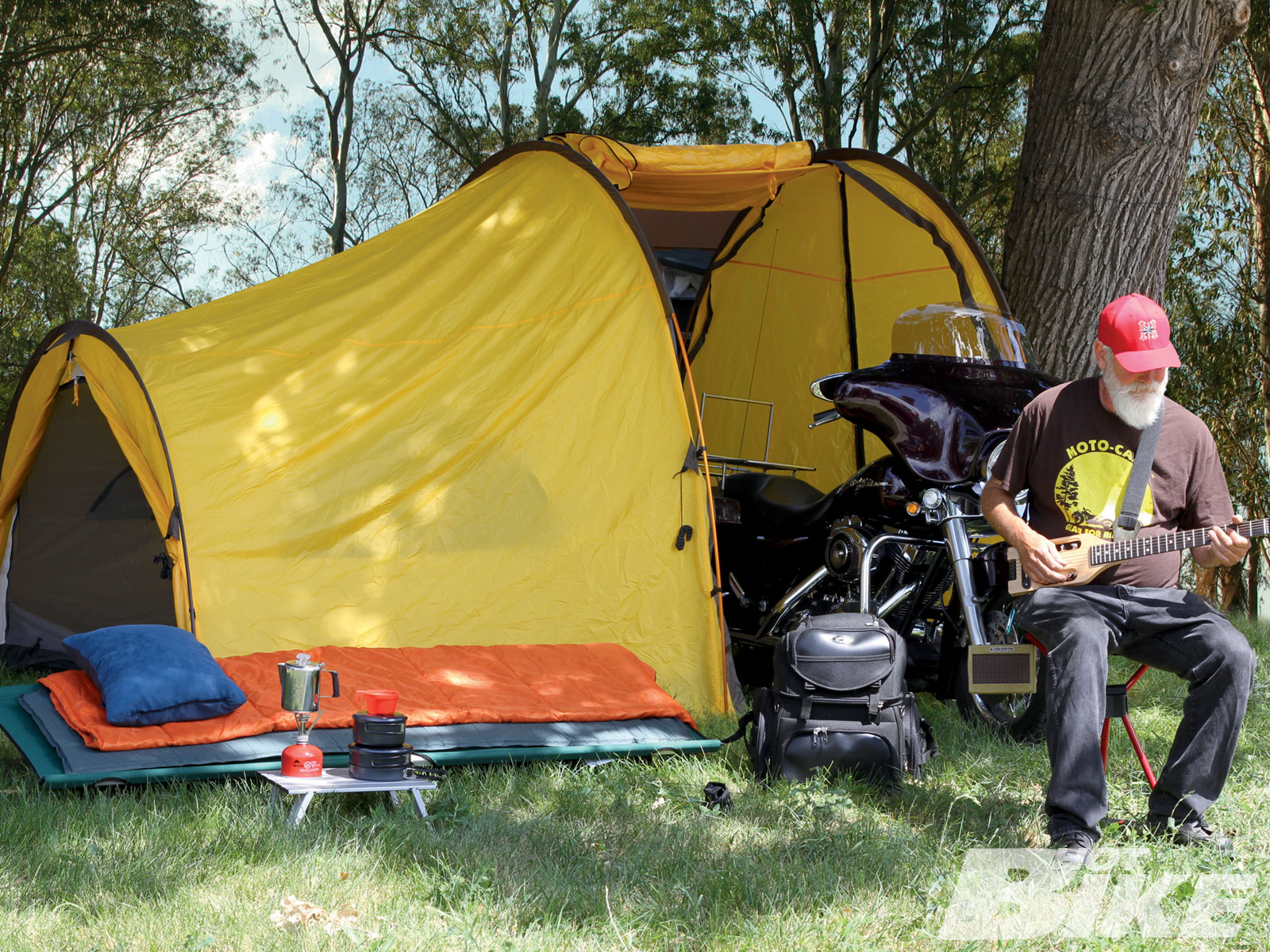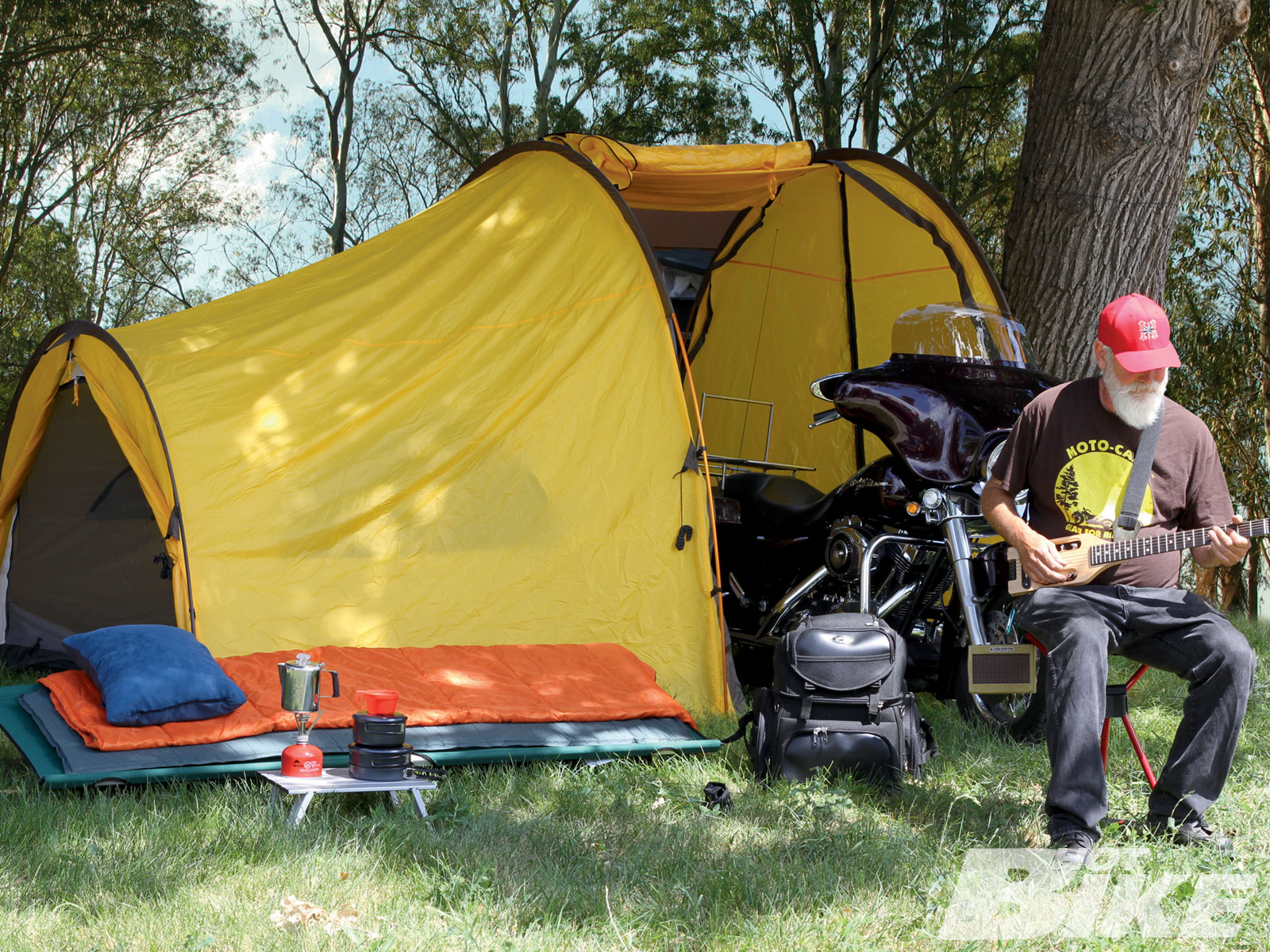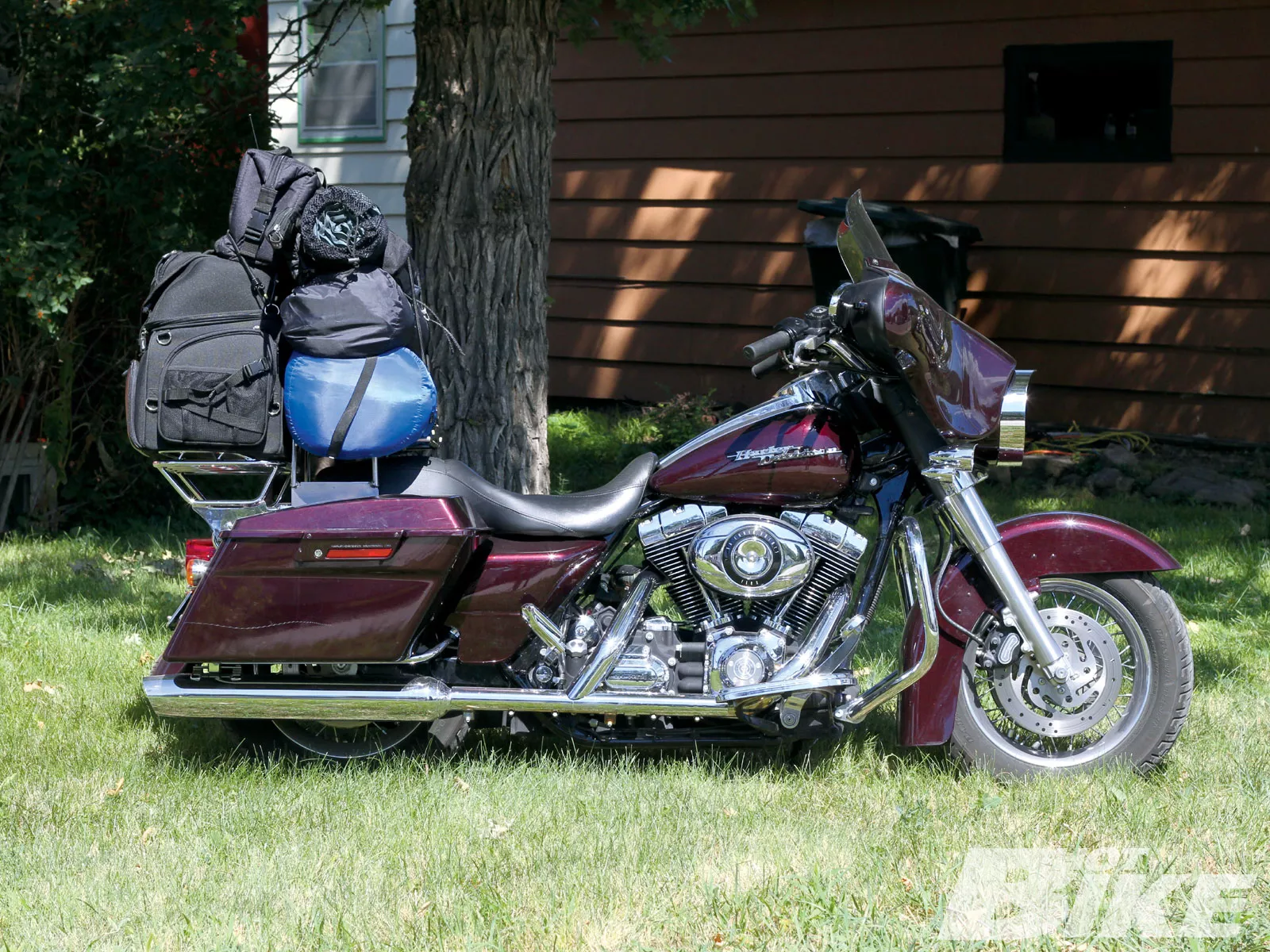 There are many parallels between camping and riding motorcycles. They're both spiritual. They're both forms of escapism. And both, if done properly, take place outdoors. Why not combine the two for an all-out adventure and a quest for spiritual bliss? Bikers often overlook campgrounds, campsites, etc., when hitting the open road on their travels, but they don't need to anymore thanks to Moto-Camp, an online motorcycle camping store that's dedicated to dudes who love the outdoors and also love to ride.
From full tents for you and your bike, to sleeping bags, mattresses, pots and pans, utensils, and even a miniature electric guitar and amp for singing a punk-rock version of "Kumbaya" around the campfire, the Moto-Camp store covers all bases. We spent some time at one of Moto-Camp's headquarters during the 70th Annual Sturgis Rally located right on Lazelle Street to get some ideas on what a camper would need to go camping. Here are a few essentials that will make a motorcycle camping trip that much more enjoyable. We've only begun to scratch the surface of what the Moto-Camp store has to offer, but the best way to put it is that when it comes to taking a motorcycle camping trip, you don't need to go anywhere else.
Make a List
Moto-Camp suggests the following items that can make your experience more beneficial.
Essentials
Credit cards
Driver's license/Identification
Full tank of gas
Cash
Proof of insurance
Wallet
Assorted Change
Personal Items
Book (paperback)
Camera, film, and batteries
Campground guides
Canteen or water container
Cell phone and charger
Chapstick
First aid kit
Fishing gear
Hand cream
Hand soap
Hat
Insect repellent/bug spray
Journal
Lighter and fluid
Maps and magnifier
Prescription medicines
Pen and pencil
Rain suit
Sun screen/block/lotion
Toilet kit (laugh now, cry later!)
Toilet paper in sealed plastic bag
Toothbrush and paste
Towel
Washcloth
Whistle
Sunglasses
Camping/Sleeping Equipment
Stool
Candle lantern
Compass
Cot
Earplugs
Flag (Moto-Camp)
Flashlight and extra batteries
Ground tarp
Mattress or sleeping pad
Pillow(s)
Poncho
Rope (1/4″ x 50′)
Pocketknife
Shovel/hand trowel
Sleeping bag
Tent with rain fly
Tent waterproof-bag
Cooking/Eating
2 bags (gallon size garbage)
2 bags (sandwich size)
Can opener
Coffee and creamer
Cooking oil
Cup
Cutting board (small)
Dish soap
Dishtowel
Food
Fork, spoon, and knife
Ice box/cooler
Matches
(sealed plastic container)
Menu/ingredients list
Mess kit
Paper towels
Pasta strainer
Plate
Pots/pans
Salt and pepper
Soap/scrubber pads
Spatula
Stove
Stove gas (white gas)
Stove windscreen
Washbowl
2 water bottles
Bike Paraphernalia
Bug rag
Bungee cargo net
Bungee cords (extra)
Chain lock and key
Chain lube
Chamois
Duct tape
Gas can (1-gallon Reda saddlebag can, filled with extra gasoline)
Helmet face shield/visor (clear, tinted, and extras)
Stuff sacks (weather-proof)
Tools (basic)
Zip ties
Electrical tape
Baling wire
Because sleeping in the dirt isn't the most fun in the world, Moto-Camp has a ton of sleeping accessories for different comfort levels. The Moto-Camp folks suggest a good sleeping bag (A) like this 5-pound Base Camp model from Stansport that retails for $58.95 and features a built-in hood and packs easily on the bike. Located in the sleeping bag pocket are earplugs and eye mask ($4.95) for sleeping through the night undisturbed. For even more comfort, go for an über-comfy Therm-a-Rest mattress (B) for $61.95 that measures 6 feet long by 20 inches wide, but more importantly rolls up to only 7 inches in diameter and weighs a mere 2 pounds 9 ounces. Add a Therm-a-Rest pillow (C) into the mix, available in small or large sizes and starts at $14.95. And lastly, for $38.95, place all of the aforementioned on top of this steel leg cot (D). The resting area is made from durable canvas and it measures 6 feet 4 inches long by 30 inches wide and 8 inches tall, and weighs only 8 pounds and will hold up to 250 pounds. With all this gear, you'll sleep sounder than at home in your own bed.
---
When hanging around the campfire, Moto-Camp offers this full-scale Ultra Light traveling electric guitar ($284.95). This is a great solution for those of you who love to strum the six-string on your travels, but obviously a full-size guitar can take up quite a lot of room on a motorcycle. The Ultra Light weighs only 3 pounds and measures 5 1/4 inches wide by 28 inches long. To amplify the sounds of your favorite guitar tunes is this '57 Fender Mini Twin-Amp ($44.95) that features the old-school tweed design and weighs only 1 pound 8.6 ounces and measures 7 inches wide by 5 inches tall and 3 inches deep. An AC adapter or 9-volt battery can power the Mini Twin-Amp. It's really a nice gizmo that makes camping that much more enjoyable.
---
Nomad Ténéré Expedition-Two-Man Tent with Motorcycle Bay
Would you believe this is the same tent (opposite page) all folded up nice and neat, ready to be packed? This tent compacts into something smaller than a breadbox for stowing on your bike, and it's great for two people and your bike. The three-season tent has a 30 square-foot floor area and measures 100 inches wide by 177 inches long and 76 inches tall. Plus, the Ténéré Expedition ($399.95) weighs only 13 pounds. This multi-function tent comes with guy lines and tighteners, stakes, pole bags, stake bags, and an easy-to-use compression stuff sack. Also recommended by Moto-Camp are the Stansport 9-inch aluminum tent pegs ($9.99). The heavy-duty aluminum stakes will withstand the elements (wind) better than the standard stakes that come with the tent.
---
If you chose to be your own gourmet chef on your travels, then you should definitely check out some of the cooking gear that Moto-Camp has to offer. This handy little two-person cooking set ($22.95) is a great little setup. The pots are made of non-stick black granite, so cleanup is easy and you get a 1-quart boiling pot with lid, a 1-1/2-quart boiling pot with lid, one frying pan, and two plastic measuring/drinking cups. You'll probably want a set of travel utensils, which Moto-Camp also supplies. Another desirable item for your travels is this Stove Pocket Rocket ($34.95) for cooking. It's small at 4 inches by 2 inches by 2 inches and claims to boil 1 liter of water in less than 3 1/2 minutes. You will need a fuel canister that's sold separately, but Moto-Camp has 4- and 8-ounce canisters available. For cooking your breakfast, lunch, etc., is this Micro Table ($27.95), which measures 15 1/2 inches by 11 1/4 inches and collapses to 15 1/2 inches by a little more than 2 inches. And finally, there's nothing like a hot cup of java outdoors, especially on those cooler mornings, and this three-cup percolator ($24.95) is great for making coffee. It's made of stainless steel, is corrosion and heat resistant, and comes with a silicone handle that stays cool to the touch. There are more great kitchen type items on the Moto-Camp website.
---
After you set up camp, rest your bones on this TriLite Stool ($21.99). It takes up very little space, which is great for motorcycle camping, and is available in two versions: Large and Extra Large. We chose the Large which measures 8 inches wide by 16 3/4 inches long, and 17 inches tall. The best part is that it can handle up to 200 pounds and the Extra Large can handle 275 pounds.
---
For when you get to the campsite, you're definitely going to want a cold one (whether that's beer, soda, water, whatever your pleasure) to satisfy you after a long, hot ride. Pack whatever frosty beverage you like in this nine-pack canvas cooler ($32.95). The liner is made of vinyl, not plastic, so it doesn't sweat all over your bike, saddlebag, etc., and helps to keep drinks colder longer.
---
You should probably pack a few pairs of chonies, making the Saddlemen Back Seat/Sissy Bar Bag a great choice for clothes and other essential items. If you're a solo rider, you can set it on the passenger seat and use it as a backrest, or if you're two-up, simply strap it on a luggage rack and go. The bag measures 19 inches tall by 14 inches wide and 12 inches deep, and is made of a rugged blend of fabric and leather-grained materials. The bag can also be utilized as a backpack when arriving at your destination. There are many pockets for easy access to whatever you're after and it comes with a rain cover with a security tether that protects the bag from the elements and also a mini-padlock with extra keys to prevent theft.
---
Lastly, a good book is always a nice companion when camping. Moto-Camp recommends Bob Woofter's Motorcycle Camping Made Easy, Second Edition, available for $19.95. In fact, you should probably give this book a look-see before the big trip and keep it with you throughout your travels. It's loaded with practical info including how to pack your bike efficiently as well as what to look for in gear and finding motorcycle-only campgrounds. The 275-pager is a must-have for motorcycle camping.
---
This Street Glide is loaded up with everything listed and more than a solo rider could envision for his or her camping trip. Everything was packed on in approximately 10 minutes; unloading and setting up camp took about 15. Moto-Camp also offers camping-inspired luggage racks ($199.99) that will fit many Harley-Davidsons that are meant for solo riders, and dock over the passenger seat/rear wheel so that you can pack more weight for the long haul.
---
Sources
Moto-Camp
(626) 359-8044
moto-camp.net