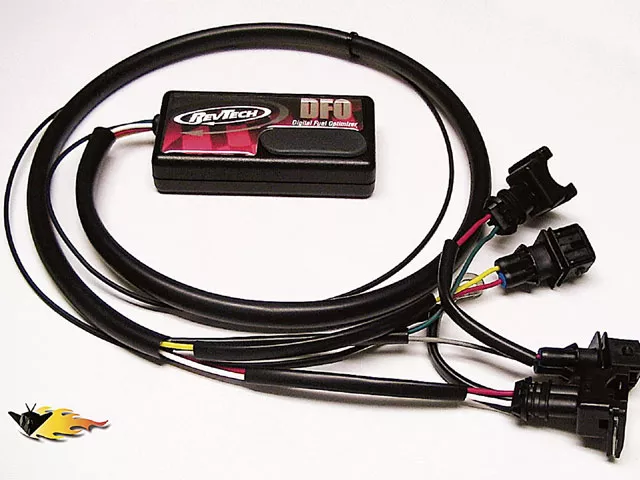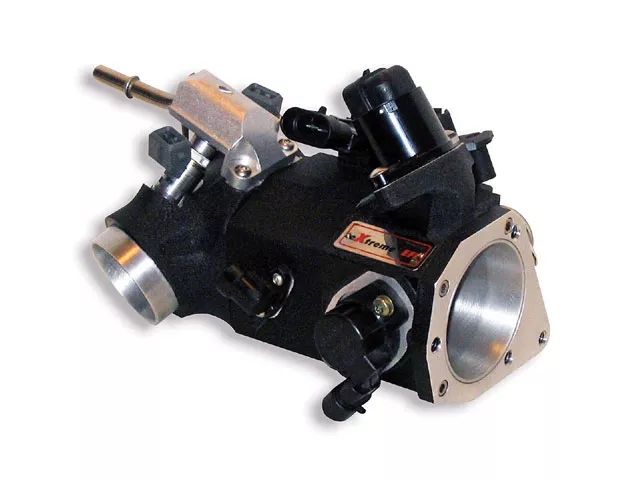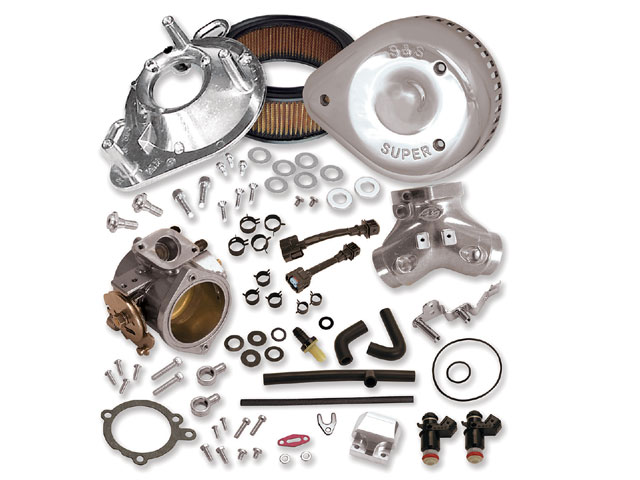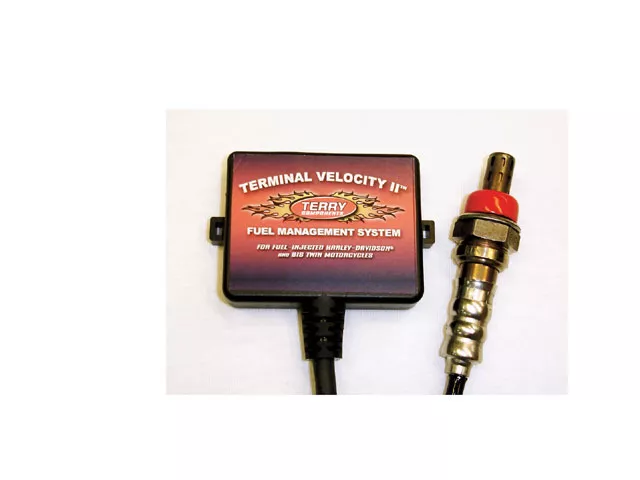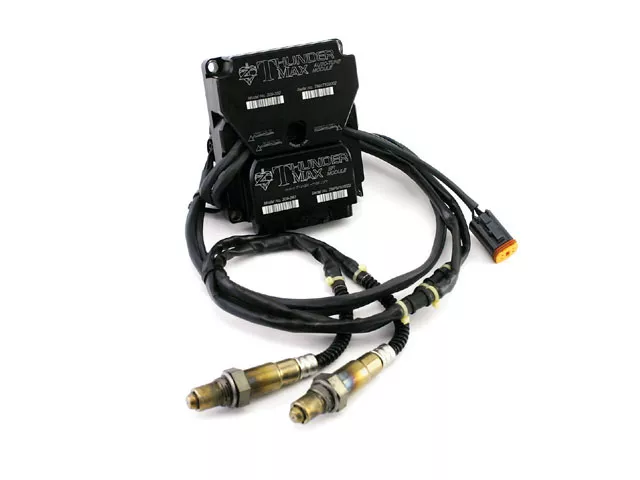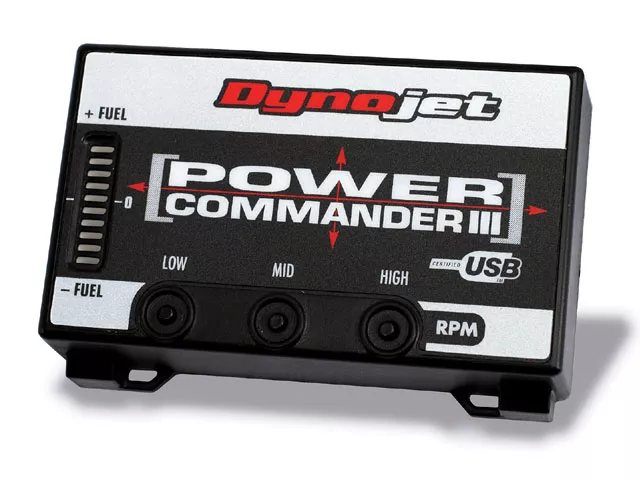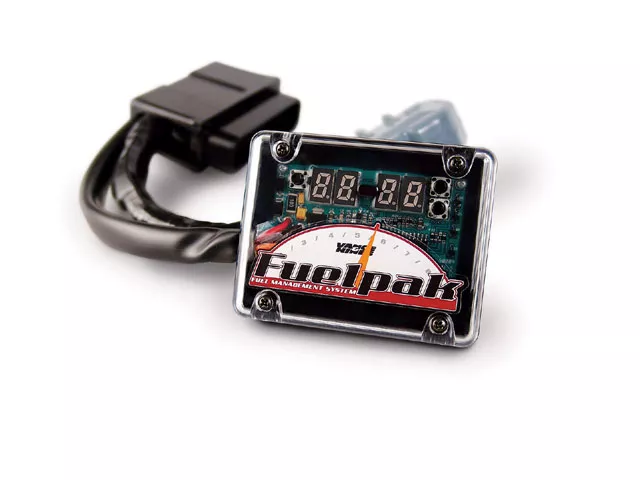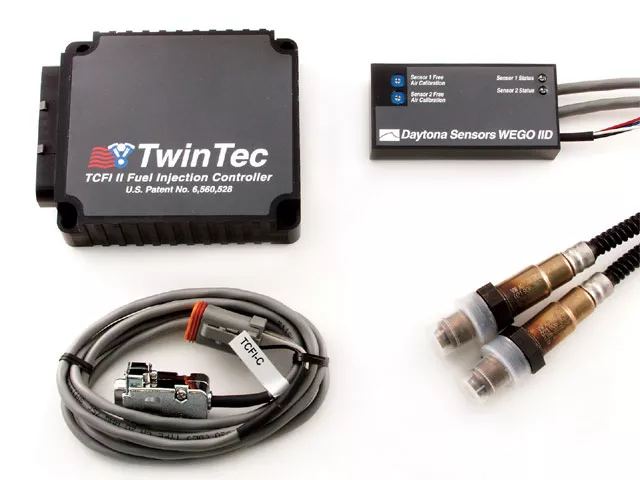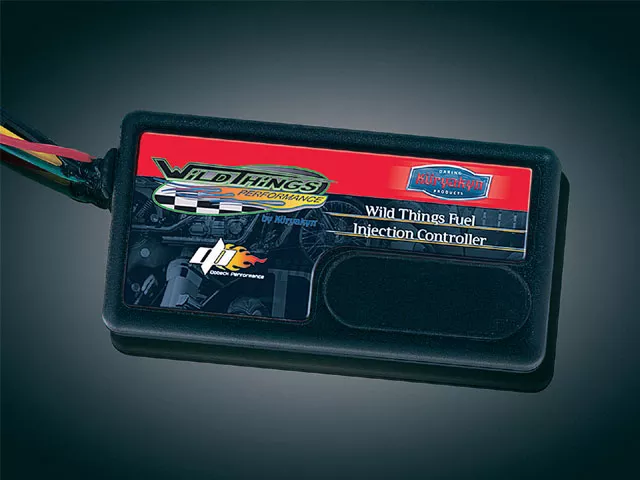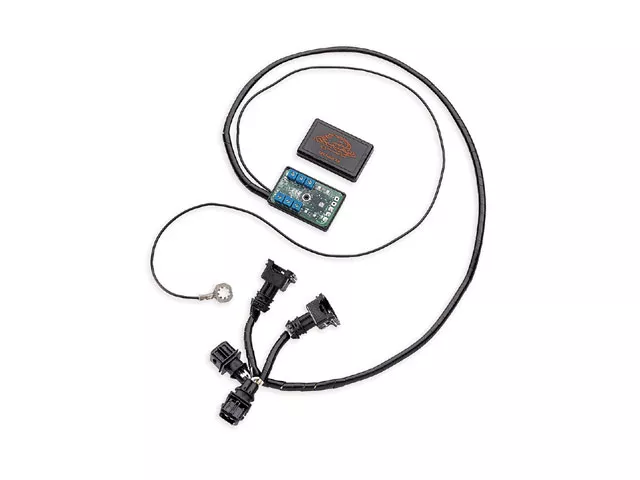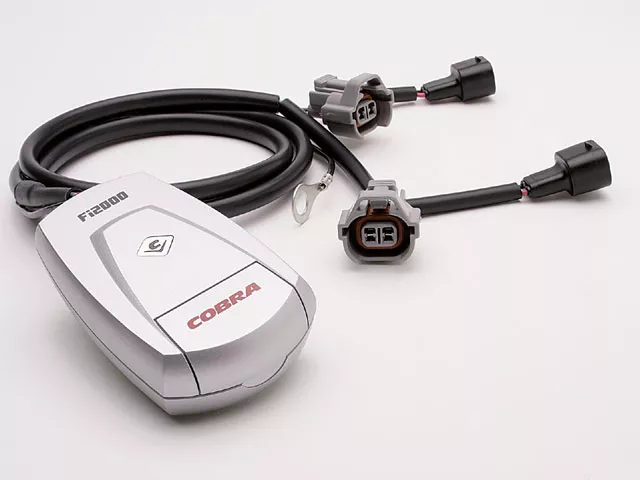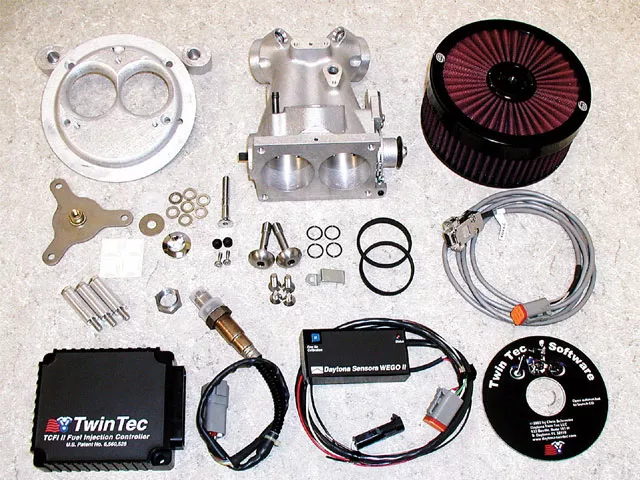 Potluck
Optimize your fuel injection without the need for expensive dyno tuning. The RevTech DFO modifies the outgoing signal from the ECU to your injectors, increasing the duration of the spray of fuel and thereby richening the mixture. Adjustable pots allow you to add fuel where it is needed over three areas of the rev range. A fourth pot allows you to set a transition point from light-load cruise to high-fuel performance mode. This allows both basic tuning and more sophisticated fine-tuning for specific racing situations. The transition feature also has a load-sensitive function that overrides the base rpm setting to allow an earlier crossover whenever large throttle openings are introduced at low rpm.
For more information, contact your local Custom Chrome dealer at (800) 729-3332, or visit www.customchrome.com.
---
Extremely Clean
Extreme EFI is now releasing its newest throttle-body and air-cleaner products to the public. These units are currently available in 50mm through 62mm throttle-body sizes, with intake-runner diameters of 1.660, 1.710, and 1.800 inches. They fit in the stock location and reuse the factory sensors to their full potential. They are CNC-machined in the USA and powdercoated with machined highlights to match the factory black or satin finishes.
For more information, contact Extreme EFI, (814) 474-9121, T-Man Performance at (336) 993-7068, or visit www.extremeEFI.com.
---
Big Bore
The S&S; single-bore induction allows riders of late-model Big Twins to build a big engine, supply all the fuel it needs, and still utilize other tuning systems they may have bought for their bike, such as the Harley-Davidson Screamin' Eagle Race Tuner for Delphi fuel injection, or many other aftermarket fuel controllers and replacement ECUs. The S&S; single-bore throttle body has a throttle body that is 2-1/16 inches, so it has more than enough capability to supply a big engine. The single-bore tuned induction is available in chrome, wrinkle-black, or natural finish, along with both blue and red filter elements.
For more information, contact S&S; at (608) 627-1497, or visit www.sscycle.com.
---
No Dyno Needed
Enjoy full-time tuning for your Harleys with Terry Components' Terminal Velocity fuel-injection management system. No mapping or dyno required-the system maximizes performance as you ride and increases fuel economy. It also works with the Delphi fuel-injection system.
For more information, contact Terry Components at (866) 388-3779, or visit www.terrycomp.com.
Automatic
ThunderMax EFI with AutoTune takes the hassle out of tuning your EFI Harley-Davidson motorcycle. All of the original benefits of the ThunderMax ECM-user-adjustable ignition, fuel, idle, rev limit, large base map selection, and so on-are now enhanced with automatic wide-band fuel-map corrections. Installation is simple, thanks to a new bolt-on, plug-in modular design and uncomplicated initial setup: throw a leg over the bike and let the AutoTune tune as you ride. Easy-to-use SmartLink software allows you to set specific target air/fuel ratios for the entire rpm range, and the entire system is Internet-based for updates and future enhancements. It fits all Delphi-EFI H-Ds from '01-'07.
For more information, contact Zippers Performance at (410) 579-2828, or visit www.zippersperformance.com.
---
Commanding
All Power Commanders from Dynojet use original-equipment-style connectors so that splicing or cutting of the stock harness is not required. Changes are made to the bike's fuel curve via the Power Commander's onboard microprocessor. Using this technology, Dynojet is able to offer a large area of adjustment without making any permanent changes to the ECU (electronic control unit). The unit comes complete with software and a cable link that allows you to change between different maps or make adjustments to a map file. The fuel curve can also be changed using the faceplate buttons. This is a simple adjustment that can move the fuel curve richer (+FUEL) or leaner (-FUEL) in each area of the map.
For more information, contact Dynojet Research at www.powercommander.com.
---
Geeks Not Required
Dynatek is pleased to announce the release of the Dynatek FI Controller. Unlike similar products, the FI Controller allows the tuner to both richen the fuel mixture as well as to make the fuel mixture leaner. This product gives a full range of adjustment in either direction, which is critical for proper tuning. The Dynatek FI Controller does not require a computer to make adjustments. The unit is supplied with three base "maps." These are predetermined settings the tuner can choose from that are based on standard engine/exhaust-system modifications. Selecting one of these settings puts the fuel curve in a close to optimum range. Three additional dials allow the user to fine-tune the low, mid, and high ranges of the fuel mixture. All of the adjustments are made using nothing more than a simple screwdriver.
For more information, contact Dynatek at (800) 928-3962, or visit www.dynaonline.com.
---
Fueled Up
You don't need a computer or a mechanic with the Fuelpak by Vance & Hines. Fuelpak was designed to be a flexible tuning device and has the ability to increase and decrease your fuel delivery throughout the entire powerband, leading to increased power and crisp throttle response. Once installed, the Fuelpak piggybacks on your factory ECU to send a new signal to the injectors for fuel delivery based on your bike and pipe combination. Each combination is tested on the dyno and the street to provide optimal power and the most efficient fuel delivery for your application.
For more information, contact Vance & Hines at (562) 921-7461, or visit www.vanceandhines.com.
Daytona Mods
The TCFI solves tuning problems with highly modified engines. Competitive "band-aid" products that interface to the Delphi controller still rely on speed-density fuel control. Long-duration/high-overlap camshafts wreak havoc on manifold pressure-especially at idle and cruise rpm. Speed-density-based fuel control simply can't cope. The TCFI kit now includes the new WEGO IID dual-channel wide-band exhaust gas oxygen interface that allows auto-tuning during actual on-road riding conditions. The kit includes a Bosch LSU 4.2 wide-band sensor for both front and rear cylinders. The user programs a table with the desired air/fuel ratios-the system then does the rest. No dyno-tuning required. Idle air control, including idle rpm and cold-start characteristics, is fully programmable. This facilitates the use of aftermarket throttle bodies with higher airflow.
For more information, contact Daytona Twin Tec at (386) 304-0700, or visit www.daytona-twintec.com.
---
Performance Matters
Kryakyn has teamed with Dobeck Performance to bring you an easy and affordable way to tune your fuel-injection system to accommodate modifications to your motorcycle's exhaust system, air cleaner, or engine components. The Kuryakyn fuel-injection controller is load-based. Aside from reading throttle position and rpm, it also takes into account the load the engine is under. Even though you may encounter the same throttle positions at the same rpm in different riding situations, the engine's fuel requirement may not be the same because the engine may not be under the same load. This controller allows you to adjust the fuel injection much the same way you jet a carburetor. The plug-and-play installation prevents you from compromising the integrity of the stock wire harness. It fits all '01-'06 Twin Cam models with Delphi fuel injection.
For more information, contact Kuryakyn at (866) 277-9598, or visit www.kuryakyn.com.
---
D&M; and Drag
Designed by D&M; Custom for Drag Specialties, this chrome air-cleaner kit with a spear-style cone boosts airflow approximately 10 percent compared to an OEM air cleaner. The kit includes a filter cone with 360-degree slots, a K&N; air filter, a 90-degree chrome elbow, and installation hardware. You'll need to order a carb support bracket and breather kit (sold separately). It's designed for '90-'05 Big Twin and '88-'05 XL models with an OEM 40mm CV carb or '01-'05 Delphi EFI.
For more information, contact your local Drag Specialties dealer at (763) 577-0588, or visit www.dragspecialties.com.
---
Race On
The new Screamin' Eagle Pro EFI Race Fueler lets racers increase the fuel flow on Harley-Davidson EFI engines without the use of a computer. It is especially handy for quick adjustments to accommodate the installation of less restrictive exhaust and intake components. This compact device plugs right into the motorcycle wiring harness and is designed to remain on the bike. It offers bands for adjustment that take into account multiple operations made by setting fuel, as well as rpm-range and accelerator-pump potentiometers with changes monitored on LED indicators. The Race Fueler changes fuel delivery only and cannot adjust rev limit or spark timing. The Screamin' Eagle Pro EFI Race Fueler can be used on all '95-and-later Harley-Davidson models equipped with electronic fuel injection (EFI). It's designed for race applications only.
For more information, contact your local Harley-Davidson dealer at (800) 443-2153, or visit www.harley-davidson.com.
Running Wild
Cobra Engineering now offers the Fi2000R, which fits fuel-injected Harley-Davidson motorcycles. The model-specific Fi2000R features three adjustment screws, called pots. The two pots, which adjust low-speed and mid-range settings, should be able to correct most lean air/fuel mixture problems. The Fi2000R also has a third adjustment for high rpm that functions much like a main jet on a carburetor. This third tuning pot is for use with engines that have high-flow air filters and/or extensive modifications such as big-bore kits; higher-compression cams, pistons, or heads; or other performance increases where more fuel is required in order for the engine to run properly at full-throttle positions.
For more information, contact Cobra Engineering at (714) 692-8180, or visit www.cobrausa.com.
---
Teaming Up
BC Gerolamy Co., a pioneer in EFI induction, has teamed with Daytona Twin Tec to provide an advanced Delphi EFI replacement system. With BC's dual-flow 50mm throttle body offering improved airflow and fuel distribution together with Daytona Twin Tec's TCFI closed-loop self-tuning ECU, you get everything needed for unequaled performance in one easy package.
For more information, contact BC Gerolamy Co. at (916) 638-9008, or visit www.bcheads.com.
---
Flying Horse
BDL Industries' Pegasus FI is not merely a replacement ECU. It is, in fact, a total fuel- and ignition-management system developed for use with most popular V-Twin engines. Designed for turnkey installation, all components required for managing both the engine's fuel requirements and corresponding ignition are included. Each kit includes a massive 53mm billet throttle body, common/replaceable automotive fuel injectors, ECU, sensors, fuel pump, and ignition coil. Additionally, a complete wiring harness with Teflon-coated silver-alloy wires and weatherproof connectors is supplied. The new system provides noticeable increases in horsepower and torque; smooth, crisp throttle response; easier starting; and total adjustability via rotary switch, PDA, or laptop.
For more information, contact BDL Industries at (714) 685-3331, or visit www.pegasusfi.com.
---
Stealth
TFI's unique technology delivers carburetor tuning logic for simple adjustments with noticeable results. With TFI there are no Internet downloads-simply increased performance and improved throttle response while maintaining the stock fuel map. The TFI works on a load-based system versus rpm-based. This adds fuel precisely when and where in the rpm range you need it most. Now with new Stealth technology, TFI offers the same great performance for all H-Ds set with new fuel-injection mapping without tripping "check engine" lights. The optional wiring harness for H-D is designed to upgrade your standard TFI fuel module.
For more information, contact your local MC Advantages dealer, or visit www.mcadvantages.com.