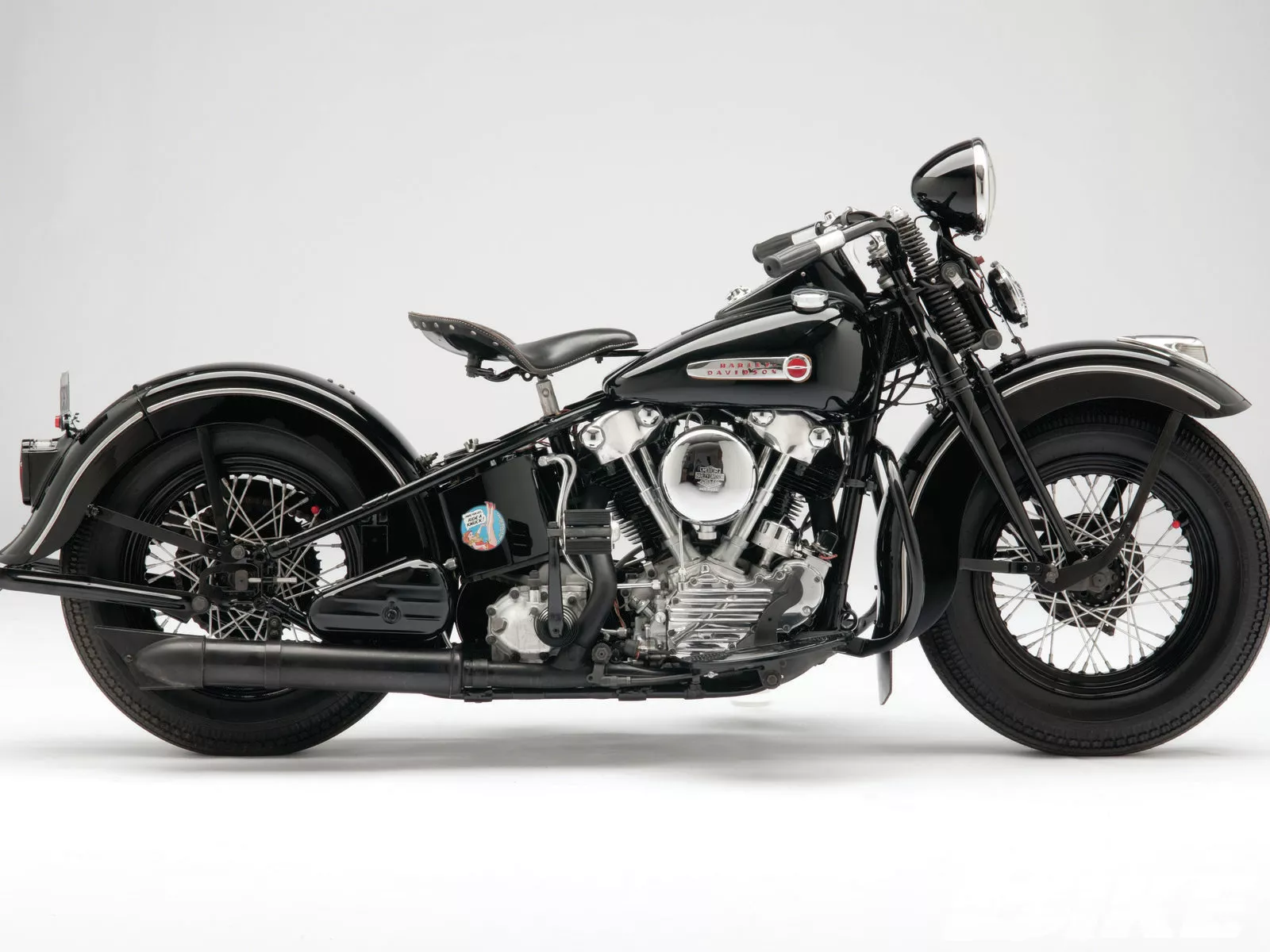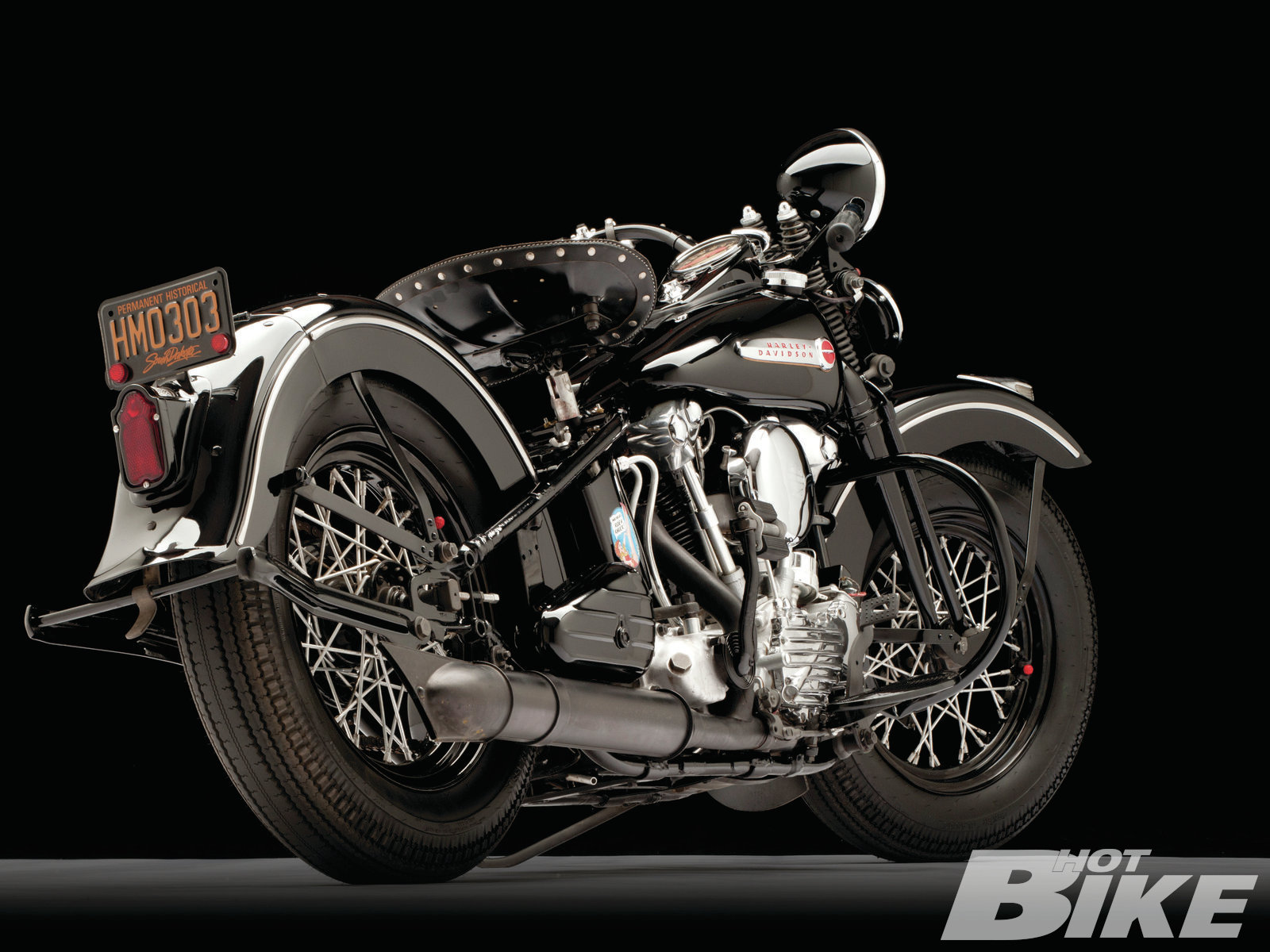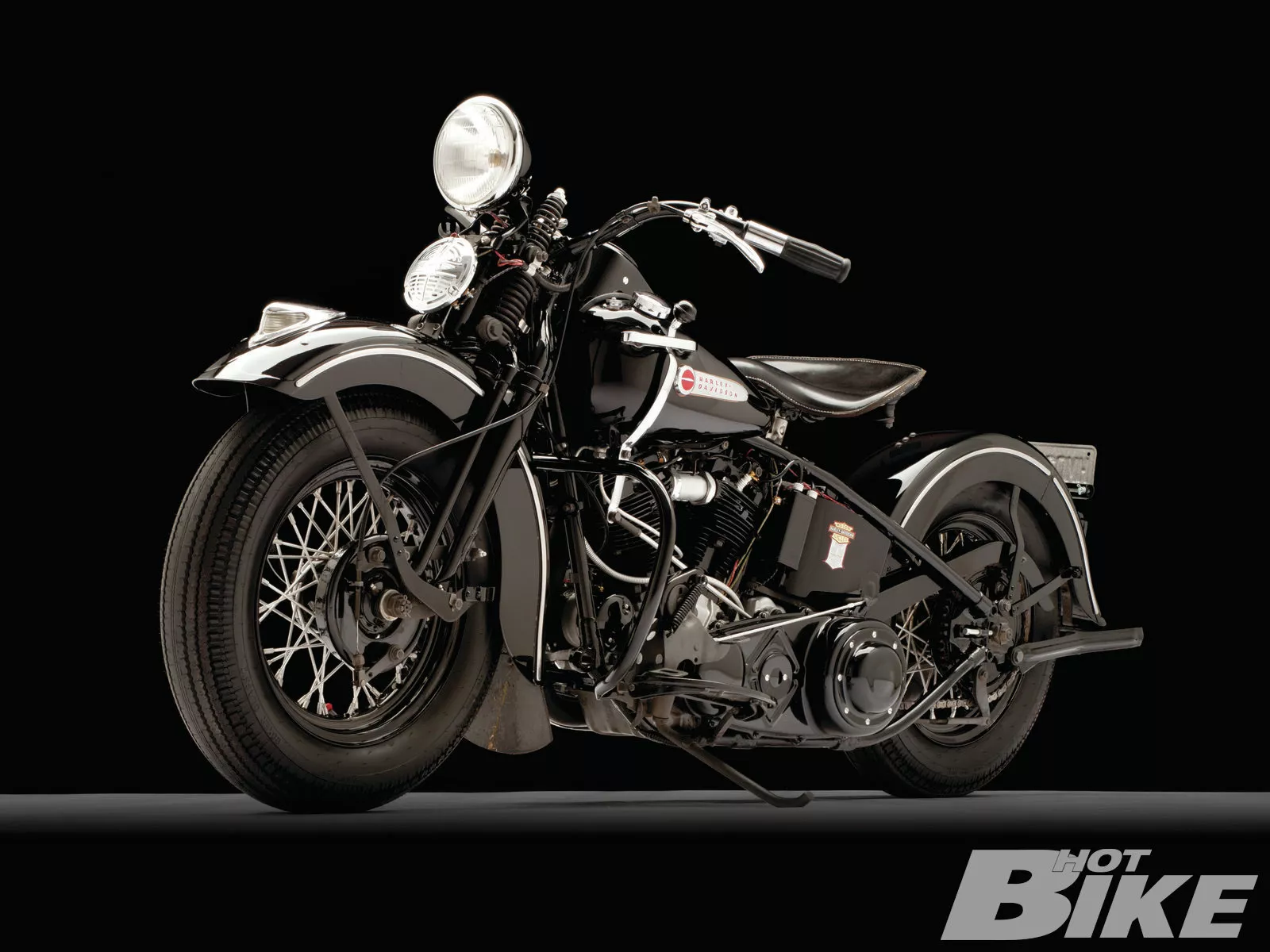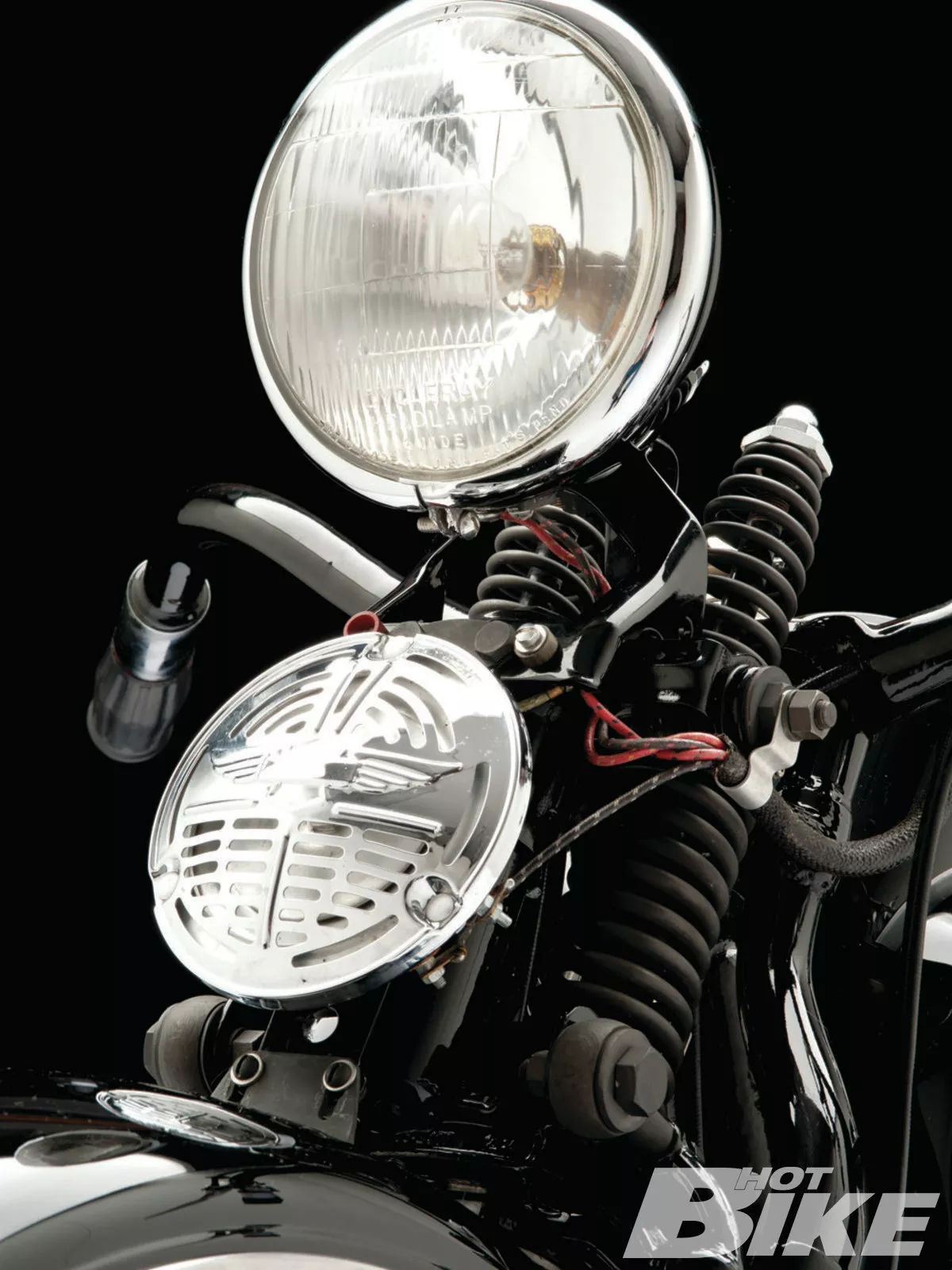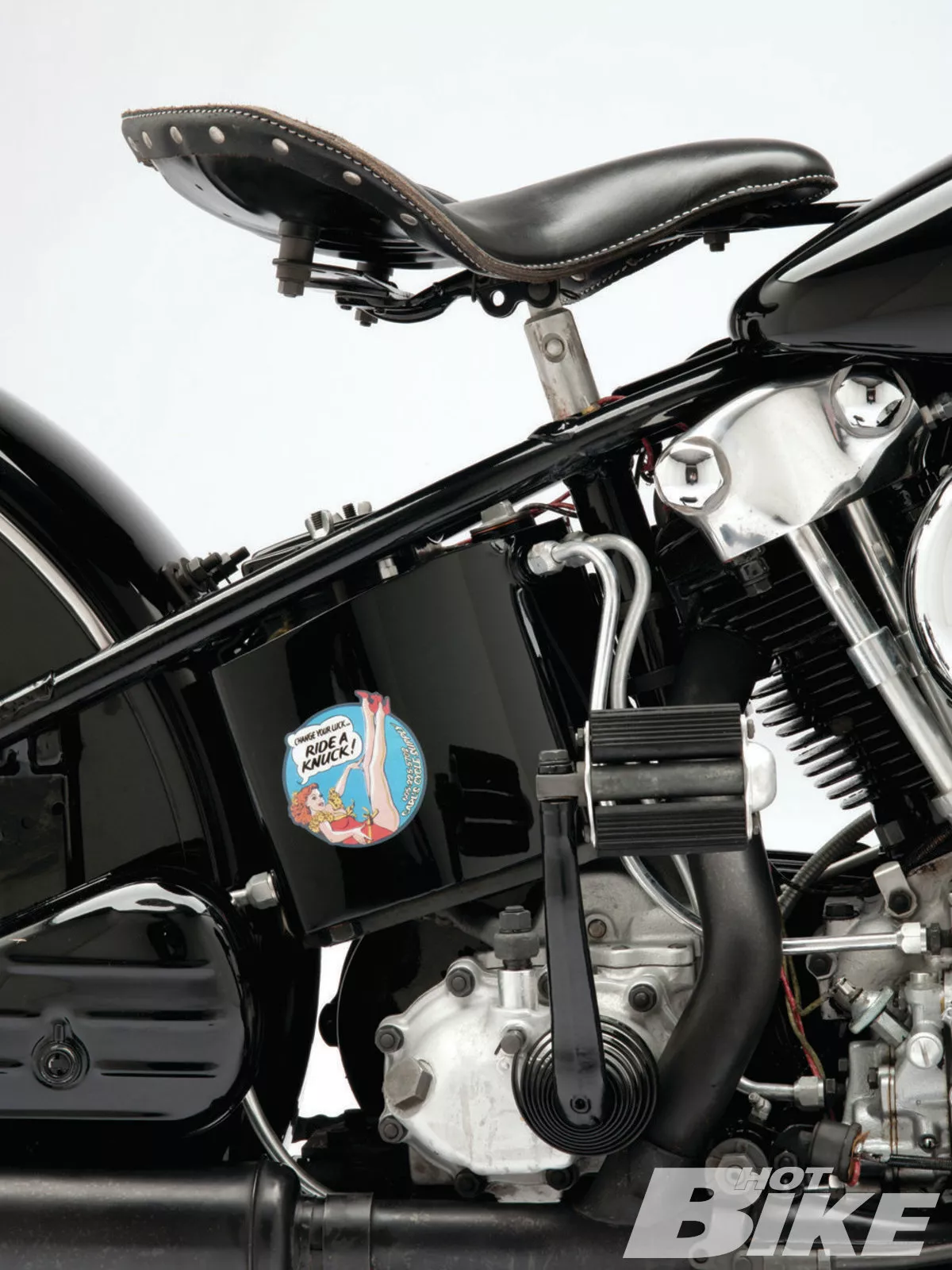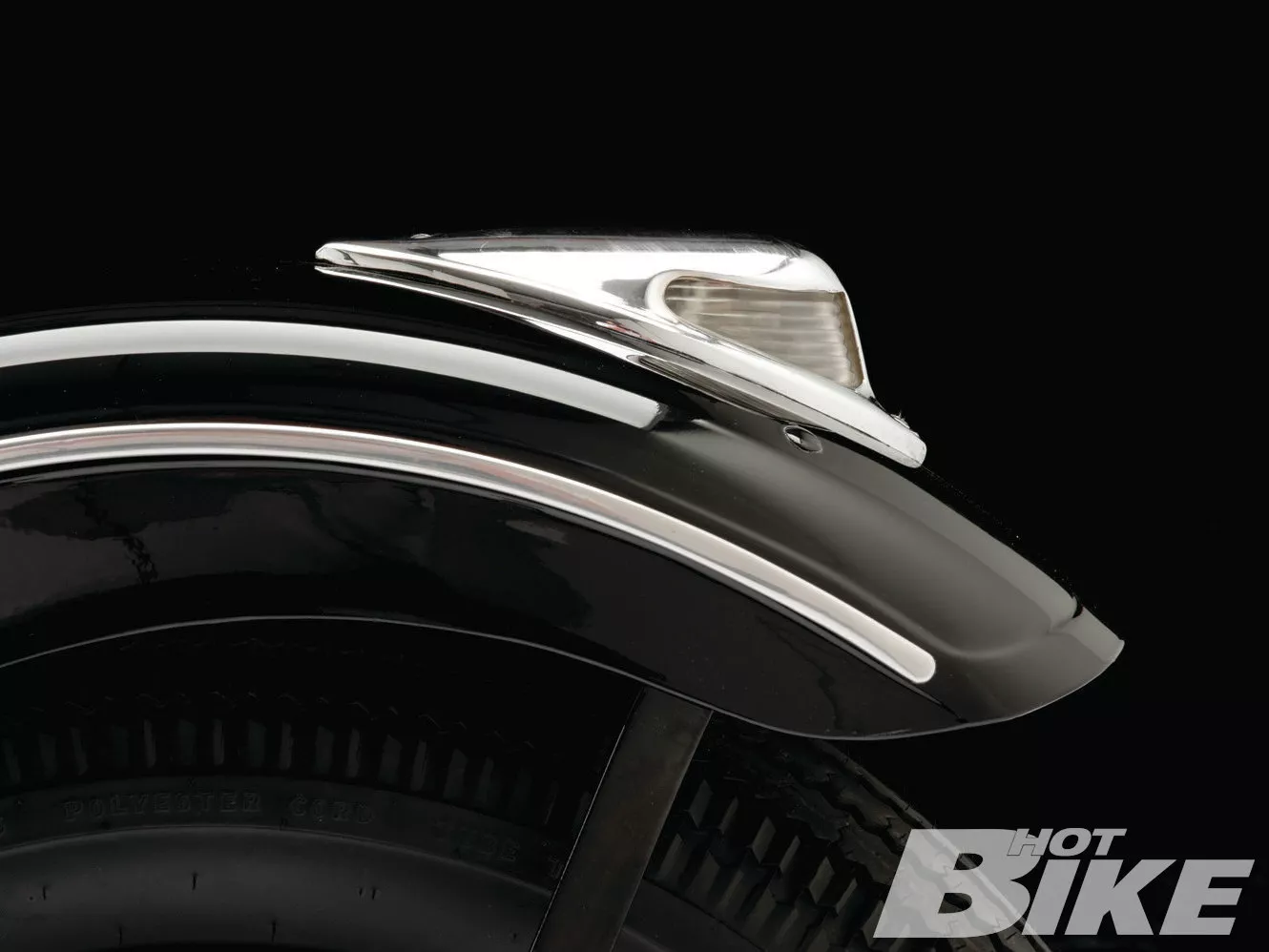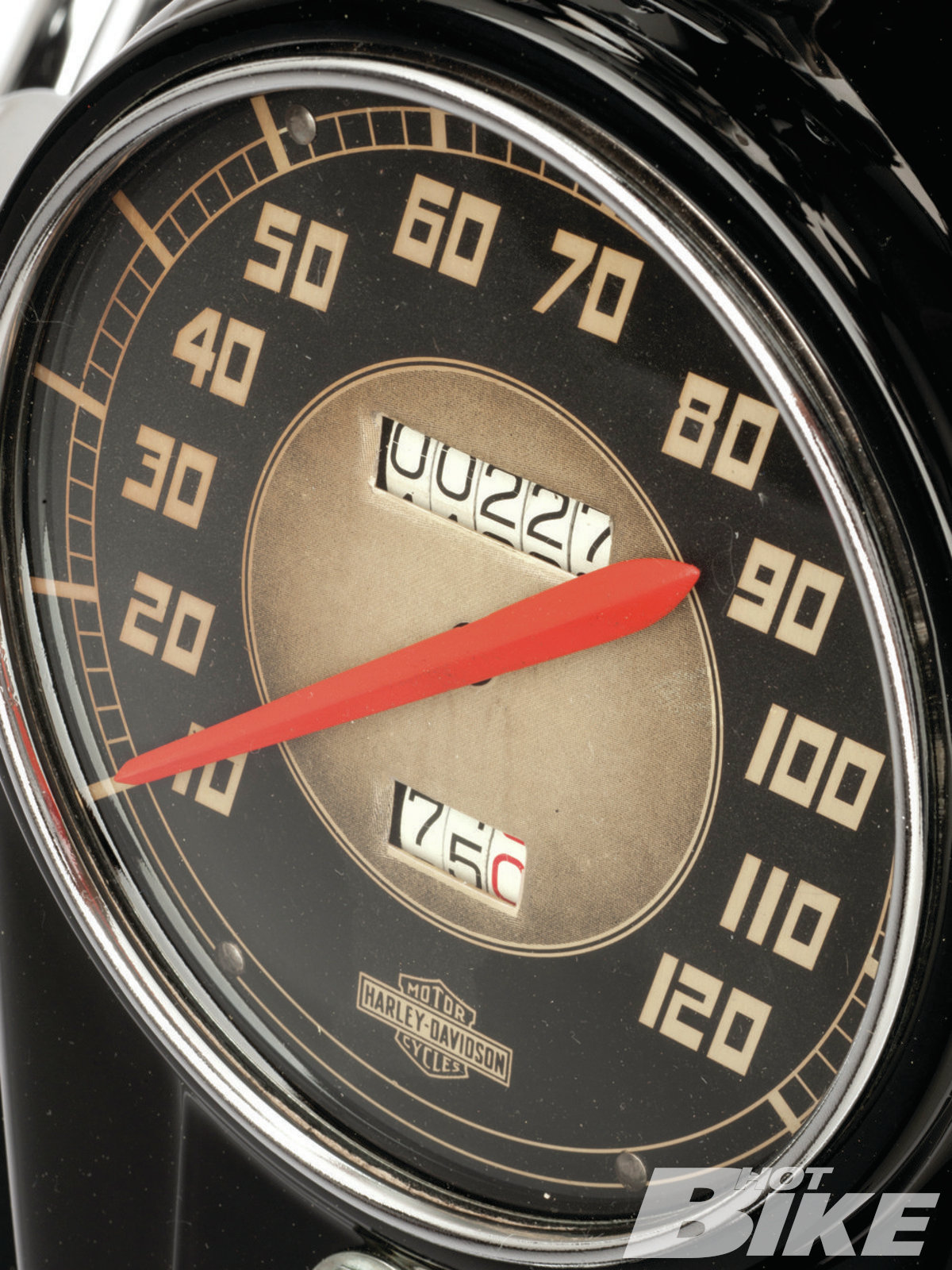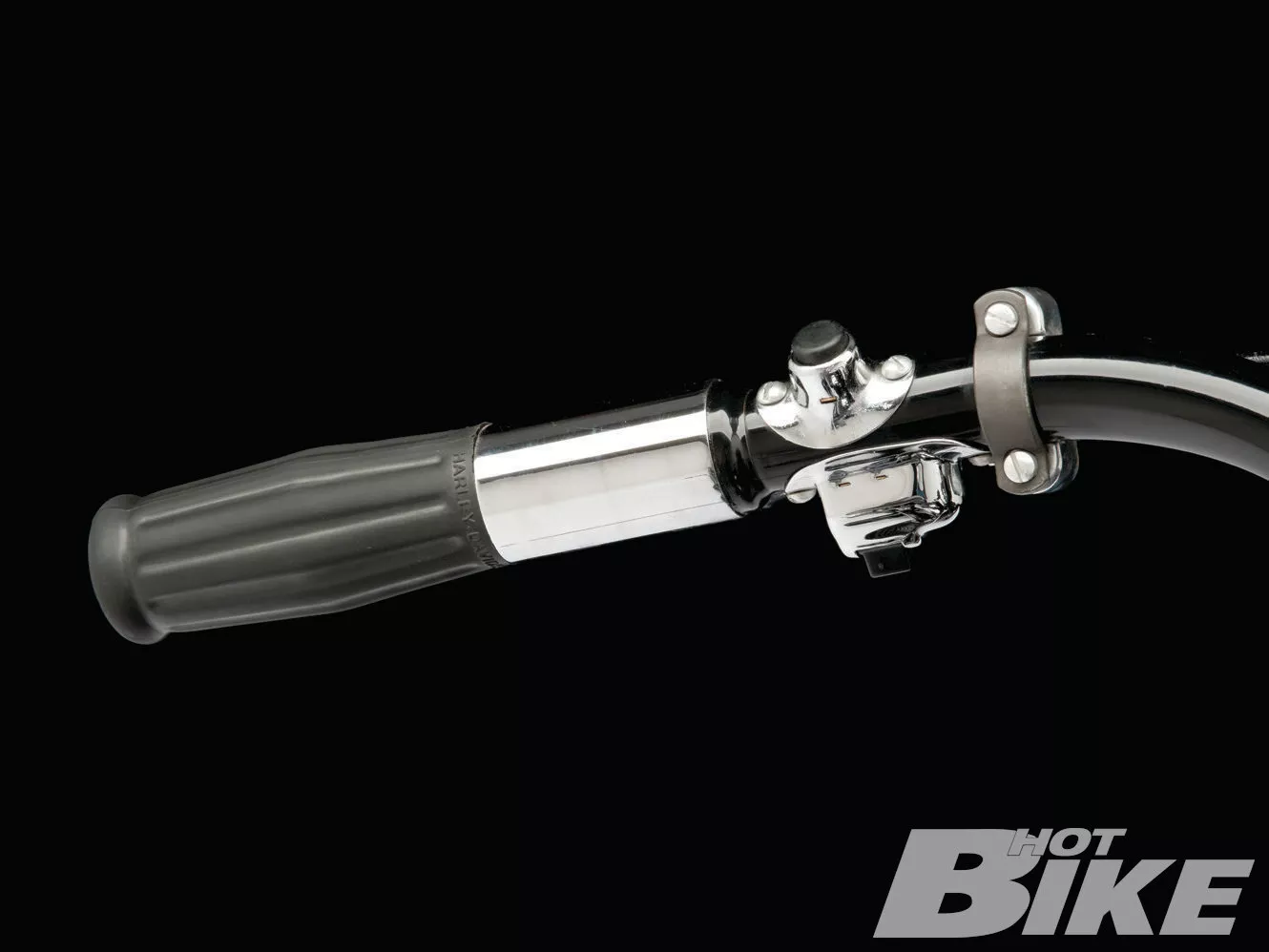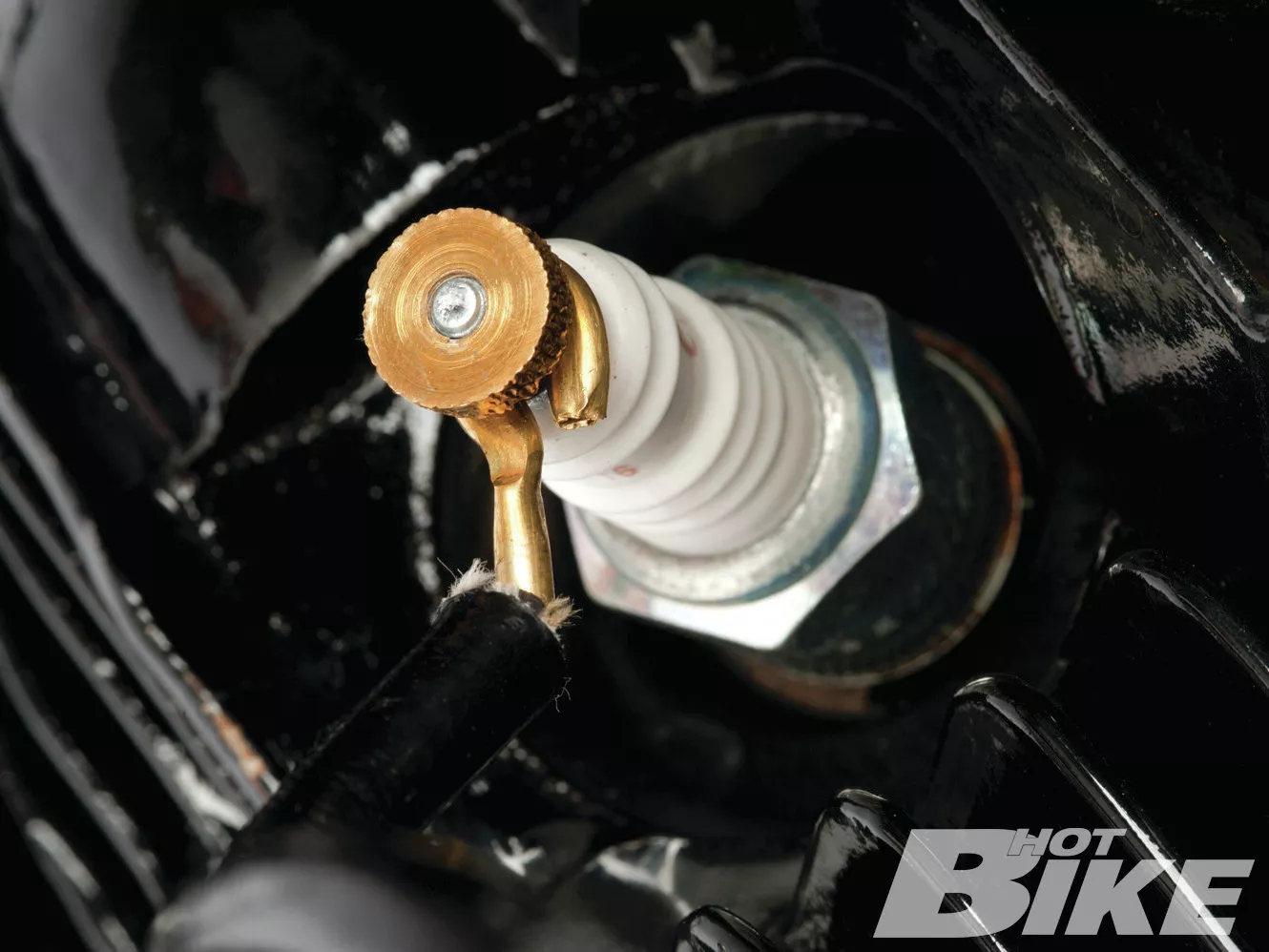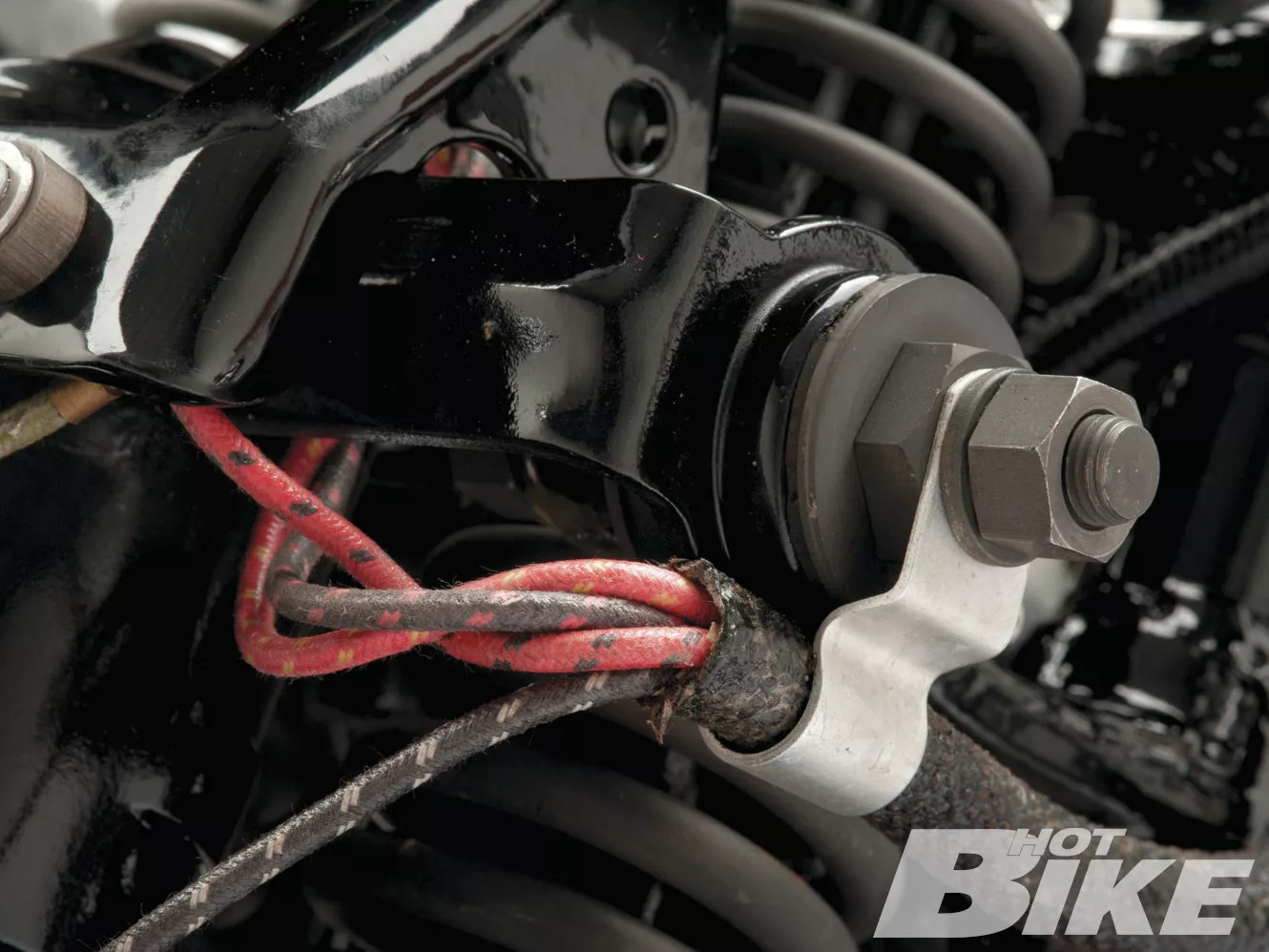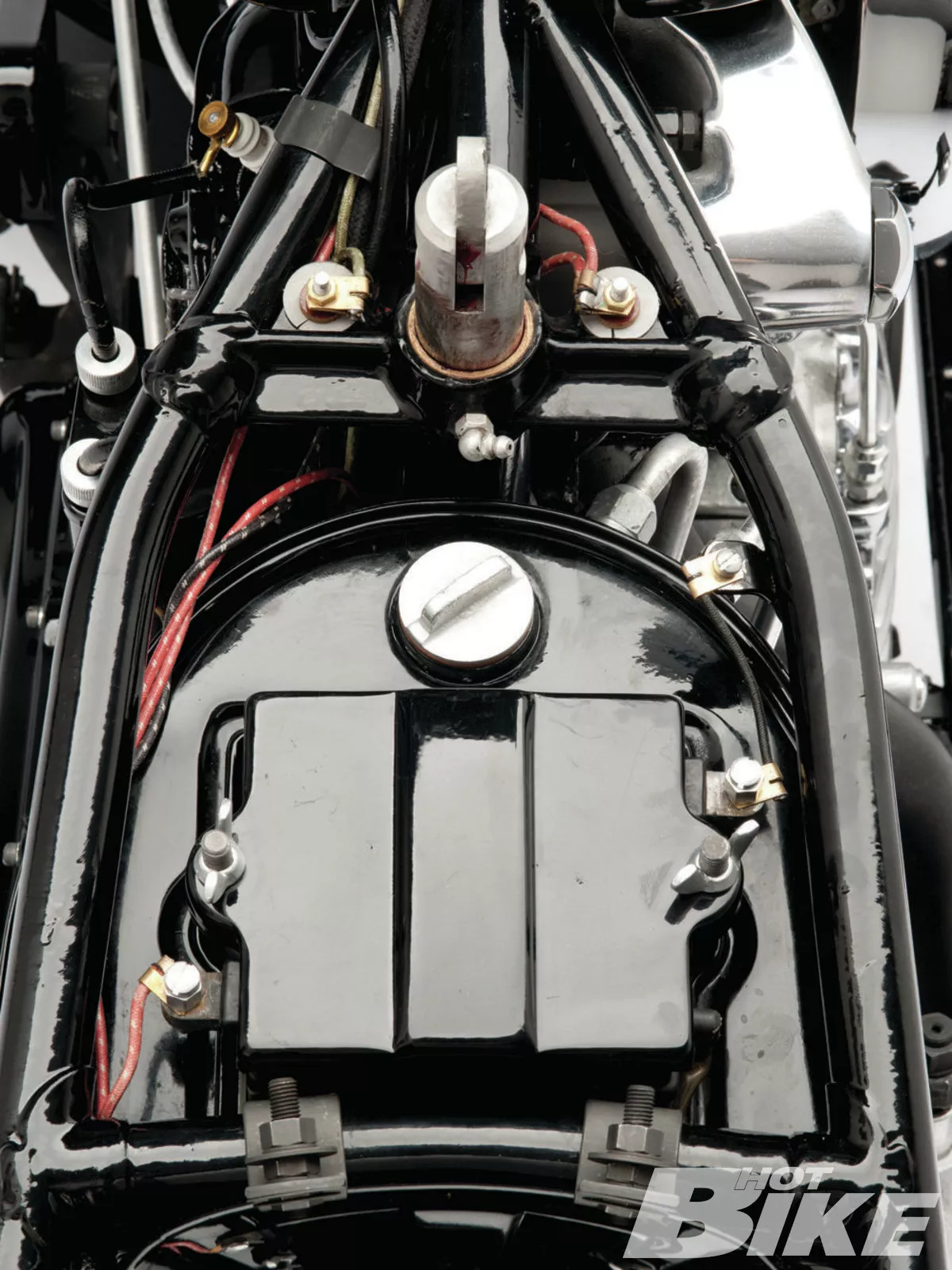 Carl Olsen and his son Matt do a lot more than just fix up old bikes. They actually do ground-up restorations, the obsessive kind, with an attention to detail unmatched by any of their peers. The bike in these photos did not come to be overnight. This '47 Harley-Davidson Knucklehead was a multiple-year project, like all their bikes. It was a worldwide quest for period-correct parts with painstaking hours of fun piecing everything together to create a perfect restoration. Carl and Matt always strive for 95-plus points on the 100-point AMCA scale.
Growing up with a father who restored tractors and antique cars, Carl started helping out as far back as middle school. He had a knack for it and soon moved on to bikes. When he was 18, he bought a '53 Panhead and moved out to California. There he learned to make choppers and eventually, 15 years later, made it back to North Dakota and took a job in the oil fields, always with a couple of bike projects on the side. Eventually, when Matt was born, he made it to Aberdeen, South Dakota, where they still live today.
Bikes had always been just a hobby until one fateful day in 1998 when Carl quit the job that he hated to catch up on some of the motorcycle work he had backed up on the side. He never actually got caught up. Instead things took off, and today they have a two-to-three-year backlog of customer projects.
Like father like son. Matt started working with his dad when he was a kid and really fell in love with the trade. He did his first cross-country motorcycle ride at 11 years old in his dad's sidecar, and his first solo cross-country at 17. Recently Matt completed two Ironbutts in a week, one on his dad's '39 Knucklehead, and the other on his '36 Knuckle. And at 25, he is the youngest board member of the AMCA and in charge of its youth program.
This bike started out like many of their other builds. They were contacted by Bob Benson from New Jersey who had a vision for his perfect H-D. He wanted a '47 Knucklehead for years and was finally ready to get started. He contacted Carl, told him what he wanted, and sent a deposit so that Carl and Matt could start finding the parts and pieces that would eventually become his dream Knucklehead. And so the process started, all the pieces began to fall into place coming from all over the world to converge and turn this bike back into a functioning useable piece of history. After a year and a half of beating the bushes and calling all of their contacts, Carl and Matt rounded up enough parts and were ready to start working on putting together Bob's bike.
Coincidentally, toward the end of the final assembly, they got a call from another customer, Andy from New Jersey, who had just picked up a '47 bobber off eBay and wanted to turn it into a stock Black '47 Knucklehead. Carl and Matt agreed to take on the project and arranged shipping the bike to the shop. As soon as they unpacked it, Matt noticed that the serial number on Andy's bobber was within 90 bikes from Bob's '47 that they were just finishing up! Harley made more than 11,000 Knuckleheads in 1947, and two of them a mere 90 bikes apart ended up in South Dakota at Carl's Cycle Supply at the same time. Statistically speaking, that is pretty wild. But just five years ago the crew out of Aberdeen fixed up two '38 Knuckleheads that were within five serial numbers of each other. Strange how these bikes seem to find their way to the right place to be worked on.
The final product is a 95-plus-point restoration that Bob is really happy about. The father-and-son team stay pretty busy these days and usually produce eight to 10 bikes a year.
We build people's dreams, their toys. It's really an amazing job, says Matt. If you're doing a restoration of your own, or just working on an old bike, be sure to check out Matt's blog at oldbikesinsd.blogspot.com. HB
Recently Matt completed two Ironbutts in a week, one on his dad's '39 Knucklehead, and the other on his '36 Knuckle. And at 25, he is the youngest board member of the AMCA and in charge of its youth program.
| | |
| --- | --- |
| Specifications | |
| Bike Owner | Bob Benson |
| Shop Name | Carl's Cycle Supply |
| Shop Phone | (605) 225-5702 |
| Shop Website | carlscyclesupply.com/ oldbikesinsd.blogspot.com |
| Year/Make/Model | '47/H-D/FL |
| Fabrication | Carl and Matt Olsen |
| Assembly | Carl and Matt Olsen |
| Build Time | Two and a half years |
| | |
| --- | --- |
| Engine | |
| Year/Manufacturer | '47/H-D |
| Type/Size | Knucklehead/74ci |
| Builder | Carl Olsen |
| Cases | Restored originals |
| Cylinders | H-D |
| Heads | H-D, Stock Large Port |
| Rocker Boxes | H-D, 1947 only |
| Carb | H-D |
| Air Cleaner | Original 41-54 Jslot |
| Exhaust | Carl's Cycle Supply muffler and rear header pipe, Dennis Corsos pipe and front header pipe |
| | |
| --- | --- |
| Transmission | |
| Year/Manufacturer/Type | '47/H-D/ Four-speed |
| Case | Stock |
| Clutch | Stock |
| Primary Drive | Beltdrive |
| | |
| --- | --- |
| Frame | |
| Year/Manufacturer | late '46/47 H-D, bullneck |
| Rake | Stock |
| Stretch | None |
| | |
| --- | --- |
| Suspension | |
| Manufacturer Front | H-D, Stock offset springer |
| Length | Stock |
| Manufacturer Rear | None |
| | |
| --- | --- |
| Wheels, Tires, and Brakes | |
| Manufacturer Front/Type | Kelsey Hayes rim/original hub |
| Size-Height/Width | 16-inch |
| Tire/Size | /500-16 |
| Manufacturer Rear/Type | Kelsey Hayes rim/original hub |
| Size-Height/Width | 16-inch |
| Tire/Size | /500-16 |
| | |
| --- | --- |
| Finish/Paint | |
| Color | Brilliant Black |
| Painter | Mike Schwab |
| | |
| --- | --- |
| Accessories | |
| Front Fender | Original three-piece |
| Rear Fender | Original three-piece |
| Fender Struts | Original wide brace |
| Gas Tank And Cap | Original early 1947 tanks |
| Oil Tank | Original '40-57 |
| Handlebars | Tom Faber retubed offset bars |
| Hand Controls | H-D, original early brake handle |
| Foot Controls | Stock |
| Footpegs | Original WPB footboards |
| Headlight | Original Cycle Ray |
| Taillight | Original Guide tombstone |
| License Mount | Original |
| Seat | Original solo |
| Saddlebags | Michael Paqquette |
| Saddlebag | Latches Stock '47 loctite |