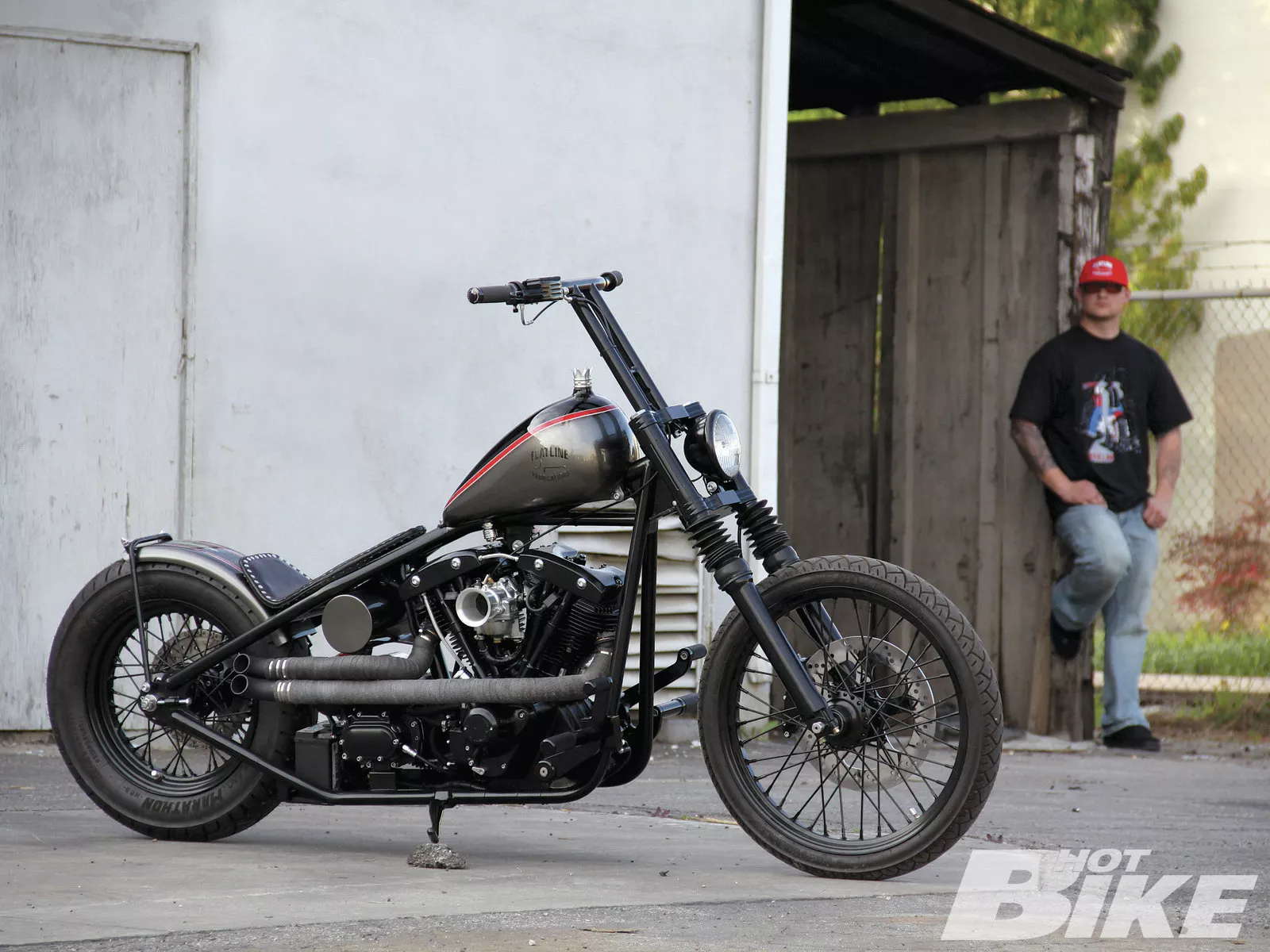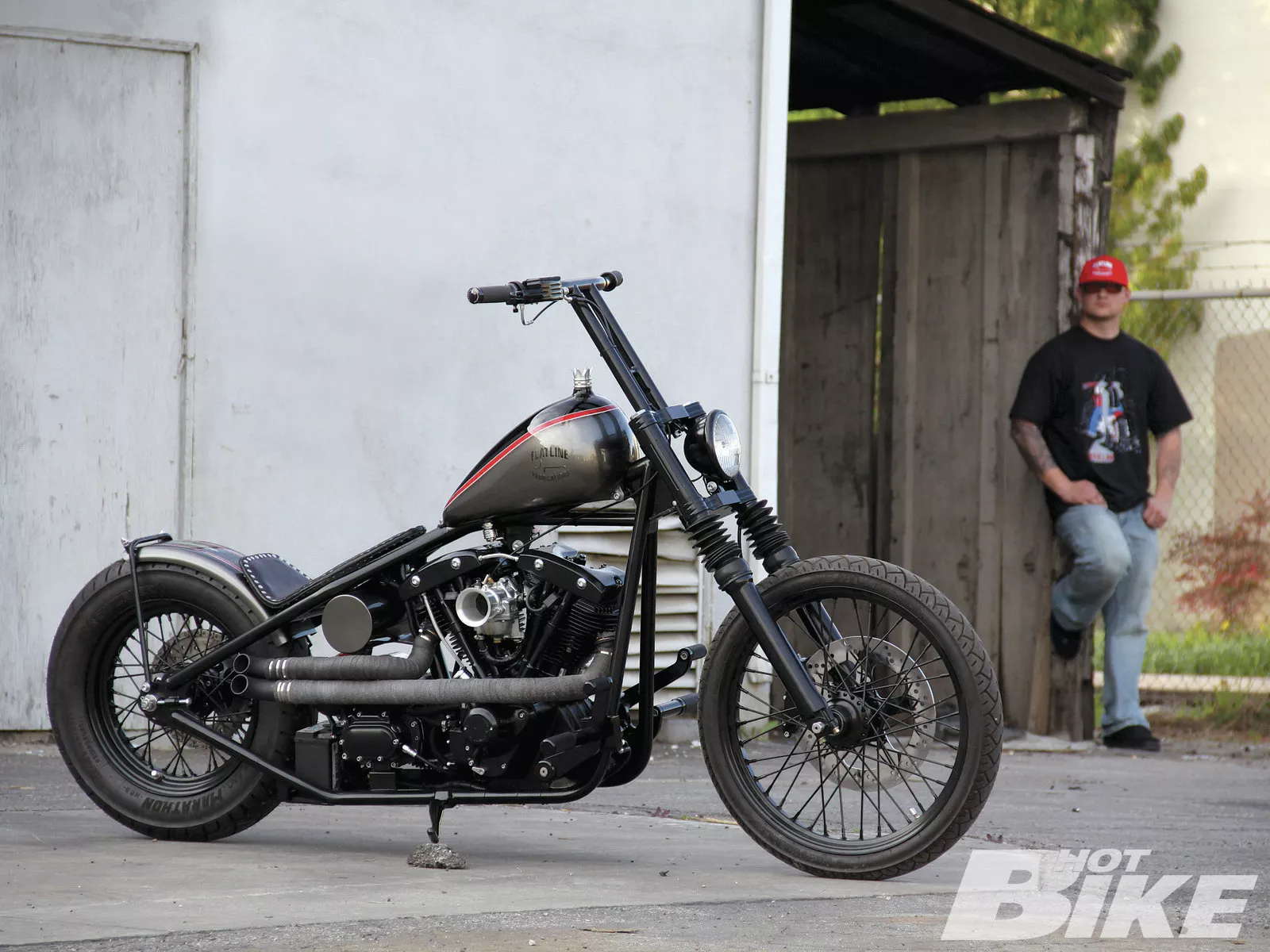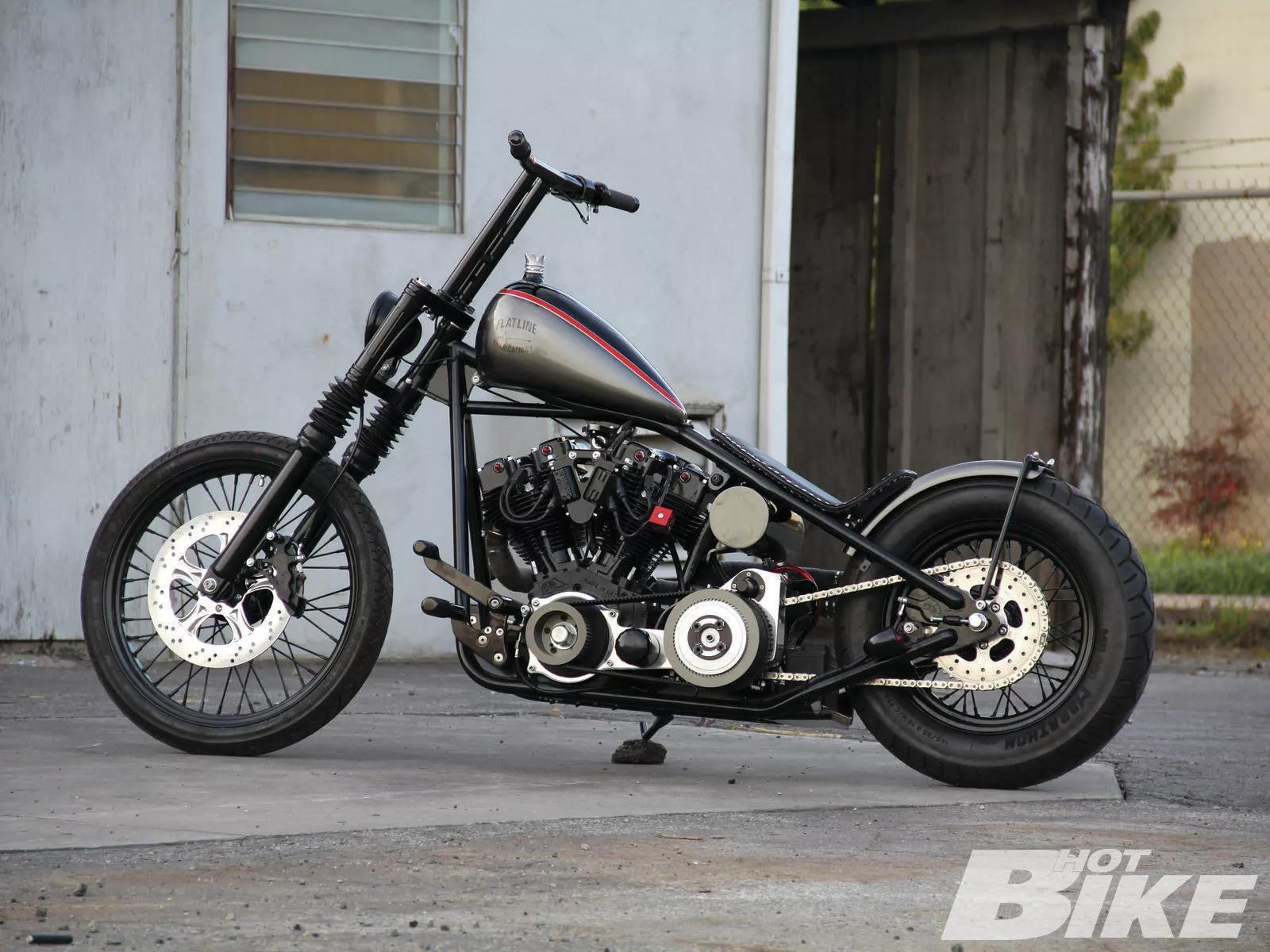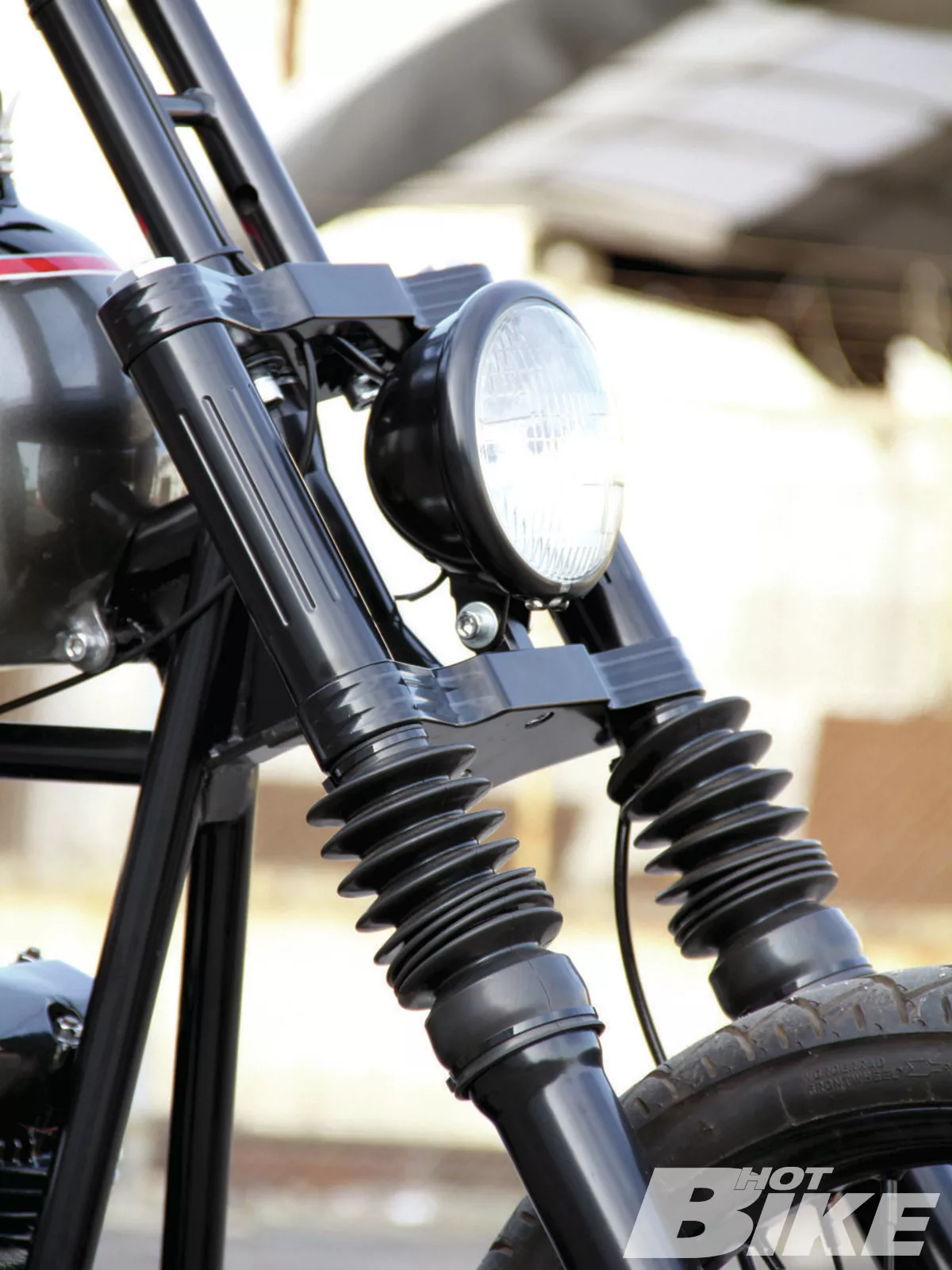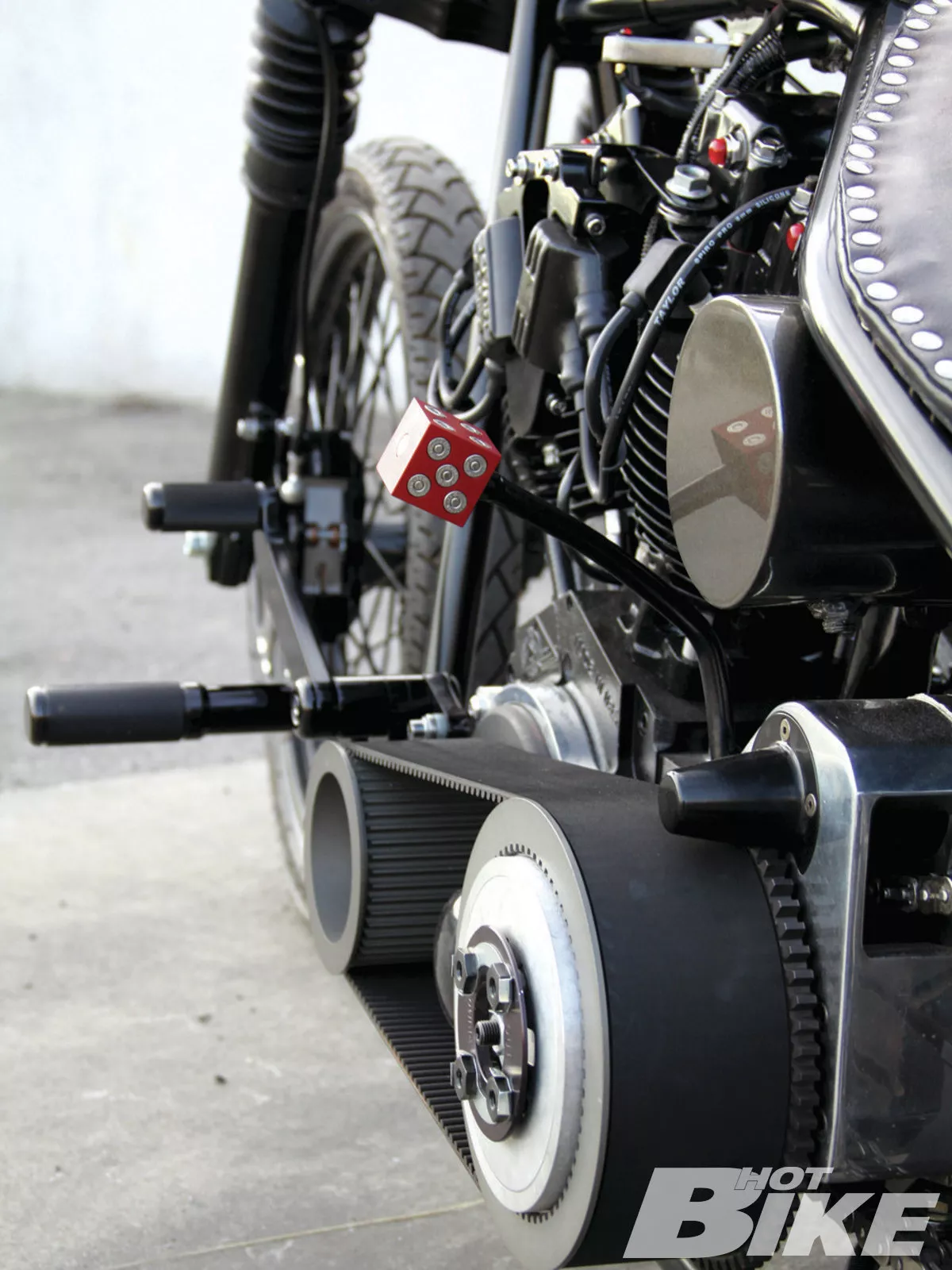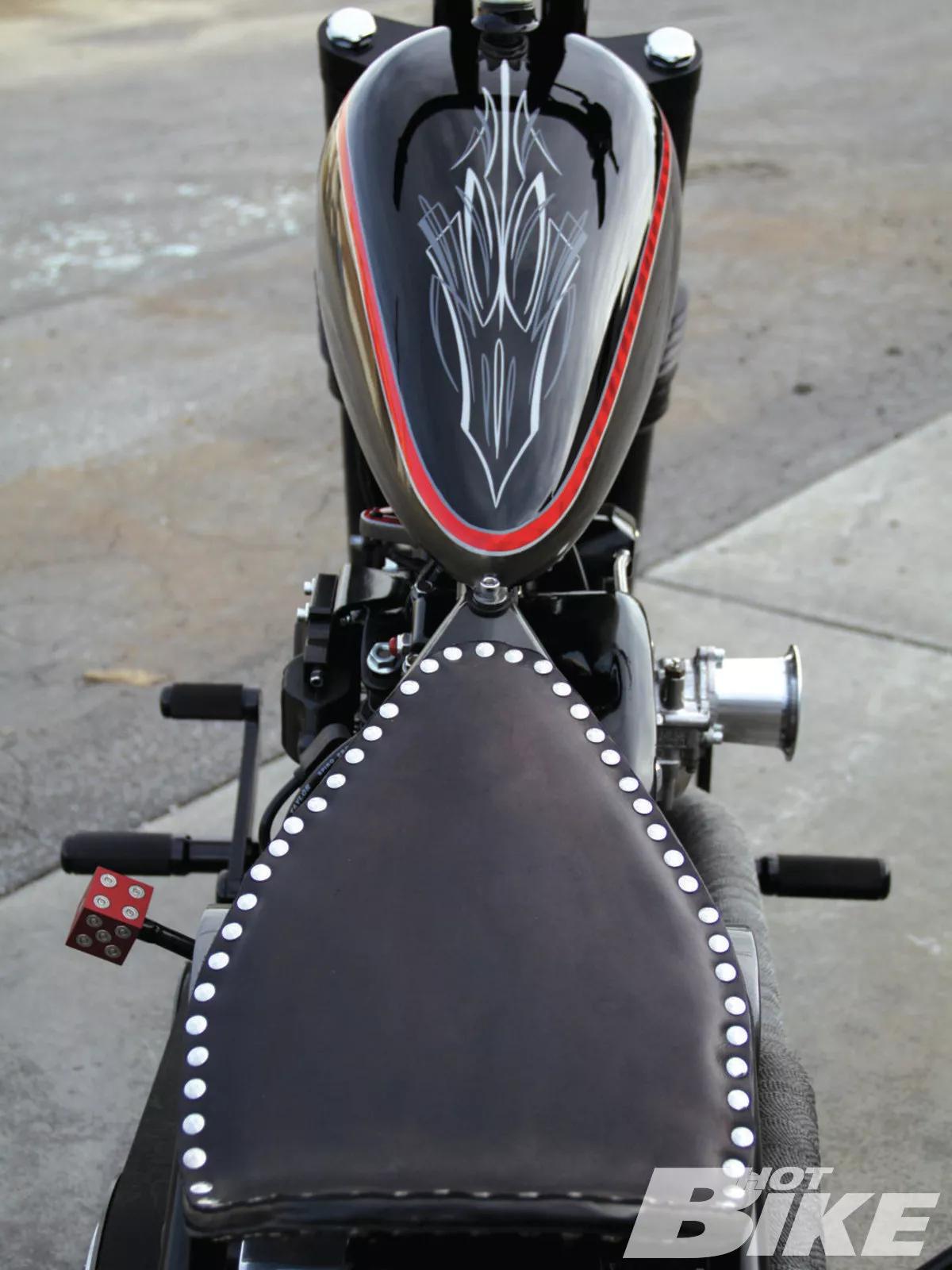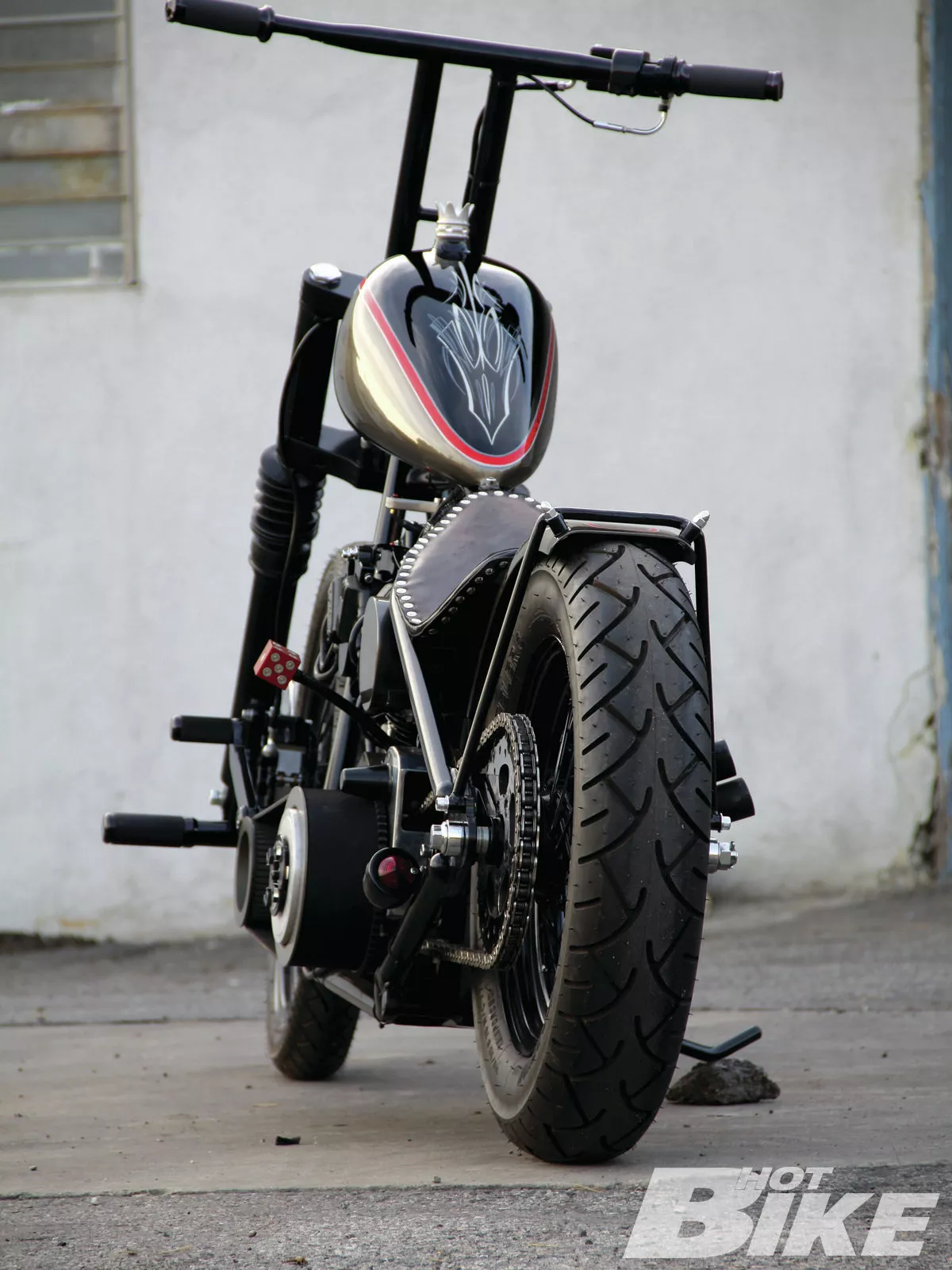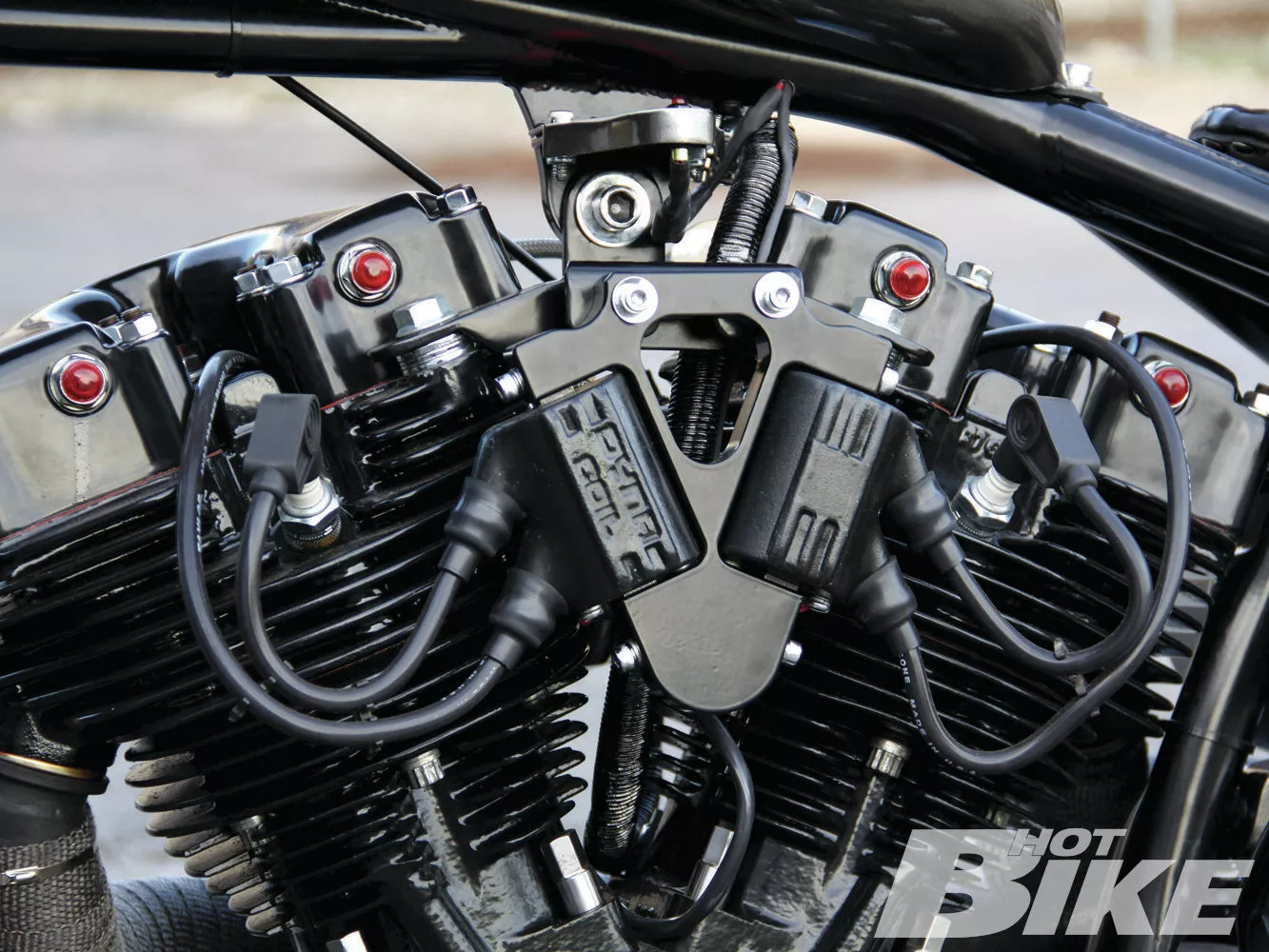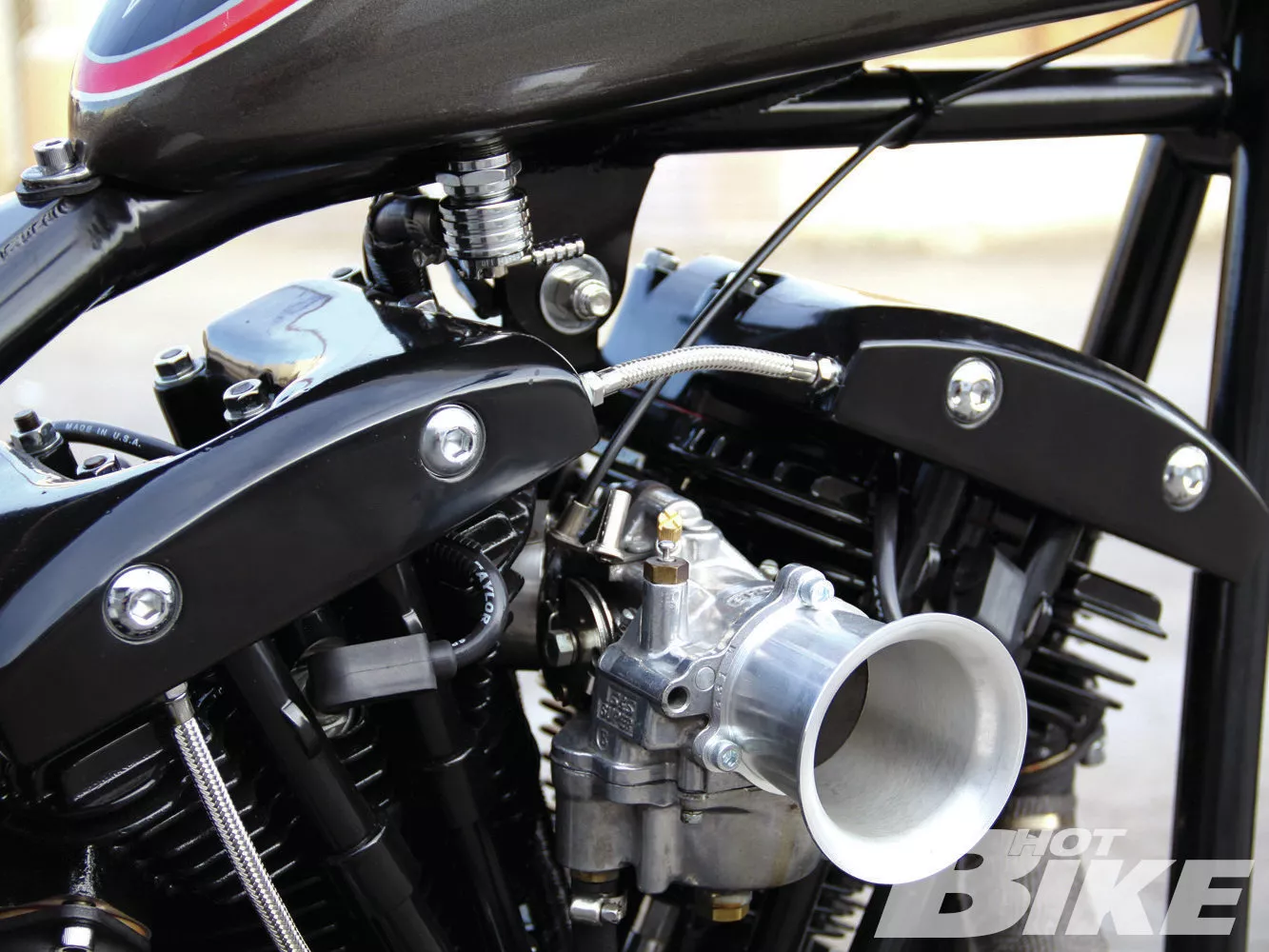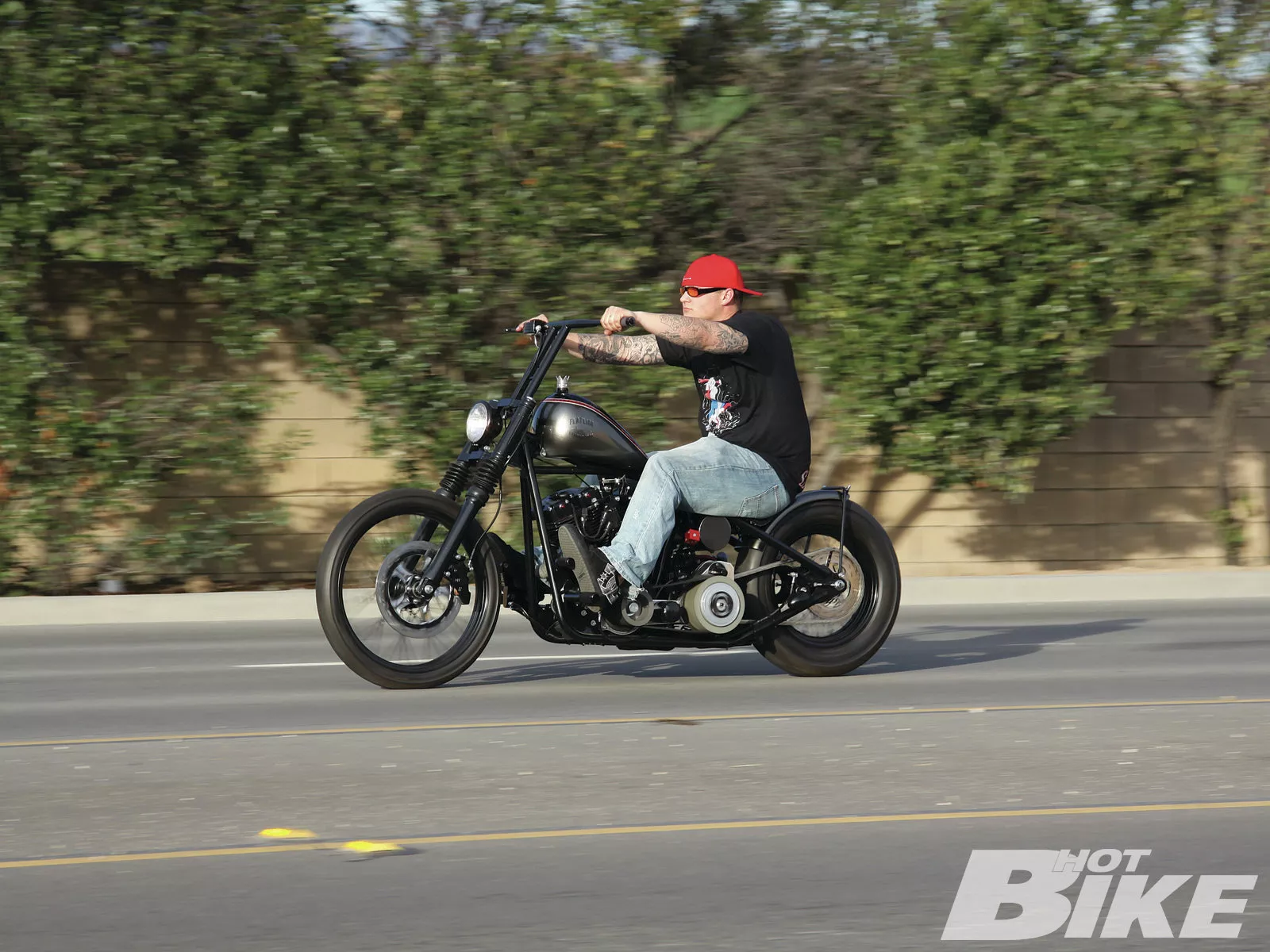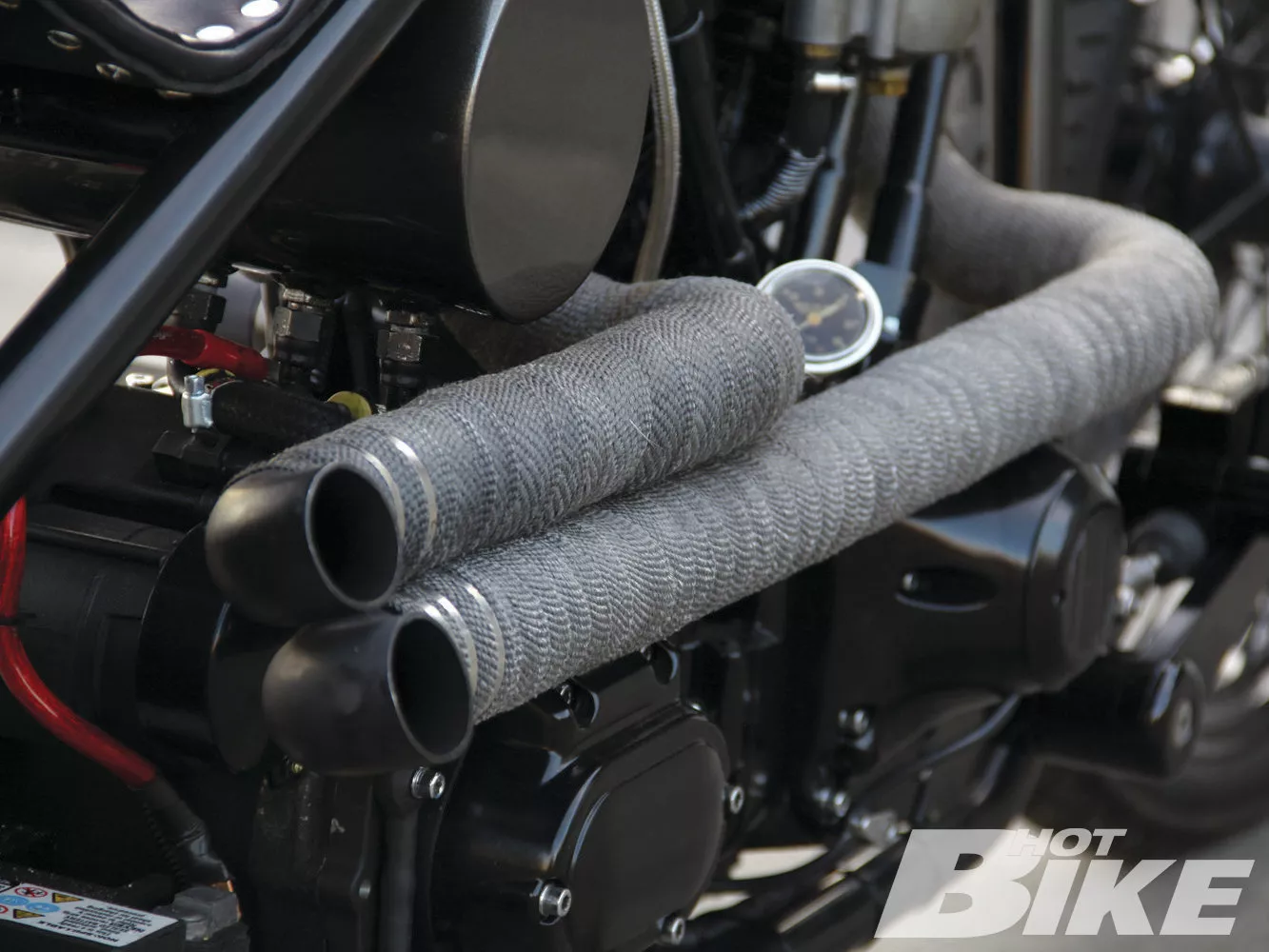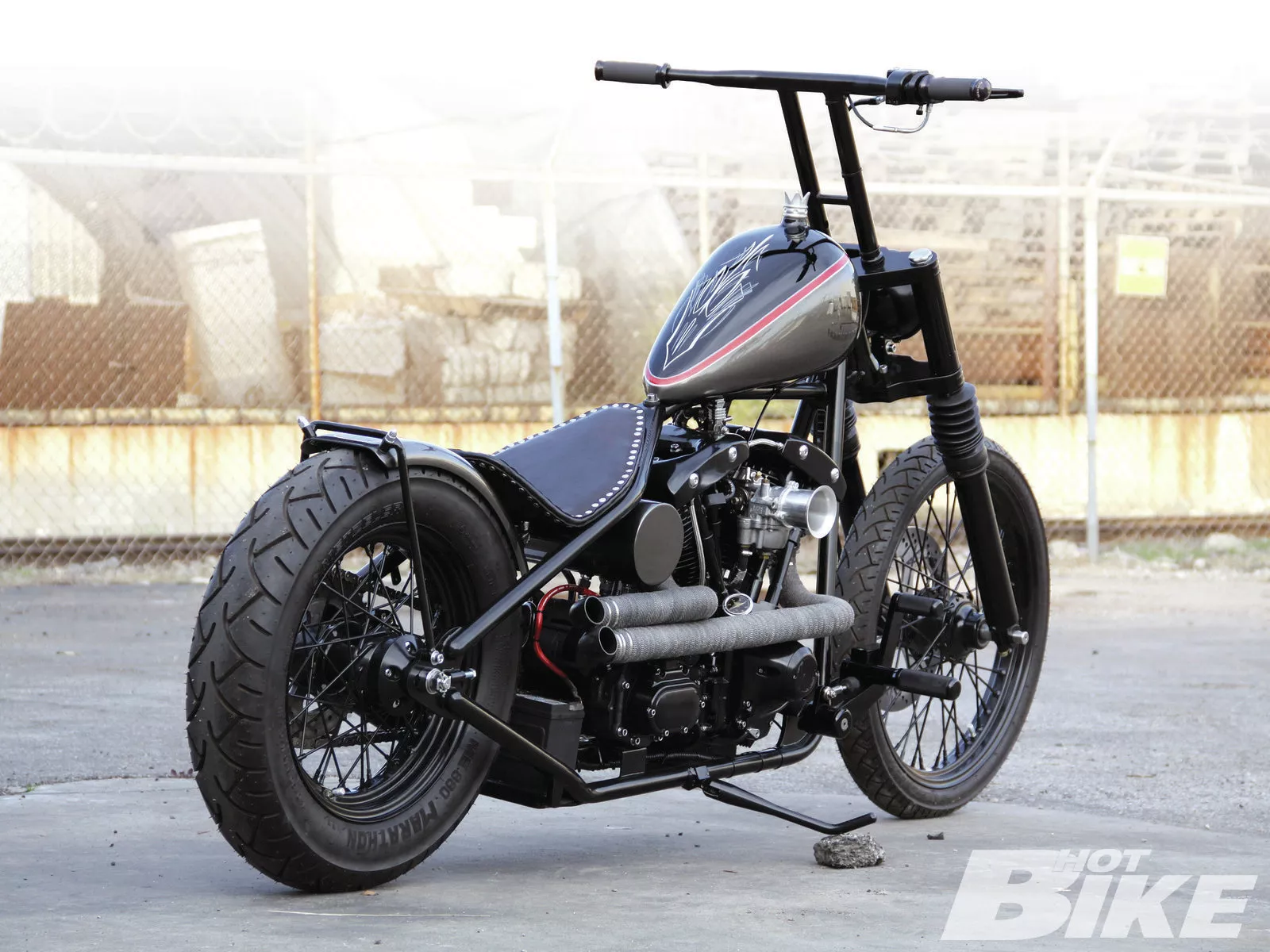 I picked up this bike as basket case about seven years ago, and even though I was building my first bike (a Twin Cam rigid), I knew that at $1,500 it was something I couldn't pass. By 2005, with my first bike done, I started the first rough mockup on this bike. My original plan was to build more of a stock-looking Shovelhead with minor tweaks here and there, use up some of my spare parts I had lying around, and keep the original frame. I messed around with it for about a year whenever I had time and eventually realized that I was going to need to go a different direction in the build. I ended up ordering a stock rake 0 stretch rigid frame, and got it to a roller state. I then began to see in my head exactly what I was after.
I wanted a haul-ass, super light and narrow bike with a jockey shift setup. Even though I never rode a foot-clutch bike, I figured by the time I finished the build I had better learn. I also wanted to blend classic style of what a chopper should be with a touch of modern functions, like a late-model trans and big brakes. The other point was that I was definitely putting the kickstand on the right side like I did with my previous bike because when you park alongside other bikes, it throws off the whole lineup and really helps your bike get noticed.
Since I only have weekends to really focus on building bikes, the process takes some time. One of my main points in building a bike from the ground up is that I need to make as many pieces for it by hand as possible. I do know my limits though as paint and the motor build are two things I stay away from. I made the fender, oil tank, gas tank, pipes, seat, and several other pieces by hand. Countless hours of hammering, wheeling, welding, grinding, smoothing, and sanding went into this bike.
The only person I really let help me or demand to help me was my pop. He has been helping me build cars, trucks, and bikes since I was 14, and is pretty much responsible for teaching me how to build cool shitit's all his fault. At that early age, I realized that I was hooked on building custom trucks and cars, and would eventually get the bike thing going as well. This meant that I needed to step my tool collection up every chance I could. From MIG and TIG welders, a plasma cutter, an English wheel, a shrinker/strectcher etc. I spent countless hours practicing and learning how to use them all.
Getting back to this build, the bike was close to being finished a few times over the next two years, but I decided I didn't like the way the pipes looked and the gas tank was too wide, so I spent a lot of time perfecting the small details until got the look I was after. I then got into building another bike, bought and remodeled my house, etc. Once I got the other bike and house taken care of, I was full-speed ahead on the Shovelhead.
I had the motor built up at Simms Bay Area Custom Cycles. Mark at Simms built me a badass 93ci stroker motor that, coupled with the jockey shift and lightweight bike, has a violent kick to it, yet starts with ease. The engine has Hannan's dual plug/ported heads, with all the go-fast stuff you can think of. After I got the motor in place, it was time for the pipes. I built a simple straight set that shot upward and out, right into the car window that would eventually be alongside me on the freeway. With the pipes built, it was starting to look like what I had envisioned years earlier. I installed an Exile Sprotor, 3-inch Exile/Primo beltdrive, along with Exile's foot controls.
After the final mockup was complete, my pop's buddy Lorenzo hooked me up with all of my satin black powdercoating. I turned to my good friend Shane Leasure (Leasure Lines), who is a badass painter/striper, to paint it. I told him the colors I wanted, adding, It's gonna have your name on it, so do your thing! He nailed it, and I couldn't be happier. The night I picked up the paint, I immediately put it on the bike. After that I was on a mad dash to get this bike finished, as I couldn't wait to ride it. The next few weekends were spent with my pop and my buddy, Bryan, helping with the wiring and getting all the mechanical kinks worked out. After work each night, I would spend a couple hours working on covering my seat pan. I used a thick tooling leather, punched holes around the perimeter top and bottom pieces, drilled out the seat pan, dyed the leather black, and used stainless rivets to hold it together.
In the end I basically used only the motor cases and cylinders, but the good news is I've got a lot of extra parts left over to build another bike.
Special thanks to Pop and Grami, JB, and Tattoo Church. I'd also like to thank the whole crew at Ron Simms BACC shop for everything they have helped me with over the last few years, and my wife, Ashley, for putting up with my continued craziness and understanding that there will be more! HB
Editor's Note: While Harley's strategy of cranking out new bikes to fall into its Dark Custom line is helping attract the attention of new/younger riders, it's often sweet deals on crusty iron that takes months or maybe even years of toiling in a small 10×10 garage or oil stained linoleum kitchen floor that is striking a chord with the youth; bringing new life to an old soul. Justin Duncan didn't exactly get his start with motorcycles. He started building with his first truck, a '74 Chevy Step Side that made its way through the pages of Classic Trucks, Street Trucks, and the cover of Truckin'. But while he was building that truck, Justin knew he would eventually drop two wheels and build a bike. At 20 Justin pieced together a rigid FXR, and now with this Shovelhis third ground-up custom buildif you were to equate bike builds into dog years, Justin would nearly be considered a gray beard at the ripe old age of 28.
I also wanted to blend classic style of what a chopper should be with a touch of modern functions, like a late model trans and big brakes.
| | |
| --- | --- |
| Specifications | |
| Bike Owner | Justin Duncan |
| Shop Name | Flatline Fabrications (owner) |
| Year/Make/Model | '73/Shovelhead/chopper |
| Fabrication | Owner |
| Assembly | Owner |
| Build Time | Four years |
| | |
| --- | --- |
| Engine | |
| Manufacturer | Delkron/S&S; |
| Type/Size | 93ci/Shovelhead |
| Builder | Simms Bay Area Custom Cycles |
| Cases | Delkron |
| Cylinders | S&S; |
| Heads | Hannans |
| Carb | S&S; Super E |
| Air Cleaner | S&S; |
| Exhaust | Owner |
| | |
| --- | --- |
| Transmission | |
| Year/Manufacturer/Type | H-D/Five-speed |
| Case | S&S |
| Clutch | Primo Rivera |
| Primary Drive | Primo Rivera |
| | |
| --- | --- |
| Frame | |
| Year/Manufacturer | Mid USA Rigid |
| Rake | Stock |
| Stretch | Stock |
| | |
| --- | --- |
| Suspension | |
| Manufacturer | Front H-D |
| Length | 2 inches under |
| Triple Trees | Stockpile/owner |
| | |
| --- | --- |
| Wheels, Tires, and Brakes | |
| Manufacturer Front/Type | Stockpile/Spoke |
| Size-Height/Width | 21×2.125 |
| Tire/Size | Metzeler/9090/21 |
| Caliper | PM |
| Rotor | PM |
| Manufacturer Rear/Type | Stockpile/Spoke |
| Size-Height/Width | 16×3.5 |
| Tire/Size | 140 Metzeler |
| Caliper | Exile Sprotor |
| Rotor | Exile |
| | |
| --- | --- |
| Finish/Paint | |
| Color | HOKGalaxy grey, black, silver leaf, with red candy |
| Painter | Shane Leasure/Leasure Lines |
| Graphics | Shane Leasure/Leasure Lines |
| | |
| --- | --- |
| Accessories | |
| Rear Fender | Trailer/owner |
| Fender Struts | Owner |
| Gas Tank and Cap | Owner |
| Oil Tank | Owner |
| Handlebars | West Coast T-Bars |
| Hand Controls | PM/Owner |
| Foot Controls | Exile with foot clutch |
| Footpegs | Exile |
| Headlight | Stockpile |
| Taillight | $10 special |
| License Mount | Clamp on |
| Seat | Owner |