People pay good money for air-cooled pushrod Big Twins. People also pay equally good coin for snow machines, scooters, and minibikes. At least, that was the thinking every time Harley has ever gone away from making conventional motorcycles, for good or ill. Over its 110-plus-year history, Harley-Davidson has made its share of all of those things. Some had long production runs; others, I'm sure, H-D might prefer history had locked away in the basement like the inbred cousin in a horror movie. Here's a look at some of the other non-bikes The Motor Company has made through the decades.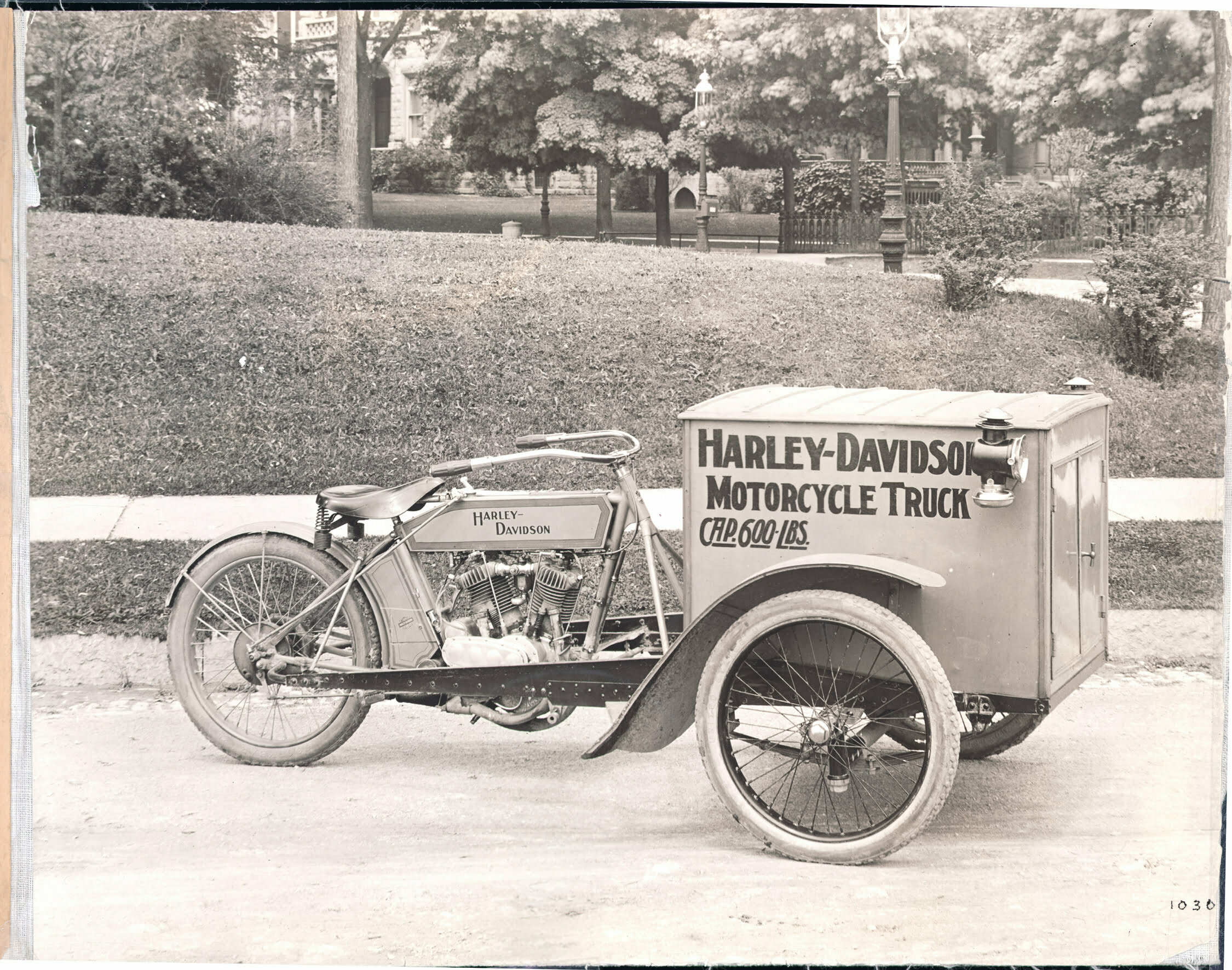 By 1914, people realized the motorcycle's value as a tool. The US Postal Service alone used more than 4,800 H-Ds to deliver mail in out-of-the-way areas. Eight other departments of the federal government used motorcycles for work too. This is the environment into which Harley launched its first Package Trucks to the public. It was the first H-D vehicle designed primarily for utility use. Offered as both sidecar rig and a sort of reverse trike with two front wheels (dubbed the "Forecar"), businesses customized the trucks with logos and special cargo containers like the open racks on Coca-Cola delivery bikes. No one knows exactly how many were made, but Harley-Davidson produced them all the way up to 1957.
The sidecar rig came with a wooden trunk with a hinged top or vertical back door. As for the Forecar, its two wheels held the cargo box while the back half was a motorcycle. Both had low-compression motors and transmissions designed for sidecar use to handle the extra weight. These were the parents of Harley's better-known Servi-Car, which it produced into the 1970s.
Harley started selling bicycles in 1917. They were supposed to be a gateway drug into motorcycling—an idea the company does to this day with products like the Street and Sportster. Harley-Davidson bicycles came with diamond frames for men, a step-through chassis for women, and there was a kid's "Boy Scout" model also. Davis Sewing Machine Company made the individual components until 1921 when the company stopped making bicycles altogether. H-D dropped the product in 1923 due to poor sales.
Obviously, a lot changed between World War I and the Cold War. By this time, import iron besieged Harley-Davidson on its domestic turf. Harley responded in all kinds of ways—the K Model, the Sportster, and, seen here, the Topper. It's the only motor scooter H-D ever made. Those same foreign companies whose lightweight iron challenged Harley's supremacy here in the States made small, entry-level bikes. The Topper was Harley's response. This was also the same year Harley-Davidson bought a half interest in Aeronautica-Macchi, forming Aermacchi Harley-Davidson. The idea being that this merger would be the European division producing small, single-cylinder motorcycles.
The Topper's mill was a 10.1-inch, single-cylinder two-stroke mounted between the floorboards horizontally. It ran on a premixed cocktail of gas and oil. Most scoots with enclosed motors had cooling fans. Not the Topper. Harley expected the low-mounted engine to get its cooling from air passing under the scooter itself. It didn't always work; some Toppers loved to overheat. On the other hand, there's an account of one Topper being ridden long distance (in little scooter terms) from Bakersfield, California, to Death Valley and back without the need for repairs or adjustments.
Harley-Davidson believed in the Topper enough to upgrade the little thing in '61 with the Topper H. It ran an improved alloy cylinder head that brought compression up to 8.0:1. Not only that, but the transmission was housed in a sealed oil bath, and the cylinder ports and air intake tube were upgraded also. The upgrades weren't enough to save Baby H-D, and it was put to sleep in 1965.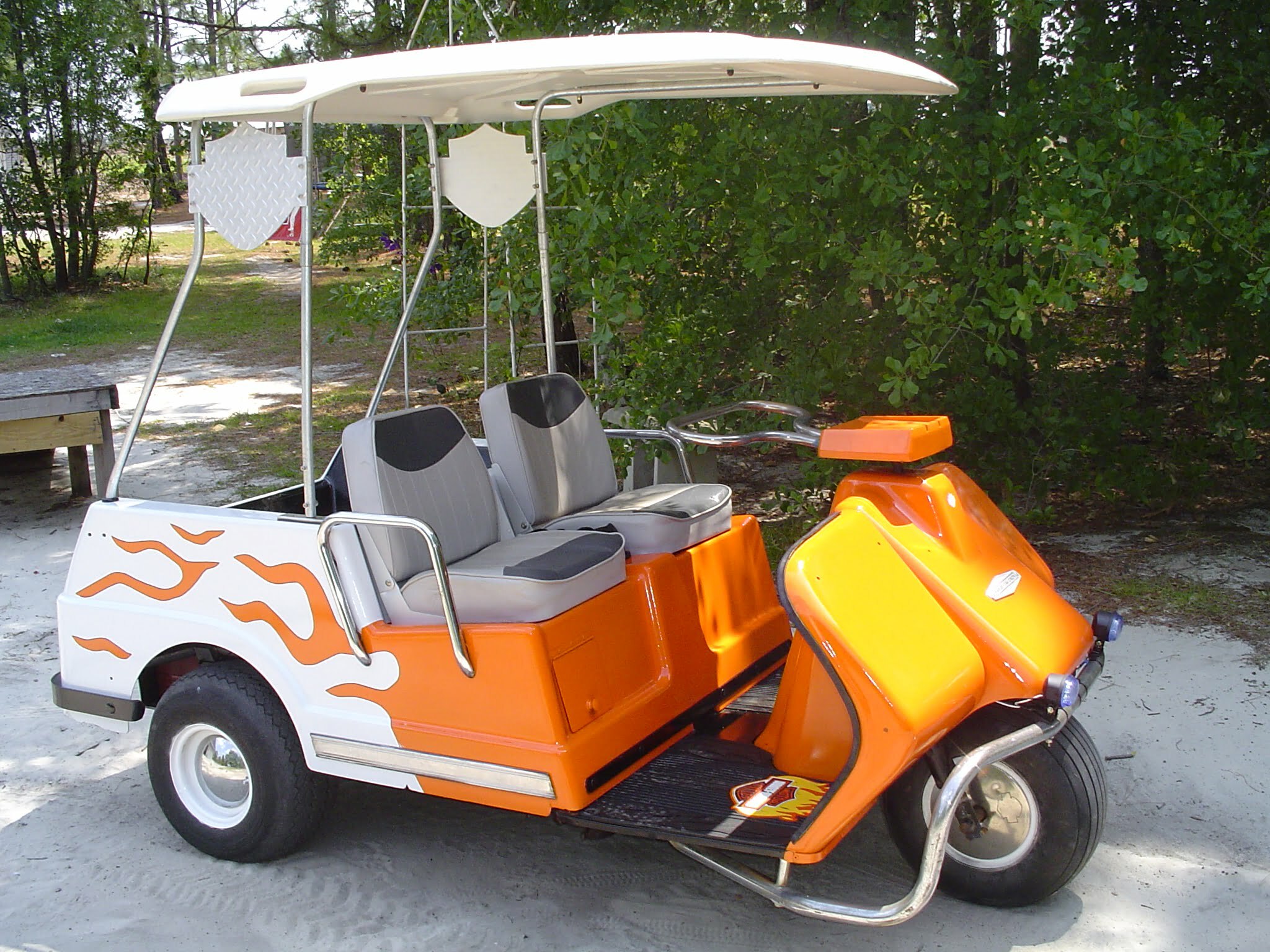 While the Topper was in production, Harley had its other hand in a totally different pie: golf carts. When The Motor Company started making golf carts in 1963, they were pretty popular. They were three-wheeled with a deep well in the rear, and some had a steering bar to drive instead of a wheel. Most ran on 250cc gas engines; in a world where electric motors had the run of the country club, gasoline-powered carts were uncommon. That was probably part of their popularity.
Later Harley-Davidson switched to a four-wheel design with a hinged body so you could lift it up. That made working on the motor a lot easier. And I don't have to tell you what happens when you give a Harley owner a motor that's easy to work on…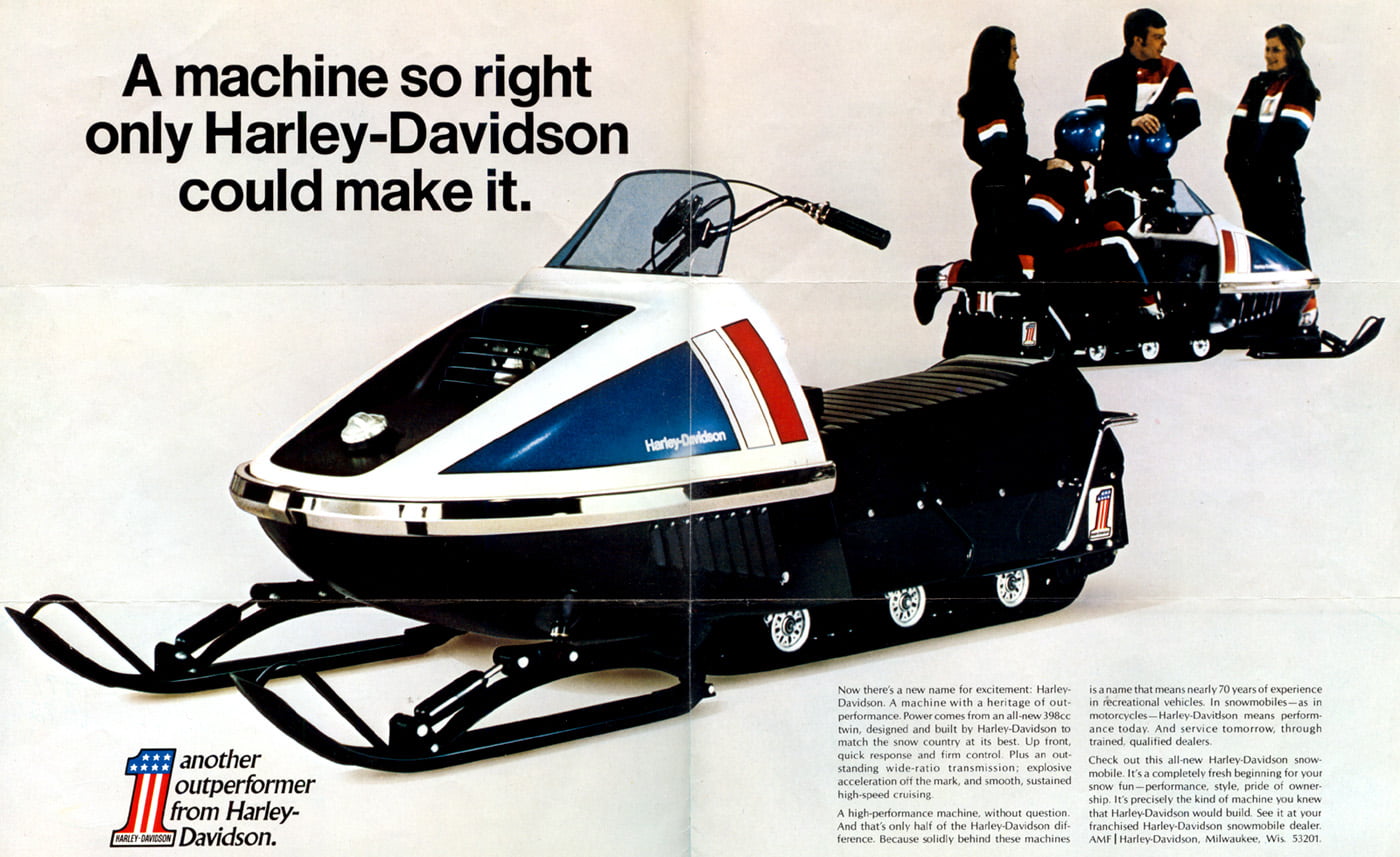 Those were the words Harley used to market its snowmobile during the AMF debacle. Yes, my first reaction to hearing this was, "What the f—k does Harley know about snowmobiles?" too. Looking back at how popular snowmobiling was in the late '60s to mid-'70s, though, the decision makes some sense. Companies like John Deere, Johnson, and Evinrude all prospected snowmobile-making territory also. Not one of them was known for making snowmobiles either. And they're still not.
From '71 to '75 Harley-Davidson took its new snowmobiles to market. Success was limited, and thanks to the AMF's cheaper-is-better approach to vehicle manufacturing, they weren't really any different from the competition.
Powered by a two-stroke parallel twin, the inaugural model's motor weighed in at 398cc. It was pretty close in size and quality to its competitors, making 30 hp. A couple of years into this adventure, Harley came out with a 433cc version. Consumers had their choice of pull or electric start.
Dealerships even carried motor clothes and accessories for the snowmobiles, such as a cigarette lighter and Harley-Davidson Sno-Oil for the two-stroke motors.
Harley only made the Shortster in 1972 during the minibike fad of the early '70s. It was 65cc, which, unlike other minis on the market, tried to look like the mini-me of motorcycles. It's the smallest motorcycle ever made by Harley and could fit in the back of a station wagon.
Of all the motors Harley-Davidson ever produced, my money's on the LR-64 one for most ponies. Harley-Davidson produced more than 5,000 LR-64 rocket engines for the US Navy at the York plant from the mid-'60s to the '90s. This one was made in 1993. The engines propelled target drones for military training exercises.