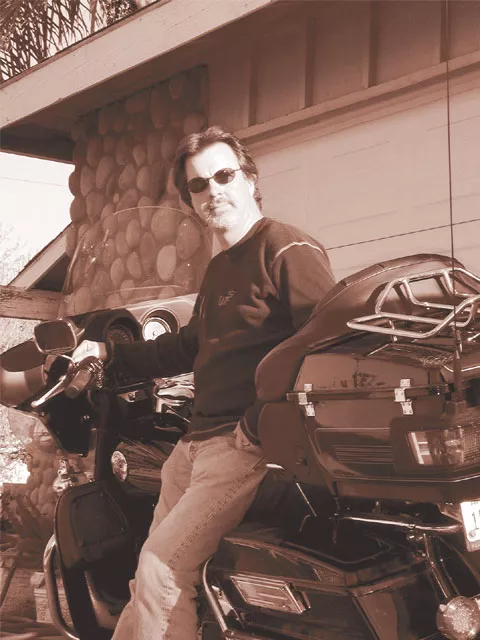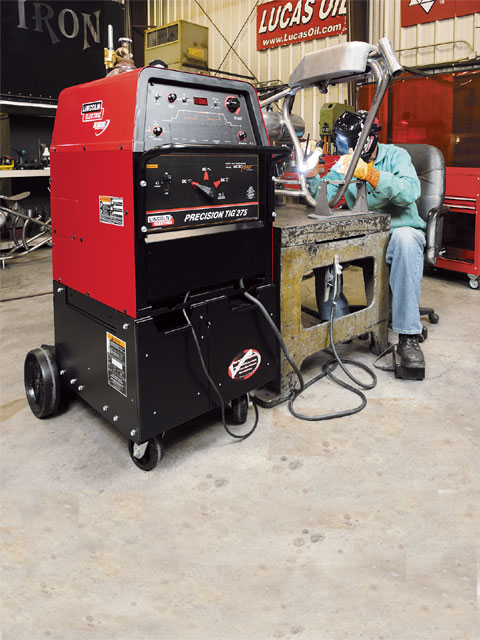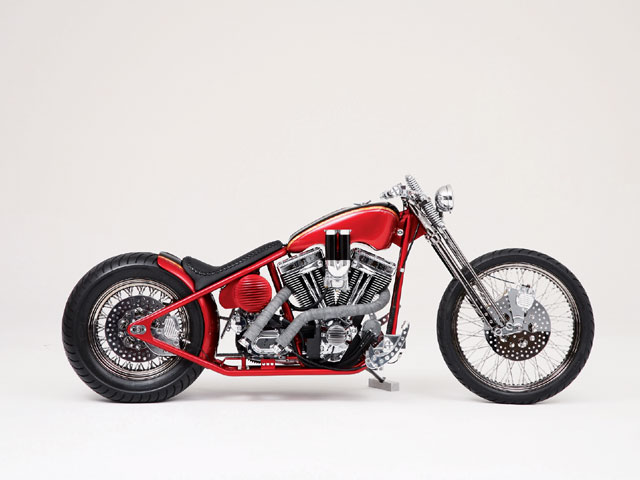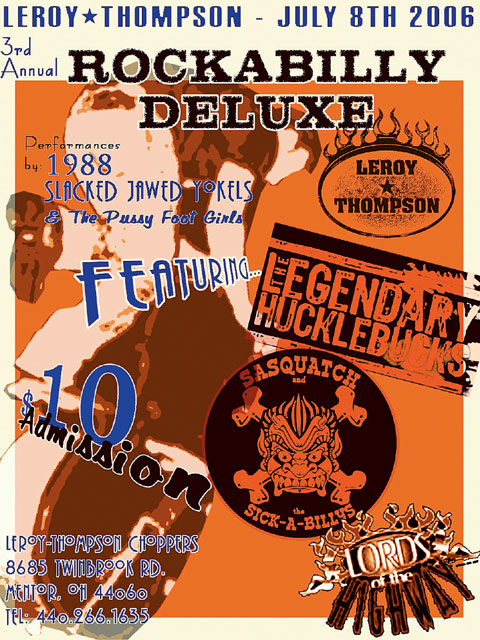 Saying FarewellThose of you who have been longtime readers of HOT BIKE, STREET CHOPPER, and HOT ROD BIKES magazines undoubtedly recognize the name Jeff Deasey. Jeff worked as an editor in varying capacities on all three titles during his tenure with the American Motorcycle Group until he left the company as a senior editor in January 2004. Upon leaving the publishing industry, Jeff became the marketing and media director for Joker Machine, where he has been employed ever since.
On Friday, March 10, 2006, Jeff was fatally injured in a motorcycle accident not far from his home and passed away later that evening. All those who knew him or came into contact with him will miss Jeff very much. Jeff is survived by his wife Michelle and his 14-year-old daughter Lindsey. God speed, Jeff.
If you'd like to show your support for Jeff's family, they suggest you make a donation to Olive Crest, an organization that provides homes and services for abused children and was near and dear to Jeff.
Olive CrestATTN: Tonya Powers/Jeff Deasey Memorial710 S. Victory Blvd., Ste. 201Burbank, CA 915
Milwaukee Iron Uses Robotics To Increase Productivity 300 PercentCustom-Bike Builder Takes Advantage Of Lincoln Electric Robotic Welding And Cutting SystemRandy Simpson started tinkering with motorcycles when he was 17 years old. Now, 30 years later, he has his own custom motorcycle shop and a hit television show on the Discovery Channel called Southern Steel.
While the television show has focused on the shop's custom bike-building business, behind the scenes the employees at Simpson's Lynchburg, VA, shop, Milwaukee Iron, focus on aftermarket parts. These parts include fenders and dashboards marketed to Harley-Davidson enthusiasts looking for aftermarket customization.
As Simpson's fame and popularity have grown, so has the demand for his line of steel fenders. However, with fewer than a dozen employees, and more orders coming in every day, Simpson needed a way to turn out more product-and do it without increasing labor costs. Being a long-time customer of the Lincoln Electric Company, he once again turned to his friends "in red" for help.
The solution was a small robotic unit capable of cutting and welding thousands of custom fenders each year. When Simpson made the move to robotics, productivity jumped 300 percent. Previously, all fenders were cut and welded by hand-a job that took 15 minutes. Now automation has decreased cutting time to two minutes.
The current robot cell used at Milwaukee Iron is a close predecessor to Lincoln's newest small robot, the "eCel"-a dual fixed-table cell that provides flexible automation for consistent and predictable production on small parts and high production volumes. Milwaukee Iron's robotic system uses Lincoln's Pro-Cut 55 plasma cutter to cut out fenders and other parts. The plasma cutter is sometimes changed out with a Lincoln Invertec STT MIG unit for welding on various other parts.
While the shop now uses the Precision TIG 275 for manual TIG welding, future plans call for installing another robot to use exclusively for TIG welding. Simpson estimates the added automation will increase productivity by 85 to 100 percent for those operations.
Mancuso Harley-Davidson Burns Rubber With D&D; Performance Exhaust Making Twin Horsepower In The Deep South Of Texas
When enthusiasts come in to the Mancuso Harley-Davidson dealership in Houston,TX,looking for more power for their Harleys,Assistant Parts Manager Walter Birmingham recommends a performance package that include sexhaust pipes from D&D; Performance Exhaust. A common way to add ponies to a V-Twin engine is to add a high-flow air cleaner, jet kit or fuel-injection module, and a high performance exhaust pipe. These three upgrades working together will show the biggest bang for the buck.
"We have four criteria in selecting a pipe that include performance, fit, finish, and heat shields," said Birmingham. "If D&D; [pipes] didn't meet the performance standards,we wouldn't recommend them. They are that good. They consistently outperform Samson, Reinhardt, and Hooker."
Birmingham has indicated that Service Technician Jeff Skipski is on the dealership's dynamometer daily and acknowledges the difference between manufacturers. "As an example, we started with a stock Sportster that produced 60 hp at the crank," said Skipski. "We added a pipe, high-flow air cleaner, and a jet kit to the package. When we finished running it through its paces, we were making 78 hp. That's a great bump in performance."
D&D; Performance Exhaust pipes are torture-tested on D&D;'s state-of-the-art in-house super-flow eddy-current ram-air dynamometer. This is done in combination with the super flow bench and the first-in-the-industry, multi-cylinder Lambda fuel/air-ratio sensors. They are interfaced with the dyno for real-time meter and graph analysis.Each pipe is dyno-tuned for maximum performance and sound.
For more information on D&D; Performance Exhausts, call (817) 834-8961, or go to www.danddexhaust.com.
Tribal Motorworks Unveils Student-Built Bike For Charity Raffle
After more than a year of coaching, Tribal Motorworks proudly announces the completion of the student-built Schoolyard Motorworks bike. Tribal Motorworks sponsored the revolutionary educational partnership with a local school district. Students at Traverse Bay Area Intermediate School District's Career-Tech Center (CTC) in Traverse City, MI, collaborated with Tribal Motorworks to design, build, and market the professional-quality candy-red and black bobber.
Thanks to many industry sponsors, the students were able construct a bike with extremely high-quality parts. Kendall Johnson provided the 114ci engine, while S&S; supplied the carburetor, and Baker Driveline provided the five-speed transmission. Many of the unique accessories were custom-made by Tribal Motorworks and the students, including the exhaust, handlebars, fender, fuel and oil tanks, and the seat pan. Other generous organizations that donated parts for the bike project include the following: Dyna/CDI, Belt Drives Ltd., Santee 200 Series Rigid, American Wire Wheel, Excel Components, and Avon.
Beginning in the fall of 2004, with the help of Tribal Motorworks builders Kip and Don Watkins, students from several curricula executed the design, fabrication, assembly, and finish work on the bike. Kip is a graduate of the CTC high school program, and it was he who was inspired to offer students the opportunity for a hands-on bike-build experience. Throughout the project, Kip consulted with students weekly to coach them through a professional build process.
The grand unveiling of the bike took place at the V-Twin Expo in Cincinnati, OH, at the Tribal Motorworks display booth. Next, the bike will compete at the 2006 Detroit Autorama, an annual competition for custom cars and motorcycles at which many of the Midwest's most high-profile builders vie for awards based on design and creativity.
Following the Autorama competition, the bike will return to northern Michigan for a charity raffle. Proceeds from the raffle of the bike will be donated to the Father Fred Foundation to benefit needy families in the northern Michigan community. The Father Fred Foundation is a nonprofit organization that serves the needs of the poor and those temporarily down on their luck. The faith-based program serves approximately 200 families per week throughout a five-county area in northern Michigan with assistance with food, clothing, furniture, appliances, and money for bills.
The students are managing the bike raffle, and tickets are currently available for $50. The drawing will take place on May 19, 2006. Only 1,500 raffle tickets will be sold. For additional ticket information, interested parties may call (231) 922-6273.
Big Dog Motorcycles And Dodge Team Up In The Roar Of Thunder Sweepstakes
Big Dog Motorcycles, the leader in the high-style cruiser niche and the largest manufacturer of chopper-style motorcycles in the world, is excited to announce a new sweepstakes with Dodge, a leader in the automobile industry, especially the highly competitive truck segment.
In the Roar of Thunder Sweepstakes, the two companies give consumers a chance to win two of the toughest prizes ever given away: an '06 Big Dog Motorcycles K-9, recently named Bike of the Year, and an '06 Dodge Ram SRT10, the world's fastest production pickup. The prize package is valued at a jaw-dropping $82,505
The sweepstakes launched on March 8, 2006, during Daytona Beach Bike Week and lasts until October 31, 2006. The sweepstakes will be promoted primarily at motorcycle and automobile rallies and events throughout the year, as well as within the dealerships of both companies. Consumers over the age of 18 can register to win at www.roarofthunder.com
"Big Dog Motorcycles and Dodge have a natural association; many motorcycle riders are also automotive and truck enthusiasts," stated Paul Hansen, marketing director at Big Dog Motorcycles. "This sweepstakes promises to turn the garage of one of these enthusiasts into a true showplace."
The Roar of Thunder Sweepstakes is part of Big Dog Motorcycles' strategic marketing alliance with Dodge, announced to the companies' dealers in late 2005 and to the public last month.
In addition to the sweepstakes, the two companies have synergized their brands through other avenues: In the summer of 2005, Big Dog motorcycles appeared alongside the new Dodge Charger in a television spot aptly named "Bikers"; a few Big Dog motorcycles accompanied a Dodge Ram SRT10 in a recent Speed Channel Test Drive program; and Dodge will have exposure at Big Dog Motorcycles' Tornado Rally, held in June 2006.
_About The Roar Of Thunder Sweepstakes:_No purchase necessary to enter or receive a prize. A purchase does not increase your chances of winning. Sweepstakes ends October 31, 2006, and is open to legal residents of the United States and the District of Columbia, aged 18 years or older, and who possess a valid driver's license at the time of entry. For complete official rules, visit www.roarofthunder.com. Void where prohibited by law.
Hyperformance Introduces More Performance Upgrades, More "Cubes," More Power
With riders always looking for ways to increase power output without breaking the bank, Randy "The King of Cubes" Torgeson has found yet another way to give riders the kind of performance they want with the legendary strength and durability of Hyperformance manufacturing and engineering.
Hyperformance has found a way to integrate its legendary ductile-iron cylinders with a variety of large cubic-inch engines. The result? Hyperformance has transformed the 113-inch single cam into a 127-inch in various stages, and the 124-inch Twin-Cam into the 131-inch engine in various stages. The company also incorporates a more stable base-stud and head-bolt design. Because each head is CNC-ported using the special CSFATM program, you get a motor that starts easier, runs cooler, and revs quicker. It's a rare combination of power; fast revs; and cool, smooth running. For more information, contact Hyperformance at (515) 266-6381, or log on to www.kingofcubes.com.
Rockabilly Deluxe
If names such as Sasquatch and the Sick-A-Billys, The Legendary Hucklebucks, Lords of the Highway, and 1988 Slacked Jawed Yokels & The Pussy Foot Girls pique your interest, then be sure to check out the Third Annual Rockabilly Deluxe show, put on by Leroy-Thompson Choppers in Mentor, OH, on July 8, 2006. We are sure it will be a hell of a show. After all, there's nothing like a live performance. For more information about the show or the shop, call Leroy-Thompson Choppers at (440) 266-0666, or visit the shop's website at www.leroythompsonchoppers.com.