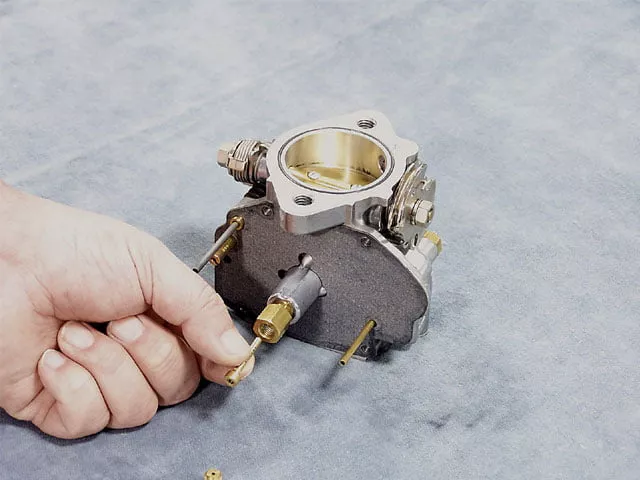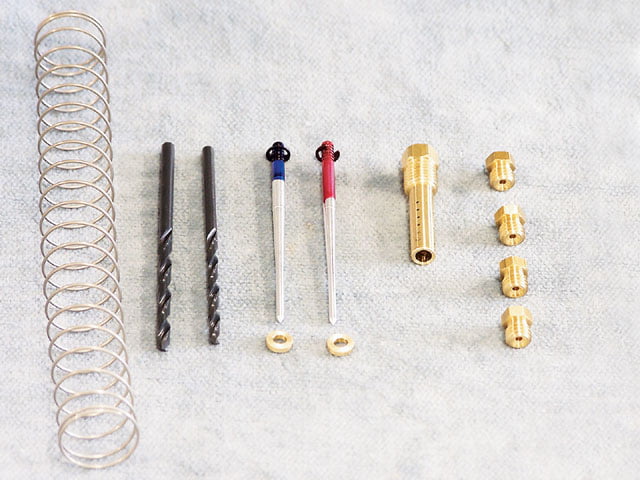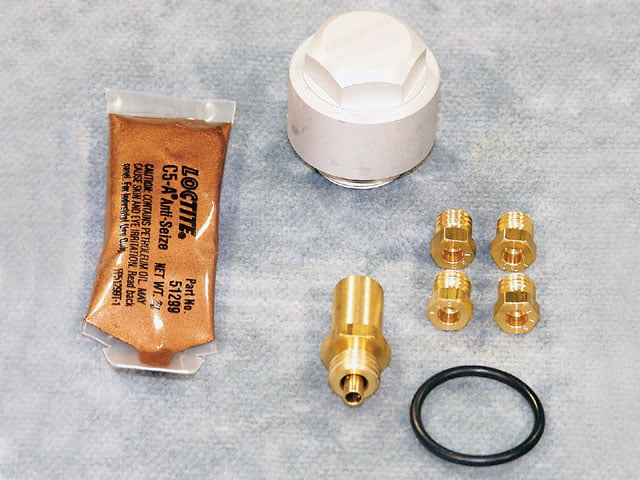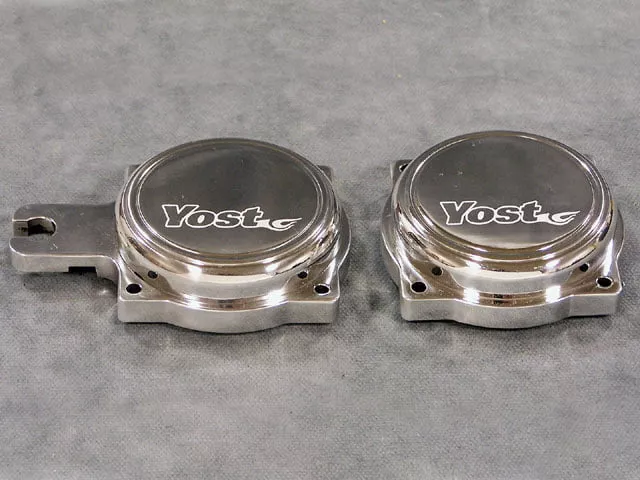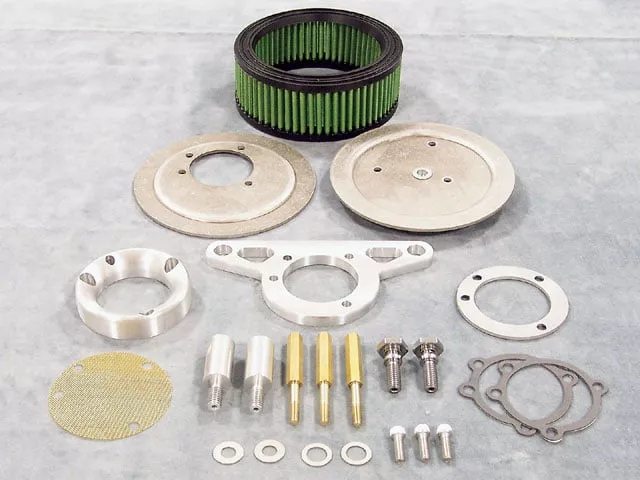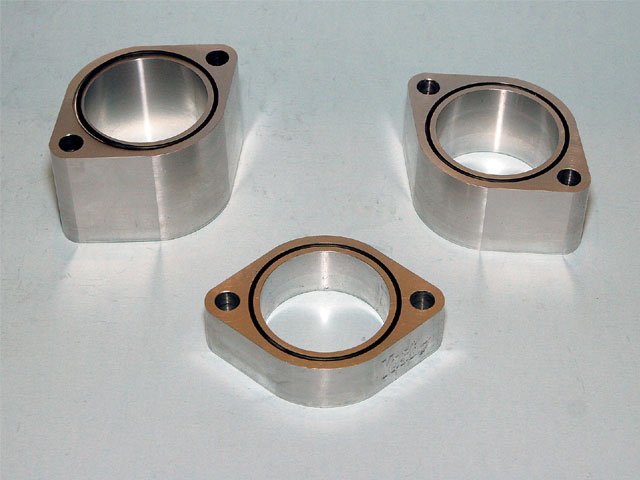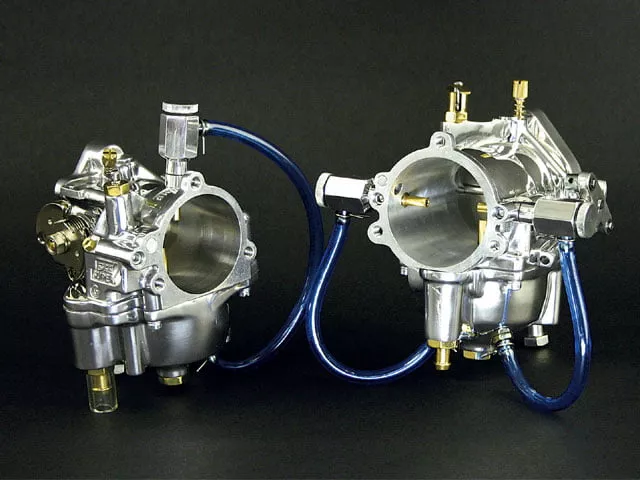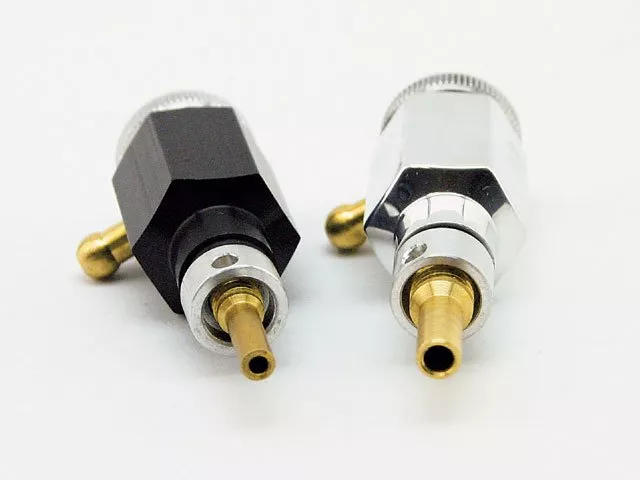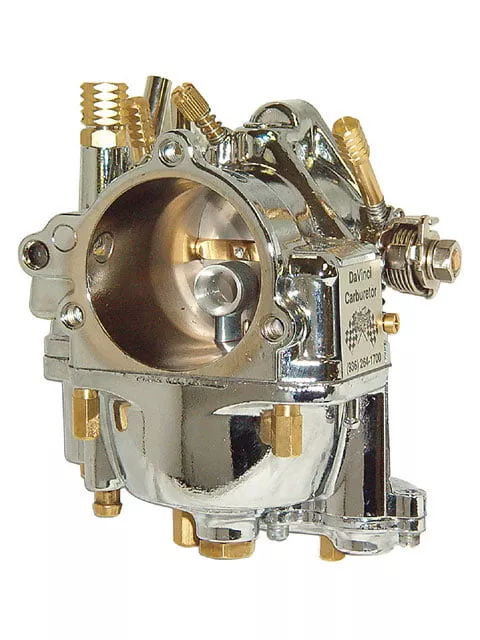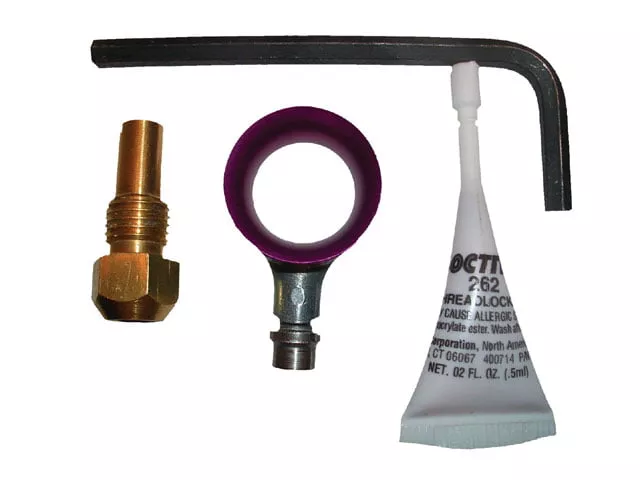 Yost Performance offers several products for the Keihin, S&S;, and Mikuni carbs. Moving clockwise from top left, pictured here are the 40mm Keihin CV Power Tube Kit, Mikuni HSR Power Tube Kit, three sizes of Manifold Spacer Blocks for S&S; Super Carbs, Power Tube for S&S; Super, and Chrome Cover for the Keihin CV.
Last month, we devoted much of our coverage to the electronic fuel-injected crowd. So we don't leave out the carb guys, this month we'll show you how to get more power and torque from a few popular fuel mixers.
Engine builders and tuners alike have been tinkering with carburetors for some hundred years or so, and except for approximately the last 10 years, the carburetor was the fuel mixer of choice for the Harley V-Twin engine. Carburetion is still the darling of some performance buffs, with many preferring a carb to EFI. As for me, I like EFI on my daily driver, grocery-getter automobile, but I like it much less when it comes to motorcycles. Some might say that's just stubborn, knuckle-headed resistance to technology. But from my point of view, technology has nothing to do with it. I was a software developer for many years with a Fortune 50 high-tech company, so I'm quite familiar and comfortable with technology. Instead, the carb versus EFI thing has to do with complexity, aesthetics, cost, and convenience.
There's no denying carburetors are simpler by design than computer-controlled devices. Moreover, in my eyes, many carbs exhibit the inherent symmetry and grace of a work of art, without the gaggle of bland wiring, injectors, and black boxes. It's somewhat reminiscent of a '55 Chevy compared to a set of new wheels sitting on a showroom floor. From a tuning aspect, carbs eliminate having to go through the infamous "map tango" and spending hundreds and even thousands of dollars on dyno tuning and the mythical ideal "map." A tad of road testing and a few hours of dyno tuning usually get the job done with carbs. Finally, there's the convenience factor. With carburetion, I can do much of the tuning in my garage and on the road, twisting a common wrench and twirling a simple screwdriver, without having to rely on others for costly expertise and devices. Maybe it's just me, but when it comes to fun rides, I subscribe to the "KISS" rule: keep it simple, stupid. It works for me; maybe it'll work for you. That said, let's take a look at a few mods for some popular fuel mixers found on the V-Twin and what's available for tweaking them for improved performance and ridability.
Over the past 40 years, two of the most popular carburetors for the Harley V-Twin engine have been the Keihin CV and the S&S; Super. The CV was introduced on Harley models starting in 1989 and was used as the Factory's carb of choice through 2006. Although the CV isn't the most aesthetically pleasing-looking carb, it is an excellent fuel mixer and is often shortchanged for its performance capabilities. It shipped with a 40mm throttle bore and 39mm venturi, and what it may lack in airflow, it more than makes up for in throttle response, fuel economy, and the ability to work well under various altitudes from sea level to high up in the Colorado Rockies.
Keihin CV The Keihin works by the constant velocity (CV) principle in that it has two throttle mechanisms to help maintain a relatively constant air velocity through the rpm range. The rider controls a throttle plate or "butterfly" using the handlebar throttle grip. The butterfly is located between the other throttle mechanism, a slide, and the cylinder head. The slide's height is automatically controlled by the vacuum generated from airflow through the intake tract. As such, quickly whacking open the CV's throttle isn't as prone to generating stumbles as with other carbs because the vacuum-controlled slide only opens as fast as the cylinders require air. Essentially, the CV's venturi size is determined by the vacuum level in the intake tract. The variable venturi keeps air velocity high, and the carb atomizes fuel very well, resulting in excellent throttle response while minimizing coughs and sputters. The following are the major tuning variables for the Keihin CV carb:
| | |
| --- | --- |
| * Idle mixture screw | (off-idle) |
| * Slow jet | (midrange) |
| * Main jet | (high-speed) |
| * Slide needle | (midrange) |
| * Slide | |
| * Slide spring | |
Basic CV tuning procedures include enriching the idle mixture and changing the slow and main jets. More advanced methods involve changing the slide needle or raising the needle's position within the slide, modifying the slide, changing the slide's spring rate, and installing a replacement emulsion tube (sometimes called a spray tube or nozzle). Additionally, aftermarket companies offer several high-performance modifications for the Keihin, including modifying and reshaping the throat for increased airflow, blueprinting and calibrating air and fuel circuits, optimizing float-bowl design, and internally balancing orifices and passageways. For those looking for a higher-flowing CV carb, Harley's Screamin' Eagle Performance Parts line offers big-bore 44mm and 51mm versions. Additionally, Trock Cycle Specialties, Hampshire, IL (847-683-4010) and Wood Performance, Cropwell, IL (205-525-4949) offer higher-flowing models, along with a wide selection of performance modifications.
The Yost Pro Mod CV breather kit is modular and provides a custom look while adding a few extra ponies. The kit can be used with an air filter and stock CV cover or without a filter by using the included screen. It's machined from 6061-T6 billet aluminum with a unique internal breather design that eliminates external hoses. It fits '99-up carbureted and '02-up Delphi EFI Twin Cams.
Yost manifold spacer blocks are available for S&S; carbs and allow the tuner to increase plenum volume and intake-tract length for optimizing power within the desired rpm range. The spacers are machined from 6061-T6 billet aluminum, O-ringed, and fit all S&S; G- and D-series carburetors. Three lengths are available: 1 inch, 1-1/2 inches, and 2 inches.
S&S; SuperS&S; carburetors were first introduced to the public in 1967 and were quickly adopted by racers and performance enthusiasts as the carb of choice for high-performance engines. At that time, I happened to buy one of the first 100 S&S; carbs made and quickly slapped it on my then-bored and stroked 74ci ironhead Sporty. Over the years, various models of S&S; carbs were produced, and very early versions were identified with a serial number and model designator.
Current models include the S&S; Super E, G, and D. The Super E and G were introduced in 1990, and the Super D in 1983. The Super D is the largest of the three models (the Super E being the smallest) and is available in two venturi sizes (large and larger). The D model does not include an accelerator pump (as E and G models do) and is typically used for racing, although a few good tuners know how to make it work well on large-displacement street engines. All three S&S; Supers are butterfly-style carburetors and have three major fuel-metering circuits:
| | |
| --- | --- |
| * Idle mixture screw | |
| * Intermediate jet | (midrange) |
| * Main jet | (high-speed) |
Elementary S&S; carburetor tuning involves adjusting the mixture screw and/or replacing the fuel-metering jets-and/or the main air bleed, which helps control the rpm at which a fuel circuit begins to kick into action. Super E & G models made prior to 10/1/03 have an internally located fixed air bleed that can be modified to accept an externally located replaceable air jet.
Here are Zipper's popular ThunderJets installed on polished S&S; Super G and D carbs. One to three ThunderJets can be installed to add additional fuel circuits for a flatter fuel curve. ThunderJets are available separately, or Zippers can trick out an S&S; carb for you that will meet your performance requirements.
ThunderJets are available with various-size orifices, so be sure to get the correct model for your application. Zipper's offers a wide range of tuning components for S&S;, Keihin CV, and Mikuni HSR carburetors.
Performance OptionsYost Performance offers the Power Tube, which is claimed to improve fuel atomization on popular Harley carburetors. Robert Yost packages the Power Tube in neat kits for the Keihin CV, S&S; Super, and Mikuni HSR carburetors. Yost also makes various lengths of S&S; spacer blocks to increase plenum volume and change intake-tract tuning length. Spacer blocks are used to optimize power for a particular rpm range and help reduce reversion.
Zippers Performance offers the popular ThunderJet for S&S; Super carbs. The ThunderJet adds an additional fuel circuit for an improved fuel curve. With a stock S&S; Super carb, the intermediate circuit supplies fuel up to roughly 3,500 rpm; beyond that point, the main jet takes over. Up to three ThunderJets can be added to reduce the rpm range a fuel circuit is responsible for supplying fuel, resulting in a more balanced fuel curve between the intermediate and main fuel circuits. One ThunderJet is often used on street carbs and two or three on race applications. Zippers is one of the pioneers in modifying S&S; carbs, so the company is quite knowledgeable in boring out an S&S; to increase airflow or fully blueprinting and calibrating it for optimized performance. You can send your carb to the gang at Zippers for modifications, or they can sell you a complete carb ready to install.
DaVinci Performance offers its FirePower carburetor, which is derived from the S&S; brand. Dan DaVinci can modify your S&S; carb or sell you a new one. Among modifications included by DaVinci are blueprinting and calibration of all fuel, air, and accelerator-pump circuits; installation of a small booster venturi located inside the main venturi; machining for external air bleeds; and milling the throttle shaft.
Although the Keihin CV and S&S; Super each have a specific niche in the marketplace and work decently, they can be improved for better performance and throttle response. With the right modifications, you can eliminate carburetor hesitations and stumbles while optimizing the air/fuel ratio for greater power and a flatter fuel curve throughout the entire rpm range. So if you're into superior street performance, dyno shootouts, drag racing, or just want to optimize your Keihin CV or S&S; Super fuel mixer, contact DaVinci Performance, Yost Products, and Zippers Performance for additional information.
Here is a DaVinci-modified S&S; Super carburetor with a secondary booster venturi installed in the throat area. DaVinci carbs include blueprinting and calibration of all fuel, air, and accelerator-pump circuits; installation of a booster venturi; machining for external air bleeds; and milling the throttle shaft.
If you're a do-it-yourself kind of guy, DaVinci can sell you its booster venturi kit for the S&S; Super E, G, and D carbs. The booster venturi is intended to increase fuel atomization for better throttle response and power.