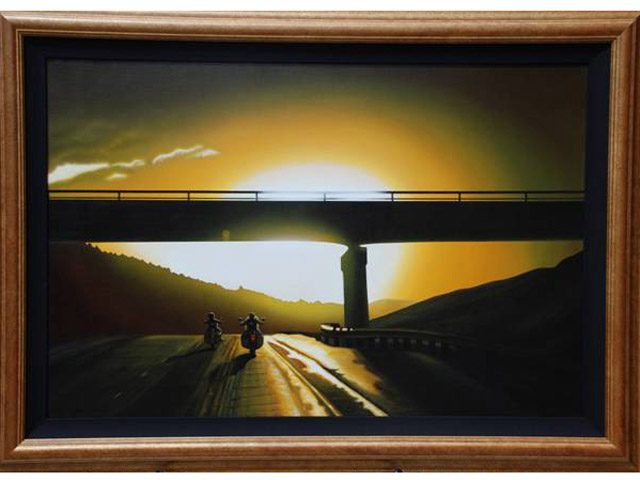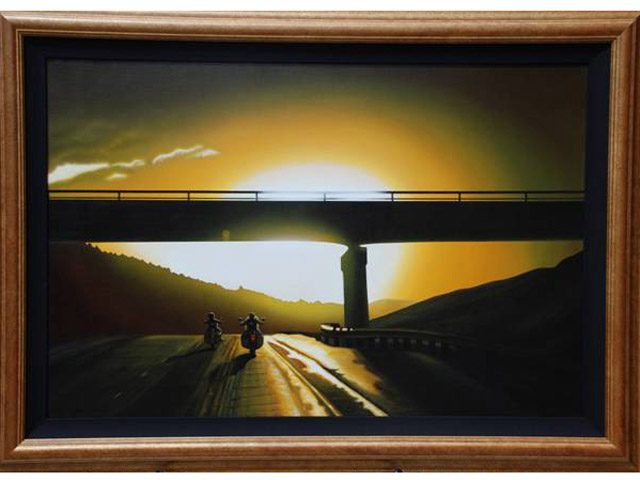 DEADWOOD, S.D. (8/3/11) - Mountain Mayhem is coming to Deadwood Mountain Grand during the week of the Sturgis Rally. Deadwood's newest casino and entertainment venue will feature live music nightly in the Slime Plant Bar & Lounge, the Main Stage and the VIP deck. Special events will feature top biker artists, the Hooters Calendar Girls, an Artist Colony and a special appearance by Pat Simmons of the Doobie Brothers.
El Camino, a band featuring Nashville's James Otto, Jon Nicholson and Shannon Lawson – members of Big & Rich's Muzik Mafia – will perform on the Deadwood Mountain Grand's Main Stage in the Event Center nightly from Monday, Aug. 8, to Saturday, Aug. 13. Pumpin' Ethyl, the best local Classic Rock band in the Black Hills, will kick off the Main Stage music on Saturday, Aug. 6.
And on Sunday, Aug. 7, from 5:30 p.m. to 8 p.m., Harley-Davidson and Deadwood Mountain Grand will host a special party for Harley Owners Group members.
Biker artist Scott Jacobs will be displaying his work and meeting with fans at Deadwood Mountain Grand on Tuesday, Aug. 9, from noon to 3 p.m. Jacobs will display "Some Ride, SUNSET," a painting created especially for the 2011 Sturgis Rally.
In addition, writer Cris Sommer Simmons and her husband, Doobie Brothers singer and songwriter Pat Simmons, will join him for the reception. Jacobs' new painting, "Effie," depicts Sommer Simmons' 1915 Harley-Davidson 11J Twin 3-speed. In September 2010, she rode the vintage Harley from Kitty Hawk, N.C., to Santa Monica, Calif., the only American woman to complete the Cannonball Endurance Run. Sommer Simmons also penned "The American Motorcycle Girls 1900-1950."
Limited edition prints of "Effie," signed by Jacobs, Sommer Simmons and Simmons, will be available during the Deadwood Mountain Grand event. Also, Sommer Simmons will be signing copies of her book.
Other rally week events scheduled at Deadwood Mountain Grand include:
Musician Randy McAllister will perform nightly on the VIP deck overlooking downtown Deadwood evenings all week, beginning Friday, Aug. 5.

The Deadwood Mountain Grand Artist Colony runs throughout the week, beginning Saturday, Aug. 6. Deadwood Mountain Grand has gathered the best of the best – including Scott Jacobs, David Uhl, David Mann and Michael Knepper – to show off their Harley-Davidson, Sturgis Rally and Black Hills motorcycling masterpieces. Also, the infamous Josh Bourassa from True Kustom, will be highlighting his one-of-a-kind paint jobs with onsite airbrushing and pinstriping.

The Hooters Calendar Girls, the hottest girls on wheels, will be available for photos and autographs with your favorite bike during the Living Art Show. The Hooters Girls will be at Deadwood Mountain Grand from noon to midnight daily, beginning Saturday, Aug. 6.

The Slime Plant Bar & Lounge will have live music nightly through the week, beginning with The 79 Band on Saturday, Aug. 6. The Dover Brothers play Sunday, Aug. 7. Dan Sherill performs Monday and Tuesday. JD Anthony performs Wednesday and Thursday. Six Mile Road plays Friday and Saturday.

Colt .45 Entertainment will put on a DJ show throughout Deadwood Mountain Grand Event Center every evening except Sunday during the week.