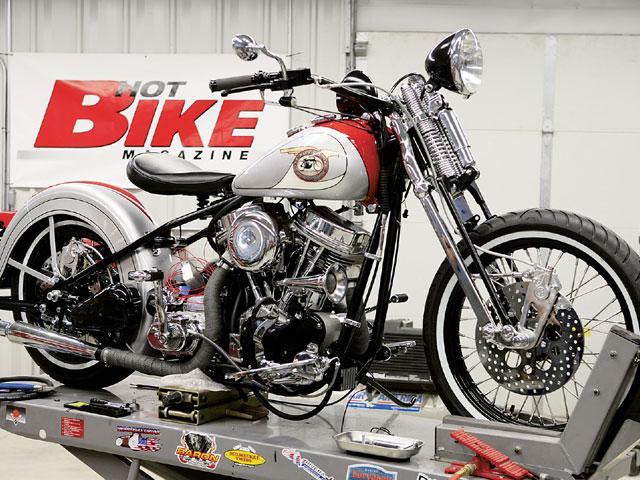 If you recall, last month we started covering a custom build project involving J&P; and the National Motorcycle Museum and Hall of Fame. If you missed that article, here's a quick recap. For the past couple of years, HOT BIKE and J&P; have teamed up and given away a ground-up custom built with parts found in J&P;'s huge parts catalog. Well, the man behind J&P;, John Parham, is a motorcycle fanatic and has a special penchant for older bikes. In fact, for quite some time now John has been heavily involved with the National Motorcycle Museum and Hall of Fame, often offering up his collection of rare bikes for the museum's use.
The goal of the National Motorcycle Museum and Hall of Fame is to continue the passion of those who built the groundwork for what motorcycling has become through documentation, preservation, and education. Every year, to help support its mission and raise money, the museum raffles off a motorcycle. This year, however, J&P; decided to jump on board and help out the museum by offering up its parts and services to build the raffle bike. Raffle tickets are sold for $5 a piece or six for $25, and the raffle concludes with the drawing of the winner at the end of the year. Tickets are available at the museum, J&P; Cycles, and events J&P; attends, along with the J&P; Cycles and National Motorcycle Museum websites (www.jpcycles.com or www.nationalmcmuseum.org, respectively). The build project will also become a six-segment series for J&P; Cycles running in the '06 season of Corbin's Ride On. J&P; will be building the bike over the six segments that will run in the early part of the season starting in late February and then again during the fall rerun season.
Knowing John's attraction for motorcycles of yesteryear, it only makes sense that the J&P; crew decided to build a retro-style rigid. Last month we watched as the J&P; crew assembled the rolling chassis and then began some modifications to make this bike a real retro standout. To say the J&P; build team moves quickly would be an understatement-by the time we caught up with them for this installment, they were in the process of finishing up the paint and final assembly.