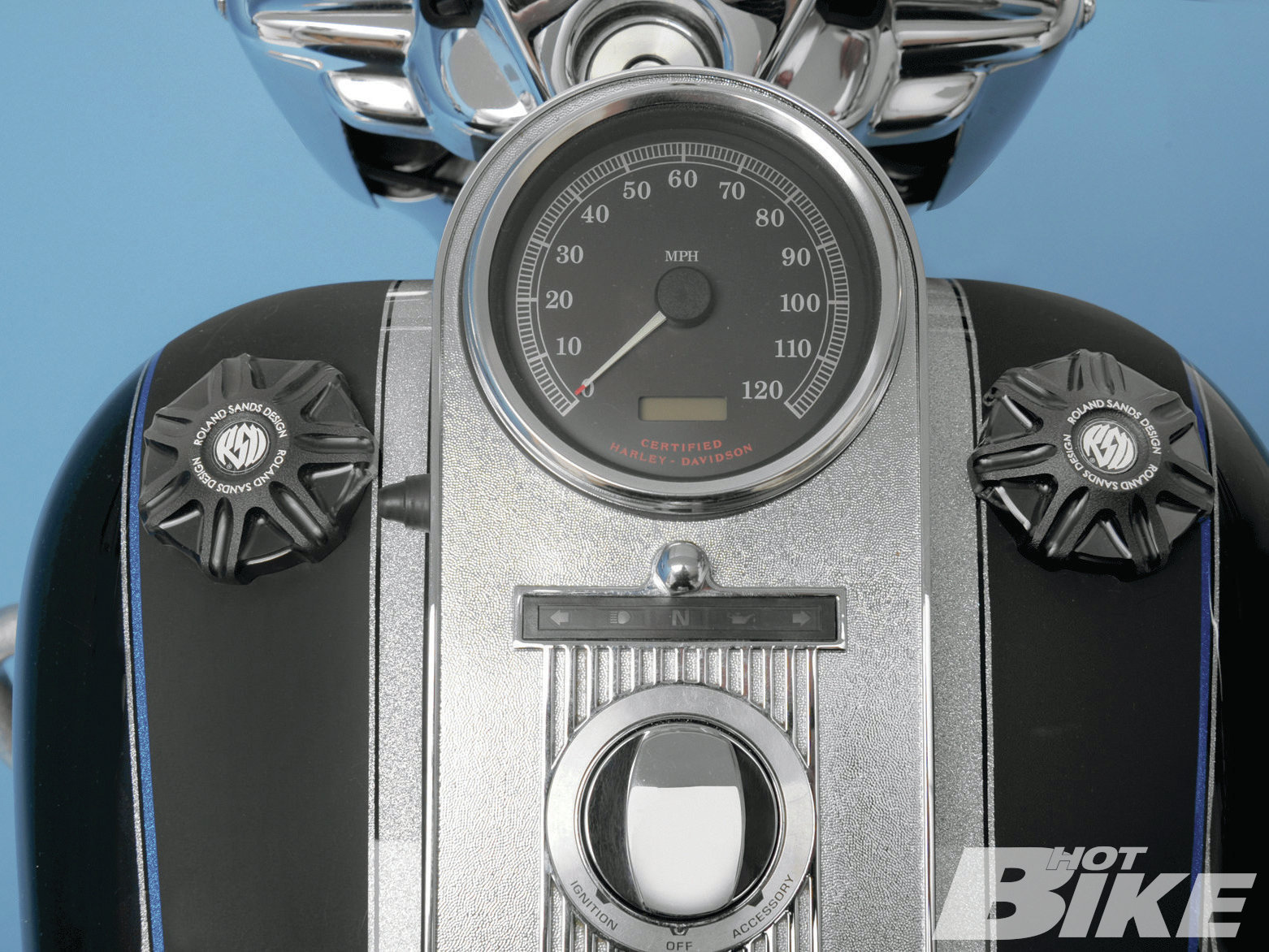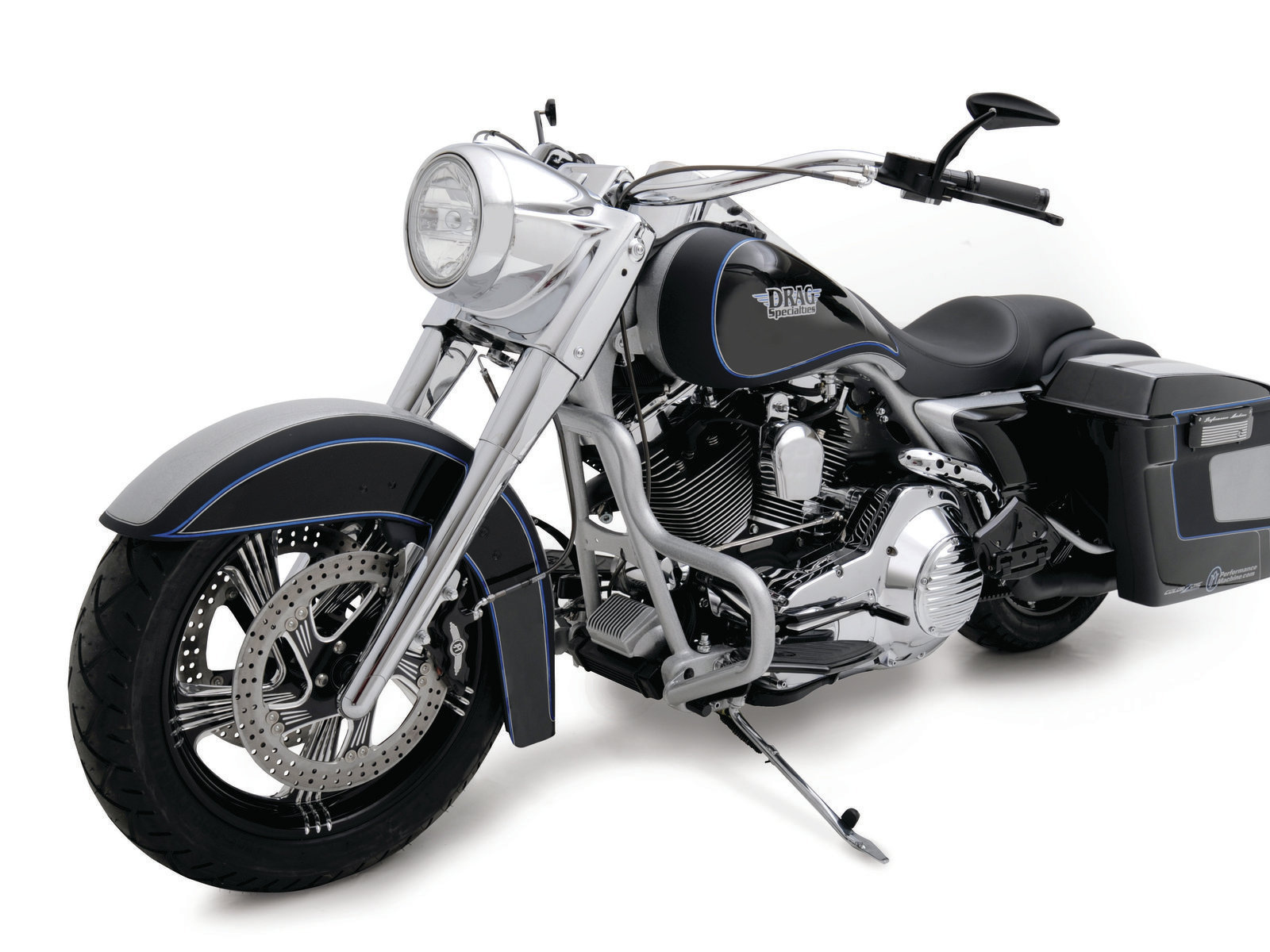 You can't reinvent the wheel, but you can re-imagine it. Performance Machine knows that all too well; just take a look at its extensive product line of wheels. Drag Specialties knows a thing or two about custom parts as well, as evidenced by its huge yearly catalog. Between the two of them the companies have more than 80 years of experience in the custom motorcycle industry. You might say they've seen a trend or two come and go.
In 2002, that trend was choppers. Long, blinged-out, overpriced choppers. Customers couldn't wait to go into debt while showing off their "individuality" with variations on the same theme. This might be why Drag Specialties went the opposite direction. Dave Perewitz customized an '02 Road King for them that year.
Come 2006, the guard had changed. Choppers were no longer the apple of the public eye. Industry focus slowly began to shift to baggers and with that came a plethora of new products. Harley even re-imagined its bagger line with a new frame in 2009 and aftermarket companies scrambled to make parts that fit it.
Some might think that pre-2009 touring rigs were left in the proverbial cold. Drag Specialties and Performance Machine would disagree. The two parts giants joined up to re-imagine that '02 Road King as you see here. Trend dictated an industry shift away from choppers but the economic downturn steered riders toward tweaking what they had. For many, that means either buying a used bike or changing what they already own, versus laying down new debt on new iron. These are the reasons the two parts companies decided to show off what was possible with their new products on an old Road King.
The monarch was reborn at Performance Machine's headquarters in Southern California. As you might expect, PM didn't skimp on the changes with the wheels, brakes, and controls. It seized the chance to show off its Element Platinum Cut line of wheels and rotors. The calipers are a contrast-cut perfect match to them. Likewise, the hand controls on the Burly Brand beach handlebars were done in the same finish. Their foot level cousins, though, were finished in black to offset some of the silver frame.
Performance Machine also skinned the King in favor of new hide. Up front, that meant a simplified Harley-Davidson Street Glide fender. The Road King retains the gas tank that Cycle Fabrications stretched for it back in 2002; there's a Drag Specialties Predator seat that wraps around the back of the tank. The Predator isn't the only new animal here, though. The rear fender came from Performance Machine. It was made for smooth lines to match the hard bags and their Klock Werks extensions. The new back fender has a smooth Russ Wernimont license plate frame/tail light combination worked into it.
While a lot of change went into the wheels and sheetmetal, motor modifications were far more modest. Drag and PM weren't looking to make a drag racer. Its case now has a Gardner Westcott bolt kit and Roland Sands added some style via new rocker boxes. Other than that, power changes were confined to what most reasonable Road King owners make to their stock rides—better breathing. The 88-inch Twin Cam inhales fuel-air mixture by way of a Mikuni carburetor underneath Performance Machine's Element air cleaner and a Vance & Hines and RSD exhaust setup expel the spent gasses. Those fancy exhaust tips? They're PM Sweepers finished to match the rest of the bike.
With all of the contrast-cut goodies on this machine, painting the rest of it in black and silver was an obvious choice to make the whole project come together. Matt Polosky at Color Zones Design had the distinct pleasure of handling that task. He used a silver metalflake base and satin black for a matte finish that catches the eye subtly. Much as chefs know a hint of spice can make or break a great meal, painters know a little color can make all the difference in a paintjob. In this case, Matt's shop used blue pinstripe to that purpose. It not only adds a little dimension to the black and silver, it's also found in the PM logo. This isn't exactly a coincidence…
---
_
"The monarch was reborn at Performance Machine's headquarters in Southern California. As you might expect, PM didn't skimp on the changes with the wheels, brakes, and controls."
_
---
After four months of work, Performance Machine and Drag Specialties had their latest entry into another custom tradition—the rolling calling card. The whole point of updating the '02 Road King was to show off some of the two companies' latest and greatest parts. Much like Drag did with this bike a decade back, they bucked popular trend. In 2002, that meant a bagger in the face of the chopper craze. Now, it meant revitalizing an old friend instead of using a new stocker straight off the showroom floor. PM and Drag didn't invent the parts mule, but as we've just seen, they can certainly re-imagine it. HB
| | |
| --- | --- |
| Specifications | |
| | |
| Bike Owner | Drag Specialties |
| Shop Name | Drag Specialties |
| Shop Website | dragspecialties.com |
| Year/Make/Model | '02/H-D/Road King |
| Fabrication | Performance Machine |
| Assembly | Performance Machine |
| Build Time | Four months |
| | |
| Engine | |
| | |
| Year/Manufacturer | '02/H-D |
| Type/Size | TC/88ci |
| Builder | H-D |
| Cases | H-D w/ Gardner Westcott bolt kit |
| Cylinders | H-D |
| Heads | H-D |
| Rocker Boxes | RSD |
| Carb | Mikuni 42mm carburetor |
| Air Cleaner | PM Element Design |
| Exhaust | V&H,RSD,PM |
| | |
| Transmission | |
| | |
| Year/Manufacturer/Type | '02/H-D with Baker six-speed gear set |
| Case | H-D |
| Clutch | Barnett |
| Primary Drive | H-D |
| | |
| **Frame ** | |
| | |
| Year/manufacturer | H-D |
| Rake | 5 degrees over stock |
| | |
| Suspension | |
| | |
| Manufacturer Front | H-D, Perse lower legs |
| Length | Stock |
| Triple Trees | Stock |
| Manufacturer Rear | Progressive Suspension AirTail |
| Swingarm | H-D |
| | |
| Wheels, Tires, and Brakes | |
| | |
| Manufacturer Front/Type | PM/Element Platinum Cut |
| Size-Height/Width | 18×3.5-inch |
| Tire/Size | Metzeler/ME880 140/70-18 |
| Caliper | PM/Six-piston Contrast-cut |
| Rotor | PM dual 13-inch Element platinum cut |
| Manufacturer Rear/Type | PM/Element Platinum Cut design |
| Size-Height/Width | 18×4.25-inch |
| Tire Size | Metzeler/ME880 150/70/18 |
| Caliper | PM Contrast-Cut four-piston |
| Rotor | 11.5-inch PM Element Platinum Cut |
| | |
| Finish/Paint | |
| | |
| Color | Silver Metalflake base with Satin Black |
| Painter | Color Zone Designs/Matt Polosky |
| Graphics | Ghosted patterns and Blue striping |
| | |
| Accessories | |
| | |
| Front Fender | H-D Street Glide |
| Rear Fender | Performance Machine |
| Fender Struts | H-D |
| Gas Tank & Cap | H-D, Cycle Fabrications, RSD |
| Oil Tank | H-D |
| Handlebars | Burly Beach Bars |
| Hand Controls | PM Contrast-Cut |
| Foot Controls | PM |
| Footpegs | PM, PM Passenger Boards |
| Mirrors | PM Torque |
| Headlight | Adjure 7-inch Diamond-Cut |
| TAILLIGHT | Russ Wernimont |
| License Mount | Russ Wernimont |
| Seat | Drag Specialties Smooth Predator |
| Saddlebags | H-D, Klock Werk's |
| Saddlebag | Latches PM Contrast-Cut |