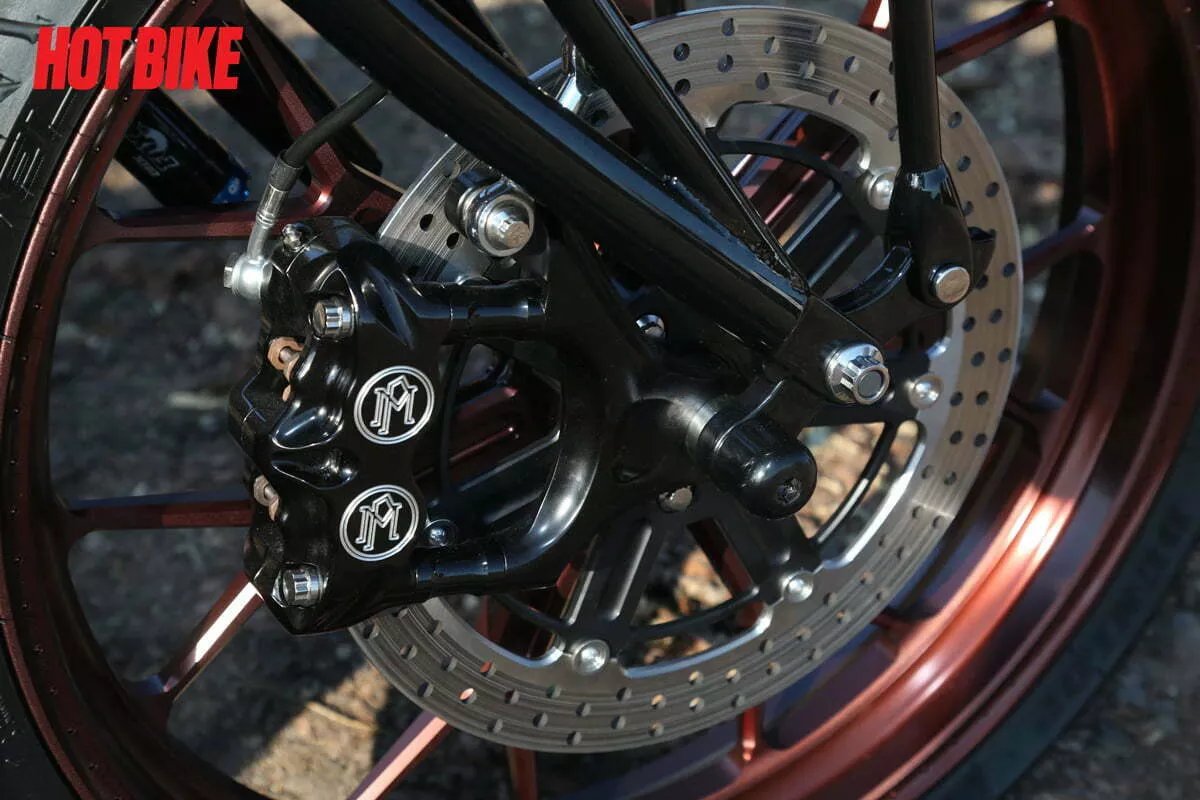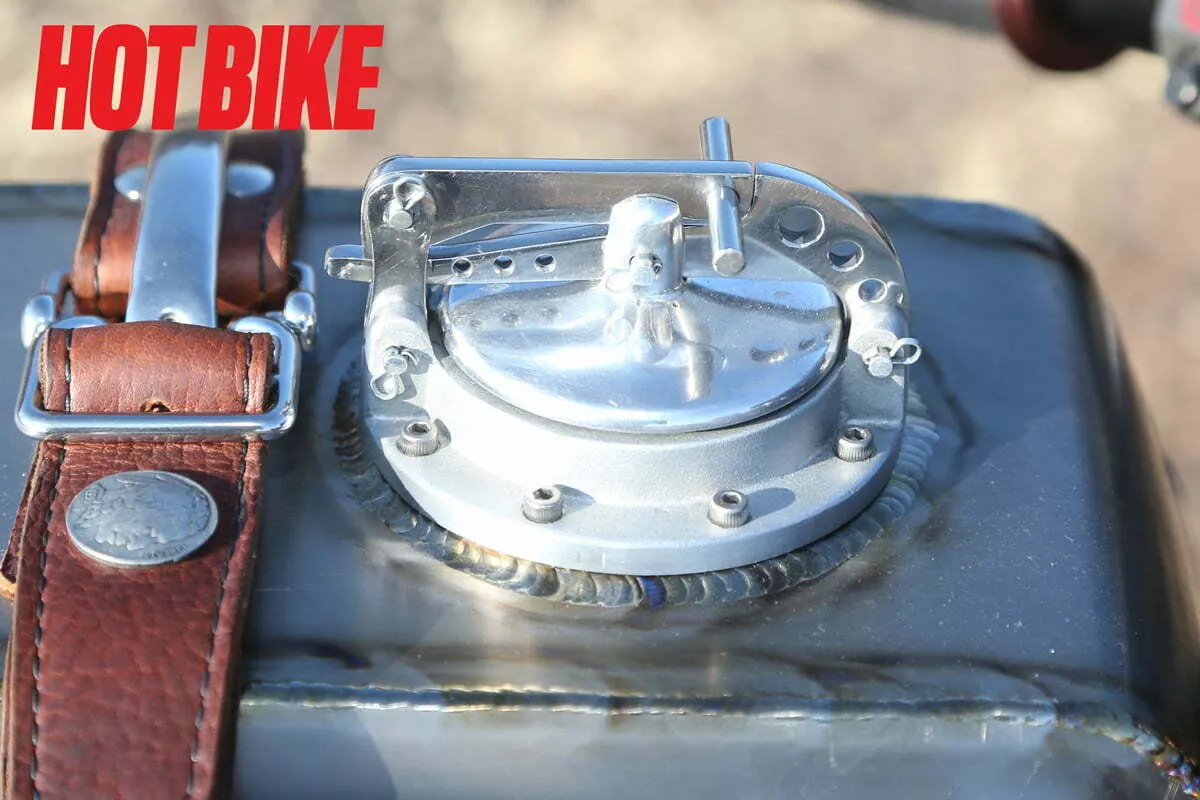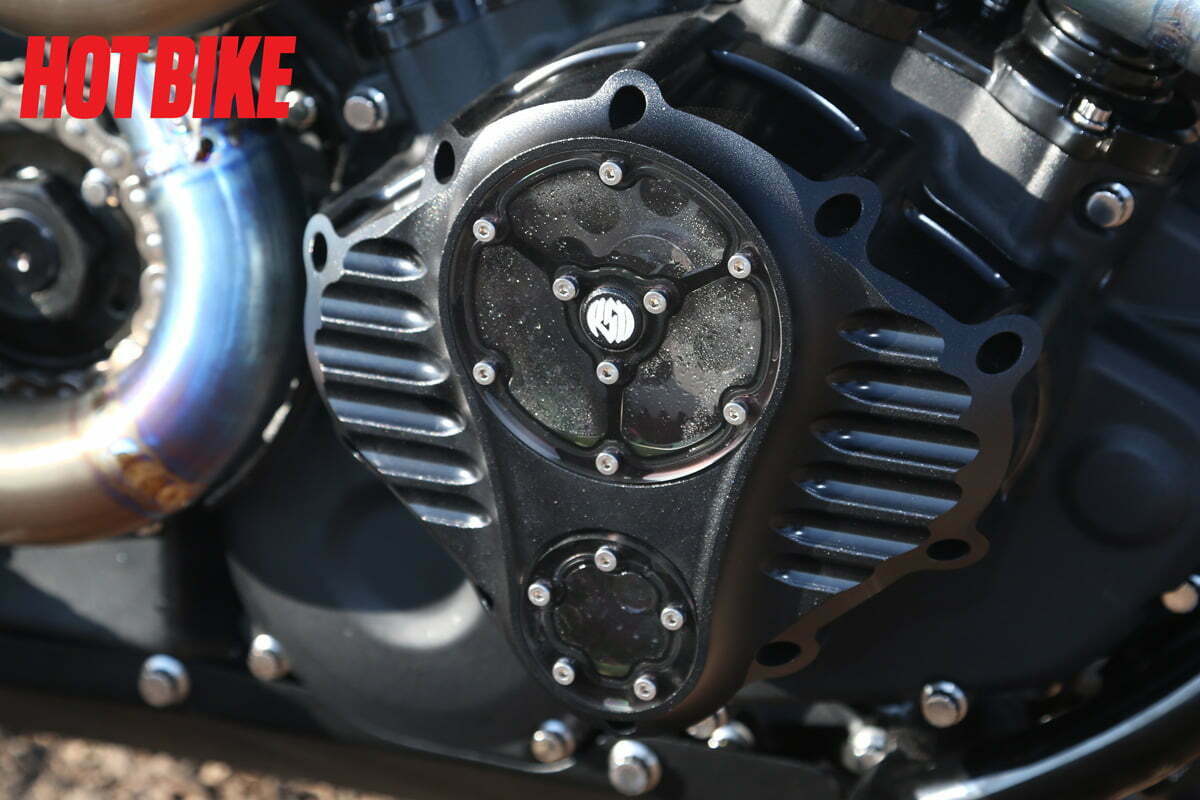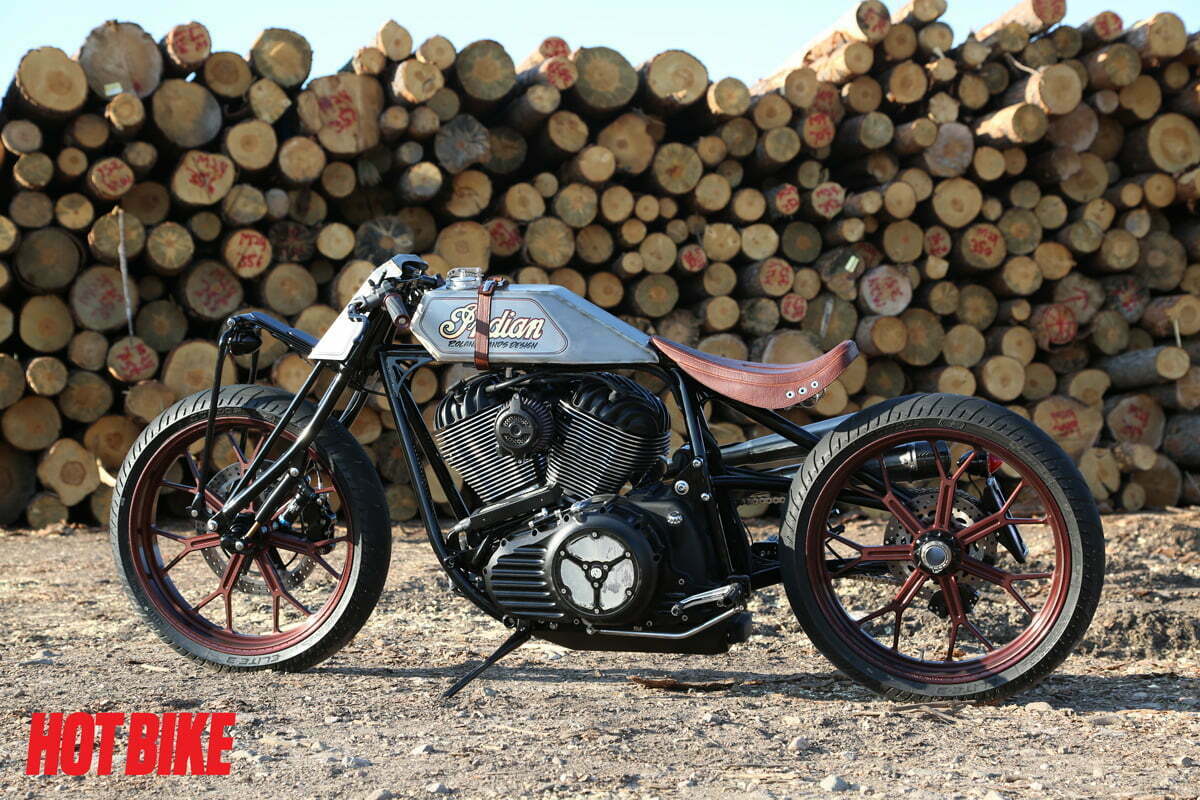 HB: So what's your inspiration behind the Track Chief?
RSD: Perhaps we're old fashioned, but in our minds a proper Indian is a racer. Purpose-built competition machines utilizing only the barest of necessities were how the most beautiful bikes were created. The boardtrackers, hill climbers, and flat-track racers of the '20s, '30s, and '40s are stunning. We all miss a bit of the rawness that draws us back to vintage machines. The Track Chief was an attempt to answer the "what ifs" the factory doesn't have the option to manufacture.
The Track Chief was an attempt to answer the "what ifs" the factory doesn't have the option to manufacture.
Being a one-off builder has its advantages—primarily we get to do what we want. With that in mind we set the engine on a frame table and began to create an early-era-driven concept utilizing modern components.
HB: Tell us more about the tracker style you added.
RSD: Part boardtracker, part dragster, and part café racer, this single-sided rigid mash-up is as much about the art of the machine as the function. It's been a long time since we built a rigid, so it is with an aesthetic importance we move forward forgoing the normal suspended rear tire for one that shall not suspend. This is a throwback to the '20s and the hardened souls who would approach such machines with a lust for speed, minimal weight, and high horsepower.
We started with a dragbike rendering from Holographic Hammer, which inspired a boardtracker concept. Next we engineered the machine's skeletal geometry resulting in 3.1-inch of trail, which we hoped would be the magic number. Having never built a leaf-spring forked bike there was some guessing, but a proper number was agreed upon and we crossed our fingers.
Since the bike has a springer fork on it, the steel top triple tree bolts completely down to the front fork. Very solid and very safe. Welding the bars straight to the top triple allowed us to make very narrow bars and eliminated the use of risers. They are basically clip-ons without relying on a pinch bolt.
HB: What kind of fabrication went into the bike?
RSD: Simplicity is a complicated thing.
Simplicity is a complicated thing.
Deconstruction of a fully engineered machine down to its absolute simplest form takes determination, perseverance, connections, and lots of hours. The wiring system has been pulled apart and rebuilt with 90 percent of the connectors removed for a thin, purpose-built loom. We've deconstructed the throttle to utilize an internal twist throttle and remotely located fly-by-wire throttle housing behind the front number plate.
Exhaust has been fashioned from carefully mandrel-bent titanium tubing and pieced together to keep the tubing as close to the chassis as possible providing as much leg clearance as possible. The front fork has received a dampened shock and radial mount brake caliper to bring things into the MotoGP age.
It was decided to fashion a single-sided, chrome-moly 4130 rigid frame, as we'd never seen a similar frame style. We finally decided to keep it tubular and retain classic lines rather than plating the whole thing in. The raw-titanium gas tank and number plate were another first and required an insane amount of prep to complete.
HB: What's it like to ride the bike?
RSD: Riding the Track Chief is an era-bending experience. On paper, the machine should be a handful. It should steer lazy and twist and buck from front to back. Single-sided leaf fork rigid just sounds painful. With those fears in mind the ride was to be the real proof of concept. Thanks to a little luck and preparation the Track Chief eats smooth pavement and corners with a mile-hungry attitude. In the twisties, you tend to forget about time until you realize there's a stop sign and the track-spec braking pulls you out of a 1924-meets-2014 dream world. Throttle response is meaty and a bit lazy, but the motor pulls well past your comfort zone. In slow to mid-speed corners, it begs you to be aggressive and makes you feel as if there's room to push harder. Full pulls of throttle wind up the torquey engine and easily rocket you through faster corners.
the torquey engine and easily rocket you through faster corners.
In rolling bumps you begin to feel some flex in the frame and err on the side of caution, but the machine lets you know its limits. Surprisingly there's no sudden change of attitude. With sportbike-spec lean angle the bike speaks to you, coaching you through your bravery…or lack thereof. It's a rigid after all, so you pray for smooth pavement.
HB: What's the future of custom Indians?
RSD: The new Indians are well-built bikes and have a lot of soul. It would be cool to see people want to build and customize them. We like using our custom builds as a place to show off new product concepts and get an idea of how many people might be interested, based on response.
In a world where our minds are critical of the future in respect for the past, we feel we've met a middle ground with the Track Chief. The end result is a massive shit-eating grin as we approach the next set of twisties. The remaining question seems to be: full leathers or a leather helmet and a button-up shirt?
| Specifications | |
| --- | --- |
| General | |
| Owner | Roland Sands Design, Inc. (RSD) |
| Shop | RSD |
| Shop Phone | (562) 493-5297 |
| Website | rolandsands.com |
| Year/Make/Model | 2014/Indian/Chieftain |
| Fabrication | RSD |
| Build Time | 3 months |
| Engine | | |
| Year/Type/Size | 2014/Indian/111ci| |
| Builder | Indian |
| Cases | Indian |
| Cylinders | Indian| |
| Heads | Indian |
| Rocker Boxes | Indian |
| Cams/timing cover | RSD Prototype Clarity |
| Throttle Body | Indian| |
| Air Cleaner | RSD Blunt |
| EFI Controller | Indian |
| Exhaust | RSD custom Titanium Slant 2-into-2 |
| Transmission | |
| Year/Type | 2014/Indian |
| Gears | Indian |
| Clutch | Barnett |
| Primary Drive | RSD Prototype Clarity Billet Outer |
| Misc | Zodiac Hydraulic clutch slave |
| Frame | |
| Year/Type | 2014/RSD hand-fabricated single-sided rigid |
| Rake/Stretch | Custom |
| Suspension | |
| Front end | Paughco Leaf Springer| |
| Swingarm | Gregg's Customs |
| Rear Shocks | Fox DHX Downhill MTB Race Shock |
| Wheels, Tires, and Brakes | |
| Front | |
| Builder/Size | RSD Del Mar/21 x 3.5 in. |
| Tire/Size | Dunlop Elite 3/120/70/21 |
| Calipers | Performance Machine Radial |
| Rotors | RSD |
| Master Cylinders | Brembo 19RCS Brake & Clutch |
| Brake Lines | Spiegler USA |
| Rear | |
| Builder/Size | RSD Del Mar/21 x 3.5 in. |
| Tire/Size | Dunlop Elite 3/120/70/21| |
| Caliper | Performance Machine 125X4R |
| Rotor | Gregg's Customs |
| Pulley | Gregg's Customs |
| Sprocket | Gregg's Customs |
| Master Cylinder | Stock Sportster Brembo |
| Brake Lines | Spiegler USA |
| Finish/Paint | |
| Colors | Red and Black with Gold Leaf |
| Paint/Graphics | Hot Dog Pinstriping |
| Powdercoating | Olympic |
| Accessories | |
| Gas Tank | RSD hand-fabricated titanium |
| Gas Cap | Crafty B custom |
| Front Number Plate | RSD hand-fabricated titanium |
| Belly Pan | RSD hand-fabricated aluminum |
| Throttle | Garage Company Internal |
| Handlebars | Welded to top triple |
| Grips | RSD Traction |
| Hand Controls | RSD |
| Foot Controls | RSD Sportster rearsets with custom adapter plates |
| Headlight | PIAA in RSD Tracker taillight housing |
| Taillight | RSD Tracker |
| License Mount | RSD |
| Seat | Bitchin' Seat Co. custom |
| | |